VA Form 21-526EZ is the VA's Application for Disability Compensation and Related Compensation Benefits. This is the formal application you'll use to initiate a claim for service-connected compensation benefits from the VA.
Initiating your VA claim is a big moment, and it all begins with VA Form 21-526EZ!
If you're ready to learn more about initiating your VA claim using VA Form 21 526EZ, read on!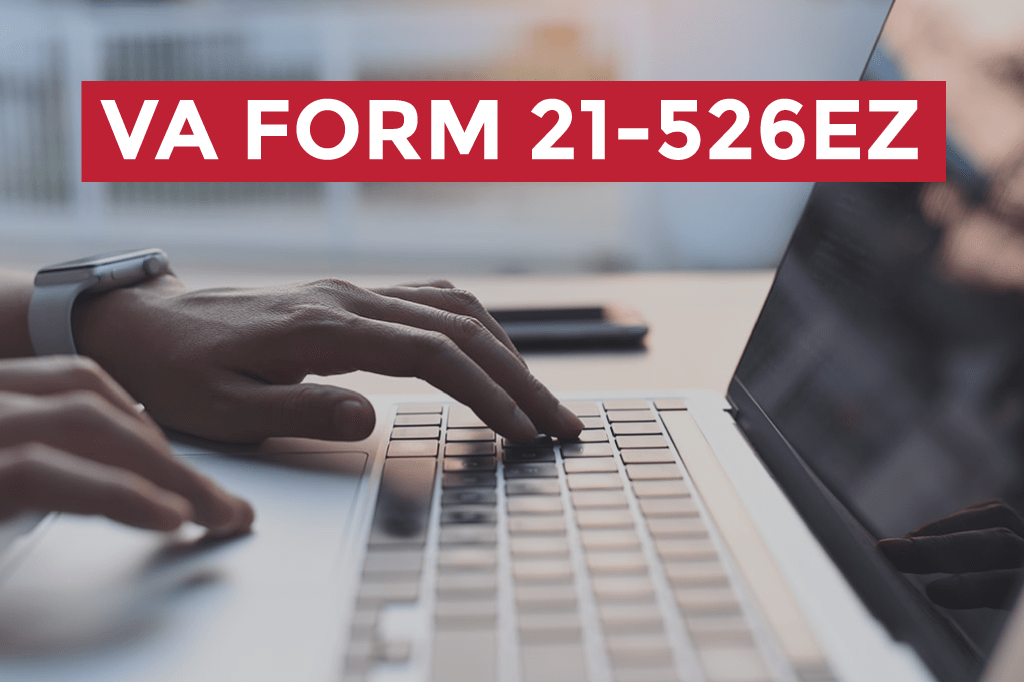 You DESERVE a HIGHER VA rating.
WE CAN HELP.
Take advantage of a FREE VA Claim Discovery Call with an experienced Team Member. Learn what you've been missing so you can FINALLY get the disability rating and compensation you've earned for your service.
---
3 Key Facts About VA Form 21-526EZ
Key Fact #1 – You'll need to provide complete and accurate information (including medical evidence).
No matter what kind of claim you're submitting for compensation via VA Form 21-526EZ, you'll need to have the supporting documents proving you're eligible for these benefits. This includes medical evidence that supports your claim, documenting that you actually have the condition and connecting the condition or disability to your military service.
(To receive disability compensation from the VA, you must have a disabling condition that the VA believes is due to your time in service—this is the service connection you'll be proving during your claim.)
The form contains sections that prompt you for the necessary information. Section IV, the most in-depth portion, will collect information about current disabilities that you want to service-connect to receive benefits. For each disability, you're asked to specify the following:
Whether the disability is due to an in-service exposure, event, or injury;
How the disability relates to the in-service exposure, event, or injury; and
Approximate date the disability began or worsened
If you need more space than is provided, you can include an addendum. Make sure to note on VA Form 21-526EZ that you're attaching additional information at the end of your claim application.
(Medical evidence is critical; the #1 reason VA claims are denied is lack of medical evidence. If you're not sure what medical evidence to provide or how much, or how to get it, check out our post "What You Need to Know About Your Medical Records." This post goes into more detail about the VA claims process in general. You might also want to get some guidance through our free 30-minute discovery call.)
You'll also be asked to provide information regarding your military service, such as branch of service and your enlistment/discharge dates. And you'll need to provide bank account information so the VA can transfer monthly compensation (if approved) directly into your bank account.
Key Fact #2 – You need to choose a Fully Developed Claim or the Standard Claim process.
This is a critical choice you'll make when filling out VA Form 21-526EZ. There are two claims processes to choose from: the fully developed claim program (FDC program) and the Standard Claim Process.
The FDC program is an optional, expedited process for having your claim reviewed. When you choose this option, you commit to submitting all of the evidence available to support your claim along with your application. You're stating that no additional evidence is needed, thus enabling VA to make a decision more quickly.
If you select the FDC option upon filing, but then discover additional evidence to support your VA claim, you are still able to submit that evidence. However, your claim will be converted to the Standard Claim Process upon that submission.
Likewise, if the VA determines that more evidence is required, your claim will be moved into the Standard Claim Process.
At VA Claims Insider, we're strong advocates for filing a Fully Developed Claim, because it's generally faster and you maintain full control of your claim and all the evidence. We specialize in teaching you how to do it! We find that FDCs result in faster decisions with a higher (more accurate and deserved) rating.
In the Standard Claim Process, VA has the responsibility to obtain information to support your claim. (That's why it takes longer.) You may submit additional evidence for up to one year after filing your claim. If you wish to opt into the Standard Claim Process, specify that by checking the box under item 1 at the very top of your VA Form 21-526EZ.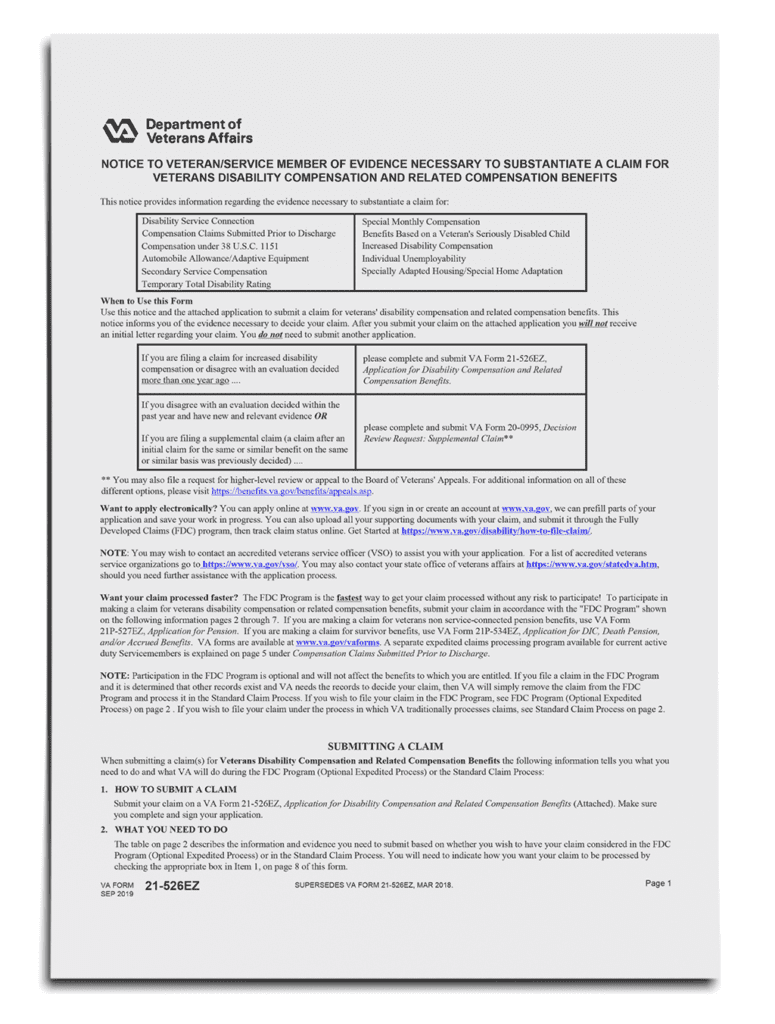 Key Fact #3 – There are multiple ways to file.
If you're not feeling comfortable submitting your VA Form 21-526EZ claim online using the VA's eBenefits platform, you can submit the form through the mail. This will slow down the process, but it's fine to use this option. Send to the Department of Veterans Affairs, Evidence Intake Center, PO Box 4444 in Janesville, WI 53547-4444.
You can also submit in person, bringing your completed VA Form 21-526EZ to a VA Regional Office near you.
Generally speaking, filing your VA claim online is the fastest and most convenient way to apply for disability benefits.
You can only have one claim open at any given time, so you should finish the VA Form 21-526EZ that you've begun rather than start a new one if you come back to the process after a break.
If you plan to file a VA disability claim but need more time to gather evidence, you can submit VA Form 21-0966—the "intent to file a claim" form. After submitting your Intent to File, you have a year from that date to complete your claim using VA Form 21-526EZ. The filing date of your Intent to File becomes the effective date of your claim. Learn more about VA Intent to File.
---
How to File a VA Claim on the NEW VA.gov Website (Step-By-Step Tutorial!)
---
MAKE SURE YOU GET ALL THE BENEFITS YOU DESERVE
Regardless of what state you live in, it's important that you pursue the monthly compensation payments due to you for disabilities connected to your military service.
Most veterans are underrated for their disabilities and therefore not getting the compensation they deserve. At VA Claims Insider, we help veterans understand and take control of the claims process so they can get the rating and compensation they're owed by law.
Our process takes the guesswork out of filing a VA disability claim and supports you every step of the way in building a fully-developed claim (FDC)—so you can increase your rating in less time!
If you've filed your VA disability claim and have been denied or have received a low rating – or you're not sure how to get started – reach out to us for a FREE VA Claim Discovery Call, so you can FINALLY get the disability rating and compensation you deserve. We've supported more than 15,000 veterans to win their claims and increase their ratings. NOW IT'S YOUR TURN.
---
About the Author
About VA Claims Insider
VA Claims insider is an education-based coaching/consulting company. We're here for disabled veterans exploring eligibility for increased VA disability benefits and who wish to learn more about that process. We also connect veterans with independent medical professionals in our referral network for medical examinations, disability evaluations, and credible independent medical opinions and nexus statements (medical nexus letters) for a wide range of disability conditions.