About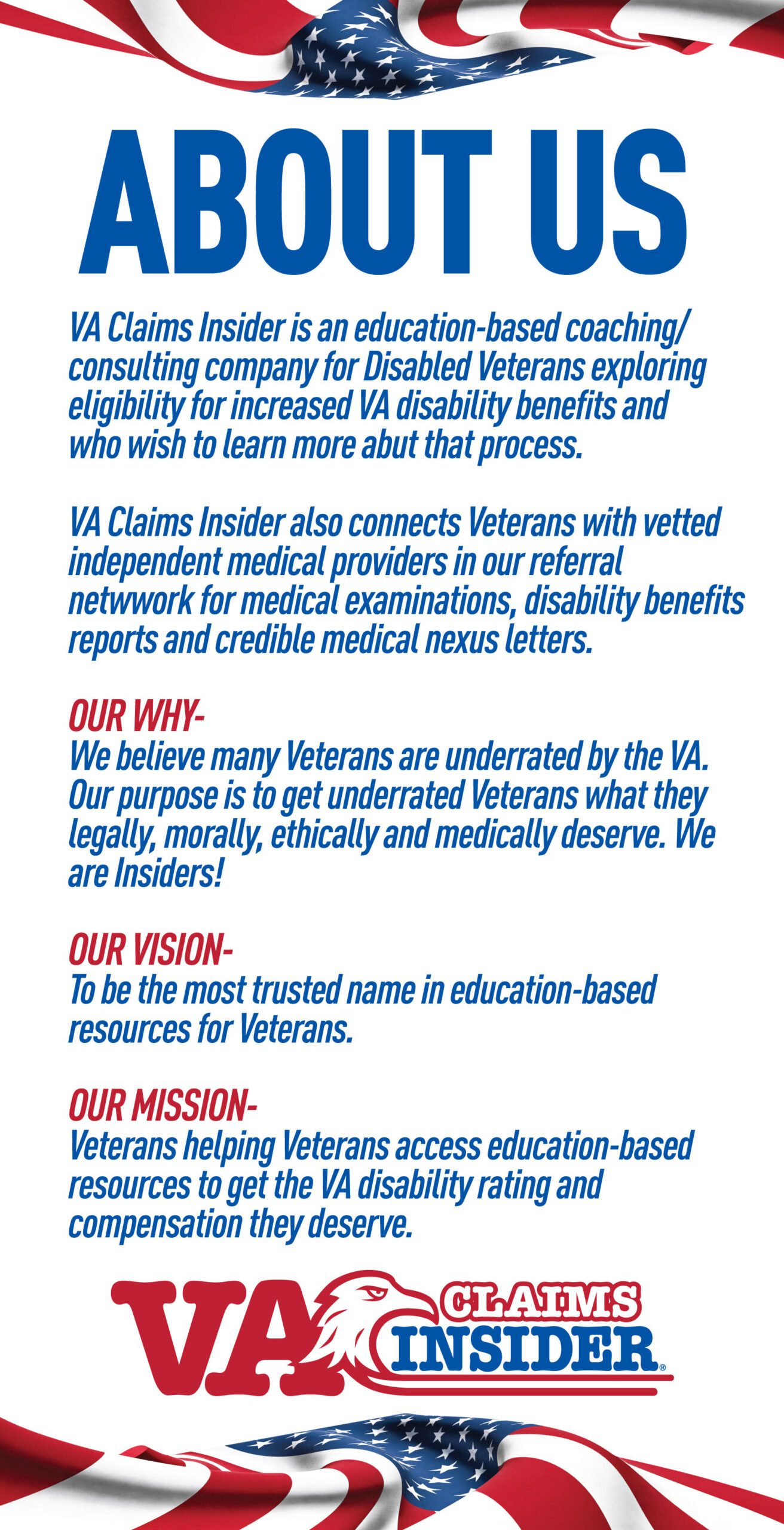 About Us: WE ARE VA CLAIMS INSIDER!
Our team includes 300+ veterans, entrepreneurs, innovators, and world-changers. 
VA Claims Insider is an education-based Coaching/Consulting company for disabled veterans exploring eligibility for increased VA disability benefits and who wish to learn more about that process.
VA Claims Insider also connects veterans in our membership programs with independent medical professionals in our referral network for medical examinations, disability evaluations, and credible Medical Nexus Letters for a wide range of disability conditions.
Our WHY:
We believe many veterans are underrated by the VA. Our purpose is to get underrated veterans what they legally, morally, ethically, and medically deserve. We are "INSIDERS!"
Our VISION:
To be the most trusted name in education-based resources for veterans.
Our MISSION:
Veterans helping Veterans get the VA disability rating they deserve.

Our Core Values define what it means to be ELITE.
These Core Values apply to ALL of us at VA Claims Insider.
Empathy: Empathy is at the heart of who we are. It is the key to providing Elite-level customer service. We will listen, respect, relate, and seek understanding with each other and the veterans we serve.
Learning: Learning is both a mindset and a philosophy. We must always grow and adapt, learn and apply knowledge, be resourceful, do and be more, and constantly challenge the status quo. Nobody knows it all and there is no such thing as "good enough."
Integrity: Integrity means doing the right thing, all the time, even if nobody's looking. We will make mistakes, but we will never sacrifice our integrity. Without integrity, the rest of our core values don't matter.
Teamwork: If we want to go far, we must go together. We will build-up, support, and be accountable to each other in all things. We will collaborate as a team, and the best ideas will win. The team is more important than our individual wants and needs.
Enthusiasm: Enthusiasm is the driving force behind our culture. It is the energy and passion that fuels everything we do. It is a contagious positive attitude. It is what makes our craft fun and exciting.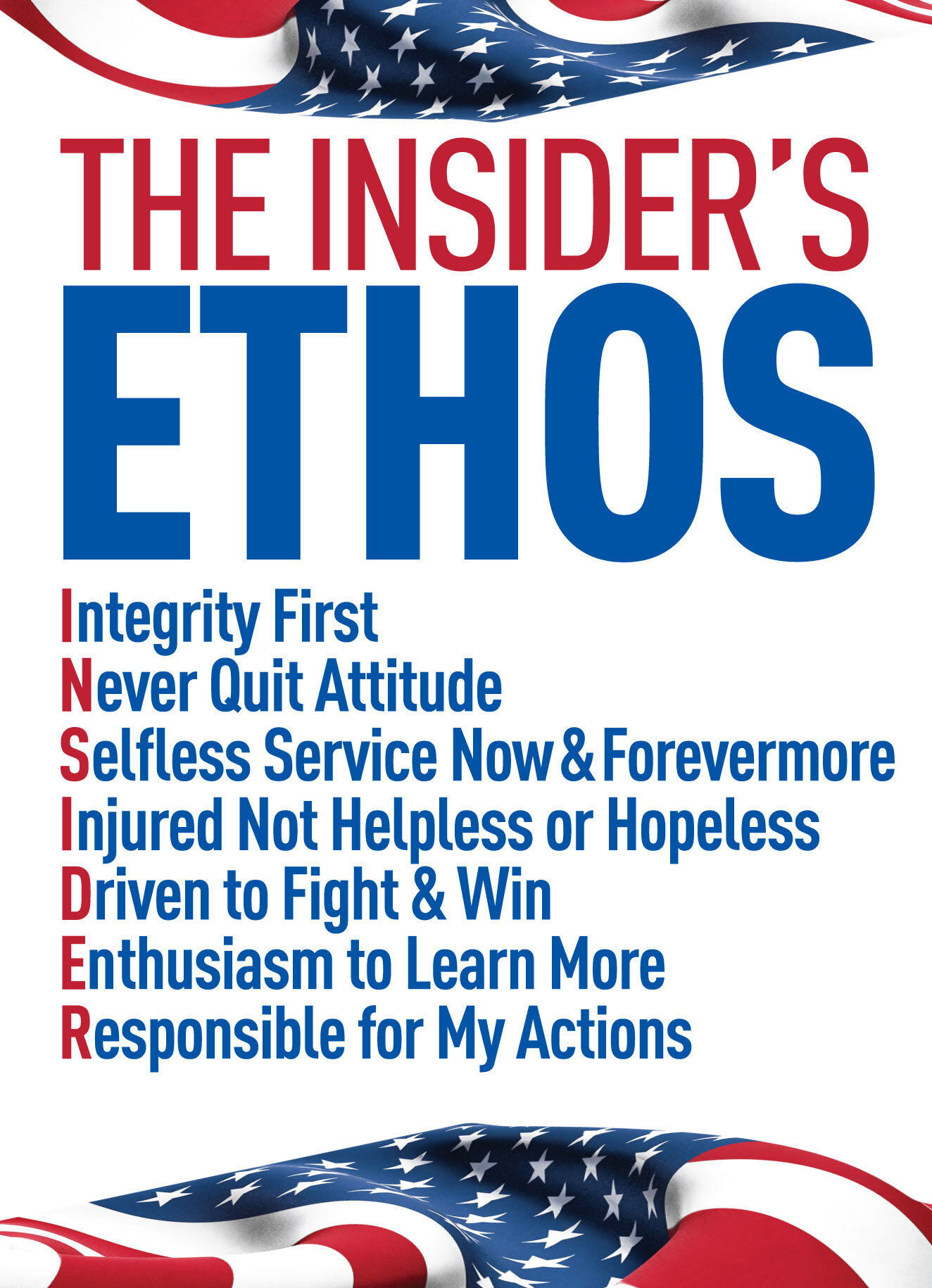 What is an Ethos?
Ethos is a Greek word meaning "character," which is used to describe the guiding beliefs or ideals that characterize a community, nation, or ideology. This is our ethos.
The Insider's Ethos Text:
Integrity First
Never Quit Attitude  
Selfless Service Now and Forevermore
Injured Not Helpless or Hopeless
Driven to Fight and Win
Enthusiasm to Learn More
Responsible for My Actions

What is a Credo?
Credo comes from the Latin word meaning "I believe." But the word can be applied to any set of principles. This is our creed.
The Insider's Creed Text:
I am a Veteran.
I am an INSIDER.
I answered my Nation's call.
I served my Country with honor.
I am a Veteran.
I am an INSIDER.
My mission is to fight for, and win, the VA benefits that are rightfully mine by law.
I will proceed in this mission with integrity and vulnerability.
While I may be injured, I am neither helpless nor hopeless.
I am a Veteran.
I am an INSIDER.
I am a member of an ELITE-level movement of Veterans helping Veterans around the world.
I will support and defend our movement from all enemies.
I will never quit, nor will I let fellow Insiders quit.
I will never falter, and I will not fail!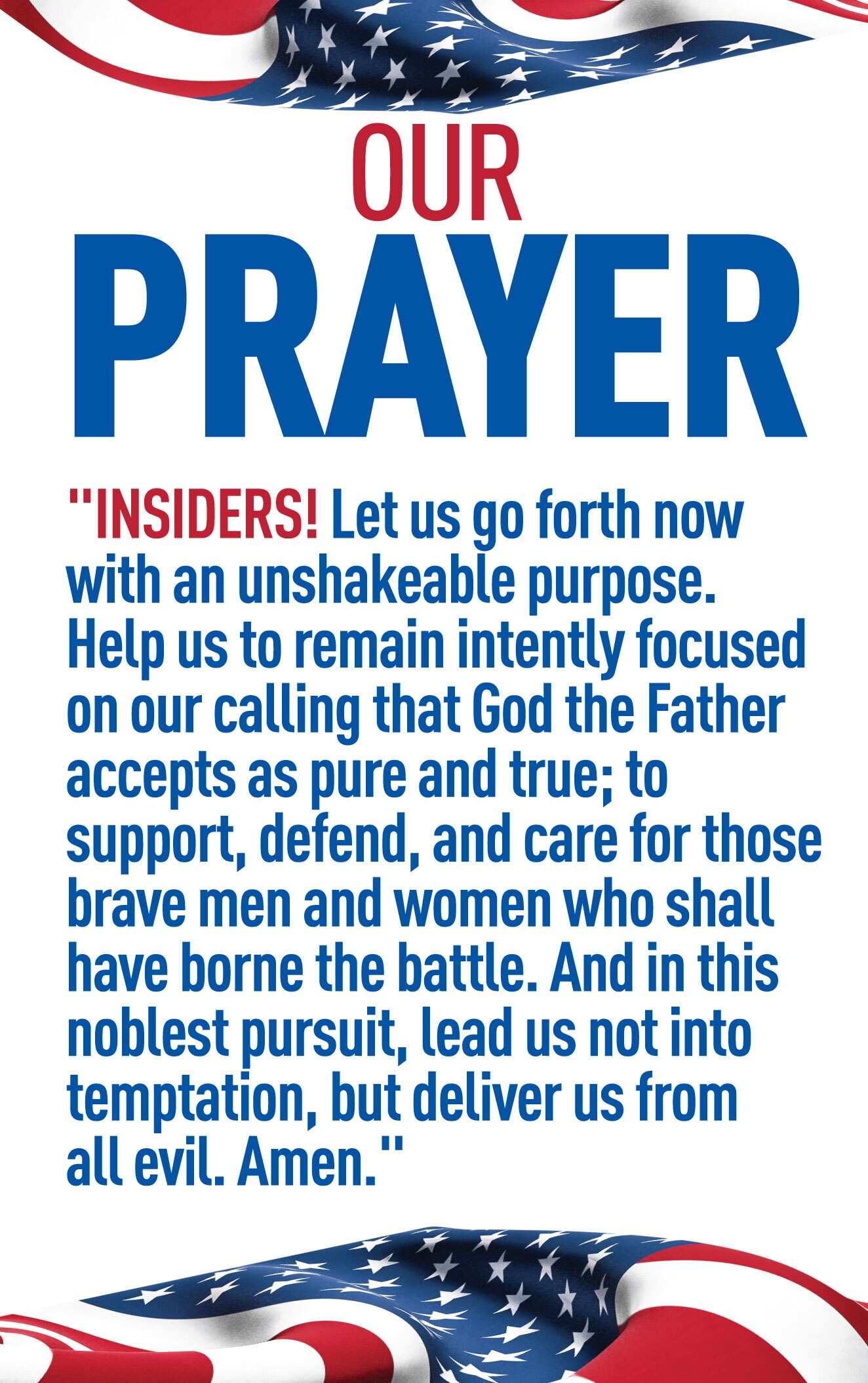 The Insider's Prayer Text:
INSIDERS! 
Let us go forth now with an unshakeable purpose.
Help us to remain intently focused on our calling that God the Father accepts as pure and true:
To support, defend, and care for those brave men and women who shall have borne the battle.
And in this noblest pursuit, lead us not into temptation, but deliver us from all evil.
Amen!