Press Kit
VA Claims Insider Press Kit
About VACI

Meet The CEO

Core Values

VACI in the Press

Media Kit
About VA Claims Insider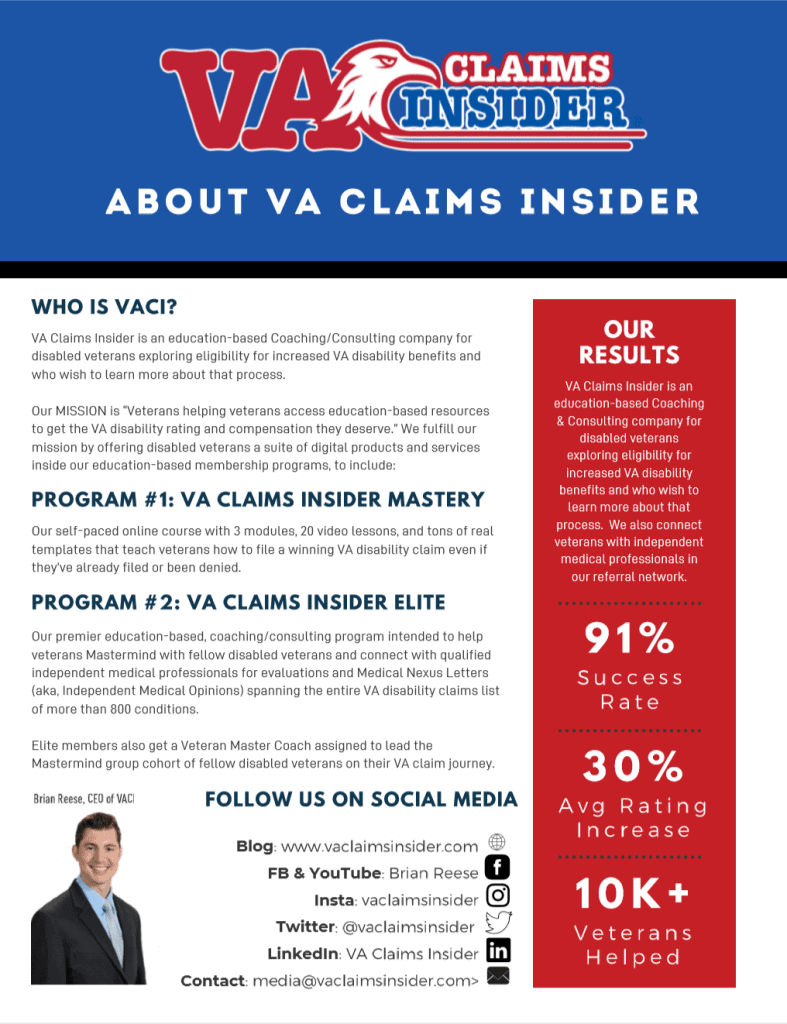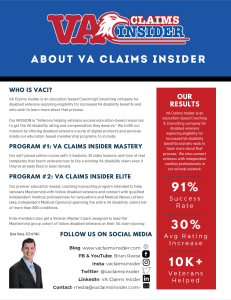 VA Claims Insider, LLC (VACI)  is an education-based coaching/consulting company for disabled veterans exploring eligibility for increased VA disability benefits and who wish to learn more about that process. VACI was founded in 2016 by Air Force service disabled veteran and former U.S. Air Force Academy NCAA Division I hockey player, Brian Reese, and is headquartered in Austin, TX.
VACI currently serves more than 300,000 unique veterans per month across its websites and membership programs via Military Disability Made Easy and VA Claims Insider. VACI's Mission is: "Veterans helping veterans access education-based resources to get the VA disability rating and compensation they deserve.
VACI fulfills our mission by offering disabled veterans a suite of digital products and services inside our education-based membership programs. VACI also connects veterans with vetted medical professionals in an independent referral network for medical examinations, disability evaluations, and credible medical nexus letters for a wide range of disability conditions. 
VACI is not an accredited agent, VSO, attorney, or entity recognized by the Department of Veterans Affairs (VA) and is not affiliated with the VA in any way. VACI does not assist veterans with the preparation, presentation, and prosecution of VA disability claims for VA benefits. Veterans shall prepare and file their own claim or work with an accredited representative, many of which offer services for free.
About the Founder:
Brian Reese is a VA expert, author, and founder of VA Claims Insider – "The Most Trusted Name in Education-Based Resources for Veterans." He is also the CEO of Military Disability Made Easy, which is the world's largest free searchable database for all things related to DoD disability and VA disability and has served more than 6,000,000 military members and veterans since its founding in 2013.
Brian's frustration with the 8-step VA disability claims process led him to create VA Claims Insider, which provides disabled veterans with tips, strategies, and lessons learned to win their VA disability compensation claim in less time.
Brian is a former active duty Air Force officer with extensive experience leading hundreds of individuals and multi-functional teams in challenging international environments, including a combat tour to southern Afghanistan in 2011 in support of Operation ENDURING FREEDOM.
Brian is a Distinguished Graduate of Management from the United States Air Force Academy, Washington Springs, CO and he holds an MBA from Oklahoma State University's Spears School of Business, Stillwater, OK, where he was a National Honor Scholar (Top 1% of Graduate School class).

Our CORE VALUES:
Our Core Values define what it means to be ELITE. These Core Values apply to ALL of us at VA Claims Insider! These Core Values apply to ALL of us at VA Claims Insider. 
Empathy: Empathy is at the heart of who we are. It is the key to providing Elite-level customer service. We will listen, respect, relate, and seek understanding with each other and the veterans we serve.
Learning: Learning is both a mindset and a philosophy. We must always grow and adapt, learn and apply knowledge, be resourceful, do and be more, and constantly challenge the status quo. Nobody knows it all and there is no such thing as "good enough."
Integrity: Integrity means doing the right thing, all the time, even if nobody's looking. We will make mistakes, but we will never sacrifice our integrity. Without integrity, the rest of our core values don't matter.
Teamwork: If we want to go far, we must go together. We will build-up, support, and be accountable to each other in all things. We will collaborate as a team, and the best ideas will win. The team is more important than our individual wants and needs.
Enthusiasm: Enthusiasm is the driving force behind our culture. It is the energy and passion that fuels everything we do. It is a contagious positive attitude. It is what makes our craft fun and exciting. 
Our WHY: We believe many veterans are underrated by the VA. Our purpose is to help underrated veterans get the VA disability benefits they legally, morally, ethically, and medically deserve. We are "INSIDERS!"
Our VISION: To be the most trusted name in education-based resources for veterans.
Our MISSION: Veterans helping Veterans access education-based resources to get the VA disability rating and compensation they deserve.
VA Claims Insider Donates $10,000 for Veterans Care
(Austin, TX) -- VA Claims Insider (VACI) CEO Brian Reese and Caritas of Austin today announced a joint effort to provide expanded services for veterans who have been affected by COVID-19.
"We know veterans have a different set of needs during this COVID-19 pandemic. That's why we're donating $10,000 and partnering with Caritas of Austin to make sure those who've served get the care they need," Reese said.
"We are so grateful for the coordination and generosity of VA Claims Insider. Due to the unexpected crisis of the COVID-19 pandemic many of our veterans are at imminent risk of experiencing homelessness again. This donation will allow Caritas of Austin to keep veterans housed and provide continued rapid rehousing services," said Jezzmen McPeters, Supportive Services for Veteran Families Program Manager at Caritas of Austin.
About Caritas of Austin
Caritas of Austin's mission is to prevent and end homelessness in Greater Austin. We believe that when people have a stable place to call home, they can reach their full potential and contribute to the community. Since 2011, Caritas of Austin has been a leader in the local efforts to end veteran homelessness that resulted in a system to end chronic homelessness for all veterans and to house veterans rapidly if they lose their housing. Caritas builds well-being for hundreds of people experiencing homelessness each year by making sure they have a stable home, healthy food, jobs, and the life skills to thrive. Learn more at www.caritasofaustin.org
VA Claims Insider donates $25,000 to Folds of Honor Education Fund
VA Claims Insider (VACI) CEO Brian Reese today announced a donation to the Folds of Honor education fund.
"We want to support our veteran partners in every way possible. That's why we're donating $25,000 and partnering with Folds of Honor to assist with scholarships for the families of fallen and disabled American military members," Reese said.
"We greatly value this life changing gift from VACI and their commitment to honor our servicemen and servicewomen by educating their legacy," said Ben Leslie with Folds of Honor. "This very generous $25,000 will send 5 honorable recipients to school this fall."
About Folds of Honor
Folds of Honor is a 501(C)(3) nonprofit organization that provides educational scholarships to families of military men and women who have fallen or been disabled while on active duty in the United States Armed Forces. Our educational scholarships support private education tuition and tutoring for children in grades K-12, as well as higher education tuition assistance for spouses and dependents. Founded in 2007 by Lt Col Dan Rooney, a PGA member and F-16 fighter pilot currently stationed at Tyndall AFB Florida as a member of 301st Fighter Squadron who served three tours of duty in Iraq, Folds of Honor is proud to have awarded more than 24,500 scholarships in all 50 states, as well as Guam, Puerto Rico and the Virgin Islands, including more than 4,500 in 2019 alone. For more information or to donate in support of a Folds of Honor scholarship, visit http://www.foldsofhonor.org
If you would like more information regarding VACI, or to discuss a partnership, or have just a general inquiry, please use the form below to contact us. We will be in touch as soon as possible. Than you!