Veterans, if you've been exposed to burn pit smoke during your service, you might be worried about the potential health effects. We understand how important it is for you to get the support and care you deserve.
That's where the Airborne Hazards and Open Burn Pit Registry (or burn pit registry for short) comes in—it's a vital tool to help you navigate the road to better health and disability benefits. As of 2022, over 280,000 veterans have joined this registry.
In this article, we'll guide you through the VA Burn Pit Registry and the important impacts on your benefits with the recent burn pit bill (PACT Act of 2022). So, let's dive in and learn how the burn pit registry can make a difference in your life!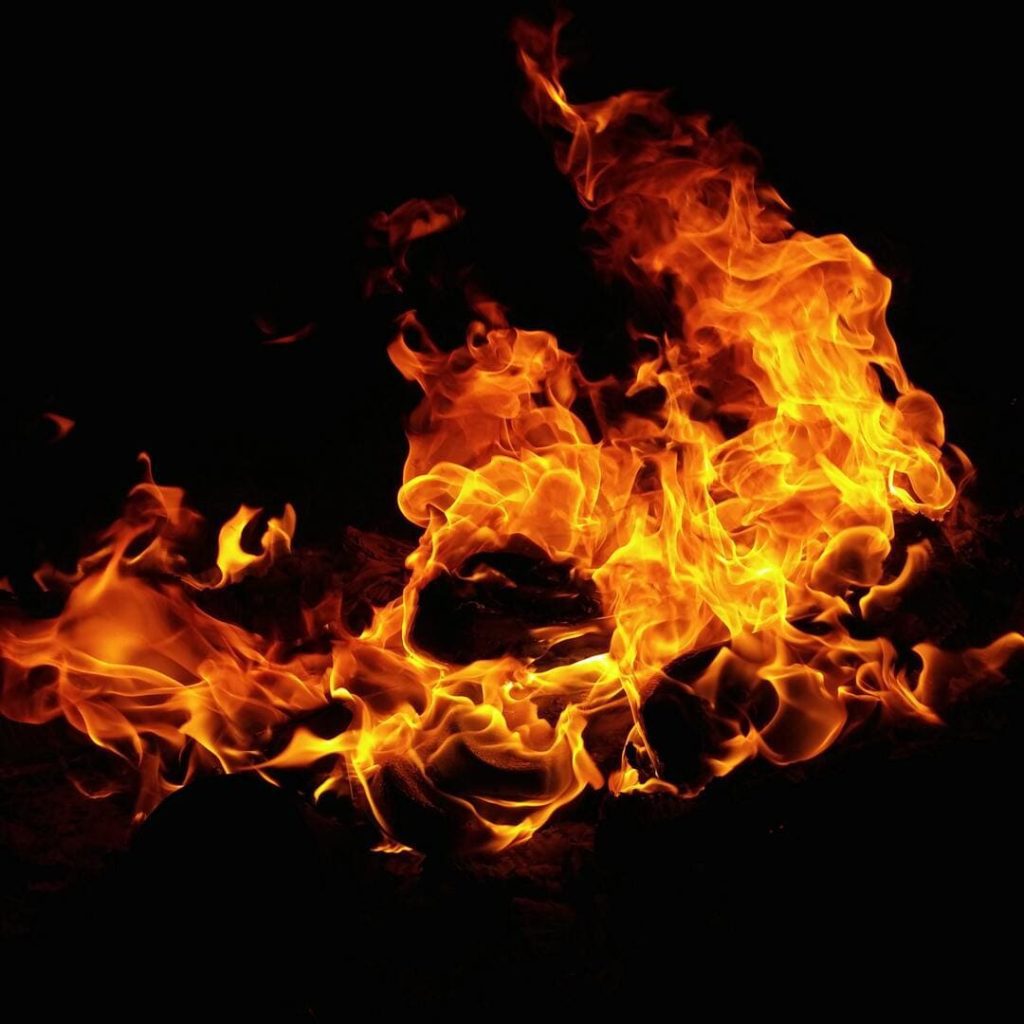 What is a burn pit?
Burn pits are open-air pits used to dispose of waste materials in military bases, particularly in war zones. These pits are often large, sometimes as big as several acres, and they're used to burn all kinds of waste—from plastics and metals to medical waste and human waste.
Unfortunately, this method of waste disposal produces a hazardous mix of toxic chemicals in the form of smoke and fumes that has potentially severe health consequences for veterans with cancer and respiratory conditions.
Many burn pit-related conditions that impact veterans take time to develop. The burn pit registry serves as a snapshot in time, helping you track your health changes over time and giving you additional evidence when filing a VA claim.
Where were burn pits used?
View List of Military Burn Pit Locations
If you've served in Iraq, Afghanistan, or other parts of Southwest Asia, there's a good chance you've encountered burn pits. They were widely used in these regions, especially during Operation Iraqi Freedom and Operation Enduring Freedom. As a result, many veterans have been exposed to the harmful smoke emitted by these burn pits.
What was thrown in burn pits?
Burn pits were used to dispose of a wide range of hazardous materials and waste products, including but not limited to:
Metal
Rubber
Chemicals
Paint
Medical waste
Food waste
Munitions
Petroleum products
Human waste
Plastics
Other hazardous materials
When burned together, these hazardous materials produce a toxic mix of airborne pollutants and carcinogens. If you spent time near one of these pits, you were at risk of inhaling these pollutants for long periods, leading to long-term medical conditions.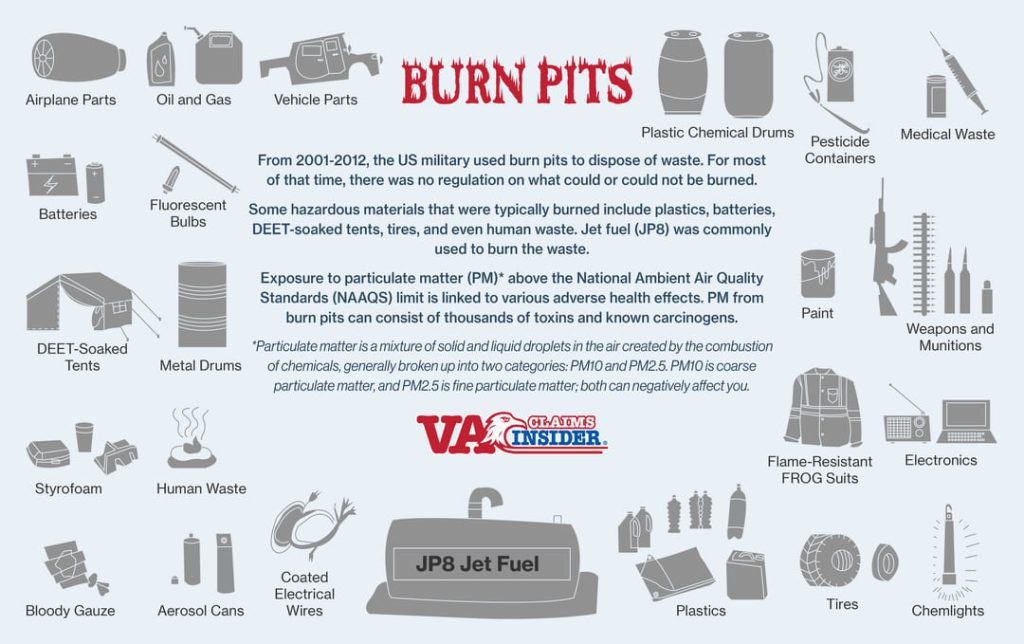 How Burn Pit Exposure Impacts Veterans
The harmful effects of being close to a burn pit while serving can stay with you decades after the exposure. Recognizing the signs and symptoms is essential to ensure you get the proper care and support for any exposure.
The burn pit registry not only helps you become more aware of your own health, but it also provides evidence for the creation of additional presumptive service conditions, making it easier for all veterans to get the benefits they deserve.
Burn Pit Smoke
The smoke from burn pits contains a toxic cocktail of chemicals that can have severe health consequences. Some of the harmful substances found in burn pit smoke include:
Dioxins and furans: Produced when plastics and other materials are burned, these chemicals are known to cause cancer and other health issues.
Volatile organic compounds (VOCs): Gases emitted from burning fuels, solvents, and other materials, VOCs can cause respiratory issues and other health problems.
Heavy metals: Burning electronic waste and batteries can release heavy metals like lead, cadmium, and mercury, which can harm the nervous system and other organs.
You can be exposed to these harmful chemicals through your skin, nose, and lungs. Over time, they can take a heavy toll on your health.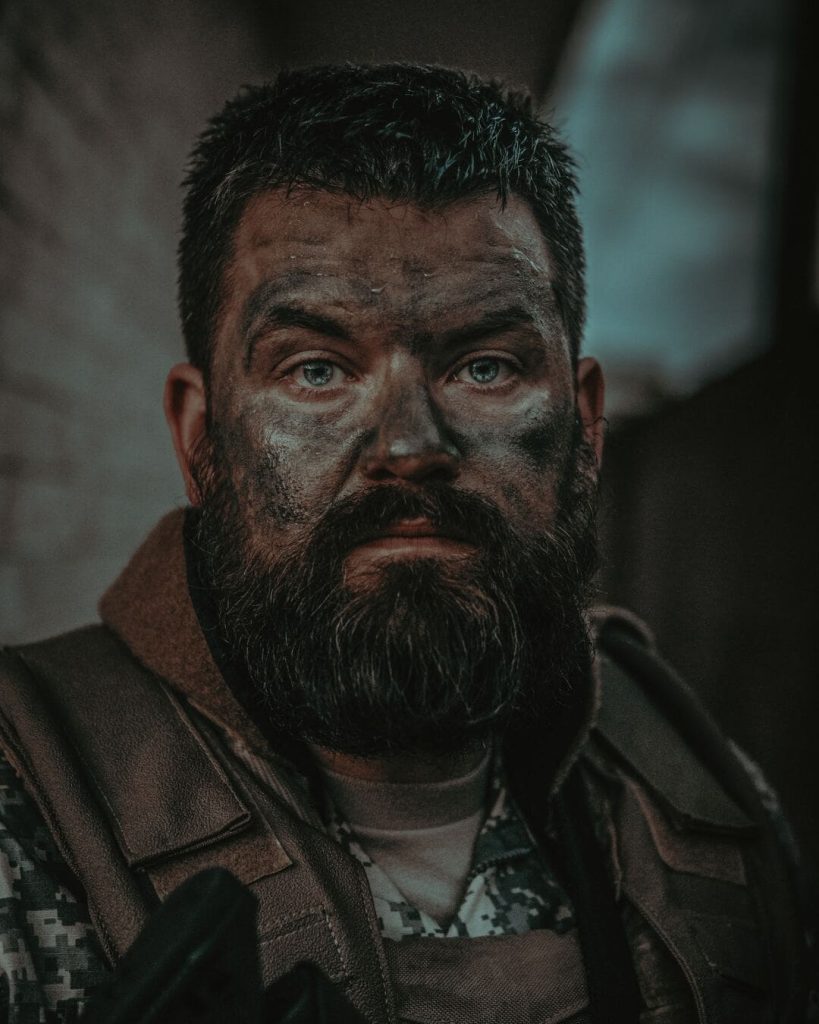 You DESERVE a HIGHER VA rating.
WE CAN HELP.
Take advantage of a FREE VA Claim Discovery Call with an experienced Team Member. Learn what you've been missing so you can FINALLY get the disability rating and compensation you've earned for your service.
Symptoms of Burn Pit Exposure
It's crucial to recognize the symptoms associated with burn pit exposure. Here are some common signs to watch out for:
Respiratory Symptoms
Persistent cough
Wheezing or shortness of breath
Chest pain or tightness
Asthma or other breathing disorders
Other Burn Pit Exposure Symptoms
Chronic fatigue
Skin rashes or irritation
Persistent headaches
Unexplained weight loss
Sleep disturbances
Government Response to Burn Pit Exposure
Previously, veterans were denied a VA rating specifically for burn pit symptoms related to burn pit exposure. However, in response to pressure from disabled veterans and media reports on the potential toxicity of burn pit exposure, the government began re-evaluating its position.
The Department of Defense has identified open-pit burning as a source of particulate matter pollution. However, federal laws in the US regulating this kind of pollution do not generally apply on foreign soil. The government's 2011 research on burn pit exposure and its long-term effects failed to consider the growing evidence of burn pit symptoms reported by military personnel.
Creation of the Burn Pit Registry
To track and analyze burn pit exposure symptoms and trends, the Open Burn Pit Registry was created in 2014. This information helps policymakers determine how veterans are impacted by Burn Pit exposure and can lead to new presumptive service-connected conditions added to the VA's list for burn pit exposure.
While progress has been made in recognizing and compensating victims of burn pit exposure, there is still more work to be done. However, the VA's recognition of respiratory conditions as presumptive to burn pit exposure in certain theaters and regions is a significant step forward for veterans seeking service connection for their symptoms.
Joining the VA Burn Pit Registry
You're eligible to join the burn pit registry if you served in any of the following:
Operations Desert Storm/Desert Shield (ODS)
New Dawn (OND)
Iraqi Freedom/Enduring Freedom (OIF/OEF)
The Southwest Asia theater of operations any time after August 2, 1990
Afghanistan or Djibouti after September 11, 2001
Even if you don't think you were exposed to specific airborne hazards during your deployment, it's better to be safe than sorry if you were in the area where burn pits were active.
Here are a few instances where veterans might be hesitant to sign up for the burn pit registry:
You may not be experiencing symptoms or illnesses related to your exposures
You haven't filed a VA claim for compensation and benefits or applied for VA healthcare
You're still an active-duty service member or have returned to active service.
In all three of these instances, we encourage you to register. The registry can help you track your health and provide additional medical evidence to support a VA claim.
How to Register for the Burn Pit Registry
You can register for the Airborne Hazards and Open Burn Pit Registry here.
The registry includes two main parts: an online questionnaire and an optional health evaluation.
Part I: Health Questionnaire
The first part of the registry is an online questionnaire. It might take some time to complete, depending on how many times you've been deployed. But don't worry; you can save your progress and return later if needed. The questions will ask about your deployments, health history, and lifestyle.
Part II: Health Evaluation
There's also an optional health evaluation that you can do. A VA or military health provider will do this. But it's completely voluntary and won't affect your compensation or benefits exams. The notes from your evaluation will be used to support research.
Once you've completed at least the questionnaire, you'll be officially registered with the Burn Pit Registry.
Joining this registry is important because it can help you get the benefits you deserve if you've been exposed to toxic substances during your service.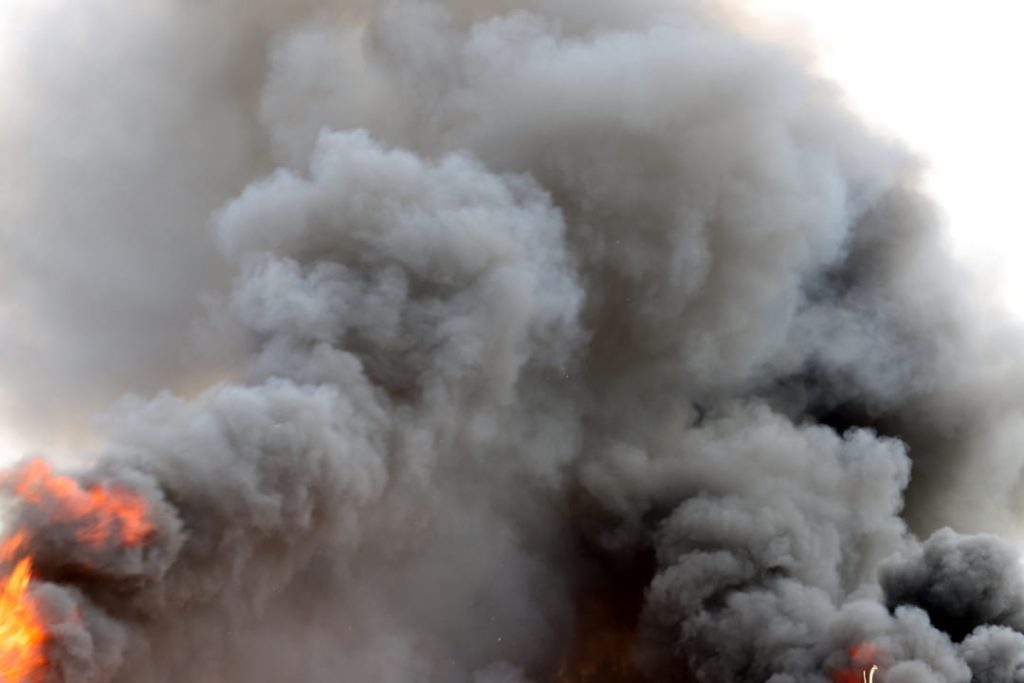 How the Burn Pit Registry Helps You Win Your VA Claim
Navigating the VA claims process can be challenging, but the Burn Pit Registry helps. Joining the burn pit registry can help you begin to establish the required evidence to win your VA claim for burn pit exposure.
Your claim won't just be for burn pit exposure; it will be for the condition you develop as a result of your exposure. Your burn pit exposure will help prove that your condition is connected to your military service.
The Burn Pit Registry helps you meet the three requirements necessary to earn a burn pit VA disability rating:
Current diagnosis of a health condition related to burn pit exposure: Many conditions are now listed as presumptive due to the PACT Act (discussed below).
Evidence of an in-service event or illness that led to the development or aggravation of your condition: By participating in the Burn Pit Registry, you can provide documentation of your burn pit exposure during your service.
A medical nexus linking your condition to your service: The optional health evaluation offered through the Burn Pit Registry can help establish a connection between your current health condition and your burn pit exposure during service.
The good news is that a recent burn pit bill has made it much easier for veterans like you to win your VA claim if you developed a condition as a result of burn pit exposure through what is called presumptive service connection, where the VA assumes certain conditions are related to burn pit exposure, helping you earn a burn pit disability rating.
Presumptive Conditions Related to Burn Pit Exposure
Presumptive service connection plays a critical role in burn pit VA disability claims. It simplifies proving the relationship between your military service and your current health condition. By acknowledging that specific health issues are likely connected to burn pit exposure, the VA makes it easier for veterans to access the compensation they deserve.
The PACT Act has made it easier for veterans exposed to burn pits and particulate matter to get the benefits they need. The PACT Act acknowledges the connection between these exposures and specific health conditions by adding Burn Pit and Particulate Matter Exposure to the VA presumptive list.
With any of the conditions listed below, you no longer need to provide a detailed medical nexus linking your condition to your service. Instead, you simply need to demonstrate that you served in an eligible location during the specified timeframes and have a current diagnosis of a recognized presumptive condition. This streamlines the claims process and increases the likelihood of a successful outcome for your claim.
If you served in any of the following locations during the specified timeframes, it is "presumed" that you were exposed to airborne particulates:
Bahrain, Iraq, Kuwait, Oman, Qatar, Saudi Arabia, Somalia, the UAE, or the airspace above these locations on or after August 2, 1990.
Afghanistan, Djibouti, Egypt, Jordan, Lebanon, Syria, Uzbekistan, Yemen, or the airspace above these locations on or after September 11, 2001.
Here's a list of all conditions presumptively service connected to burn pit exposure:
1. Respiratory and Sinus Conditions
Constrictive or obliterative bronchiolitis
Emphysema
Granulomatous disease
Interstitial lung diseases
Pleuritis
2. Cancers
Glioblastoma
Head cancer
Neck cancer
Respiratory cancer
Gastrointestinal cancer
Lymphoma
Lymphatic cancer
Kidney cancer
Brain cancer
Pancreatic Cancer
Register Today
To all veterans who have been exposed to burn pits or other airborne hazards, we encourage you to sign up for the VA Burn Pit Registry and utilize the resources available to you. Don't hesitate to join, even if you're unsure about your exposure or not currently experiencing symptoms.
Remember, the registry is here to support you and your fellow service members, and your participation can make a difference in your own life and the lives of other veterans around the country.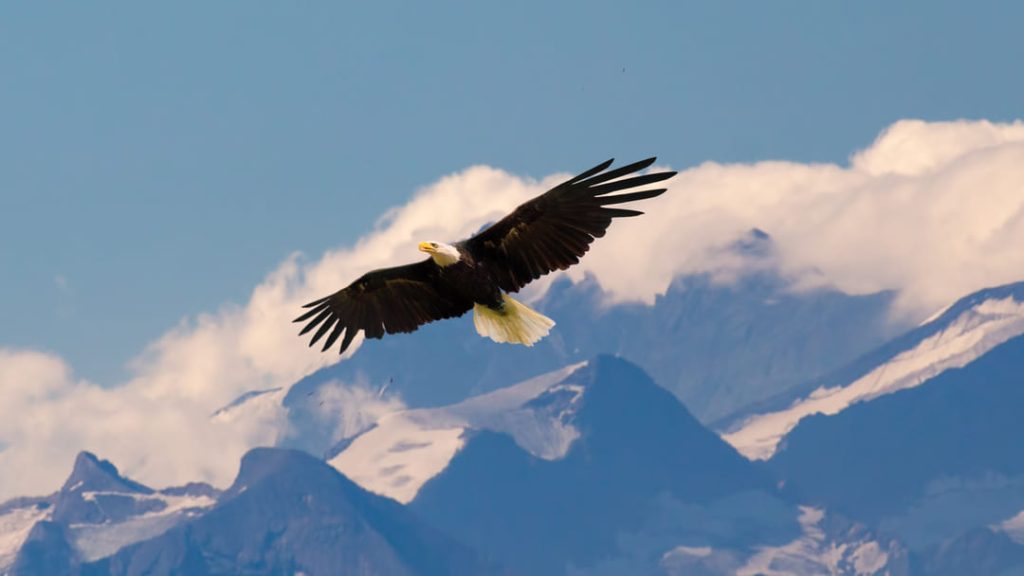 NEED MORE ASSISTANCE?
Most veterans are underrated for their disabilities and, therefore, not getting their due compensation. At VA Claims Insider, we help you understand and take control of the claims process, so you can get the rating and compensation you're owed by law.
Our process takes the guesswork out of filing a VA disability claim and supports you every step of the way in building a fully-developed claim (FDC)—so you can increase your rating FAST! If you've filed your VA disability claim and have been denied or have received a low rating—or you're unsure how to get started—reach out to us! Take advantage of a FREE VA Claim Discovery Call. Learn what you've been missing—so you can FINALLY get the disability rating and compensation YOU DESERVE!