In this post, we will be exploring how to get a VA disability rating for asthma.
I'll also reveal 3 new "insider" tips to increase your VA rating for asthma, even if you've already filed or been denied.
So, let's take a minute to explore the law regarding the symptoms and impairment required to warrant a VA rating for asthma.
Many veterans suffer from various heart and lung conditions, to include Asthma.
In addition, numerous research studies have shown a link between bronchial asthma and obstructive sleep apnea; there is a bidirectional relationship where each disorder adversely influences the other one.
A veteran's final rating for asthma depends upon the frequency and severity of their symptoms, meaning, the more severe your symptoms, the higher rating.
What is Asthma in Veterans?
According to the Mayo Clinic, asthma is a condition in which your airways narrow and swell and may produce extra mucus.
This can make breathing more difficult and trigger coughing, wheezing, and shortness of breath.
For some veterans, asthma is a minor nuisance.
For others, it can be a major problem that interferes with daily activities (e.g., work, life, and social functioning) and may lead to a life-threatening asthma attack.
While asthma can't be cured, its symptoms can be controlled.
Because asthma often changes over time, it's important that you work with your doctor to track your signs and symptoms and adjust your treatment as needed.
Common Symptoms of Asthma in Veterans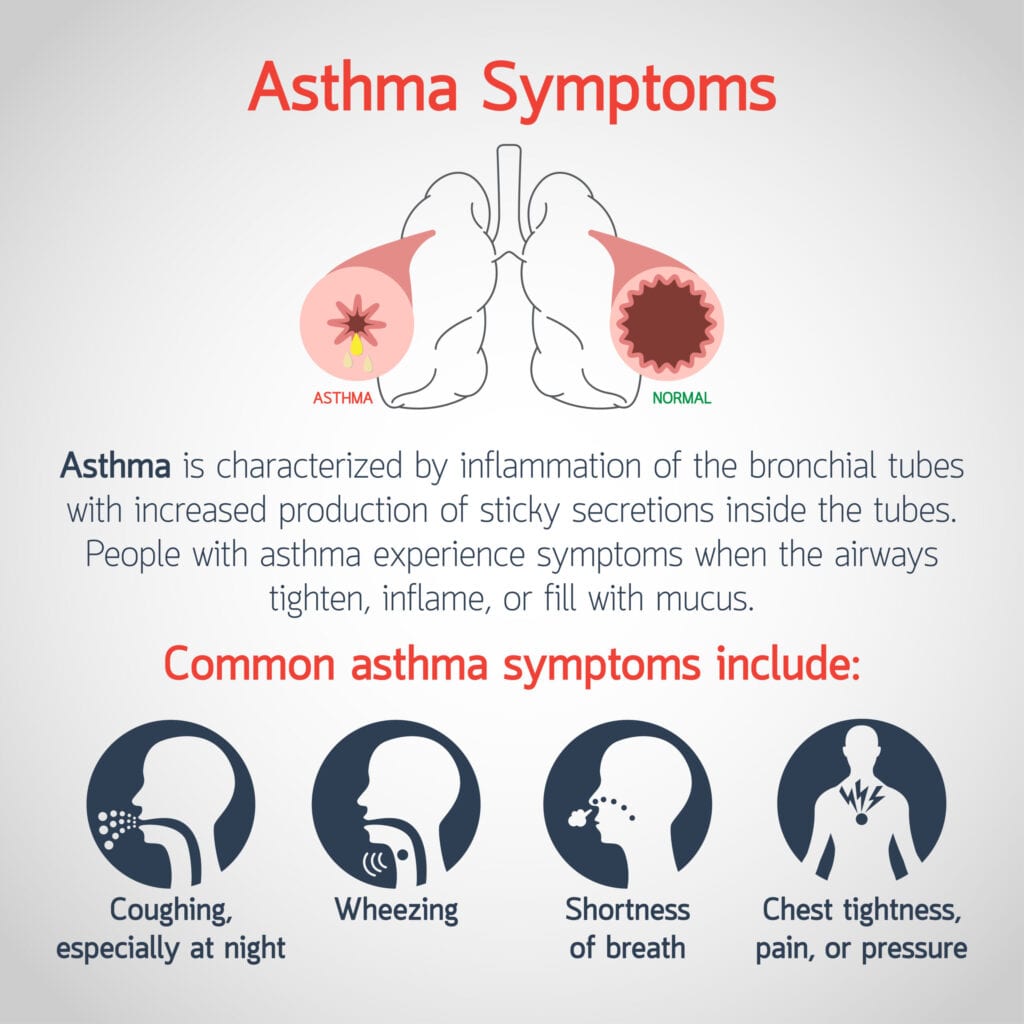 Asthma symptoms vary from veteran to veteran.
You may have intermittent asthma attacks, such as after exercising, or you may have symptoms all the time.
Your final VA rating will depend upon the severity of your symptoms.
Asthma signs and symptoms may include:
Shortness of breath
Wheezing
Chest tightness or pain
Difficulty sleeping
Signs that your asthma disability is probably worsening include:
Asthma signs and symptoms that are more frequent and bothersome
Increasing difficulty breathing, as measured with a device used to check how well your lungs are working (peak flow meter)
The need to use a quick-relief inhaler more often
Asthma signs and symptoms flareups include:
Exercise-induced asthma, which may be worse when the air is cold and dry
Occupational asthma, triggered by workplace irritants such as chemical fumes, gases, or dust
Allergy-induced asthma, triggered by airborne substances, such as pollen, mold spores, cockroach waste, or particles of skin and dried saliva shed by pets (pet dander)
Is Asthma a VA Disability?
Yes, asthma is a VA disability and can be rated at 10%, 30%, 60%, or 100% depending upon the frequency, severity, and duration of your symptoms.
Asthma is a bronchial disorder most commonly rated under CFR 38, Part 4, VA Schedule of Ratings, Diagnostic Code 6602, Asthma, Bronchial.
VA Disability Rating for Asthma: Basic Eligibility Criteria
In order to be eligible for an asthma VA rating, a veteran must meet three (3) criteria by law:
#1. Medical diagnosis of Asthma in a medical record (Service Treatment Records, VA medical records, or private medical records)
#2. Your Asthma was caused or made worse by your active-duty military service ("Nexus" for service connection)
#3. Persistent and recurring symptoms of Asthma ("Severity of Symptoms")
If you think you have a respirator condition such as asthma, but don't have a medical diagnosis, pick-up the phone and call the VA mental health facility nearest you to make an appointment right away!
If you're trying to increase your VA disability rating for asthma, you need to prove to the VA that your symptoms are now worse and warrant a higher rating by law.
The #1 best way to increase your VA rating for asthma is to get a private independent psychological evaluation and tell your uncomfortable truths about the severity of your symptoms.
VA Disability Rating for Asthma – Detailed VA Rating Criteria
DC 6602 VA Disability Rating for Asthma, Bronchial:
VA Rating

FEV-1 less than 40-percent predicted, or; FEV-1/FVC less than 40 percent, or; more than one attack per week with episodes of respiratory failure, or; requires daily use of systemic (oral or parenteral) high dose corticosteroids or immuno-suppressive medications

100%

FEV-1 of 40- to 55-percent predicted, or; FEV-1/FVC of 40 to 55 percent, or; at least monthly visits to a physician for required care of exacerbations, or; intermittent (at least three per year) courses of systemic (oral or parenteral) corticosteroids

60%

FEV-1 of 56- to 70-percent predicted, or; FEV-1/FVC of 56 to 70 percent, or; daily inhalational or oral bronchodilator therapy, or; inhalational anti-inflammatory medication

30%

FEV-1 of 71- to 80-percent predicted, or; FEV-1/FVC of 71 to 80 percent, or; intermittent inhalational or oral bronchodilator therapy

10%

*Note:

In the absence of clinical findings of asthma at time of examination, a verified history of asthmatic attacks must be of record.
VA Disability Ratings for Asthma
Common Secondary Conditions to Asthma
Allergies
Nasal polyps
Vocal Cord Dysfunction (Inducible Laryngeal Obstruction)
Asthma-COPD overlap syndrome
Bronchiectasis
Sleep Apnea Secondary to Asthma
By law, service connection may be established on a secondary basis for a disability which is proximately due to or the result of service-connected disease or injury. See 38 CFR § 3.310(a).
Establishing service connection on a secondary basis requires evidence sufficient to show (1) Medical diagnosis of Obstructive Sleep Apnea (2) that the Sleep Apnea was either (a) proximately caused by or (b) proximately aggravated by a service-connected disability. Allen v. Brown, 7 Vet. App. 439, 448 (1995).
When there is an approximate balance of positive and negative evidence (50/50) regarding any issue material to the determination of a matter, the Secretary shall give the benefit of the doubt to the claimant. 38 USCA § 5107; 38 CFR § 3.102; see also Gilbert v. Derwinski, 1 Vet. App. 49, 53 (1990).
To service connect Sleep Apnea secondary to Asthma, you'll need to get an Independent Medical Opinion (IMO) "Medical Nexus Letter" to support the connection between Sleep Apnea and Asthma.
Recent medical research discusses the bidirectional relationship between sleep apnea and asthma and several studies support the finding of asthma worsening sleep apnea and vice versa.
There are direct mechanical effects of asthma worsening sleep apnea beyond its natural progression.
Here's a recent BVA case decision where a veteran got service connected for obstructive sleep apnea secondary to asthma.
Wondering How to Service Connect Your Asthma?
Need a Medical Nexus Letter for Obstructive Sleep Apnea Secondary to Asthma?
Join VA Claims Insider Elite, get instant access to the Elite Experience Portal Plus (EEP+) and $13,119 worth of proprietary VA claim resources and start FREE today:
We're Veterans helping Veterans Worldwide™, and since 2016 we've helped 10,000+ Veterans just like you INCREASE their VA disability rating!
---
About The Author
Brian Reese
Brian Reese is one of the top VA disability benefits experts in the world and bestselling author of You Deserve It: The Definitive Guide to Getting the Veteran Benefits You've Earned (Second Edition).
Brian's frustration with the VA claim process led him to create VA Claims Insider, which provides disabled veterans with tips, strategies, and lessons learned to win their VA disability compensation claim, faster, even if they've already filed, been denied, gave up, or don't know where to start.
As the founder of VA Claims Insider and CEO of Military Disability Made Easy, he has helped serve more than 10 million military members and veterans since 2013 through free online educational resources.
He is a former active duty Air Force officer with extensive experience leading hundreds of individuals and multi-functional teams in challenging international environments, including a combat tour to Afghanistan in 2011 supporting Operation ENDURING FREEDOM.
Brian is a Distinguished Graduate of Management from the United States Air Force Academy, Colorado Springs, CO, and he holds an MBA from Oklahoma State University's Spears School of Business, Stillwater, OK, where he was a National Honor Scholar (Top 1% of Graduate School class).