In this post, we will reveal and explain the Top 25 Disabled Veteran Benefits You Might Not Know About.
If you're a disabled veteran with a VA disability rating of 0% or higher, stay tuned, because the information in this post could literally make you thousands and save you thousands.
We've also compiled a complete list of benefits for disabled veterans across the various VA disability ratings from 0% to 100%.
In our experience at VA Claims Insider, many veterans aren't aware of the various opportunities you may qualify for with top nonprofit and for profit veterans benefits programs.
This means you could be missing out on thousands of dollars of disabled veteran benefits for you, your spouse, and your dependents.
Okay, so let's jump right in and explore the top benefits for disabled veterans in 2023.
Complete List of Top 25 Disabled Veteran Benefits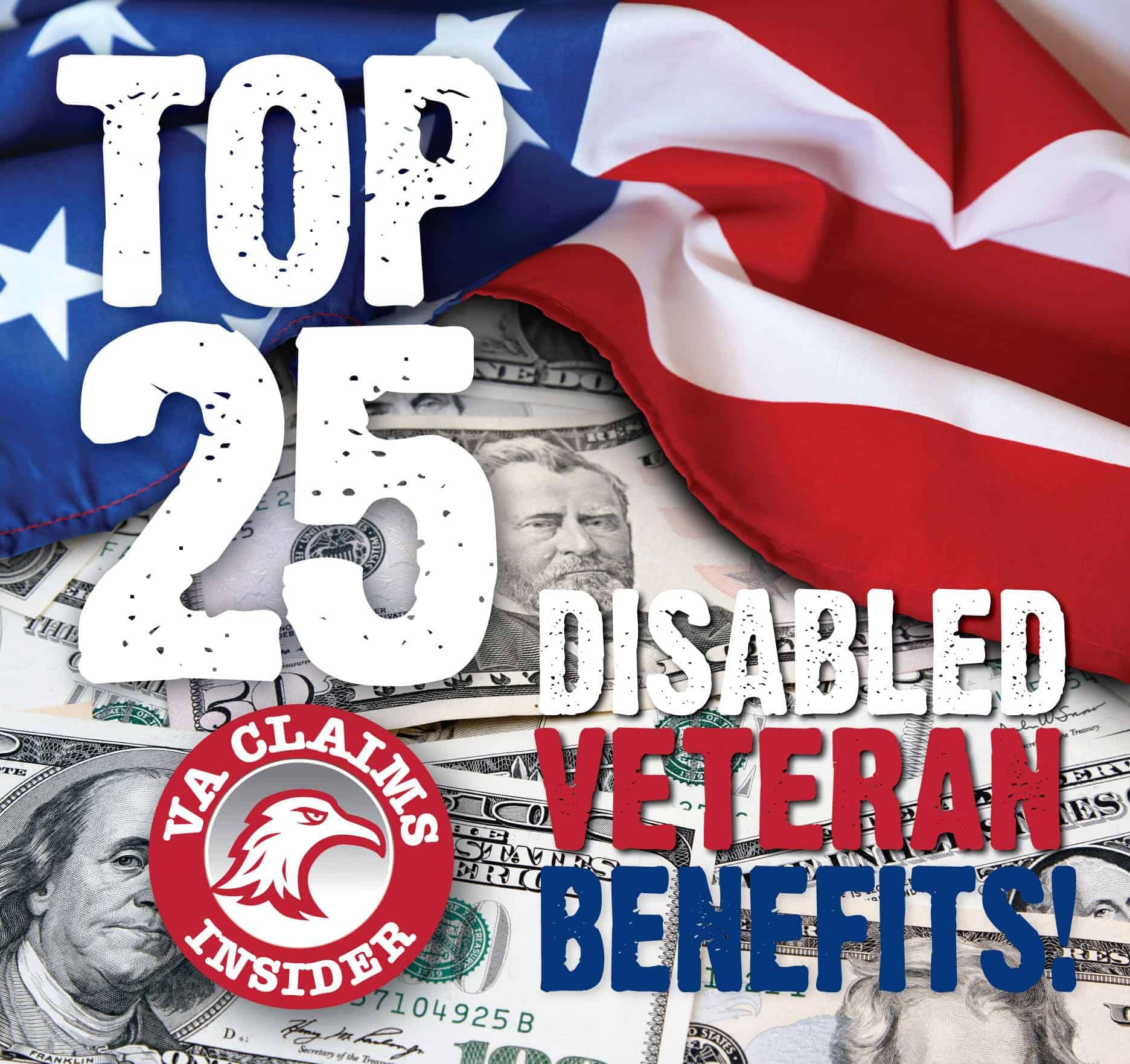 WATCH: Top 25 Disabled Veteran Benefits (You Might Not Know About!)
Veterans, want to learn the Top 25 Disabled Veteran Benefits available to you right now?
Brian Reese here from VA Claims Insider, and today, I'm going to teach you the best disabled veteran benefits this year.
Make sure you stay tuned in until the end, I've included a FREE bonus just for you!
***TIMESTAMPS & LINKS***
⏩ 01:04 Sometimes you have to take the leap!
⏩ 09:55 Get your butt to the doctor
⏩ 13:39 What is the standard of proof
⏩ 15:15 Get a medical Nexus letter
⏩ 18:30 The VA is looking for Frequency, Severity, and Duration of symptoms over time
⏩ 21:35 VA Claims Insider FREE Resources
⏩ 25:13 VA Disability Compensation Pay
⏩ 29:30 FREE Healthcare and Prescription Medication
⏩ 30:44 Property Tax Exemptions by State!
⏩ 34:55 VA Total Disability Individual Unemployability (TDIU)
⏩ 36:58 CHAMPVA Health Insurance
⏩ 38:37 Commissary and Base Exchange Privileges
⏩ 44:29 Free Space A Travel for Disabled Veterans
⏩ 45:28 BONUS! Disabled Veteran Student Loan Forgiveness Program
***VA CLAIMS INSIDER ELITE MEMBERSHIP PROGRAM***
✔️Join VA Claims Insider Elite, get instant access to $13,119 worth of high-value VA disability claim resources for FREE up-front, and potentially get your VA claim service connected in less time. Click here to get started
Detailed List of Top 25 Disabled Veteran Benefits in 2023
VA Disability Compensation Pay
One of the best disabled veteran benefits available is VA disability compensation pay. If you have a disability condition that was caused or made worse by your active duty military service, you may be eligible to receive tax-free monthly compensation. Veterans can prepare and file their own VA disability compensation claim for FREE by opening a Notice of Intent to File on the VA.gov website for a VA disability increase or first-time filer. An "Intent to File" puts the VA on notice that you're planning to file a VA claim, which is important because it sets an effective date for when you could start getting benefits while you prepare your disability claim and gather supporting documents (Note: Limited to 12 months of back pay from your Notice of Intent to File date, unless in an appeal situation). Click HERE to view the 2023 VA disability compensation pay rates.
Special Monthly Compensation Benefits for Disabled Veterans
VA Special Monthly Compensation, also known as VA SMC benefits, is additional tax-free compensation that can be paid to disabled veterans, their spouses, surviving spouses, and parents. For disabled veterans, VA Special Monthly Compensation is a higher rate of compensation paid due to special circumstances, such as the need for aid and attendance by another person or by specific disability. For example, the loss or use of a creative organ, which is Erectile Dysfunction (ED) for men and Female Sexual Arousal Disorder for women. Click HERE to view the complete list of 2023 SMC pay rates.
Veterans Benefits Banking Program
Effective December 20, 2019, disabled veterans and their beneficiaries may use the Veterans Benefits Banking Program (VBBP) to identify and apply to open an account at a participating bank or credit union. Participating banks and credit unions are available to help disabled veterans and their families make finding a financial institution easier. The VBBP can ensure you get paid faster, safer, and with fewer fees.
FREE Healthcare and Prescription Medications for Disabled Veterans
This is one of the top disabled veteran benefits, which includes free health care for disability conditions related to military service for veterans with a disability rating of at least 50%, as well as for those who can't afford to pay for care. Veterans can click here to learn more about how the VA determines healthcare costs and co-pays.
Disabled Veteran Benefits Travel Pay Reimbursement
VA Travel Pay Reimbursement is for regular transportation, such as a car or Privately-Owned Vehicle (POV), plane, train, bus, taxi, or light rail. You may be eligible for this reimbursement if you're traveling for care at a VA health facility or for VA-approved care at a facility in your community and at least one of the below descriptions is true for you. The current VA travel pay reimbursement rate is 41.5 cents ($0.415) per mile for approved, health-related travel.
Property Tax Exemptions for Disabled Veterans
Most states offer property tax exemptions for disabled veterans. Some states even have a full waiver of property taxes for disabled veterans on their primary residence. While not all 50 states offer the same tax breaks for disabled veterans, and the criteria to qualify for a waiver differs from state to state, it's in your best interest to check with your state county tax assessor's office to see if you qualify. You may be eligible to save thousands of dollars each year with this incredible state benefit due to reduced or no property taxes owed.
VA Home Loan Funding Fee Waiver for Disabled Veterans
Disabled Veterans with a VA disability rating of 10% or higher qualify for a waiver of the VA home loan funding fee. The VA home loan funding fees range from 1.4% to 3.6% of the total loan amount (less any down payment). For example, let's say a first-time veteran home buyer purchases a $300,000 home and makes a down payment of $15,000 (or 5% of the $300,000 VA home loan). You'll pay a VA funding fee of $4,702.50, or 1.65% of the $285,000 loan amount. Note the funding fee applies only to the VA loan amount, NOT the purchase price of the home. Now, if you're a disabled veteran with a service-connected disability rating of 10% or higher, you are exempt from the VA home loan funding fee! Disabled veterans can check eligibility requirements HERE.
Vocational Rehabilitation and Employment Program
Vocational Rehabilitation and Employment (VR&E) program, also known as "Voc Rehab," is designed to assist Veterans with service-connected disabilities to obtain suitable employment and/or achieve independent living goals. It consists of several application phases involving tasks for both VR&E staff and Veterans to complete. For more information about Voc Rehab, you can visit here. Veterans, you can also get started with the VR&E process by contacting your local VA Regional Office.
Additional VA Disability Compensation for Dependents
Disabled veterans with a current VA disability rating of 30% or higher are eligible for an increase in monthly VA disability compensation to help support their families. Disabled veterans can apply online for free and add/remove dependents at any time on the VA.gov website inside their VA disability claim online application.
Concurrent Receipt of VA Disability Pay and Military Retirement Pay
The Concurrent Retirement and Disability Pay (CRDP) program allows military retirees to receive BOTH military retired pay and VA disability compensation. Generally, you must be a regular military retiree with a combined VA disability rating of 50% or higher to qualify for CRDP. Click HERE to learn more about DFAS's CRDP program for military retirees with a VA disability rating.
VA Total Disability Individual Unemployability Benefits
VA "Total Disability Individual Unemployability," sometimes referred to as TDIU, Individual Unemployability, or just IU, is an extra benefit for qualifying disabled veterans to be paid at the 100% VA disability rate, even if they are rated below 100 percent schedular. Click HERE to read more about VA TDIU eligibility and Frequently Asked Questions.
Dependents Education Assistance VA Benefits
If you're the child or spouse of a Veteran or service member who has died, is captured or missing, or has disabilities, you may be able to get help paying for school or job training through the DEA program, also known as Chapter 35 benefits. Generally, a disabled veteran must be 100% P&T due to a service-connected disability for dependents to qualify. Click HERE to find out if you're eligible for this incredible benefit for survivors and dependents of eligible disabled veterans.
Special Restorative Training and Special Vocational Training
The VA may approve Special Restorative Training, if needed, to help the dependents of Chapter 35 benefit recipients to overcome or lessen the effects of a physical or mental disability so they can work toward their educational or training goals. Alternatively, the VA may approve Special Vocational Training to help eligible dependents with a physical or mental disability.
CHAMPVA Health Insurance for Disabled Veterans
The Civilian Health and Medical Program of the Department of Veterans Affairs (CHAMPVA) is a health insurance benefits program in which the Department of Veterans Affairs (VA) shares the cost of certain health care services and supplies with eligible beneficiaries. In general, CHAMPVA covers the cost of most healthcare services and supplies that are medically necessary for eligible beneficiaries. Wondering if CHAMPVA is any good? Click HERE to learn more.
FREE VA Dental Care for Disabled Veterans
VA dental care services depend on several factors, such as your VA disability rating, service-connected dental disabilities, current home/living situation, etc. Based upon these factors, the VA places veterans into a "Benefits Class" and you'll get the specific VA dental benefits (and priority) assigned to that class. Generally, a disabled veteran must have a 100% disability rating (not temporary or IU) to qualify for free VA dental care. Click HERE to learn more about FREE VA dental care eligibility for disabled veterans.
VA Burial Benefits and Plot Allowances
Surviving spouses and dependents may qualify for allowances to help pay for a veteran's burial and funeral costs. You may be able to get Veterans burial allowances if you're paying for the burial and funeral costs and you won't be reimbursed by any other organization, like another government agency or the Veteran's employer. If the Veteran died of a service connected disability ON or AFTER September 11, 2001, the maximum VA burial benefit allowance is $2,000 or $1,500 for a Veteran who died of a service connected disability BEFORE September 11, 2001.
Disabled Veterans Commissary Privileges for 2023
Commissaries, Exchanges, and MWR facilities are now available in-person and online for disabled veterans with a service-connected VA rating between 0% and 100%, effective January 1, 2020. If you're wondering "Are all disabled veterans eligible for in-person and online commissary, exchange, and morale, welfare and recreation privileges on military installations?" The answer is YES!
Disabled Veteran Preference for Federal Jobs
Veterans may be eligible to receive a 0, 5, or 10-point Federal hiring preference in competitive appointments. Veterans may be considered for special noncompetitive appointments for which only they are eligible by law. Click HERE to read more about Federal Hiring Preferences for Veterans.
Direct Hire Authority for Federal Jobs
A Direct-Hire Authority (DHA) is an appointing (hiring) authority that the Office of Personnel Management (OPM) can give to Federal agencies for filling vacancies when a critical hiring need or severe shortage of candidates exists. While Veterans preference does NOT apply when selecting individuals under DHA, in our experience, transitioning military members, veterans, and disabled veterans are often well-trained and suited for Federal positions. Some Federal Agencies also offer Expedited Hiring Authority (EHA) for critically manned career fields, such as Defense Federal Acquisition positions.
VA Aid and Attendance Program
The VA Aid and Attendance program is a VA Pension Benefit that helps cover the costs of daily living for housebound veterans and/or those in nursing homes. Aid and Attendance benefits are a form of Special Monthly Compensation added to the amount of a monthly VA Pension for qualified Veterans and survivors. If the Veteran requires help with daily activities or he/she is housebound, click HERE now to learn more.
Disabled Veterans Life Insurance Program
The Disabled Veterans Life Insurance program is a VA program that provides insurance for disabled veterans who have a service-connected disability rating from 0% to 100%. The basic program, commonly referred to as "RH Insurance", insures eligible Veterans for up to $10,000 of coverage. Totally disabled veterans who are unable to work may apply for additional coverage of up to $30,000. Click HERE to review eligibility and application requirements.
NOTE: This program has stopped taking new applications after December 31, 2022. However, if you already have S-DVI, you can keep it.
The VA has a new program called Veterans Affairs Life Insurance (VALife).
Check the links below for more details:
https://www.va.gov/life-insurance/options-eligibility/s-dvi/
https://www.va.gov/life-insurance/options-eligibility/valife/

Jobs for Disabled Veterans Provided by EF Legion
Co-founded by former Navy SEALs Jocko Willink and Mike Sarraille, EF Legion is a FREE job board and placement service into top civilian companies for veterans, disabled veterans, and military spouses based upon the principles of the book Extreme Ownership.
Update (July 2023): The job search is currently inactive.
Educational Scholarships for Dependents of Disabled Veterans
The Folds of Honor Foundation offers two (2) exceptional educational scholarship programs for the dependents of disabled veterans. The Children's Fund Scholarship serves K-12 students, while the Higher Education Scholarship serves those seeking a first bachelor's degree or certification at a post-secondary institution. Both types of the Folds of Honor academic scholarships are based on "unmet need" as determined by documentation submitted by the awardee and can be valued up to $5,000 per dependent per school year. The funds can be used to cover tuition, fees, books, room and board, uniforms, etc. Click HERE to learn more about Folds of Honor scholarship eligibility requirements.
Free Tax Preparation for Disabled Veterans
The Volunteer Income Tax Assistance (VITA) program offers FREE tax help to disabled veterans who generally make $60,000 per year or less. IRS-certified volunteers provide FREE basic income tax return preparation with electronic filing to qualified individuals.
FREE Space A Travel for Disabled Veterans
With the passage of the Disabled Veterans Access to Space-A Travel Act, disabled veterans with a service-connected 100% permanent and total disability rating can jump on any scheduled or unscheduled military flight within the continental United States under Category 6 operated by Air Mobility Command (AMC), subject to availability. Click HERE for the AMC official Space A travel page.
[NEW!] Disabled Veteran Student Loan Forgiveness Program
The new Disabled Veteran Student Loan Forgiveness Program discharges the Federal Student Loan Debt of veterans who are Totally and Permanently Disabled with a 100% P&T VA Rating OR have a 100 percent Total Disability Individual Unemployability (TDIU) status. It's officially called the Total and Permanent Disability (TPD) discharge program and has been a huge success to date. And guess what else? A little-known fact is that if you're a veteran with a 100 percent scheduler VA disability rating (neither P&T nor TDIU status applies to you), you're also eligible for Disabled Veteran Student Loan Forgiveness!
List of VA Disability Benefits By Rating
7 Best Ways to Increase Your VA Disabled Veteran Benefits
---
About the Author
Brian Reese
Brian Reese is one of the top VA disability benefits experts in the world and bestselling author of You Deserve It: The Definitive Guide to Getting the Veteran Benefits You've Earned (Second Edition).
Brian's frustration with the VA claim process led him to create VA Claims Insider, which provides disabled veterans with tips, strategies, and lessons learned to win their VA disability compensation claim, faster, even if they've already filed, been denied, gave up, or don't know where to start.
As the founder of VA Claims Insider and CEO of Military Disability Made Easy, he has helped serve more than 10 million military members and veterans since 2013 through free online educational resources.
He is a former active duty Air Force officer with extensive experience leading hundreds of individuals and multi-functional teams in challenging international environments, including a combat tour to Afghanistan in 2011 supporting Operation ENDURING FREEDOM.
Brian is a Distinguished Graduate of Management from the United States Air Force Academy, Colorado Springs, CO, and he holds an MBA from Oklahoma State University's Spears School of Business, Stillwater, OK, where he was a National Honor Scholar (Top 1% of Graduate School class).