In this post, we will explore the VA rating for Sciatica as well as how to file a VA claim for Sciatica.
Back injuries and various musculoskeletal injuries, which can lead to Sciatica, or severe radiating pain, are quite common for military veterans and when they are severe, they can make life nearly impossible.
Sciatica is the pain that one experiences when the sciatic nerve is irritated.
Sciatica is not an actual diagnosis of a problem, but rather, an accurate way of describing the location of the pain.
What is Sciatica?
The sciatic nerve is the largest nerve in the body.
This nerve runs from the lower back through the hips and buttocks all the way down to the leg.
Sciatica is extreme pain that radiates along the path of the sciatic nerve, which branches from your lower back through your hips and buttocks and down each leg.
According to the Mayo Clinic, "Sciatica most commonly occurs when a herniated disk, bone spur on the spine or narrowing of the spine (spinal stenosis) compresses part of the nerve. This causes inflammation, pain and often some numbness in the affected leg."
Sciatica develops when the pressure on the spinal nerve causes pain to develop on the lower back, buttocks, and legs.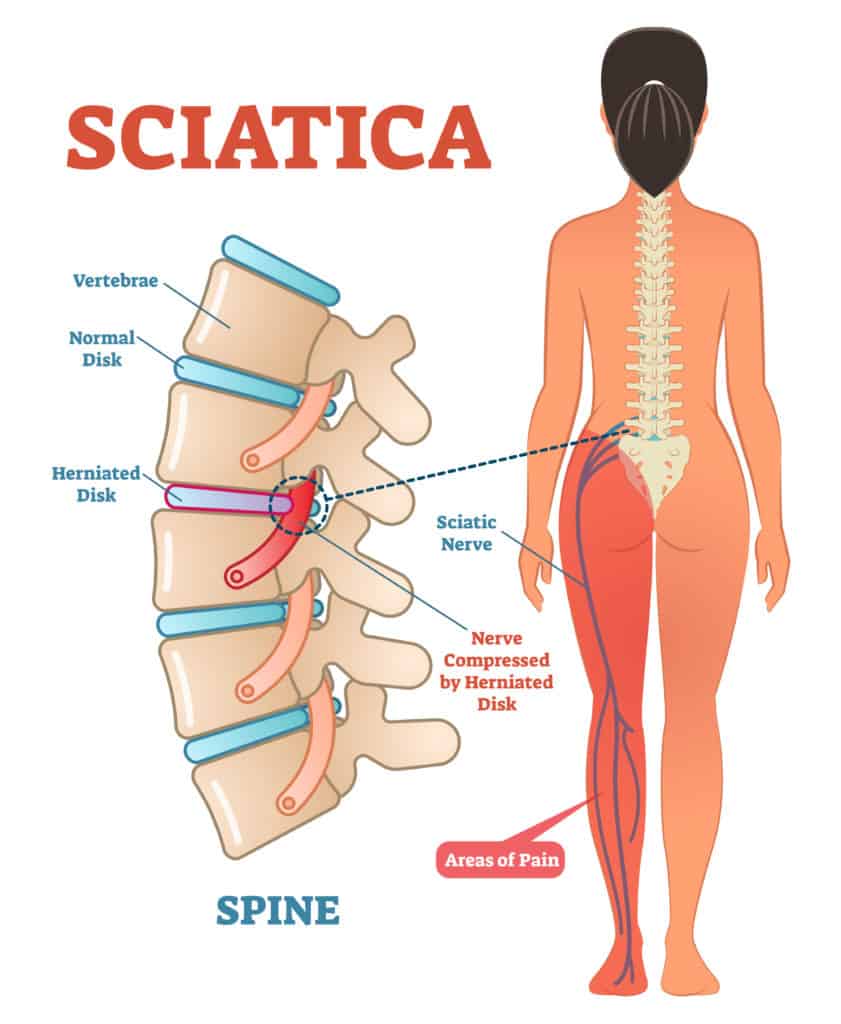 When Sciatica is severe, it can even lead to paralysis, which is why it is important to file a VA claim for it if you are currently suffering from the condition.
Symptoms that are experienced when one is suffering from Sciatica include:
Weakness in the back
Tingling as well as burning sensation
Numbness
Moderate to extreme pain
Difficulty moving around and walking
Inability to move or paralysis
When one is suffering from sciatica, one will usually find that:
They experience the most level of pain either when they are sitting or standing
Sometime when one has sciatica, he or she may experience relief when lying down or when walking
Sciatica can also make it difficult for one to stand up for extended periods or for one to walk for long
Pain from Sciatica can also be made much worse after sneezing or when one makes unexpected movements like coughing
What is the VA disability rating for Sciatica?
VA disability ratings for Sciatica fall under one of the following codes from eCFR, Title 38, Part 4, Schedule for Rating Disabilities:
Code 8520: Paralysis of the sciatic nerve. Complete paralysis: If the foot drops (it cannot be lifted by the muscles in the legs), all the muscles in the leg below the knee do not work at all, and the knee has serious trouble bending (bending the knee doesn't have to be impossible to rate as complete paralysis of the sciatic nerve, it just has to be limited), it is rated 80%. Incomplete, severe paralysis is rated 60%. Incomplete, moderately severe paralysis is rated 40%. Incomplete, moderate paralysis is rated 20%. Incomplete, mild paralysis is rated 10%.
Code 8620: Neuritis of the sciatic nerve. If the condition causes severe symptoms, it is rated 60%. If it causes moderately severe symptoms, it is rated 40%. If it causes moderate symptoms, it is rated 20%. Mild symptoms are rated 10%.
Code 8720: Neuralgia of the sciatic nerve ("sciatica"). Neuralgia cannot be rated higher than moderate, even if it is considered severe. If the condition is moderate, it is rated 20%. If it is mild, it is rated 10%.
If you are suffering from total paralysis, it can cause all the muscles below the leg and knee to stop working altogether.
If this is the case, a rating of 80 percent is assigned.
When one is suffering from severe but partial paralysis of the sciatic nerve, a 60% rating will be given.
Partial paralysis can result in poor blood circulation, limited functionality as well as atrophy of the muscles.
The rating for incomplete paralysis is given based on how severe, moderately severe or extremely severe a condition is.
If you are suffering from any loss of sensation and severe loss of reflexes, your rating will be categorized under neuritis.
If you are suffering from neuritis, the highest rating that you can receive is 60%.
However, if your sciatica is moderate or mild, you may only be able to receive a rating of between 10 and 40%.
If you are experiencing any numbness, tingling or pain that interferes with your back or how your legs operate, your pain will be categorized under neuralgia.
The highest rating given for neuralgia is 20%.
However, if your condition is not as serious, your rating will only be 10%.
If you are suffering from bilateral sciatica, you will want to make sure that you are given the right rating in order to receive the compensation that you deserve.
Sciatica can affect both sides of the body.
Thus, a bilateral factor will also be added to your overall combined rating for Sciatica.
How is Sciatica diagnosed?
Sciatica is usually diagnosed after a complete medical examination by a primary care doctor.
To diagnose the causes of your sciatica, the first stage will involve getting a complete history of your pain, as well as your symptoms.
The location of your symptoms, the movements that make the pain pronounced, as what gives you relief are all factors that will be considered.
Once the history of your sciatica has been determined, a physical exam will them be completed by a state certified technician to determine the underlying cause of your sciatica pain.
Things such as your spinal range of motion, your balance and posture will be considered.
The reflexes in your knees, as well as your nerves, will also be tested.
If your condition is severe, an orthopaedic exam may also be administered as it will be able to provide valuable details of the causes of your sciatica.
If you think you may have Sciatica, but have never been to your doctor, pick up the phone and call the VA nearest you to book an appointment.
Wondering about the 8-step VA claim process? Click HERE to read now.
Are you STUCK, FRUSTRATED and UNDERRATED?
You are not alone! We are Veterans helping Veterans!
Become an Elite Member and work with our Veteran Coaches to get the rating you deserve! 
---
About the Author
Brian Reese
Brian Reese is one of the top VA disability benefits experts in the world and bestselling author of You Deserve It: The Definitive Guide to Getting the Veteran Benefits You've Earned (Second Edition).
Brian's frustration with the VA claim process led him to create VA Claims Insider, which provides disabled veterans with tips, strategies, and lessons learned to win their VA disability compensation claim, faster, even if they've already filed, been denied, gave up, or don't know where to start.
As the founder of VA Claims Insider and CEO of Military Disability Made Easy, he has helped serve more than 10 million military members and veterans since 2013 through free online educational resources.
He is a former active duty Air Force officer with extensive experience leading hundreds of individuals and multi-functional teams in challenging international environments, including a combat tour to Afghanistan in 2011 supporting Operation ENDURING FREEDOM.
Brian is a Distinguished Graduate of Management from the United States Air Force Academy, Colorado Springs, CO, and he holds an MBA from Oklahoma State University's Spears School of Business, Stillwater, OK, where he was a National Honor Scholar (Top 1% of Graduate School class).