This is the ultimate guide to improve your VA PTSD claim in 2020.
All VA claims for PTSD depend upon the Frequency, Severity, and Duration of your mental health symptoms over time, and more specifically, your current level of Occupational and Social Impairment.
Translation: You MUST be able to explain HOW your PTSD is negatively affecting your work, life, relationships, and social functioning.
The VA Rating Official, more commonly known as the RVSR, will eventually make a subjective rating assessment by comparing all your medical evidence and supporting statements along with the C&P examiners notes on the electronic version of the PTSD DBQ, which will be either the Initial PTSD DBQ (internal VA use only) or the PTSD Review DBQ.
Wondering if you have PTSD for VA compensation purposes? Click HERE to take our FREE VA PTSD Test for Veterans.
According to CFR 38 PTSD the VA Schedule of Ratings, your VA PTSD claim can be rated from 0% to 100%, with interim breaks at 10%, 30%, 50%, and 70%.
You can check-out the official PTSD Rating Scale HERE.
The average VA disability rating for PTSD is currently 70 percent, making it a high-value VA claim.
The current VA ratings for PTSD in 2020 are: 0%, 10%, 30%, 50%, 70%, and 100%.
Alright, let's dive-in to the Top 5 Ways to Improve Your VA PTSD Claim, even if you've already filed or been denied.
Top 5 Ways to Improve Your VA PTSD Claim
VA PTSD Claim Tip #1: Get an independent psychological evaluation and private DBQ for PTSD Review
You can either obtain a DBQ for PTSD from a private provider or wait and let the C&P examiner complete an electronic version of the DBQ at your compensation and pension exam for PTSD.
>> Need a PTSD Review DBQ? Veterans can join VA Claims Insider Elite to potentially get one from a private medical provider in our referral network. <<
In addition to having a medical diagnosis for PTSD, there are two critical sections of the PTSD DBQ that determine your final VA rating for mental health.
In Section 4, a private provider or the C&P examiner will check one of 7 boxes based upon their subjective assessment of your overall level of occupational and social impairment.
You'll notice the keywords for each block mirrors the PTSD Rating Scale verbatim.
This is the MOST IMPORTANT section on your PTSD DBQ.
Why?
Because VA Raters rely almost entirely on the checkbox in this section when making the final rating determination, unless the preponderence of your PTSD symptoms are one-level above or one-level below.

Section 7 is the second most important part of the DBQ for PTSD Review.
The reason is because your current PTSD symptoms serves as a signal to the VA Rating Official on the severity of your mental health condition, which ultimately affects your final rating.
The more severe your PTSD symptoms, the higher the VA rating you'll receive for PTSD.
Note this is NOT meant to be an exhaustive list of symptoms, and you may have some, none, or all of these symptoms.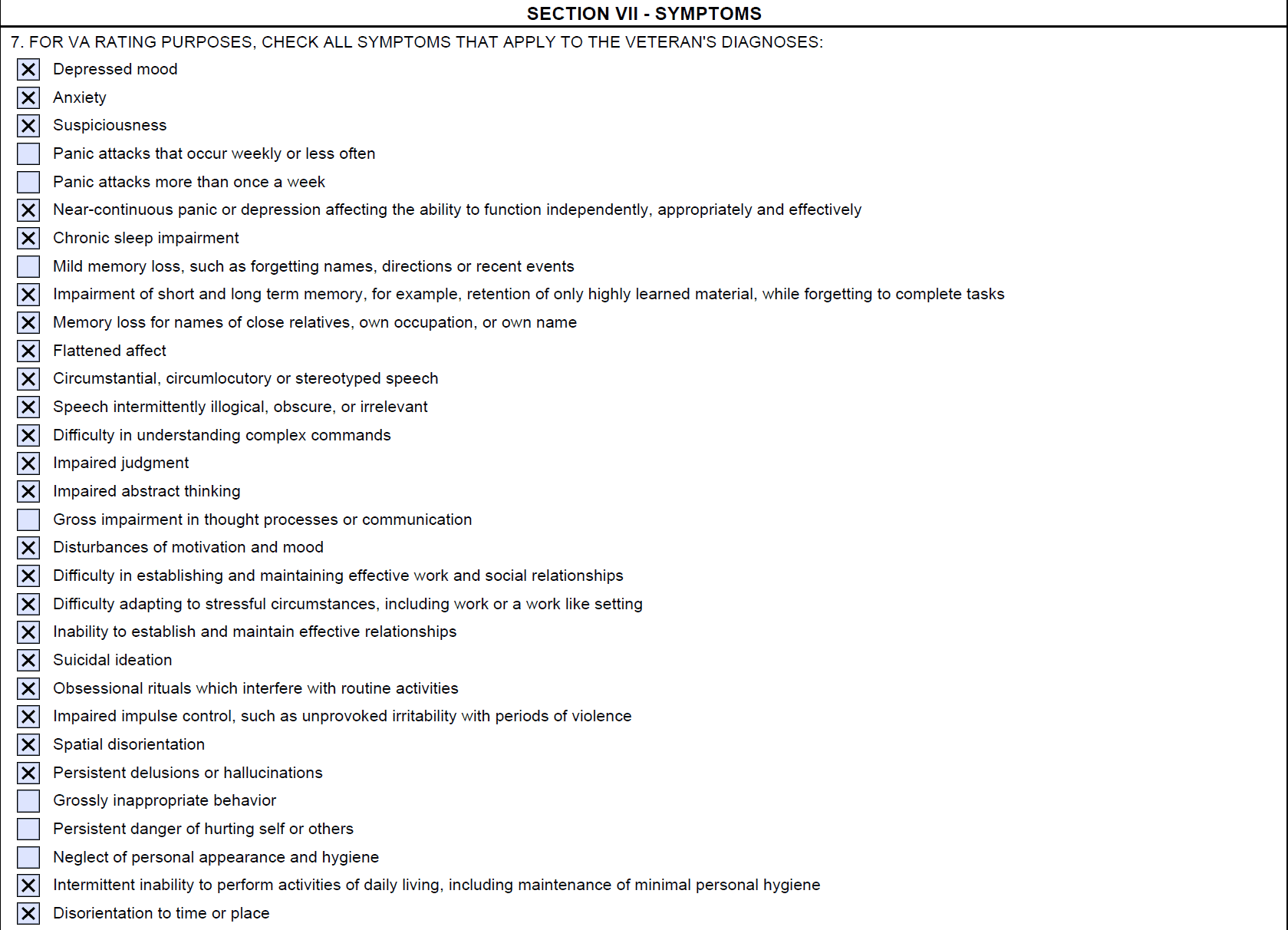 If you already have a VA PTSD claim that's been decided, and you've got a VA rating for PTSD at 0%, 10%, 30%, 50%, or even 70%, but you think you deserve a higher VA rating, all you need for the increase is a DBQ for PTSD Review completed by a private medical provider.
That's because the VA can use its Acceptable Clinical Evidence (ACE) program to fast-track your VA claim for PTSD increase, especially since you're already service connected.
With the recent Coronavirus outbreak affecting veterans, we expect to see more ACE decisions, or at a minimum, C&P examiners conducting the PTSD evaluation using Telehealth technologies.
Chances are you'll get a C&P exam for PTSD to verify that your symptoms meet the higher criteria under the law (this is a good thing for veterans).
PTSD Claim Tip #2: Write a Strong Personal Statement in Support of a Claim on the VA Form 21-4138
I'm amazed at how few veterans write their own personal statements to support their VA claim for PTSD.
While it may seem self-serving, is there anyone better to explain the severity of his/her PTSD symptoms than you as the veteran?
I think not.
From what I've seen over the past 10 years, however, is that most veterans fail to adequately explain HOW their PTSD is limiting or affecting your work, life, and social functioning in sufficient detail.
You need to get raw, real, open, honest, and vulnerable when writing down your uncomfortable truths.
And trust me, it's not easy to re-live those events again.
But it's absolutely essential to your final VA rating for PTSD.
This is not the time to downplay your symptoms, which sadly, many veterans try to do.
For example, if your PTSD is so severe that you're having sexual dysfunction and it's negatively affecting your relationship with your spouse or significant other, you need to write it down on the VA Form 21-4138 Statement in Support of a Claim.
Or maybe you pace around your own home, constantly checking windows, doors, and locks because you think someone might try to break-in, or worse, possibly you're afraid to leave your house.
Perhaps you're having significant issues with anger, and it's caused you to be fired from work, demoted, or maybe you can't work in an office environment any longer due to your PTSD.
PTSD VA Claim Tip #3: Obtain a Buddy Statement for PTSD to explain your current symptoms in detail
A Buddy Statement for PTSD a credible statement to support your VA claim for PTSD, written by a competent and credible individual 18 years of age or older.
The buddy must have first-hand knowledge of your PTSD, the incident that caused or made your PTSD worse in the military, as well as your current level of occupational and social impairment.
The buddy then offers an account of what they witnessed or are witnessing in support of a veterans VA disability claim for PTSD.
A VA buddy letter for PTSD can be from a fellow service member, spouse, friend, pastor, co-worker, boss, adult child, or any other competent and credible witness.
A buddy letter for PTSD is sometimes called a "stressor statement for PTSD" and can be the linchpin to winning your VA disability claim for PTSD.
Why?
Because a buddy statement constitutes "lay evidence" under the law, which simply means "after the fact" evidence.
The Rating Veteran Service Representative (RVSR) at the VA MUST consider a buddy letter for PTSD because it's defined in M21-1 as a secondary source of evidence in support of your VA disability claim.
PTSD VA Tip #4: Ensure your PTSD Stressor Event can be verified by at least one other firsthand witness
VA PTSD claims ALWAYS have "stressors."
Stressor verification is a big deal for VA disability claims for PTSD.
The reality is if the veteran can't prove their PTSD stressor on an "at least as likely as not" basis, you'll likely be denied service connection.
This is also referred to as "corroboration" of a claimed stressor.
By definition, "corroborate" means "to support with evidence or authority and make more certain."
The VA has different rules to assess whether a stressor event needs further verification.
But in my experience at VA Claims Insider, I want to make something very clear to veterans seeking service connection for PTSD: The burden of proof is on YOU to show on an "at least as likely as not" basis that the stressor event happened to YOU.
I literally cannot overstate the importance of this statement.
If you can't get at least one Buddy Letter to support your claimed stressor, there's a high likelihood you'll get denied service connection for PTSD.
>> Click HERE for a Buddy Letter for PTSD Example <<
The stressful event can be due to combat, personal trauma, other life-threatening situations (non-combat related stressors).
If you're wondering if your PTSD Stressor Event is enough to meet the VA's requirements for PTSD, ask yourself this question: Did you fear for your life?
If the answer is no, it's highly likely that your PTSD stressor isn't strong enough.
>> Click HERE to Read the Definitive Guide for PTSD Stressor Verification <<
SPECIAL NOTE: For VA purposes, "fear of hostile military or terrorist activity" means that a Veteran experienced, witnessed, or was confronted with an event or circumstance that involved actual or threatened death or serious injury, or a threat to the physical integrity of the Veteran or others, such as from an actual or potential improvised explosive device; vehicle-imbedded explosive device; incoming artillery, rocket, or mortar fire; grenade; small arms fire, including suspected sniper fire; or attack upon friendly military aircraft.
VA PTSD Increase Tip #5: Be uncomfortably vulnerable during your C&P Exam for PTSD
Here are the 8 things you need to know for your VA C&P exam for PTSD:
#1. Know what's in your medical records! There is no substitute for knowing what's in your service treatment records, VA medical records, or any private medical records. VA claims for PTSD come down to medical evidence—either you have enough, or you don't.
#2. Review your Disability Benefit Questionnaire (DBQ) for PTSD. You must be prepared to talk about any PTSD diagnosis, treatment, symptoms, and your "Nexus" for service connection for PTSD (if you're filing a PTSD claim for the first time).
#3. Review the CFR 38 for PTSD, and ensure you have a baseline of your approximate symptoms over time. While you don't need all symptoms for a particular rating, you should at least have a general understanding of where you're at prior to your PTSD C&P Exam.
WATCH: C&P Exam for PTSD SECRETS
#4. Do NOT have your best day…this does NOT mean you should lie or stretch the truth. It's against Federal Law to file a false claim. What this means is you need to tell the C&P examiner how you are on your very worst days. And be prepared to discuss how often you have those bad days.
#5. Be UNFOMFORTABLY VULNERABLE.This means that if it's awkward or hard for you to discuss, especially with someone you don't' know or trust, you're probably on-the-right-track. This is your one chance to tell your uncomfortable truths. Maybe you've been abusing drugs or alcohol to cope with your PTSD—tell the examiner. Maybe you've driven another car off-the-road and got into a fight—tell the examiner. Maybe you're divorced and struggling to maintain healthy relationships—tell the examiner.
#6. PTSD claims comes down to severity of symptoms, specifically your level of "Occupational and Social Impairment." Are you prepared to talk about HOW your PTSD is negatively impacting your work, life, and relationships?
#7. Know your true story cold…and potential in-service stressors (or other service-connected disability) that caused or made your VA PTSD claim worse.
#8. You must be prepared to talk about your life in detail. Before joining the military. During the military. And after your active duty service. How long have you been suffering from PTSD? Have you ever sought treatment? Why or why not?
>> Click HERE to Read The 5 Crucial Tips to Nail Your PTSD C&P Exam <<
We're Veterans helping Veterans Worldwide™, and since 2016 we've helped 10,000+ Veterans just like you INCREASE their VA disability rating!
---
About the Author
Brian Reese
Brian Reese is one of the top VA disability benefits experts in the world and bestselling author of You Deserve It: The Definitive Guide to Getting the Veteran Benefits You've Earned (Second Edition).
Brian's frustration with the VA claim process led him to create VA Claims Insider, which provides disabled veterans with tips, strategies, and lessons learned to win their VA disability compensation claim, faster, even if they've already filed, been denied, gave up, or don't know where to start.
As the founder of VA Claims Insider and CEO of Military Disability Made Easy, he has helped serve more than 10 million military members and veterans since 2013 through free online educational resources.
He is a former active duty Air Force officer with extensive experience leading hundreds of individuals and multi-functional teams in challenging international environments, including a combat tour to Afghanistan in 2011 supporting Operation ENDURING FREEDOM.
Brian is a Distinguished Graduate of Management from the United States Air Force Academy, Colorado Springs, CO, and he holds an MBA from Oklahoma State University's Spears School of Business, Stillwater, OK, where he was a National Honor Scholar (Top 1% of Graduate School class).