Let's learn about MST. A less known type of trauma that many have heard of, but rarely have a good understanding of, is Military Sexual Trauma (MST). 

MST refers to sexual assault and sexual harassment that occur in military settings. Both men and women can experience MST, and the perpetrator can be of the same or opposite gender. Working as a Veteran Coach at VA Claims Insider, I have personally worked with both male and female service members that have been subjected to MST as they look to file their claims. As a senior NCO, I also have supported and been around soldiers that have suffered MST.

What is MST defined as?

Sexual harassment: is defined as unwelcome verbal or physical conduct of a sexual nature (offensive remarks about your sexual activities or body) or sexual coercion (promises of special treatments, promotions, etc., in exchange for sexual favors), or unwanted sexual attention. 

Sexual assault: is defined as any sort of sexual activity between at least two people in which one of the parties is involved against their will. Physical force may or may not be a factor. This can include unwanted sexual touching, grabbing, oral sex, anal sex, sexual penetration with an object, and/or sexual intercourse.

In the past decade, there has been a wide range of sexual assault and sexual harassment claims made, ranging from inappropriate sexual jokes/flirtations to completed forcible rape.

Sexual Assault in the Military

MST is severely underreported, and the military continues to struggle to convict perpetrators of sexual assault or sexual harassment. This does not factor in survivors from earlier eras of service. I have worked with veterans that suffered MST as far back as the 1960s. In 2022, 8,942 sexual assault cases were reported in the military, and 3,928 cases were brought for investigation with dispositions. 3,188 cases were considered for possible actions by DoD Commanders.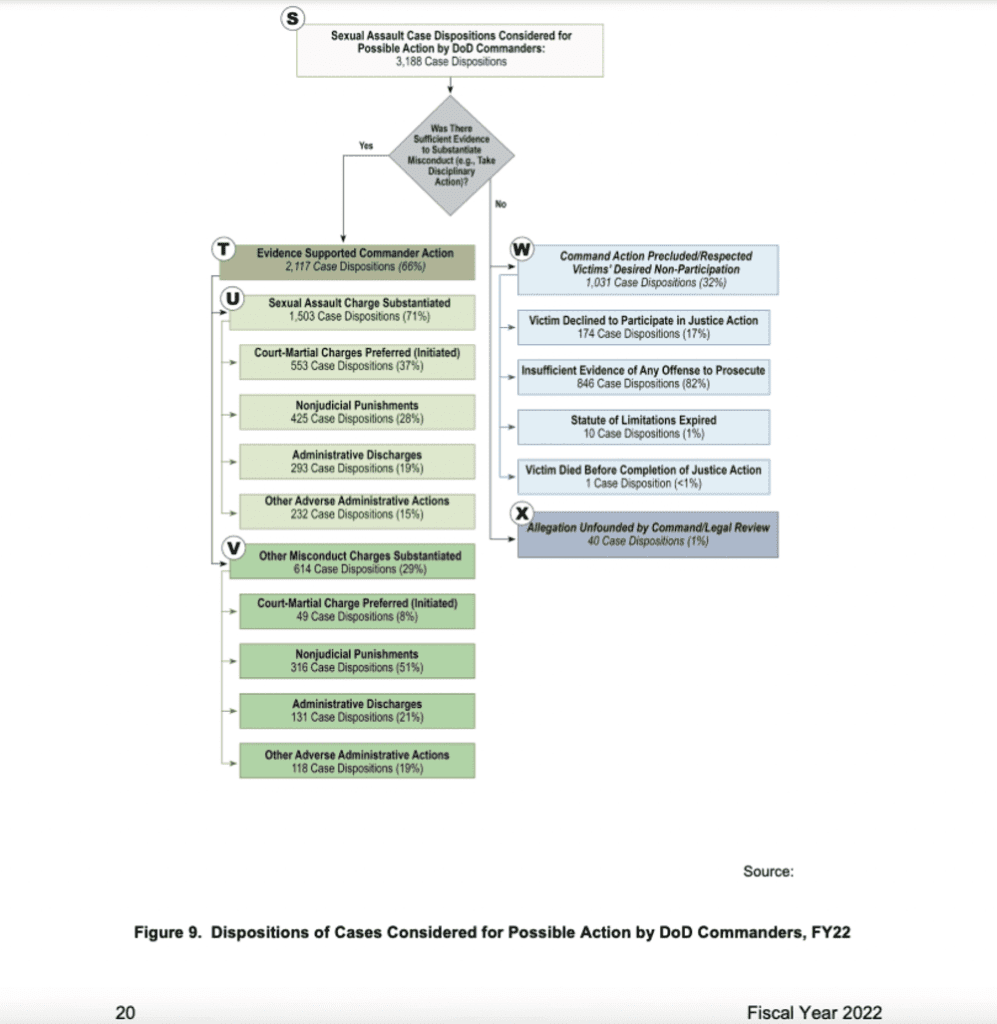 MST's effects
There is no empirical data to support the differences between sexual assault/harassment outside of the military and MST; however, there is plenty of anecdotal evidence that suggests MST has greater psychological and physiological effects.

MST is unique in that it occurs where the survivor lives and works, and often, the perpetrator is someone the survivor knows or is the survivor's peer or supervisor. Often, in these military settings, the survivor must rely on the perpetrator for basic needs, including medical or psychological needs. Having to live in close proximity to the perpetrator of their sexual assault can cause survivors to feel an increased sense of helplessness, isolation, powerlessness, or a greater risk of being victimized again. 

There is also a very real fear of retaliation against those that report sexual assaults/harassment. The military has established a culture of high unit cohesion. This creates fear within survivors of sexual assault/harassment that, should they divulge any negative information about a fellow service member, they will "create a reputation around them," becoming "that person." 

In May 2015, Human Rights Watch released a report from an 18-month-long investigation titled "Embattled: Retaliation Against Sexual Assault Survivors in the US Military." They discovered that men and women who reported sexual assault/harassment were 12 times as likely to face retaliation including threats, vandalism, harassment, poor/undesirable work assignments, loss of promotion or promotion opportunities, disciplinary actions (including discharge), or even criminal charges. There is also social retaliation. Many survivors report that the after-effects of reporting, such as harassment, bullying, and isolation, are actually worse than the sexual assault/harassment itself. To read the full report, click here.
What can MST lead to:
Difficulty in maintaining interpersonal relationships, difficulties with trust, engaging in social activities, or even experience sexual dysfunction (this may be difficult feeling aroused, having flashbacks of the assault, etc)
Emotional challenges (guilt, shame, depression, anxiety, or hypervigilance)
The derailment of a survivor's military career; many veterans with MST reported that they were not able to continue their career with the military due to the possibility of re-victimization or working in close proximity of their perpetrator (this included the potential of having their perpetrator become their superior)
Substance and alcohol abuse
Additional medical and mental health disorders such as; obesity, anorexia/bulimia, gastrointestinal problems, attention deficit disorder (ADD), memory difficulties, chronic pulmonary disease, liver disease, and hypothyroidism. (This is key as we think about secondary disabilities to MST)
There is a common misconception that only women can be affected by MST. However, a 2015 study by RAND estimated 116,600 US active component service members were sexually harassed in the year prior. While women did experience significantly higher rates (22% of women), thousands of men were also affected (7%).
Men may feel more shame, symptomatology, and are less likely to seek help or treatment. Men, however, tend to blame themselves more, question their sexual orientation and their masculinity. When it comes to survivors of sexual assault and MST, 65% of men and 49.5% of women reported having PTSD for life. 

Treatment options
In order to be diagnosed with MST, there are two questionnaires that can be completed. The first is The Sexual Experience Questionnaire. This is the most widely used measure of sexual harassment. To measure sexual assault, the Sexual Experiences Survey is used. The Sexual Experiences survey is a self-reporting tool that assesses a variety of unwanted sexual experiences; this includes severity, duration, etc. 

The treatment has been clinically shown to reduce psychological symptoms and improve the overall quality of life of the survivor. There are many options for seeking help for MST. Below are some widely accepted practices:

Seek professional help. Every VA hospital has an MST coordinator. They are an advocate for the survivor of MST
Lifestyle changes; exercise, volunteering, and maintaining strong support systems.
Mindfulness; being aware of triggers and your mindset and then intently focusing on something that brings you joy (the taste of a favorite chocolate bar or a cup of coffee, a favorite song, etc)
Practicing optimism; focusing on positive things in your life, focusing on positive things that are in the present and are tangible
Peer/support groups; finding a collective group of individuals that can empathize with your experiences can be cathartic. It can lend itself to removing that sense of isolation or shame
Being open-minded about treatment; because MST is so personal in its nature, it's important to understand that everyone handles and recovers in their own way. It's important to keep an open line of communication between yourself and your doctor, and yourself and your loved ones
When seeking professional treatment, there are outpatient and inpatient facilities within the VA. Outpatient facilities will have you come in for weekly or bi-weekly visits. There are two widely accepted practices for the treatment of MST symptoms; exposure therapy and cognitive restructuring.

Exposure therapy is a retelling of your traumatic event repeatedly until you begin to reform the way you experience the memory and control how your brain reacts. This has been shown to be effective upfront; however, this can be damaging to long-term recovery.
Cognitive restructuring is taking on a new approach to how your brain and body react to a traumatic event. It's refocusing your negative thoughts and forcing them away from the traumatic event and instead focusing on positive thinking and healthy coping
There are also in-patient facilities that are reserved for the most severe cases of MST. These in-patient facilities have separate sleeping facilities for male and female survivors. Some facilities even have separate programs for male and female survivors in order to reduce the anxiety of interacting with someone of the opposite gender. More information can be found here.

From a claims perspective, PTSD MST claims, though sensitive and personal in nature, require carefully telling your story, having the proper diagnosis, and connecting all of these things together. For information about filing a claim for MST or getting more information, please don't hesitate to reach out.
---
About the Author
About VA Claims Insider
VA Claims insider is an education-based coaching/consulting company. We're here for disabled veterans exploring eligibility for increased VA disability benefits and who wish to learn more about that process. We also connect veterans with independent medical professionals in our referral network for medical examinations, disability evaluations, and credible independent medical opinions and nexus statements (medical nexus letters) for a wide range of disability conditions.