Veterans who have pes planus (or "flat feet") may be eligible for a VA disability rating. What many don't know is that there are also a number of secondary conditions linked to flat feet that you may also receive benefits for.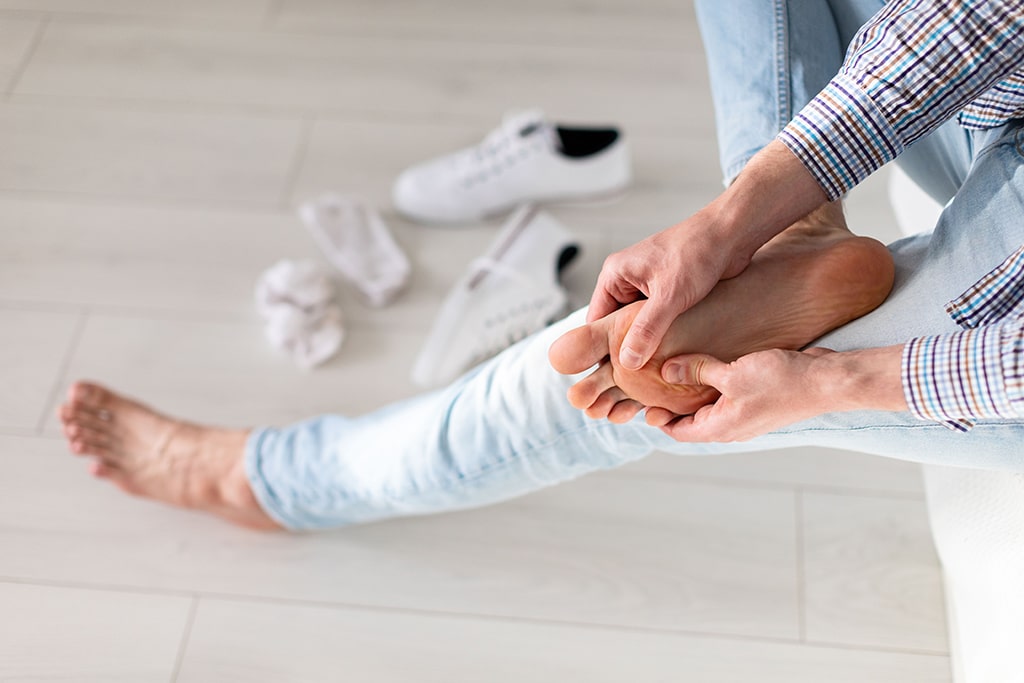 What's a Secondary Condition?
First of all, it's important to understand secondary conditions in general, according to the VA's evaluations.
In contrast to a direct service-connected condition, which is when military service directly caused a medical condition, a secondary disability is a condition that is caused by or made worse by, the existing direct service-connected condition.
The existence of secondary-claims makes it possible to receive benefits for some conditions that veterans otherwise would not be able to link to their service. Many secondary conditions develop some time after the time of service.
What Secondary Conditions Can be Linked to Flat Feet?
Flat feet often can cause a substantial change in your walking gait, causing an abnormal strain on the musculoskeletal system. This can lead to the development of a number of possible secondary conditions linked to flat feet. Some of the more common conditions are:
Degenerative Disc Disease. Because of the change of walking gait, often spinal discs can deteriorate more quickly, leading to pain. It may also cause weakness and numbness.
Calluses. With pes planus, the foot does not bear the weight the way it was intended to. As a result, painful calluses may develop on the foot.
Toe Deformities. Again, the way flat feet bear weight can put undue strain upon the toes, eventually causing deformity.
Foot Degeneration. As the condition worsens, the feet may become less capable of supporting the body, resulting in pain, difficulty balancing, and trouble walking unassisted.
Knee, hip, and lower back pain.
Plantar Fasciitis. This is when the fibrous tissue along the bottom of your foot becomes inflamed. It can cause a great deal of pain in the heel.
Arthritis of the foot and ankle joints.
You may be able to link any of these conditions to your flat foot condition, giving you an increased chance to receive more disability benefits and compensation from the VA.

Making a Secondary Condition Claim
Making a secondary claim based on secondary conditions linked to flat feet is a similar process to filing a direct-service connected claim. Even the same form, VA Form 21-526EZ, is used. The easiest and fastest way to do this is by filing online, which also allows you to track your claim. 
Like a direct-service condition claim, substantial evidence will be needed in order to have it approved. This begins with a diagnosis, as symptoms alone won't be enough for the VA to consider your claim. Most importantly will be the medical evidence. This is where a medical professional can prove a direct link to your already existing flat foot condition.

Conclusion on Secondary Conditions Linked to Flat Feet
Many veterans suffer from flat feet. When this condition is left untreated or is aggravated, many other issues can begin to affect those veterans as a result. Unfortunately, because many of those secondary conditions develop long after their time in service, many veterans do not apply for the benefits that may be available to them for a secondary condition.
If you have flat feet and have begun to develop any conditions that may be related to them, you should definitely seek a diagnosis and then a secondary claim with the VA. There is no reason to leave benefits on the table.
The VA already knows that there are several secondary conditions that can be caused by flat feet. With the proper diagnosis and evidence, you will have a good chance to receive more of the care and benefits you deserve. Click HERE to get started with our elite program today!
Are you STUCK, FRUSTRATED and UNDERRATED?
You are not alone! We are Veterans helping Veterans!
Become an Elite Member and work with our Veteran Coaches to get the rating you deserve! 
---
About the Author
About VA Claims Insider
VA Claims Insider is an education-based coaching/consulting company. We're here for disabled veterans exploring eligibility for increased VA disability benefits and who wish to learn more about that process. We also connect veterans with independent medical professionals in our referral network for medical examinations, disability evaluations, and credible independent medical opinions and nexus statements (medical nexus letters) for a wide range of disability conditions.