Veteran Depression is a very difficult disorder to live with and significantly impacts the military community. Military veterans are at an especially high risk of depression and other mental disorders due to the additional stressors and psychological damage on top of the normal stressors that civilians deal with.
If you or someone you know is experiencing Veteran depression, you aren't alone!
According to the National Institute of Mental Health, nearly one in five adults in the U.S. lives with a mental illness. Depression is one of the most common mental disorders, making up an estimated 6.7% of the population that deals with the disorder every year. A 2008 VA study estimated 1 in 10 Veterans using primary care clinics deal with major depression. Although common, veteran depression is a serious disorder and requires treatment.
Many people describe depression as feeling as if they are in a rut and just can't get out. Sadness and a lack of desire to participate in normal life events can wreak havoc in your life and the lives of your loved ones.
The stigma associated with mental health issues can prevent many people from recognizing and seeking treatment, especially in military communities.
Arming yourself with the tools to recognize the signs and symptoms of veteran depression in both yourself and your friends and family will help with treatment and recovery. We've included signs to look out for and how to get help in this article.
What Causes Veteran Depression
Depression is an extremely complex disorder. Although experts describe depression as a chemical imbalance, this description doesn't capture the difficulty and intricacy of the disorder. You may be genetically susceptible to encounter depression in your life. Stressful life events can also lead to veteran depression, to include significant trauma, the death of a loved one, illness, loss of a job, or failed relationship.
Anything in your life that causes chronic stress can lead to long-lasting changes within your body and brain. Medical issues and medications are another cause. Hyperthyroidism is one of the best known medical causes, but there are many different medical conditions that can contribute to depression. Many different medications also cause depression as a side effect.
Since the causes behind veteran depression vary so much, two people with similar symptoms may respond completely differently to treatment.
Symptoms of Depression
Symptoms of veteran depression can vary greatly! Specific depression symptoms vary in severity from person to person. These can be hard to notice at first. Experiencing any of the following symptoms frequently, or every day for at least a few weeks, could be related to depression:
u003cliu003eFeeling sad, empty, lonely or hopelessu003c/liu003eu003cliu003eSelf blameu003c/liu003eu003cliu003eGuilty feelings for no reasonu003c/liu003eu003cliu003eFixation on past failuresu003c/liu003eu003cliu003eTrouble thinking and lack of actionsu003c/liu003eu003cliu003eLosing interest in your daily activities u003c/liu003eu003cliu003eFrustration over insignificant mattersu003c/liu003eu003cliu003eGaining or losing weightu003c/liu003eu003cliu003eSleeping too much or not enoughu003c/liu003eu003cliu003eLack of energy or feeling tiredu003c/liu003eu003cliu003eEating more or less than usualu003c/liu003eu003cliu003eUnexplained physical problems (back pain or headaches)u003c/liu003eu003cliu003eAlcohol or substance abuseu003c/liu003e
You may experience mild, moderate, or major depression. Mild depression may go away after a short while, while moderation or major depression can last for extended periods and interfere with your day-to-day life.
If you are seeking treatment for veteran depression and plan on filing with the VA, make sure you understand how to set up an appointment for an independent medical opinion (IMO) where you can discuss symptoms with your doctor in order to support your VA claim. To learn more about what symptoms support a mental health related VA claim, read our article on Mental Health in Veterans and Next Steps.
When Immediate Attention is Required
Although there is a stigma associated with mental health conditions and many people avoid treatment, a few signs require immediate attention. These include:
u003cliu003eu003cstrongu003eThinking about hurting or killing yourselfu003c/strongu003eu003c/liu003eu003cliu003eu003cstrongu003eLooking for ways to kill yourselfu003c/strongu003eu003c/liu003eu003cliu003eu003cstrongu003eTalking about death, dying, or suicideu003c/strongu003eu003c/liu003eu003cliu003eu003cstrongu003eSelf-destructive behavior to include drug abuse, weapons, etc.u003c/strongu003eu003c/liu003e
If you recognize any of these symptoms in yourself or others please seek help immediately. There are available resources that are completely confidential, so don't let that concern you! The Veterans Crisis Line is a fantastic resource
You can get 24/7 100% confidential help for free through the Veterans Crisis Line.

Phone – Call 1-800-273-8255 and Press 1

Text – 838255

Online –

Chat
How to Recognize Veteran Depression in Yourself
Noting any changes in your own mental state and how you interact with the world is the first step to recognizing if you are dealing with depression.
The culture within the military is often to minimize and downplay personal issues – especially when it comes with health related issues. This can lead towards a tendency to ignore or avoid issues even when we know they exist.
A lot of times we find it easier to see changes in others than in ourselves. So how do you recognize veteran depression in yourself? Being mindful of your own thoughts and feelings is an important step in recognizing changes in yourself. Looking for the symptoms listed above is key.
Alcohol and Substance Abuse
Let's face it, the culture within the military promotes alcohol. A lot of veterans enjoy adult beverages and since drinking alcohol is already normalized, it's easy to increase how much you drink and not think a lot of it.
If you notice that you are consuming more alcohol on a regular basis, this may be a sign that you are misusing alcohol as a coping mechanism for depression or other mental health issues.
If you have any symptoms of substance abuse, you can screen yourself with the VA's anonymous and confidential assessment tool. You can share the results with your doctor or mental health professional, but they aren't saved anywhere and only for your own awareness.
If you are suffering from Veteran depression, read our article on Major Depression Disorder Claims for more information on filing a claim with the VA. Many Veterans end up denied or very underrated for their mental health claims. Why Mental Health Claims End up Denied or Underrated.
How to Recognize Depression in Family and Friends
If you recognize that a loved one is acting differently, there could be a lot of underlying factors or different reasons why. But what are signs of depression in our friends and family?
Understanding the feelings of someone dealing with depression may help you recognize the disorder in friends and family.
Among the top feelings associated with depression are guilt, unworthiness, and low self-esteem. If you try to imagine what it would be like to deal with these feelings, you can understand why many people start to withdraw from their normal lives. Some people dealing with depression will go to great lengths to avoid others. They may not even understand why they suddenly have a desire to withdraw.
You may also notice the person has lost interest in hobbies, work, or school and no longer finds joy in the activities they used to love.
Physical appearance changes to include significant weight gain or weight loss, or changes in self-care habits can indicate someone is dealing with depression. If you observe anxiety, agitation, sleeplessness, or mood swings depression could be the culprit. Substance abuse in others is also a symptom to note!
Treatment for Depression
Understanding the cause of depression may help you overcome the disorder. Self care is among the top treatments. Ensuring you are eating healthy, getting enough sleep, and exercising regularly are among the top ways to manage your symptoms.
Although it can be tough, reaching out to friends and loved ones can be extremely helpful in coping with depression, as isolation fuels depression. Treatment can also include therapy or medication. The VA also recommends
VA Mental Health Resources
If positive life changes and support from family and friends isn't enough, the most important thing is to get treatment. There are a lot of different types of resources for Veterans when it comes to mental health.
Treating Veteran Depression Through the VA
The VA provides medications and psychotherapy to help treat Veteran depression. In order to access these services, you must be enrolled in VA health care.

If you are already enrolled, start by talking to your VA primary care provider. If you don't have one, you can find a VA medical center near you here. Your primary care provider can help you choose from different therapies for depression and other mental illnesses.
There are several different therapies for treatment of depression:
Cognitive Based Therapy for Depression

– a structured, time-limited psychotherapy that helps people develop more balance and helpful thoughts about themselves, others, and the future. The therapy modifies thought patterns to change moods and behaviors.

Acceptance and Commitment Therapy for Depression

– a psychotherapy that helps people overcome emotional pain and worry by encouraging people to take positive actions.

Interpersonal Psychotherapy

– a form of treatment that focuses on the relationships that may be the cause or result of depression. This therapy also builds social skills that improve quality of life.
PTSD Treatment
The VA offers mental health assessment and testing, medications, psychotherapy, family therapy, as well as group therapy for Veterans suffering from PTSD. If you are dealing with PTSD read our article on How to Get a VA Rating for PTSD and Depression.

You can find a specialized PTSD program near you with the VA PTSD program locator.
Local Recovery Coordinators (LRCs)
Every VA medical center has a psychologist known as a Local Recovery Coordinator who helps Veterans suffering from mental illness access recovery oriented services. They provide education and support to both Veterans and their family members. Your local LRC is a great resource who will be able to match you with VA resources.
Vet Centers
If you haven't signed up for VA health care, the Vet Center is an opportunity to address your mental health condition outside of the standard VA health care system if you've served in a combat zone. With 300 locations, Vet Centers are community-based counseling centers that offer many different confidential psychological services including individual and group counseling. The Vet Center is separate from VA organizational sites to ensure confidential counseling.
If eligible, you and your family members can speak with a counselor or therapist for free. You don't even need an appointment and your enrollment status with the VA does not matter.
In order to be eligible you must meet one of the following criteria:
Have served on active military duty in any combat theater or area of hostility

Experienced a military sexual trauma

Provided direct emergent medical care or mortuary services, while serving on active military duty, to the casualties of war

Served as a member of an unmanned aerial vehicle crew that provided direct support to operations in a combat zone or area of hostility.

Vietnam Era Veterans who have accessed care at a Vet Center prior to January 2, 2013
You can find your local Vet Center here.
Other Mental Health Treatment
There are many different mental health conditions that Veterans deal with. Although PTSD and depression are the most common, the VA also recognizes and treats others, including:
Getting Help for Others
Coaching Into Care Program
If you are concerned about the well-being of a Veteran, the VA Coaching Into Care program helps you learn how to talk to your loved one about your concerns. The telephone-based coaching program teaches you ways to support the Veteran in making treatment decisions while helping you respect their freedom to choose.

You can get in touch with a counselor by calling 888-823-7458.
Additional Resources
For additional resources outside of the VA, read our article on PTSD and Mental Health Veteran Charities.
You can also visit your local VA Community Resource and Referral Center to be matched up with non-VA resources you may qualify for in your community. You can find your Local Community Resource and Referral Center here.
Self Help
For Veterans who are interested in self help, the VA has a list of recommended resources.
You can find general mental health recommended resources here.
Mindfulness Coach
The VA's National Center for PTSD created a Mindfulness Coach app. The app helps Veterans and their families notice what is going on in the present moment. The app helps with PTSD, depression, and anxiety, among other conditions. You can download the app here.
---
About the Author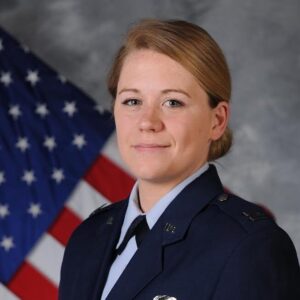 Trisha Penrod
Trisha Penrod is a former active-duty Air Force officer. As an Intelligence Officer, she led teams of analysts to apply advanced analytic skills to identify, assess, and report potential threats to U.S. forces.
Trisha attended the U.S. Air Force Academy and holds an MBA from Webster University. After receiving an honorable discharge in 2018, Trisha worked as a growth marketer and utilizes her analytic skills to help others accomplish their business goals.