Learn all about Obesity Secondary Service Connection in this article. The Court of Appeals for Veterans Claims (CAVC) recently issued its opinion in the case of Walsh v. Wilkie.
And there has been much confusion about what the court said in this decision as well as how it applies to a Veteran's VA disability compensation claim for secondary service connection.
Brian Reese here from VA Claims Insider, and in this high-value post, I'll be breaking down and explaining this case decision in detail, to include WHY and HOW Veterans can use Obesity (weight gain) as an "intermediate step" for service connection in secondary VA claims.
While the Walsh case focused on issues of OBESITY in a VA disability claim for secondary service connection, the Walsh decision did NOT establish a new precedent saying that obesity can, by itself, be service connected, rated, and compensated on its own.
For example, you can't claim that your active duty military service caused your obesity for direct service-connection.
Okay, let's dive into the important parts of this case decision for secondary service connection, specifically, "aggravation" of a nonservice connected disability.
Is Obesity a VA Disability?
No, there is no VA disability rating for Obesity (weight gain) under the law.
However, the Walsh case established that Obesity may be an "intermediate step" for secondary service connection between a service-connected primary disability and a nonservice connected disability when the current service-connected condition "aggravates" the Obesity (weight gain also qualifies here).
According to medical research, having a Body Mass Index (BMI) of 30.0 or higher is considered "OBESE" while a BMI of 25.0 to 29.9 is considered "OVERWEIGHT."
Click HERE to calculate your BMI for free.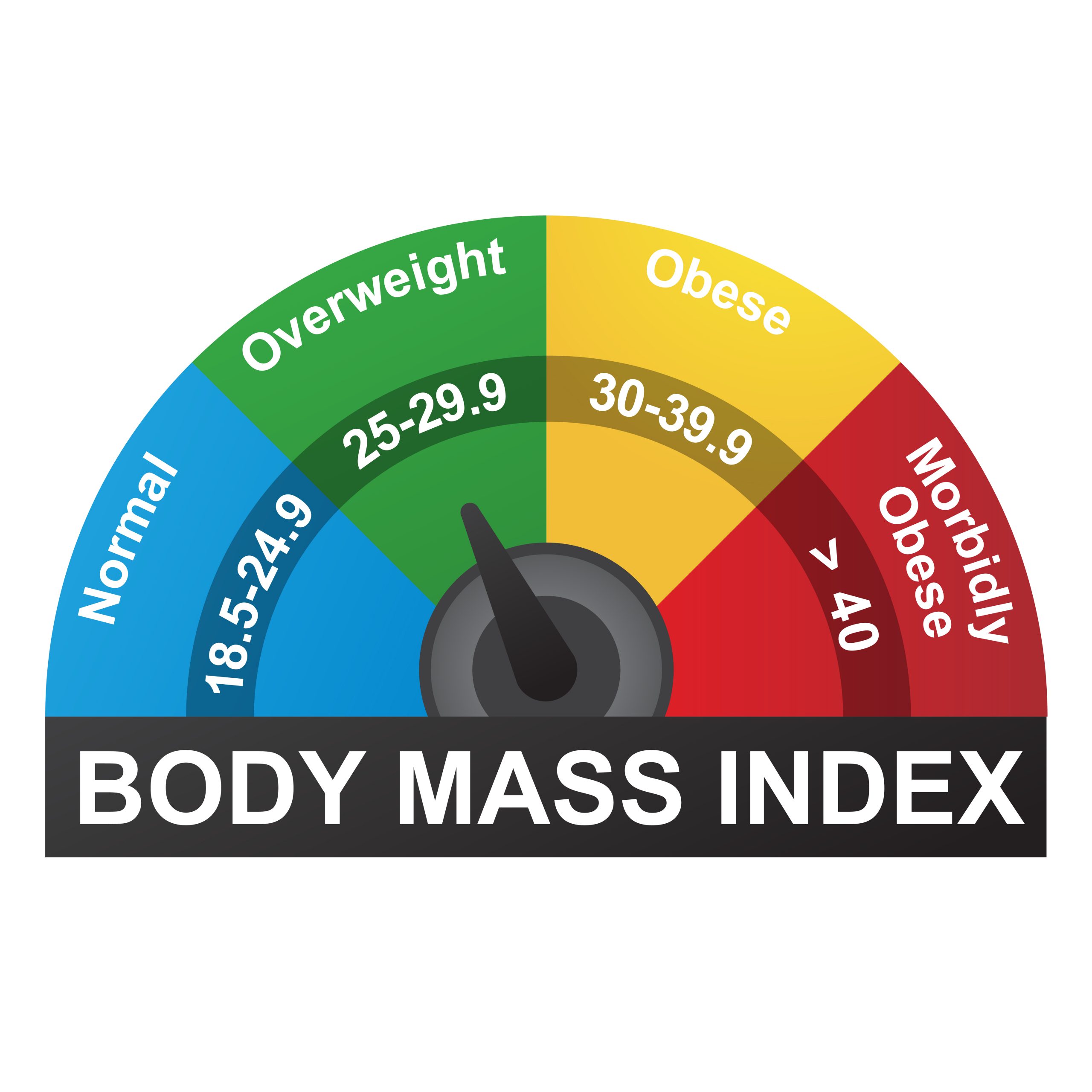 The Walsh decision DID say is that when a service-connected condition "aggravates" the claimant's obesity, that aggravated obesity may be an "intermediate step" between a condition that is service-connected and a new condition that can be compensated by the VA as a secondary service-connected condition.
Why should you care Veterans?
Well, I don't know about you, but I'm definitely not at my weight while on active duty.
In fact, I've gained nearly 40 pounds since leaving active duty due to side effects of medications and service-connected disabilities that have limited my physical activity.
Medication side effects, weight gain, and obesity CAN BE USED to establish secondary service connection as an "intermediate step."
Considering Secondary Service Connection for Obesity
In accordance with M21-1, Part IV, Subpart ii, Chapter 2, Section A – Deciding Claims for Disability Compensation, IV.ii.2.A.2.f.,
Obesity per se is not a "disability" for the purposes of SC under 38 CFR 3.310 for secondary service connection.
If obesity resulting from a SC disease or injury is found to produce impairment beyond that contemplated by the applicable provisions of the rating schedule, consider an extra-schedular rating under 38 CFR 3.321(b)(1) for SC based on that impairment.
Obesity may be an "intermediate step" between a SC disability and a current disability that may be SC on a secondary basis under 38 CFR 3.310(a).
To determine whether obesity is an intermediate step between a SC disability and the development of a current disability that may be SC on a secondary basis, the following criteria must all be satisfied:
The SC disability must have caused the Veteran to become obese
The obesity as a result of the SC disability must have been a substantial factor in causing the potential secondary disability, and
The potential secondary disability would not have occurred but for the obesity caused by the SC disability
Example: A Veteran claims SC for hypertension on the basis that his SC back disability caused obesity due to lack of exercise, which led to hypertension. To grant SC, an adjudicator would have to resolve the following issues: (1) whether the SC back disability caused the Veteran to become obese; (2) if so, whether the obesity as a result of the SC disability was a substantial factor in causing hypertension; and (3) whether the hypertension would not have occurred but for obesity cause by the SC back disability. If these questions are answered in the affirmative, the hypertension may be SC on a secondary basis.
References: For more information, please see:
Intermediate Step Example: The Veteran's SC psoriasis is manifested by constant flare-ups that require near continuous treatment with Prednisone for management. The near continuous use of Prednisone on a long-term basis resulted in obesity, which was medically shown to lead to the development of coronary artery disease (CAD). Based on the evidence, the obesity is shown to be an intermediate step between the SC psoriasis and CAD, which satisfies the proximate cause requirement under 38 CFR 3.310(a) to establish SC for CAD on a secondary basis.
Secondary Service Connection and Aggravated Weight Gain or Obesity
There is a perfectly logical explanation to say that your current service-connected PTSD "aggravates" Obstructive Sleep Apnea (OSA), specifically the side effects of medication that contributed to weight gain (or Obesity), which aggravated your OSA.
>> Click HERE to learn more about Sleep Apnea Secondary to PTSD <<
The Connection Between Obesity and Obstructive Sleep Apnea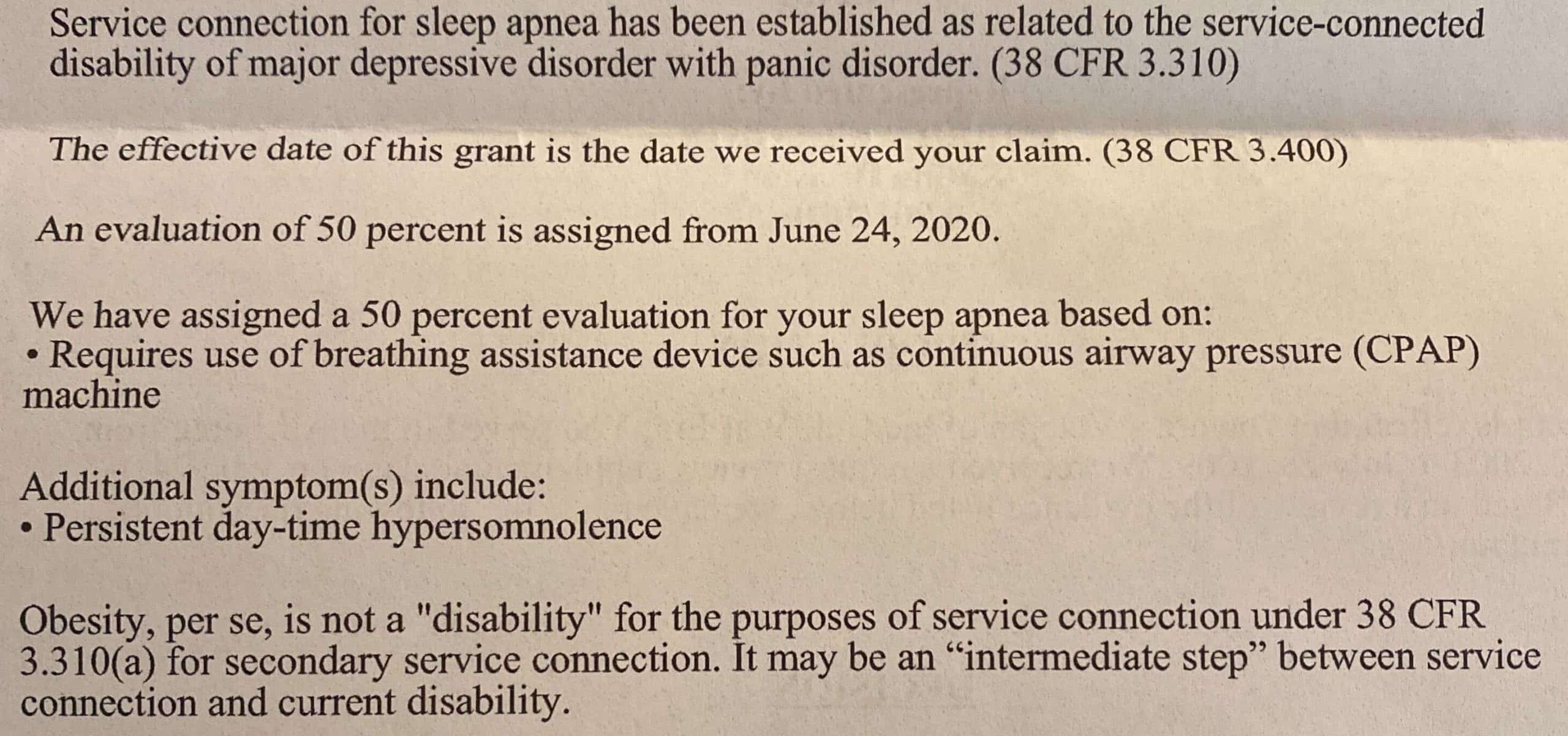 Among the risk factors for OSA, Obesity is perhaps the most important, and the most commonly accepted connection to Sleep Apnea disorders.
Several cross-sectional studies have consistently found an association between increased body weight and the risk of developing Sleep Apnea.
For example, significant Sleep Apnea is present in roughly 40% of Obese individuals, and roughly 70% of OSA patients are Obese.
The Interaction Between Obesity and Plantar Fasciitis
Plantar Fasciitis is one of the most frequent causes of heel pain.
Obesity is recognized as a major factor in the development of Plantar Fasciitis (heal pain), conceivably due to increased mechanical loading of the foot due to excess weight.
So, let's say you're service-connected for unilateral plantar fasciitis in your right foot, and because of the severe heal pain, you've gained weight (less physical activity), and become Obese.
You can claim left foot plantar fasciitis secondary to the right foot, as the current service-connected condition "aggravated" your Obesity, which led to plantar fasciitis in your left foot.
Thus, the VA Rater should grant bilateral Plantar Fasciitis and assess the appropriate VA disability rating based upon the severity of your symptoms.
>> Click HERE to read about VA disability ratings for Plantar Fasciitis <<
List of Medical Conditions Linked to Obesity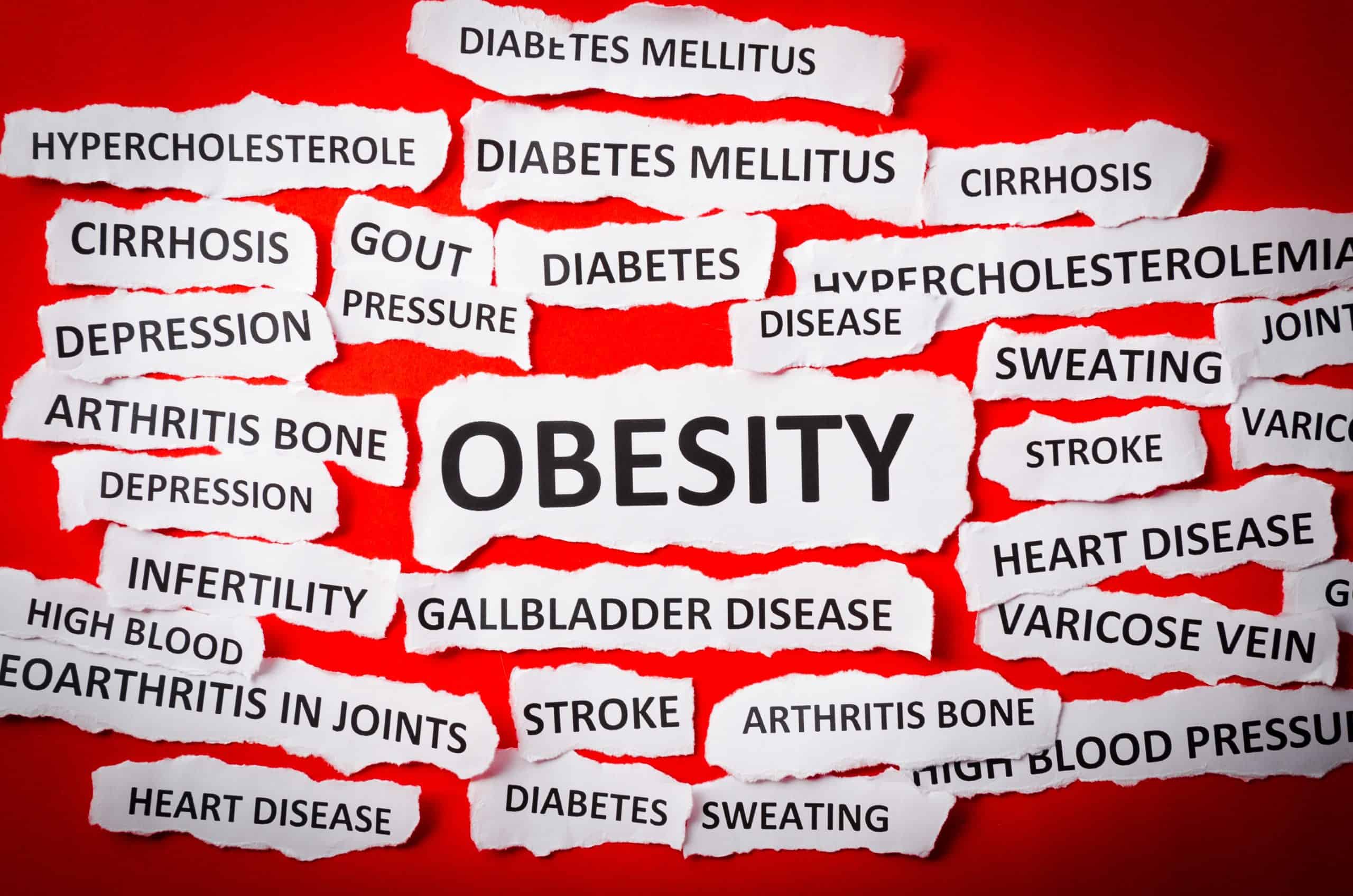 Please note, I've simply highlighted two examples above of how weight gain or Obesity could possibly be used to help establish secondary service connection.
However, there are many other possibilities, especially musculoskeletal conditions, and other comorbid conditions of Obesity.
According to the CDC, Obesity increases the risk of developing many medical conditions, including, but not limited to:
Anxiety
Other mental health conditions
Chronic pain
Insulin resistance and type 2 diabetes
Hypertension
Dyslipidemia
Cardiovascular disease
Stroke
Somatoform Disorders such as Somatic Symptom Disorder
Gallbladder disease
Hyperuricemia and gout
Osteoarthritis
Cancer
In ALL cases with Obesity as an intermediate step, you still need to have Medical Nexus Evidence establishing a link or connection between the service-connected disability and the nonservice connected disability.
You may want to obtain a Medical Nexus Letter (aka, Independent Medical Opinion or IMO) from your doctor or other independent medical providers (if warranted, based on the evidence of record).
Click HERE to download the full Walsh v. Wilkie case as you want to upload to VA.gov in support of your VA disability claim for secondary service connection with Obesity as an intermediate step.
We're Veterans helping Veterans Worldwide™, and since 2016 we've helped 10,000+ Veterans just like you INCREASE their VA disability rating!
---
About the Author
Brian Reese
Brian Reese is one of the top VA disability benefits experts in the world and bestselling author of You Deserve It: The Definitive Guide to Getting the Veteran Benefits You've Earned (Second Edition).
Brian's frustration with the VA claim process led him to create VA Claims Insider, which provides disabled veterans with tips, strategies, and lessons learned to win their VA disability compensation claim, faster, even if they've already filed, been denied, gave up, or don't know where to start.
As the founder of VA Claims Insider and CEO of Military Disability Made Easy, he has helped serve more than 10 million military members and veterans since 2013 through free online educational resources.
He is a former active duty Air Force officer with extensive experience leading hundreds of individuals and multi-functional teams in challenging international environments, including a combat tour to Afghanistan in 2011 supporting Operation ENDURING FREEDOM.
Brian is a Distinguished Graduate of Management from the United States Air Force Academy, Colorado Springs, CO, and he holds an MBA from Oklahoma State University's Spears School of Business, Stillwater, OK, where he was a National Honor Scholar (Top 1% of Graduate School class).