First, let's discuss how the VA awards a fibromyalgia VA rating. Fibromyalgia is a disease that causes chronic pain and sensitivity throughout the entire body. The pain must be present on both sides of the body, both above and below the waist to be rated under VASRD Code 5025. A Rheumatologist needs to evaluate and diagnose you with this condition for it to be assessed under this code.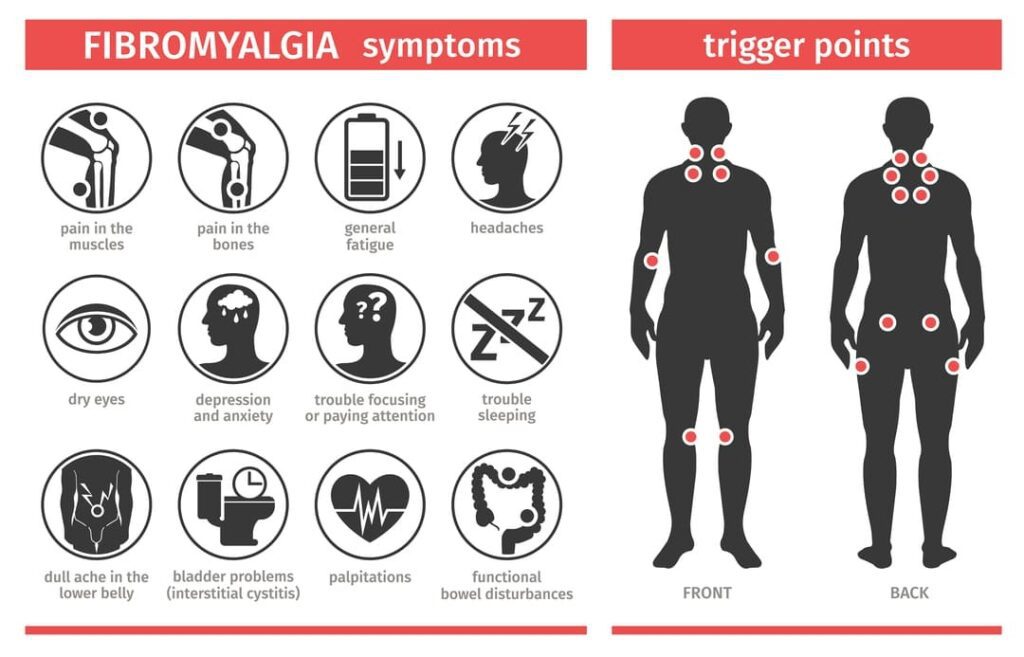 How does the VA rate fibromyalgia?
VASRD Diagnostic Code 5025 provides that Fibromyalgia (fibrositis, primary fibromyalgia syndrome) with widespread musculoskeletal pain and tender points, with or without associated fatigue, sleep disturbance, stiffness, paresthesias, headache, irritable bowel symptoms, depression, anxiety, or Raynaud's-like symptoms will be rated:

10 percent disabling if the symptoms require continuous medication for control
20 percent disabling if the symptoms are episodic, with exacerbations often precipitated by environmental or emotional stress or by overexertion, but symptoms that are present more than one-third of the time
40 percent disabling if the symptoms are constant or nearly constant, and are refractory to therapy.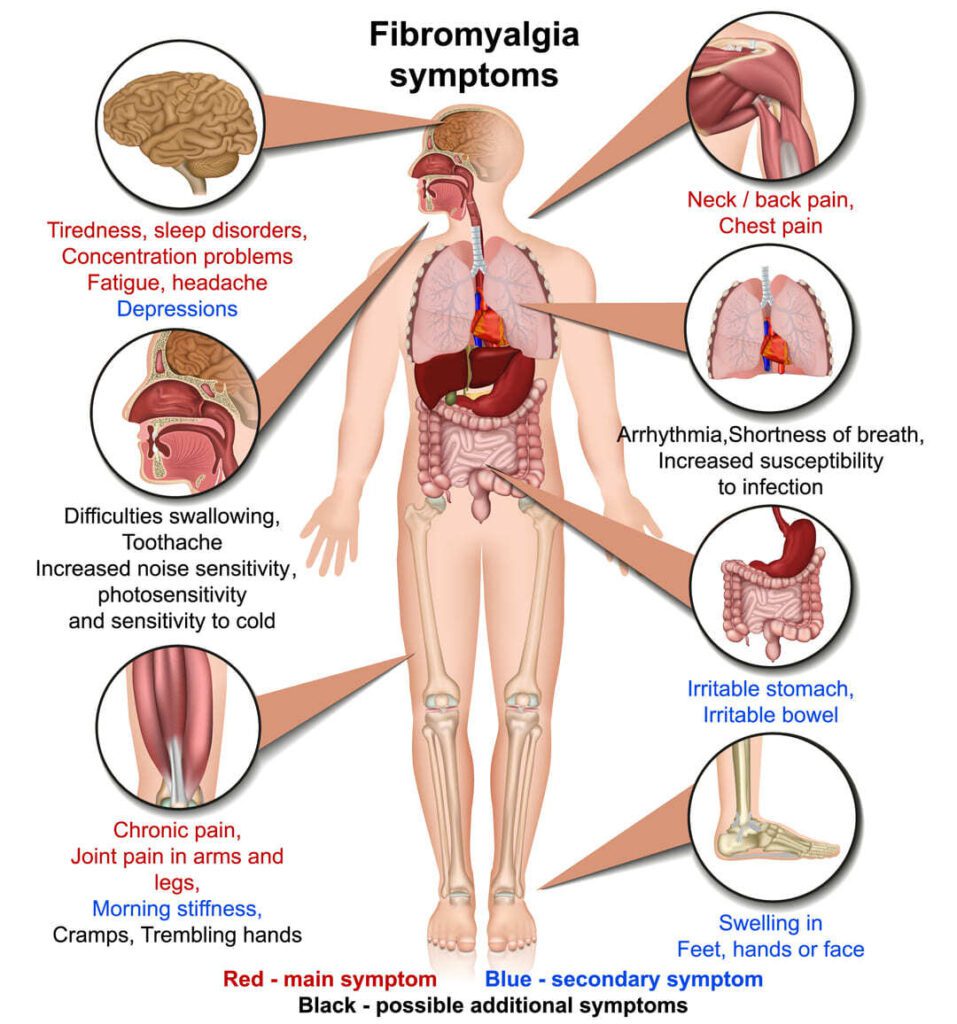 I Have Widespread Pain. How do I know if I have Fibromyalgia?
First of all, before the diagnosis of Fibromyalgia can be made, the muscle pain must be present for longer than three months.
There is no blood test, or X-ray that can tell if you have Fibromyalgia. The diagnosis is made solely by taking a history and doing a physical exam. During the exam, pain must be occurring at specific sites on the body called tender points. There are 18 of these sensitive spots. Most are located on the neck and back.
The tender points are bilateral. This means they occur in the same places on each side of the body.
The nine bilateral tender points are located on the following parts of the body:

Lower-front muscles of the neck

Upper chest just beneath the collarbone

Back of the neck in the muscles at the base of the skull

Trapezius muscles of the back shoulders

Supraspinatus muscles in the shoulder blade area

Outside of the elbow where the tendons attach to the bone

Upper-outer quadrant of the gluteal muscle of the buttocks

Outside of the hip

Inner knee
There are other fibromyalgia symptoms, as well. One of the most prevalent complaints associated with Fibromyalgia is fatigue. This symptom can vary from person to person.
This symptom can range from mild to incapacitating. It can become so severe that it becomes problematic for someone to work a full-time job. This symptom is prevalent no matter how much sleep at night, or rest during the day someone gets.
Environmental or Emotional Stress
Another common symptom of Fibromyalgia is mental fog. This results in the inability to concentrate on tasks at work, some memory loss, and in its most severe form, cause depression.
Some of the other symptoms of fibromyalgia include:
Another main symptom is morning stiffness. Approximately 90 percent of Fibromaylsia sufferers complain of morning stiffness. This stiffness in the muscle joints can last for 30 minutes or hours and doesn't just occur in the morning and often impedes movement and range of motion.

The first step if this is something you are living with is getting your butt to the doctor! You can't do anything with your VA claim for fibromyalgia until this step is done!
After this is done, we have a team of doctors and medical professionals who work with you to get these medical records together for your claim.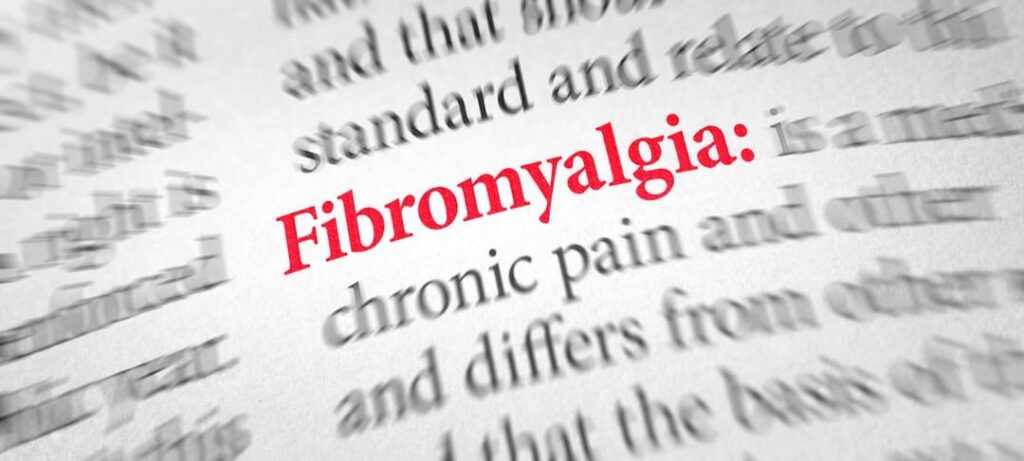 Gulf War Veterans, Fibromyalgia, and VA Disability Benefits
Fibromyalgia is a presumptive illness for Gulf War Veterans.
The VA presumes that some health conditions, including Fibromyalgia, were caused by active duty military service. As a presumptive illness, Veterans do not have to prove a service connection between Fibromyalgia and their military service in order to file a fibromyalgia VA disability claim.
The VA has a Gulf War Registry that Veterans can participate in. Contact your local VA Environmental Health Coordinator about getting a Gulf War Registry health exam.
Veterans who served in the Gulf during Operation Desert Shield, Operation Desert Storm, Operation Iraqi Freedom, or Operation New Dawn are eligible for the Gulf War Registry exam. You do not need to be enrolled in VA health care to take part!
Registry exams are conducted based on Veterans' recollection of service, not on their military records.
This comprehensive health exam includes exposure and medical history, laboratory tests, and a physical exam. A VA health professional will discuss the results face-to-face with the Veteran and in a follow-up letter.
It is important to note that these exams are not disability exams. They are intended only for Veterans to be added to the VA's Gulf War Registry. To read more about Gulf War exams, please visit here.
Once you are on the Gulf War Registry, you need to get to your Medical Professional for a diagnosis of Fibromyalgia. Then it's time to file your disability claim.
How do I claim my VA benefits for Fibromyalgia?
VA Claims Insider's mission is to give veterans the tools to finally get the VA compensation they deserve. If you're underrated or not at all, our coaching team is ready to get you the VA disability compensation you deserve. To get started today, sign up here!
Know this, our mission is to help YOU. Utilize the wealth of free information on our blog and YouTube channels for you to file your claim.
---
About the Author
About VA Claims Insider
VA Claims Insider is an education-based coaching/consulting company. We're here for disabled veterans exploring eligibility for increased VA disability benefits and who wish to learn more about that process. We also connect veterans with independent medical professionals in our referral network for medical examinations, disability evaluations, and credible independent medical opinions and nexus statements (medical nexus letters) for a wide range of disability conditions.