VA Disability for Sleep Apnea is one of the most difficult VA claims to get service connected, especially if you were diagnosed with sleep apnea after military service.
But there is hope, even if you've already been denied!
In this post, we'll cover the three types of sleep apnea, how the VA rates sleep apnea, common pitfalls to avoid, and the best path to proving service connection under the law regardless of past denials.
Okay, let's begin.
What is Sleep Apnea for VA Rating Purposes?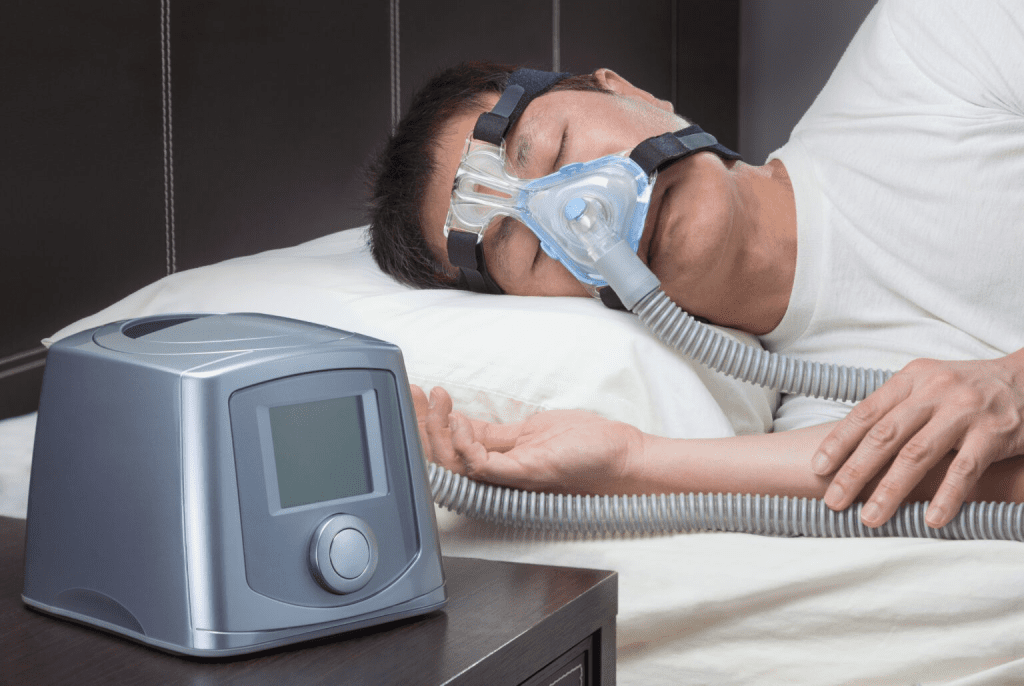 Sleep Apnea is a sleep disorder where breathing repeatedly stops and starts during sleep (these are called "apneic episodes").
Did you know veterans are nearly four times (4x) as likely to have or develop sleep apnea compared to those who didn't serve in the military?
If you snore during sleep, are tired during the day (maybe you take frequent naps) and stop/start breathing while sleeping (gasping for air), chances are you might have Sleep Apnea.
According to the Mayo Clinic, "Sleep Apnea is a potentially serious sleep disorder in which breathing repeatedly stops and starts."
There are three types of Sleep Apnea for VA rating purposes:
Obstructive Sleep Apnea, the most common form of Sleep Apnea, which occurs when throat muscles relax and block the upper airway.
Central Sleep Apnea, which occurs when your brain doesn't send proper signals to the muscles that control breathing.
Complex / Mixed Sleep Apnea, also known as treatment-emergent central sleep apnea, which occurs when someone has both obstructive sleep apnea and central sleep apnea.
Can I Get VA Disability for Sleep Apnea?
Yes, you can get VA disability for Sleep Apnea.
However, the path to service connection might be a long and painful one if you weren't diagnosed with Sleep Apnea on active duty.
The good news is you might be able to connect your Sleep Apnea secondary to another disability you suffer from such as PTSD, Depression, Anxiety, GERD, Sinusitis, Rhinitis, or Asthma, among others.
What is the VA Disability Rating for Sleep Apnea?
The VA rates Sleep Apnea under Diagnostic Code (DC) 6847, Sleep Apnea Syndromes (Obstructive, Central, Mixed).
VA ratings for Sleep Apnea range from 0% to 100% with breaks at 30% and 50%.
The most common VA rating for Sleep Apnea is 50%.
0% rating is for a documented sleep disorder that is asymptomatic
30% rating is for Sleep Apnea with persistent daytime sleepiness
50% rating is if you require the use of a breathing device such as a CPAP machine
100% rating includes very severe Sleep Apnea symptoms such as chronic respiratory failure with carbon dioxide retention or cor pulmonale (abnormal enlargement of the right side of the heart); or requires tracheostomy (incision in the windpipe)
How Do I Prove Service Connection for Sleep Apnea?
The short answer is very carefully, and you must be strategic in your approach.
The biggest problem veteran's encounter with their Sleep Apnea claims is that Obstructive Sleep Apnea (OSA) is likely due to weight gain / obesity.
It's an easy out for C&P examiners to say your Sleep Apnea is "less likely than not" due to your military service, and more likely than not due to your weight gain / obesity.
But there's a solid approach for secondary service connection so stay tuned.
Here's a good litmus test for your Sleep Apnea claim strategy:
If you got a sleep study on active duty and you were diagnosed with Sleep Apnea in the military, you should probably pursue direct service connection for Sleep Apnea. Why? Because you have medical evidence of a disability that existed during the military. If you've been out of the military for more than 12 months, get a Nexus Letter for Sleep Apnea.
If you did not have a sleep study on active duty and you were not diagnosed with Sleep Apnea until after you left the military, it is nearly impossible to prove direct service connection. Instead, you're better off pursing secondary service connection. You will need to get a Nexus Letter for Sleep Apnea as a secondary condition.
Can I Service Connect Sleep Apnea Secondary?
Yes, you can service connect your Sleep Apnea as a secondary claim!
There are three elements that must be satisfied to service connect your Sleep Apnea secondary.
A medical diagnosis of the secondary condition you're attempting to link to another service connected disability (in this case, you need a medical diagnosis of Sleep Apnea confirmed by a sleep study) AND
A current service-connected primary disability (e.g., your current disability you're attempting to connect Sleep Apnea to) AND
Medical nexus evidence establishing a connection between your service connected disability and Sleep Apnea
The FIRST part can be satisfied with any existing medical evidence in service treatment records, VA medical records, or any private medical records.
The SECOND part can be satisfied with a veteran's existing service-connected disability rated at 0 percent or higher.
The THIRD part, and often the missing link needed to establish secondary service connection, can be satisfied with a credible Medical Nexus Letter (Independent Medical Opinion) from a private healthcare provider.
Expert Advice to Help You Prove Service Connection for Sleep Apnea
Pro Tip #1: VA Claims Insider recommends you get a Nexus Letter with high probative value from a private provider to make your argument for service connection stronger.
Pro Tip #2: In addition, you should get a DBQ for Sleep Apnea from a private provider and submit it with your Fully Developed Claim (FDC).
Pro Tip #3: If you can link your Sleep Apnea secondary to more than one condition, that's a recipe for a winning strategy. For example, Sleep Apnea secondary to PTSD and GERD plus the side effects of medications taken to manage PTSD and GERD symptoms.
These pro tips could remove a C&P exam from the equation and allows a VA Rater to make a rating decision based on the submitted evidence alone via the Fully Developed Claims (FDC) program.
10 Most Likely Sleep Apnea Secondary Conditions
According to medical research and the 25,000+ veterans we've helped since 2016, here are the 10 most common Sleep Apnea Secondary Conditions:
Sleep Apnea secondary to Asthma
Sleep Apnea secondary to Rhinitis
Sleep Apnea secondary to Sinusitis
Sleep Apnea secondary to Deviated Septum
Sleep Apnea secondary to Medications
How Do I Get a Nexus Letter for Sleep Apnea?
Need a Nexus Letter for Sleep Apnea?
WE CAN HELP!
Veterans who become members of the VA Claims Insider Elite program get access to a network of independent medical providers who can write a Nexus Letter for Sleep Apnea secondary conditions at reduced rates.
Why pay $1,500 to $2,000 for a Nexus Letter when you can get one for $595?
Click HERE to speak with an expert now for FREE (no risk, no obligation, no high pressure sales tactics).
Tired of Fighting the VA Alone? WE GOT YOUR SIX!
25,000+ disabled veterans served in our membership programs since 2016.
30% average VA rating increase for veterans who complete our #1 rated Elite program.
Employs 215 teammates; comprised of 74 veterans and 16 military spouses.
Better Business Bureau (BBB) accredited with an A+ rating.
About the Author
Brian Reese
Brian Reese is one of the top VA disability benefits experts in the world and bestselling author of You Deserve It: The Definitive Guide to Getting the Veteran Benefits You've Earned (Second Edition).
Brian's frustration with the VA claim process led him to create VA Claims Insider, which provides disabled veterans with tips, strategies, and lessons learned to win their VA disability compensation claim, faster, even if they've already filed, been denied, gave up, or don't know where to start.
As the founder of VA Claims Insider and CEO of Military Disability Made Easy, he has helped serve more than 10 million military members and veterans since 2013 through free online educational resources.
He is a former active duty Air Force officer with extensive experience leading hundreds of individuals and multi-functional teams in challenging international environments, including a combat tour to Afghanistan in 2011 supporting Operation ENDURING FREEDOM.
Brian is a Distinguished Graduate of Management from the United States Air Force Academy, Colorado Springs, CO, and he holds an MBA from Oklahoma State University's Spears School of Business, Stillwater, OK, where he was a National Honor Scholar (Top 1% of Graduate School class).