In this post, Brian Reese the VA Claims Insider provides an update on the VA Backlog.
What's the bottom line?
The VA disability backlog is really bad and getting worse by the day…
I don't expect the VA to make much progress on burning down the claims backlog until mid to late 2025.
VA Backlog Update 2023: How Many Claims Are in the VA Backlog Right Now?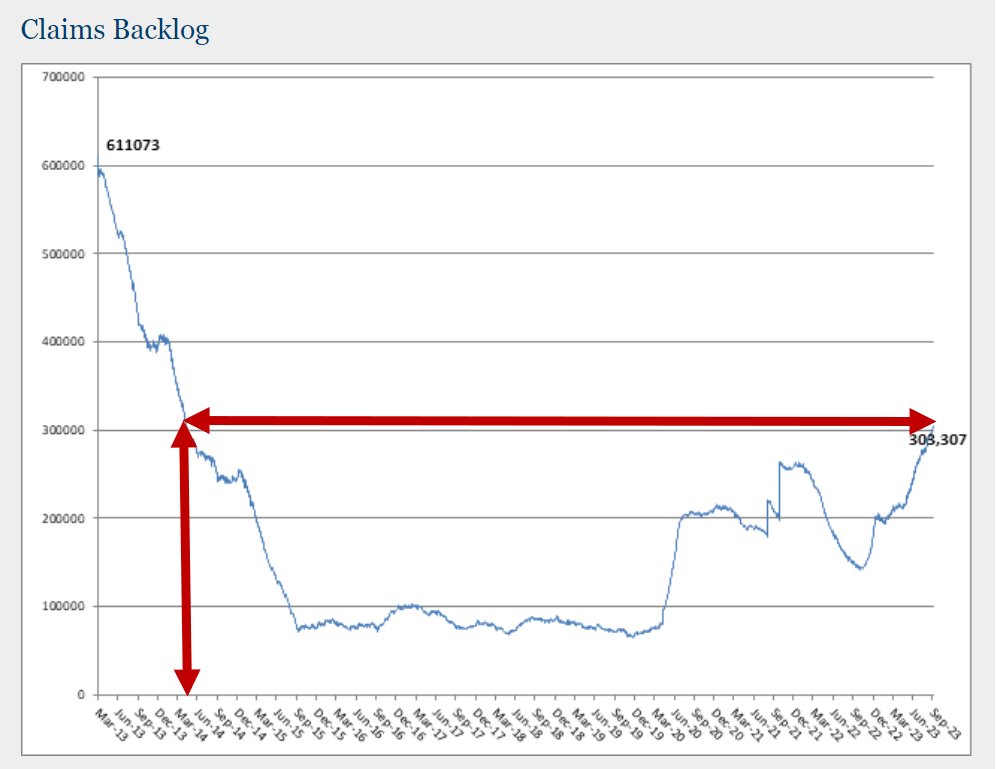 A "backlogged" claim is the number of VA claims that require a rating decision that have been pending for more than 125 days since receipt by the VBA.
Translation: This includes all submitted "pending" claims that haven't received a rating decision for more than 125 days.
As of October 2023, there are 303,307 backlogged VA claims, which means submitted but not decided by the VBA for 125 days or longer.
The number of claims in the VA backlog is at its highest point since April 2014.
How Many Pending VA Claims Are There?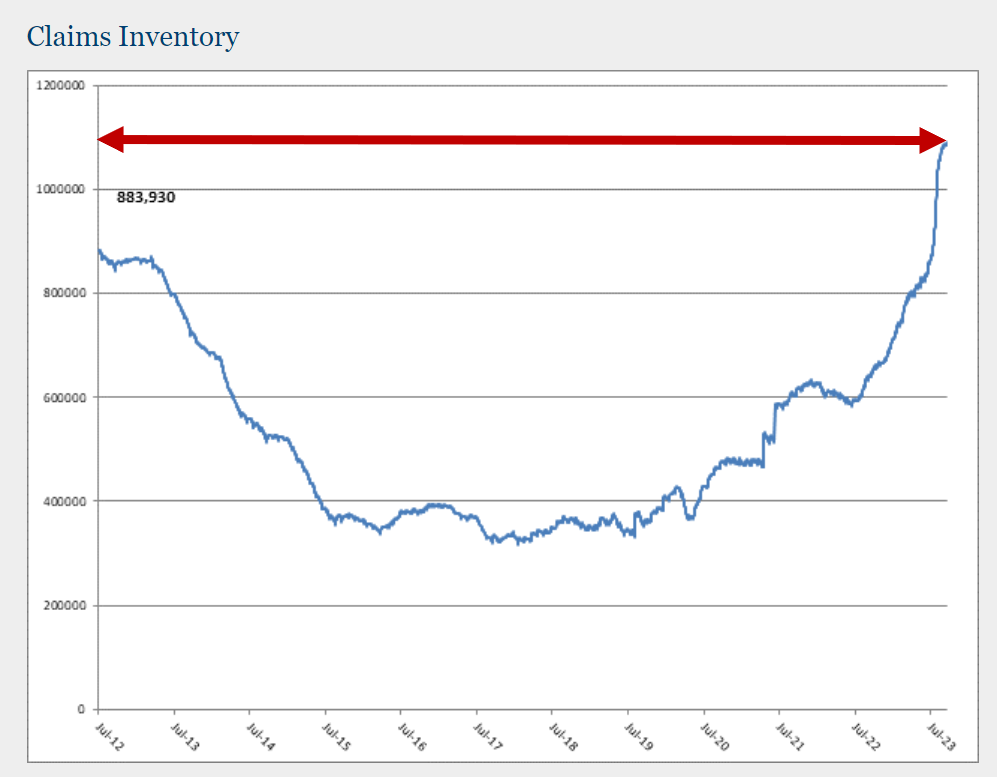 A "pending" VA disability compensation or pension claim is one that has been received by VA that requires development and a decision by a VBA claims processor.
Translation: This includes all submitted claims that have yet to receive a VA rating decision.
As of October 2023, there are 1,091,853 pending claims, which means submitted but not decided by the VBA.
The number of pending claims is at its highest point since the VA began reporting this data in July 2012.
How Can I Get My VA Claim Approved Faster?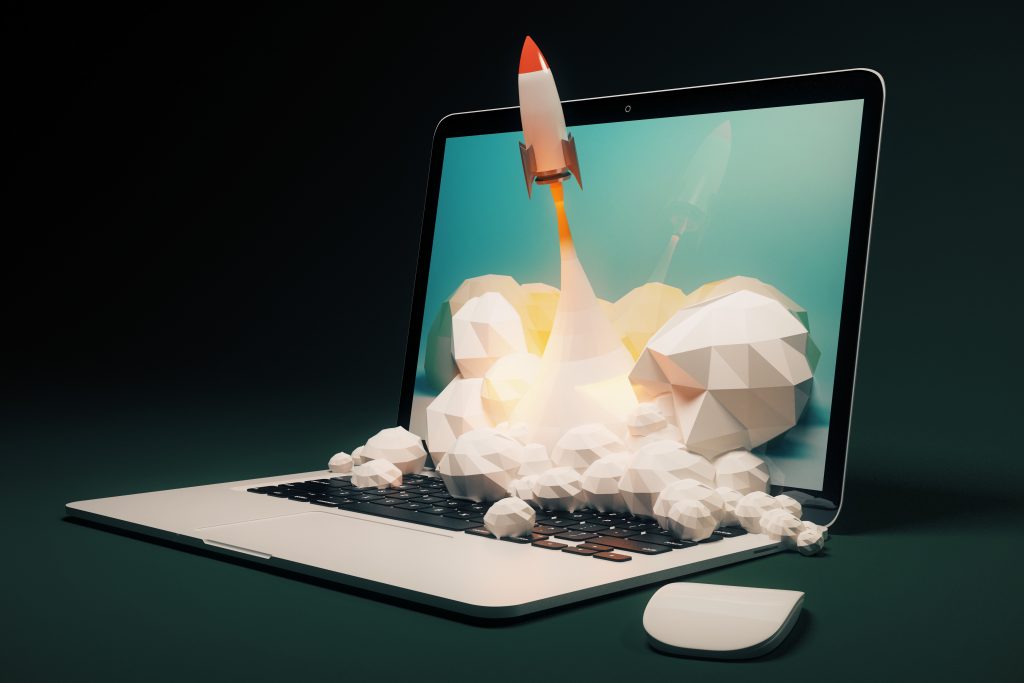 Did you know you might be able to get your VA claim approved faster, regardless of the claims backlog?
The VA Rater is not out to deny your claim — it's on you to give the VA all the evidence the VA Rater needs to make a more accurate rating decision, faster.
At VA Claims Insider, we teach veterans the "SEM Method," which stands for:
Strategy + Education + Medical Evidence = VA Rating You Deserve Faster (Regardless of the VA Claims Backlog)
#1. Strategy:
Your VA claim Strategy should focus on:
1-3 disability conditions per 1 claim only – simple, simple, simple, think less is more!
Mental health claims, simple increase claims, and/or secondary claims (if eligible)
#2. Education:
Your VA claim Education should focus on:
High-Value VA disability claims, which are claims that have a high likelihood of being rated at 30% or higher on their own.
#3. Medical Evidence:
Your VA claim Medical Evidence should focus on:
Mental health evaluation and Independent Medical Opinion (IMO) is preferred, if and only if, you have a mental health condition.
Medical evaluations to include first-time Medical Dx, Nexus Letters, and/or VA DBQs for high value claims only.
Wondering if you should get a Nexus Letter?
If you've already submitted your VA claim, you can call 1-800-827-1000, speak to a representative, and ask for the status of your claim.
[FREE Guide for Veterans] WIN Your VA Claim FAST With This SECRET VA Claim Strategy You Can Implement Today!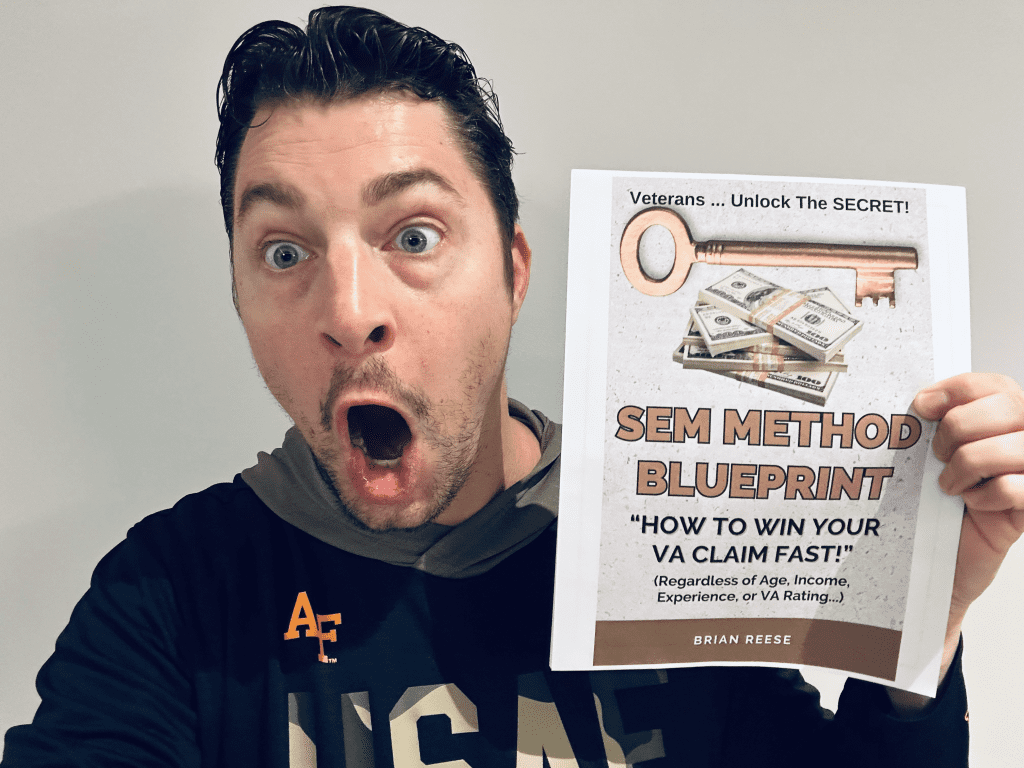 This Step-by-Step Blueprint Has Helped 25,000+ Veterans Create Financial Freedom & Security Through Their VA Disability Benefits (Regardless of Age, Income, Experience, or VA Rating…)
Oh, and it's 100% FREE!!!
Here's a sliver of what you'll learn:
✅ THE LINCHPIN: The ONE Thing You Need to Do Right Now to Win Your VA Claim Faster!
✅ THE STRATEGY: The EXACT Framework Implemented By 25,000+ Veterans Explained in 3 Simple Steps!
✅ THE SECRET: The REAL Secret of VA Claim Success That Nobody Else is Teaching Right Now!
Click the button below to download the FREE guide!
About the Author
Brian Reese
Brian Reese is one of the top VA disability benefits experts in the world and bestselling author of You Deserve It: The Definitive Guide to Getting the Veteran Benefits You've Earned (Second Edition).
Brian's frustration with the VA claim process led him to create VA Claims Insider, which provides disabled veterans with tips, strategies, and lessons learned to win their VA disability compensation claim, faster, even if they've already filed, been denied, gave up, or don't know where to start.
As the founder of VA Claims Insider and CEO of Military Disability Made Easy, he has helped serve more than 10 million military members and veterans since 2013 through free online educational resources.
He is a former active duty Air Force officer with extensive experience leading hundreds of individuals and multi-functional teams in challenging international environments, including a combat tour to Afghanistan in 2011 supporting Operation ENDURING FREEDOM.
Brian is a Distinguished Graduate of Management from the United States Air Force Academy, Colorado Springs, CO, and he holds an MBA from Oklahoma State University's Spears School of Business, Stillwater, OK, where he was a National Honor Scholar (Top 1% of Graduate School class).