No, you don't need a Nexus Letter.
A VA Nexus Letter is not required and including one with your VA claim does not guarantee service connection.
Yet, there are some specific instances where you might want to get a Nexus Letter from a private healthcare provider to help you prove service connection.
Okay, let's explore the ins and outs of Nexus Letters in more detail.
What is a Nexus Letter?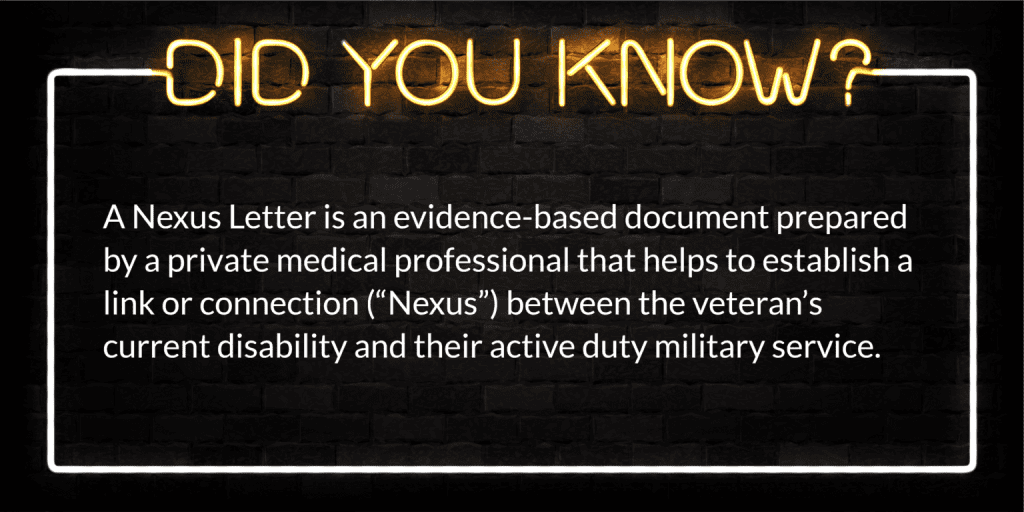 VA disability benefits expert Brian Reese describes a Nexus Letter as follows:
"A Nexus Letter is an evidence-based document (advisory type opinion) prepared by a private medical professional that helps to establish a link or connection ("Nexus") between the veteran's current disability and their active-duty military service. A Nexus Letter can also be used to establish secondary service connection and service connection via aggravation."

– Brian Reese
Pro Tip: Not all Nexus Letters are created equally nor are they offered equal weight by the VA. Some have more probative value than others.
Should I Get a Nexus Letter?
Nexus Letters can be submitted at any time during the VA claim process, however, we recommend veterans provide them to the VA at claim submission – either the initial claim, increase claim, or during the Supplemental Claim or Board Appeals process.
Here's a simple litmus test to determine if you should get a Nexus Letter for your VA disability compensation claim:
If your disability was diagnosed during service, and it's in your military medical records (Service Treatment Records), you probably do not need a Nexus Letter. Why? Because you have medical evidence that the disability existed during your military service.
If your disability was not diagnosed during service or if there are no documented symptoms in your military medical records, you probably do need a Nexus Letter. Why? Because you don't have medical evidence that the disability existed during service.
If you're attempting to service connect a previously denied VA claim or trying to file for secondary service connection, a Nexus Letter is highly recommended. Why? Because you need a powerful argument to overcome a previous VA claim denial. In addition, secondary service connection requires Medical Nexus Evidence that your new disability is "proximately due to" or "aggravated by" a current service-connected disability.
Does My Nexus Letter Have Probative Value?
For a Nexus Letter to have high probative value in support of a veteran's claim for VA disability benefits, it should be thorough, factual, and include convincing, evidence-based rationale.
The letter should also include all records reviewed as well as relevant medical research reports and BVA decisions used to help support the doctor's independent medical opinion.
The best Nexus Letters include a Nexus Statement with the words "at least as likely as not," assuming the independent medical provider believes the veteran's condition was caused or aggravated by his/her active-duty military service."
How Does the RVSR Determine Probative Value of a Nexus Letter?
A Nexus Letter has probative value if it makes a matter material to the determination more or less likely, and has sufficient weight, either by itself or in combination with other evidence, to persuade the decision maker about a fact.
In determining the probative value of evidence, factors such as competency, credibility, thoroughness, precision, relevancy, and date of the evidence are important considerations.
Evidence that is incredible (not believable) does not have probative value and is not weighed against probative evidence in determining if the facts are proven.
Evidence from a source that is not competent to establish a fact does not have probative value on that fact.
The RVSR should consider the key elements listed below when evaluating the probative value and relative weight of medical evidence such as a diagnosis/assessment, prognosis, or opinion on etiology/onset:
Physician's qualifications to include his/her expertise/specialty, and experience.
Physician's knowledge of the relevant history to include the accuracy or validity of history provided by the patient or examinee, review of records and other evidence, or length of time the physician has treated the veteran.
Context in which the medical evidence was created: Treatment, or substantiation of a medical disability claim.
Reasoning employed by the physician: Theory, observation, practice, clinical testing, subjective report, and conjecture.
Degree of specificity and the degree of certainty.
How Do I Get a Nexus Letter?
Veterans should start by doing online research for doctors who write Nexus Letters.
Be sure to evaluate online customer reviews and the credentials of the provider before selecting a Nexus Letter doctor.
You can expect to pay around $1,500 for a high-quality Nexus Letter in 2023.
Here are two good options get high-quality Nexus Letters (with high probative value), from licensed providers nationwide, at reduced rates:
Pros: High-quality compaby with extensive experience helping over 15,000 veterans to-date with credible Nexus Letters. Serves veterans nationwide and in Puerto Rico. Also offers virtual exams, rush services, DBQs, rebuttal letters, and recurring mental health therapy. Veterans can connect with a licensed provider in their state from a mobile device, anytime, anywhere with Telemedica's simple and easy to use telehealth platform.
Cons: Lack of specialty medical doctors. Not available for in-person evaluations.
*Disclaimer: Telemedica is a VACI-Affiliated Provider and VA Claims Insider Elite Members can get Nexus Letters and DBQs at 61-67% off Telemedica's published rates.
Pros: Veteran-owned and operated company that provides medical evidence documentation to veterans nationwide. Also offers NexusPrep™, virtual exams, DBQs, and rebuttal letters. Competitive rates on all products and services.
Cons: Lack of specialty medical doctors. Not available for in-person evaluations.
Conclusion
You are not required to get a Nexus Letter from a private provider for your VA disability claim.
However, you might want to get a Nexus Letter to help you prove service connection, especially if you meet one of the three criteria outlined in this blog post (3-part litmus test).
If you're stuck, frustrated, underrated, tired of fighting the VA alone, and want to get a DBQ or Nexus Letter, we can help!
About the Author
Brian Reese
Brian Reese is one of the top VA disability benefits experts in the world and bestselling author of You Deserve It: The Definitive Guide to Getting the Veteran Benefits You've Earned (Second Edition).
Brian's frustration with the VA claim process led him to create VA Claims Insider, which provides disabled veterans with tips, strategies, and lessons learned to win their VA disability compensation claim, faster, even if they've already filed, been denied, gave up, or don't know where to start.
As the founder of VA Claims Insider and CEO of Military Disability Made Easy, he has helped serve more than 10 million military members and veterans since 2013 through free online educational resources.
He is a former active duty Air Force officer with extensive experience leading hundreds of individuals and multi-functional teams in challenging international environments, including a combat tour to Afghanistan in 2011 supporting Operation ENDURING FREEDOM.
Brian is a Distinguished Graduate of Management from the United States Air Force Academy, Colorado Springs, CO, and he holds an MBA from Oklahoma State University's Spears School of Business, Stillwater, OK, where he was a National Honor Scholar (Top 1% of Graduate School class).