Don't suffer alone… there are options for anxiety and depression treatment for Veterans.
While serving in the military can be a great honor, it also brings with it unique challenges and experiences that most of the civilian population will never see. As a result, veterans deal with an inordinate amount of mental health issues. Know this, you do NOT have to fight this alone. The VA and VA Claims Insider have benefits available for veterans and active-duty military dealing with anxiety and depression.
Here are some shocking statistics regarding veterans and mental health:
Around 20% of veterans who have served in Iraq in Afghanistan reportedly suffered from symptoms of anxiety or depression.
From 2000-2012, the VA found a 327% increase in anxiety disorders among service members.
According to the most recent data, an average of 17 veterans commit suicide daily.
Less than 50% of veterans receive the help they need for mental health issues
The first thing to recognize if you have experienced any symptoms of anxiety or depression is that you are not alone. Struggling with anxiety or depression is nothing to be ashamed of.

Secondly, there is help available.
Veterans with Depression
Depression is the leading cause of disability among mental and behavioral disorders, according to the National Institute of Mental Health (NIMH). Depression can result in enduring sadness, lack of interest in people or activity, isolation from others, and a lack of energy. In its worst cases, depression leads to hopelessness and suicidal thoughts.
Veterans often experience some symptoms of depression by feeling that no one can relate to them. Those who have been exposed to combat tend to experience depression at a higher rate. Guilt and grief over losing friends in combat can also be a contributing factor.
Veterans with Anxiety
There are a number of different forms of anxiety including generalized, social anxiety, specific phobias, and panic disorder.
They all bring with them similar symptoms, while the intensity of the symptoms varies. Symptoms of anxiety include:
Restlessness or jumpiness
Excessive worrying
Lack of concentration
Trembling
Racing of the heart
Clammy hands
Trouble catching your breath
Dizziness, nausea, or lightheadedness
Trouble sleeping
The intense experiences veterans often experience during their service can bring about emotional and mental scarring which often results in dealing with anxiety afterward. Many who have been deployed often experience traumatic events which can be difficult to cope with.
Treatment for Depression and Anxiety
Most depressed or anxious veterans feel a desire to isolate as they can feel that they have no one to understand them and what they've gone through. Unfortunately, isolation usually only makes depression worse.
Many veterans often will turn to substance abuse (drugs or alcohol) to deal with their depression and anxiety. One study reports that as many as 25% of vets returning from Iraq and Afghanistan struggle with a substance abuse disorder. Studies have shown that this also leads to the condition worsening.
Thankfully, there are many effective treatments available. The VA offers a number of mental health services and options for mental health treatment.
Veterans suffering from depression can be prescribed antidepressant medications to help with feelings of sadness, irritability, lack of sleep, and intrusive thoughts or nightmares.
There are also a number of non-drug treatments that have been proven to be effective in helping overcome depression and anxiety. The following is a list of available treatments and therapies available to veterans:
Cognitive Behavioral Therapy: This is a common "talk therapy" that takes a practical approach to problem-solving. The goal is to change patterns of thinking or behavior that are leading to the condition suffered. Usually, cognitive behavioral therapy starts to bring positive results within 5-10 months, with weekly sessions.
Acceptance and Commitment Therapy: Another "talk therapy" which is designed to help patients stop avoiding, denying, or struggling with their deeper emotions. From the point of accepting a commitment is made to make necessary changes that can be helpful.
Interpersonal Psychotherapy– The main goal of this therapy is to improve the quality of personal relationships and social functioning. This helps to decrease stress. Interpersonal psychotherapy addresses social isolation and involvement in unfulfilling relationships. It can also help with unresolved grief, difficult life transitions (such as discharge, retirement, or divorce), and interpersonal disputes.
Cognitive Processing Therapy– CPT has been found to very effective in treating PTSD, but can also be used in fighting anxiety. CPT has a main focus on teaching a set of skills that challenge negative thoughts coming from anxiety. This helps the patient then gain control back in their life.
While these are, by no means, the only options available, they are some of the most effective and most used.
STOP Military Suicide
Military suicide rates are 50% higher than civilian rates. This is why VA Claims Insider has partnered with Stop Military Suicide to stand against this epidemic which has taken over our veterans for far too long.
This organization gives veterans real and practical ways to fight back. Through the veteran crisis hotline, you can call and have a battle buddy to talk with. While in the civilian world there are so many people who don't understand what you're going through.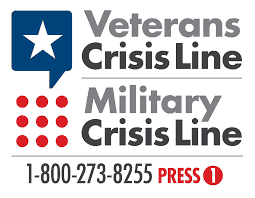 The iBattleBuddy initiative is a program through STOP Military Suicide which partners each active-duty military member or Post 9/11 veteran with a battle buddy who had similar experiences as you. It is completely confidential, the only way they would have information about you is if you tell them.
Conclusion
Depression and anxiety are a regular occurring condition for many veterans, but far too few of them have received the help they deserve.

Help is available in the form of effective treatments, and it has been proven to be effective
If you are suffering from service-connected anxiety or depression, you are entitled to help from the VA. File your claim to get the assistance and benefits you deserve the FIRST time.

Are you STUCK, FRUSTRATED and UNDERRATED?
You are not alone! We are Veterans helping Veterans!
Become an Elite Member and work with our Veteran Coaches to get the rating you deserve! 
---
About the Author
About VA Claims Insider
VA Claims Insider is an education-based coaching/consulting company. We're here for disabled veterans exploring eligibility for increased VA disability benefits and who wish to learn more about that process. We also connect veterans with independent medical professionals in our referral network for medical examinations, disability evaluations, and credible independent medical opinions and nexus statements (medical nexus letters) for a wide range of disability conditions.