VA PTSD Increase From 50 to 70
In this post, I'll show you how to get a VA PTSD increase from 50% to 70%, even if you've already filed your VA disability claim increase or have been denied in the past.
PTSD is rated on a scale from 0% to 100%, with breaks at 10%, 30%, 50%, and 70%.
The average VA rating for PTSD is 70% and a total of 91.5% of veterans with a PTSD rating are If you're wondering how to get a 70% PTSD rating, you're not alone. The average VA rating for PTSD is 70%, and 91.5% of veterans with a PTSD rating are rated at 30% or higher.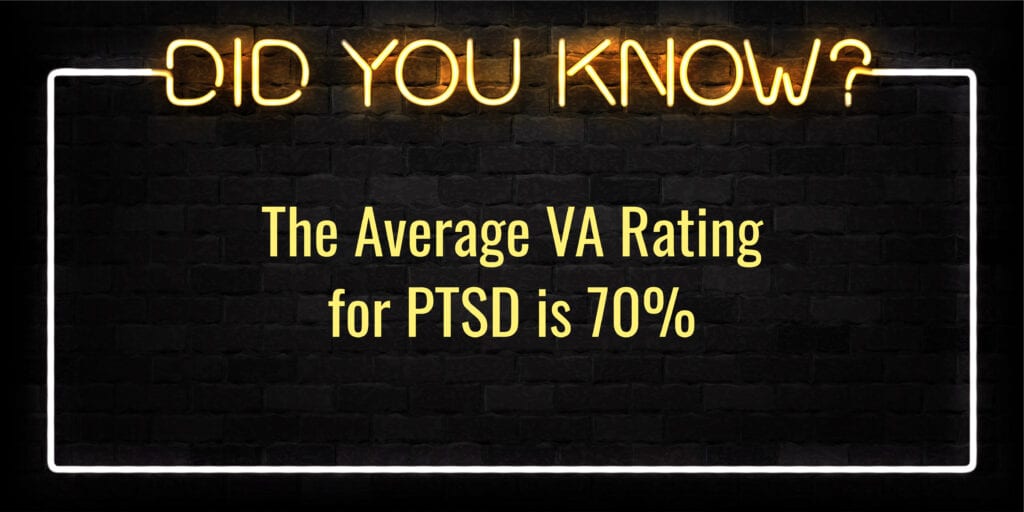 VA disability ratings for PTSD depend upon the Frequency, Severity, and Duration of your symptoms over time.
At VA Claims Insider, we call this "Severity of Symptoms."
The more severe your mental health symptoms are, the higher the VA rating you'll receive for PTSD.
If you're trying to increase your PTSD rating from 50% to 70%, you need to submit evidence that shows your symptoms meet the higher rating criteria under the law.
Is PTSD an Easy Claim to Win?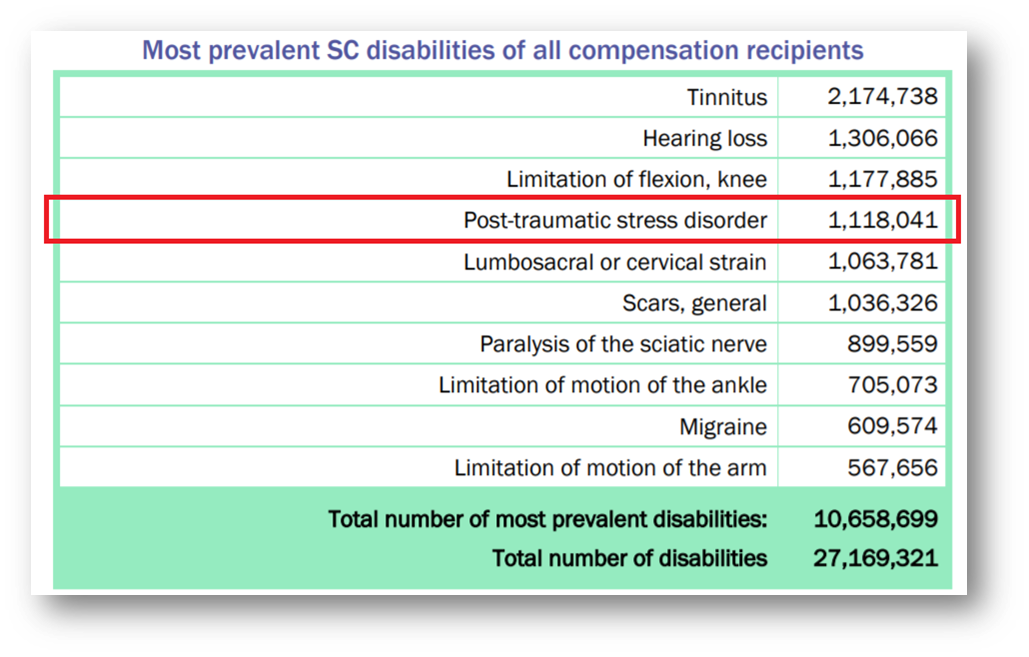 Yes, PTSD is an easy claim to win, assuming you have evidence to support your claim.
According to the easiest VA claims to win data, PTSD is the #4 most claimed and compensated VA disability condition across all veteran demographics.
Furthermore, PTSD is a high-value claim, meaning it's very likely to get a VA rating of 30% or higher.
According to the VBA's most recent annual benefits report to congress, veterans have the following PTSD rating percentages:
22.8% of veterans with service-connected PTSD have a 30% VA rating
26.0% of all VA disability recipients for PTSD have a 50% PTSD rating
29.5% of all VA claim recipients for PTSD have a 70% VA disability for PTSD rating
13.2% have a 100% PTSD rating
How to Increase PTSD Rating from 50% to 70%
First, let's explore the symptoms and impairment for the 50% VA rating for PTSD versus the 70% criteria.
50% PTSD Rating Criteria
Occupational and social impairment with reduced reliability and productivity due to such symptoms as:
Flattened affect
Circumstantial, circumlocutory, or stereotyped speech
Panic attacks more than once a week
Difficulty in understanding complex commands
Impairment of short- and long-term memory (e.g., retention of only highly learned material, forgetting to complete tasks)
Impaired judgment
Impaired abstract thinking
Disturbances of motivation and mood
Difficulty in establishing and maintaining effective work and social relationships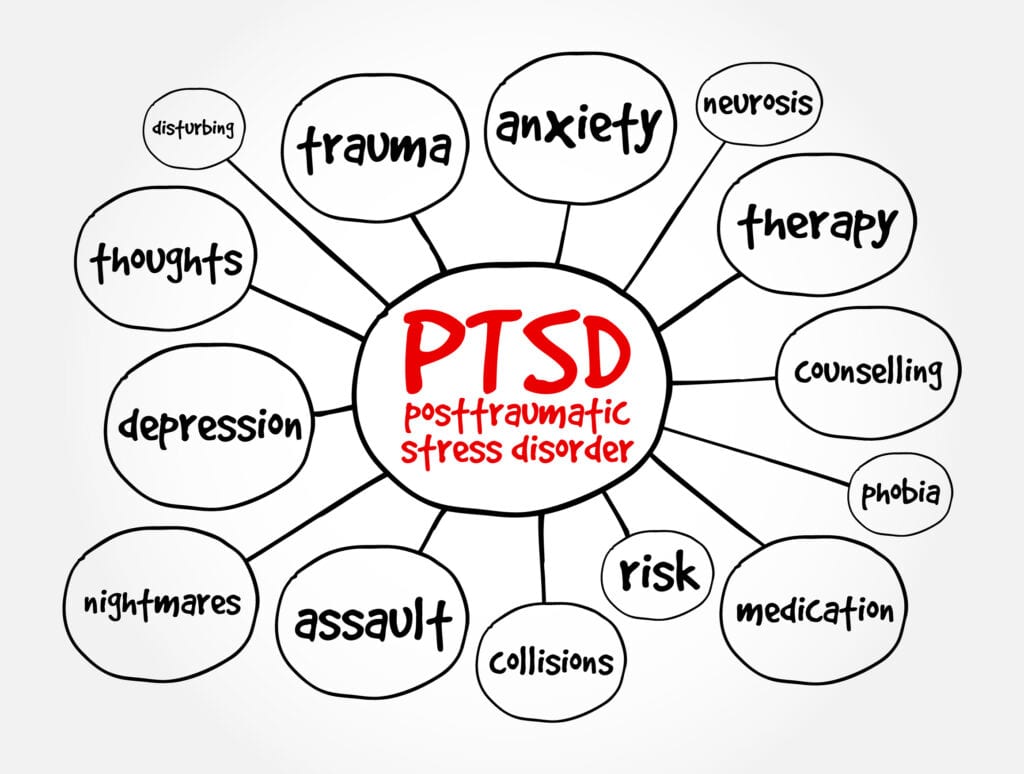 Okay, let's break it down.
The 50% rating for PTSD has moderately severe symptoms.
The most significant difference between the 30% and 50% rating is that you're having a lot of trouble in your relationships at this level.
Perhaps you don't have any friends or just want to be alone.
Maybe you're divorced or can't get along with your spouse anymore.
The other difference is you're now The other difference is that you're now having panic attacks MORE than once per week.
70% PTSD Rating Criteria
Occupational and social impairment with deficiencies in most areas to include symptoms such as:
Suicidal ideation
Obsessional rituals which interfere with routine activities
Speech intermittently illogical, obscure, or irrelevant
Near-continuous panic or depression affects the ability to function independently, appropriately, and effectively
Impaired impulse control (such as unprovoked irritability with periods of violence)
Spatial disorientation
Neglect of personal appearance and hygiene
Difficulty in adapting to stressful circumstances (including work or a work-like setting)
Inability to establish and maintain effective relationships.
The 70% PTSD rating has very severe symptoms and is a big jump from the 50% level.
Notice the keyword change to "deficiencies in MOST areas."
Maybe you have obsessive daily rituals, such as constantly checking windows, doors, or video cameras monitoring your home.
Your panic attacks, depression, and anxiety are now happening constantly.
You might even have thoughts of suicide, meaning passive or active thoughts, regardless of plan or intent.
You are unable to establish and maintain effective relationships at work and socially.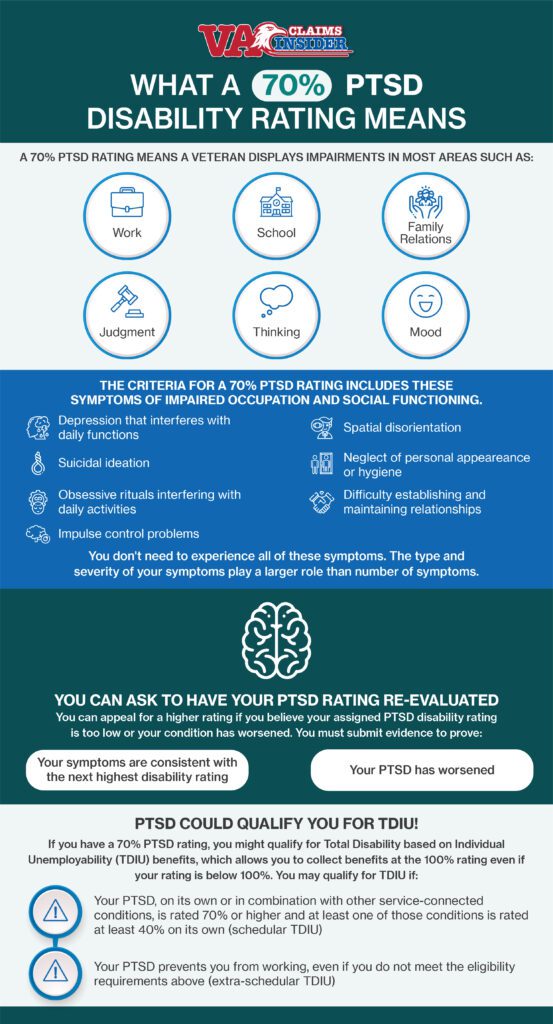 Top 3 Tips to Get a VA PTSD Increase from 50% to 70%
Increase VA PTSD Rating Tip #1: Obtain a Psych Eval and DBQ for PTSD Review from a Private Psychologist
The #1 most effective way to increase your VA disability rating for PTSD from 50 percent to 70 percent is to have a private medical provider complete a DBQ or other medical report for PTSD Review.
You must be open, honest, and "uncomfortably vulnerable" during your interactions with a private medical provider.
Tell them EVERYTHING that's going on with you. This includes your current mental health symptoms and HOW those symptoms limit or affect your work, life, and social functioning.
You're still highly likely to get a C&P exam for PTSD, but you'll be more than ready because you've got new and relevant medical evidence to support HOW your PTSD symptoms are worse and warrant a higher rating under the law.
Remember, the more severe your symptoms, the higher the VA rating for PTSD.
Increase PTSD Rating Tip #2: Write a Strong VA Statement in Support of a Claim for PTSD Increase
If you think you deserve a PTSD increase from 50% to 70%, you'll want to write a strong and truthful personal VA statement in support of a claim, focusing on your current mental health symptoms and how those symptoms affect you in negative ways.
When the VA Rater assigns your final rating for PTSD, he or she is primarily concerned with the "preponderance of your mental health symptoms."
According to CFR 38, Part 4, the Schedule for Rating Disabilities, §4.7 Higher of Two Evaluations, "Where there is a question as to which of two evaluations shall be applied, the higher evaluation will be assigned if the disability picture more nearly approximates the criteria required for that rating. Otherwise, the lower rating will be assigned."
That means if you have 3 to 5 symptoms of the 70% rating criteria and 2 to 4 symptoms of the 50% rating criteria, the preponderance of your symptoms is at the higher rating level (70%), and the increase should be granted. The opposite is also true.
If you suffer from severe symptoms of PTSD, be sure to write down all the symptoms with examples, so the VA Rater gets an accurate picture of your approximate symptoms and level of impairment.
Statement in Support of Claim for PTSD Example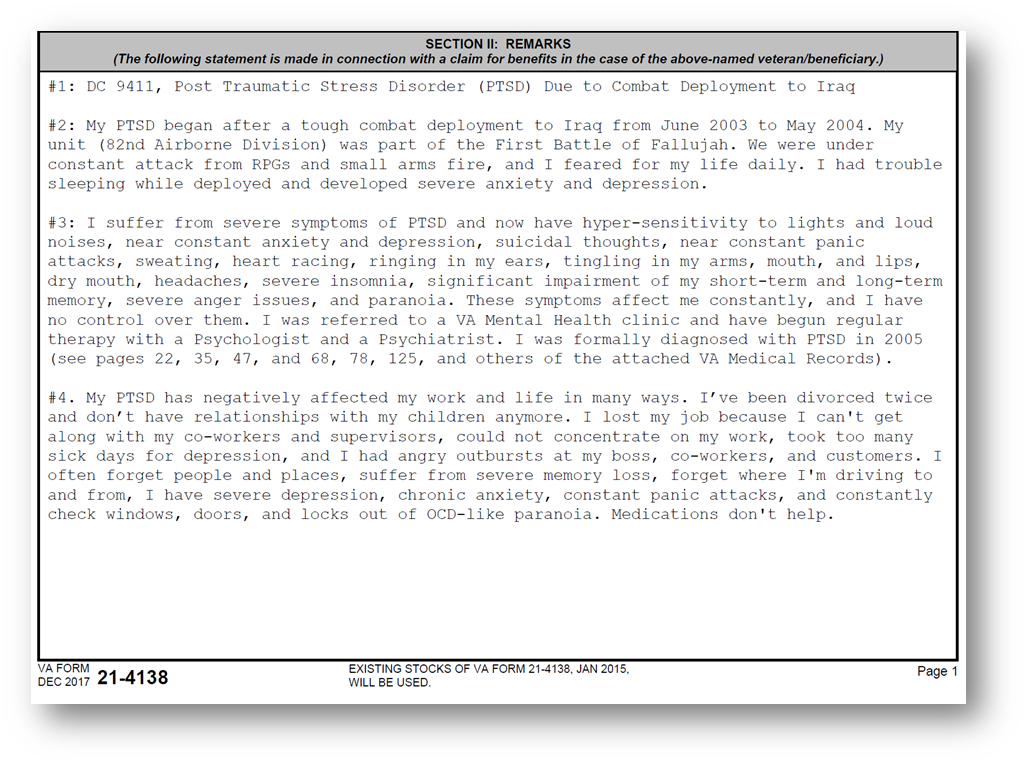 Here is an example of how to write this section in your Statement in Support of a Claim for PTSD:
I suffer from severe symptoms of PTSD and now have hyper-sensitivity to lights and loud noises, near constant anxiety and depression, suicidal thoughts, constant panic attacks, sweating, heart racing, ringing in my ears, tingling in my arms, mouth, and lips, dry mouth, headaches, severe insomnia, significant impairment of my short-term and long-term memory, severe anger issues, and paranoia. These symptoms affect me constantly, and I have no control over them. I was referred to a VA Mental Health clinic and have begun regular therapy with a Psychologist and a Psychiatrist. I was formally diagnosed with PTSD in 2006 (see pages 28, 33, 52, and 72 of the attached VA Medical Records). I'm seeking an increase in my PTSD rating because my symptoms are now worse.
Expert Tip: Pay close attention to the mental health symptoms listed at CFR Title 38, Part 4, Schedule for Rating Disabilities. You should have a basic idea of what you're eligible for by law by looking at the VA rating criteria for mental health.
In the final part of your PTSD statement, you should explain how your PTSD negatively affects your work, life, and social functioning.
A best practice is to explain at least two specific examples of how your PTSD limits or affects you in negative ways.
My PTSD has negatively affected my work and life in many ways. I've been divorced twice and don't have relationships with my children anymore. I lost my job because I couldn't get along with my co-workers and supervisors, could not concentrate on my work, took too many sick days for depression and anxiety, and I had angry outbursts at my boss, co-workers, and customers. I often forget people and places, suffer from severe memory loss, forget where I'm driving to and from, I have severe depression, chronic anxiety, constant panic attacks, and constantly check windows, doors, and locks out of OCD-like paranoia. The other day I had road rage so badly when someone cut me off, that I attempted to drive him off the road and fight. I've tried vet centers, medications, mindfulness, etc., and receive little to no relief.
VA PTSD Increase Tip #3: Over Prepare for Your VA C&P Exam for PTSD
Here are my top 5 tips to prepare for your C&P exam for PTSD increase:
#1. Know what's in your medical records! There is no substitute for knowing what's in your service treatment records, VA medical records, or private medical records.
#2. Review the Disability Benefits Questionnaire (DBQ) for PTSD Review.
#3. Review CFR, Title 38, Part 4, the Schedule for Rating Disabilities for mental health conditions.
#4. Do NOT have your best day…this does NOT mean to lie or stretch the truth. That's illegal. It means you need to tell the examiner how you are on your very worst days. What does an average day look like for you? What challenges do you have? Are you struggling at work? If so, why? How are your relationships? Do you have friends? If not, why?
#5. Be UNCOMFORTABLY VULNERABLE…and share your uncomfortable truths! It's hard to do, I know, but you must. Why? Because PTSD claims come down to your current level of "Occupational and Social Impairment" and "Severity of Symptoms." Be ready to talk about your work, life, and social functioning. Be prepared to explain your current symptoms with examples.
Deserve a HIGHER VA Rating?
Learn more about how VA Claims Insider can help you get the rating you DESERVE!
Speak with a VA Disability expert and start for FREE! 
Brian Reese
Brian Reese is one of the top VA disability benefits experts in the world and bestselling author of You Deserve It: The Definitive Guide to Getting the Veteran Benefits You've Earned (Second Edition).
Brian's frustration with the VA claim process led him to create VA Claims Insider, which provides disabled veterans with tips, strategies, and lessons learned to win their VA disability compensation claim, faster, even if they've already filed, been denied, gave up, or don't know where to start.
As the founder of VA Claims Insider and CEO of Military Disability Made Easy, he has helped serve more than 10 million military members and veterans since 2013 through free online educational resources.
He is a former active duty Air Force officer with extensive experience leading hundreds of individuals and multi-functional teams in challenging international environments, including a combat tour to Afghanistan in 2011 supporting Operation ENDURING FREEDOM.
Brian is a Distinguished Graduate of Management from the United States Air Force Academy, Colorado Springs, CO, and he holds an MBA from Oklahoma State University's Spears School of Business, Stillwater, OK, where he was a National Honor Scholar (Top 1% of Graduate School class).