Today, we're going to deep-dive the VA disability 5 year rule.
Did you know the VA has the authority to adjust your VA disability benefits through a re-evaluation?
The VA always retains the right to conduct a re-examination to determine if your disability has improved, worsened, or stayed the same.
Important: VA Raters must consider whether a veteran's current disability is static and/or permanent before making a re-examination request.
Deciphering the VA Disability 5 Year Rule!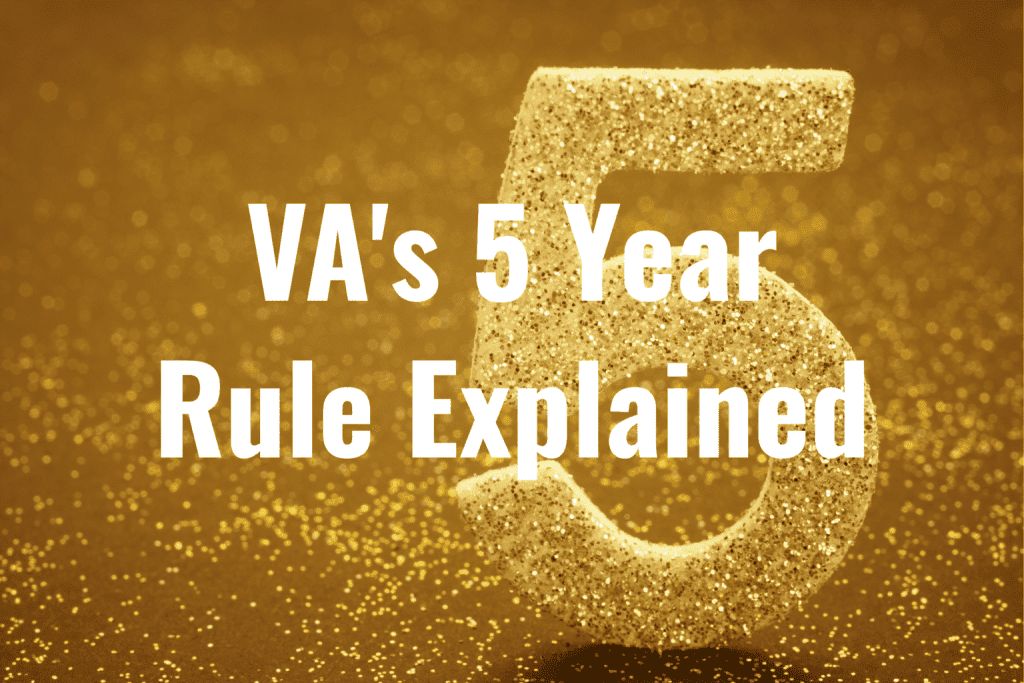 The VA disability 5 year rule allows the VA to re-evaluate your existing VA disability rating within 5 years of your initial examination, if and only if, your disability condition is expected to show material improvement over time.
However, the VA may still re-evaluate your VA rating past the 5 year deadline if your condition has significantly improved, as shown by medical evidence.
Pro Tip: There are 2 key exceptions to the VA disability 5 year rule:
Permanent and Total VA Ratings: Veterans who have been granted a Permanent and Total (P&T) Rating are exempt from the VA 5 year rule. The P&T rating signifies that the service-connected disability is unlikely to improve in the future.
Disability Conditions Not Expected to Improve: Veterans with service-connected disabilities that are deemed permanent and not expected to improve are also exempt from the 5 year rule. These conditions are typically characterized by their permanent nature, such as the loss of a limb or a chronic, progressive illness.
What is the VA 5 Year Rule Effective Date?
The effective date for the VA 5 year rule is 1,825 days (5 years) from your last VA disability rating decision.
If your existing VA disability rating has been continuously in-place for 5 years or more, it is unlikely the VA will re-evaluate you (although it's possible).
What Types of VA Ratings Are NOT Subject to a Re-Evaluation?
There are 7 types of protected VA disability ratings NOT subject to a re-examination:
The disability is "Static," without material improvement for 5 years or more.
The disability is "Permanent" and there is no likelihood of improvement.
The disability has been in place for 10 years or more. Note: The rating can still be reduced (not eliminated) if medical evidence shows that the disability has improved.
The disability has been continuously in effect for 20 years or more.
The veteran is over 55 years of age (except under unusual circumstances or where required by regulation).
The veteran has a 100% VA rating that's deemed a "total" disability. *Note: The VA can only reduce the rating if the medical evidence demonstrates "material improvement."
The disability is rated at the prescribed schedular minimum within its Diagnostic Code (DC)

The disability is rated at 10% or less, or

The combined evaluation would not change even if the VA re-evaluation resulted in a reduced evaluation for one or more disabilities.
Why Does the VA Re-Evaluate VA Disability Ratings?
The VA conducts re-examinations of VA disability ratings primarily because not all service-connected disabilities are considered permanent.
As a result, the VA has the authority to review the cases of veterans whose conditions are anticipated to improve over time.
However, veterans who are protected by a Permanent and Total Rating or those with conditions deemed to be unchangeable are exempt from the VA 5 year rule.
For instance, a veteran with a permanent service-connected disability, such as a missing arm, falls into this category.
When Does the VA Re-Evaluate Disability Ratings?
If you have a disability condition that's expected to improve over time, such as a mental health condition that's had a rating for less than 5 years, the VA can re-evaluate your disability condition within 2 to 5 years of your initial examination.
Keep in mind VA re-evaluations aren't necessarily bad.
For example, the VA is trying to determine if your disability rating should be increased, decreased, or kept the same based upon your Frequency, Severity, and Duration of symptoms.
The VA may also reexamine your VA disability rating if there's obvious evidence that your condition has improved or even disappeared.
How Will the VA Notify Me of a Re-Examination?
The VA initiates a re-examination by scheduling a C&P exam to assess the extent to which your service-connected disability impacts your work, life, and social functioning, to include the severity of your symptoms.
It is crucial that you attend this appointment or reschedule it for a more suitable time.
Failure to do so may provide grounds for the VA to reduce or terminate your VA disability benefits.
Receiving a re-examination notice from the VA does not automatically mean that you should panic about losing your VA disability benefits.
If your condition has remained unchanged, it is highly likely that the VA will confirm the accuracy of your current VA disability rating and not reduce it.
What Should I Do If I Get a Proposed VA Rating Reduction?
If the VA proposes to reduce an existing VA disability rating, the veteran has 60 calendar days to respond.
If you disagree with the proposed reduction, you must provide the VA with medical evidence showing that the disability has not improved.
It's best to get your treating physician to write a letter on your behalf, upload specific sections of medical evidence that shows your condition has not improved, or upload any other medical reports or evidence to prove your disability has not gotten better.
What Factors Determine Whether the VA Will Re-Evaluate an Existing VA Disability Rating?
| | |
| --- | --- |
| If the case necessitates a(n) … | Then, at the time of the rating decision's preparation, schedule the examination to be conducted … |
| Routine Future Examination (RFE) to monitor for anticipated improvement in a service connected disability. | In 3 years. |
| Reexamination to monitor for evidence of sustained improvement in a stabilized service connected disability that is shown to have improved. | In 18, 24, or 30 months, depending upon the facts and circumstances of the individual case. |
| Examination to facilitate the re-evaluation of a prestabilization rating prepared under the authority of 38 CFR 4.28 | No earlier than 6 months, nor later than 12 months, following discharge from service. |
| Examination to evaluate a service connected mental disorder that was: Incurred by reason of traumatic stress, and Rated in accordance with the provisions of 38 CFR 4.129 | Within the six-month period following the Veteran's discharge. |
| Examination to evaluate post-therapeutic residuals of service connected malignancy (cancer). | Six months following cessation of surgical, x-ray, antineoplastic chemotherapy, or other therapeutic procedure. Exceptions: For SC bone malignancy evaluated under 38 CFR 4.71a, DC 5012, any needed examination must be scheduled one year following cessation of treatment. For service connected malignancy of the brain or spinal cord evaluated under 38 CFR 4.124a, DCs 8002 or 8021, respectively, any needed examination must be scheduled two years following cessation of treatment. Concede the disability evaluation's permanence and schedule no future examinations if the considerations discussed in M21-1, Part III, Subpart iv, 5.B.3.a are applicable. |
| Mandatory examination/reexamination in connection with a specific diagnosis code. | At a time or interval consistent with the applicable regulation's requirements. |
About the Author
Brian Reese
Brian Reese is one of the top VA disability benefits experts in the world and bestselling author of You Deserve It: The Definitive Guide to Getting the Veteran Benefits You've Earned (Second Edition).
Brian's frustration with the VA claim process led him to create VA Claims Insider, which provides disabled veterans with tips, strategies, and lessons learned to win their VA disability compensation claim, faster, even if they've already filed, been denied, gave up, or don't know where to start.
As the founder of VA Claims Insider and CEO of Military Disability Made Easy, he has helped serve more than 10 million military members and veterans since 2013 through free online educational resources.
He is a former active duty Air Force officer with extensive experience leading hundreds of individuals and multi-functional teams in challenging international environments, including a combat tour to Afghanistan in 2011 supporting Operation ENDURING FREEDOM.
Brian is a Distinguished Graduate of Management from the United States Air Force Academy, Colorado Springs, CO, and he holds an MBA from Oklahoma State University's Spears School of Business, Stillwater, OK, where he was a National Honor Scholar (Top 1% of Graduate School class).