March 13, 2022, is the official national holiday for K9 veterans. As important as it is for us to take time to reflect and appreciate the sacrifices of our armed forces, let's not forget the brave four-legged veterans who also risk their lives to protect us.
National K9 Veterans Day is a time to celebrate and thank our service and support dogs for their heroism and military service. Military K9s (MK9s) dedicate their lives to helping their human comrades, and they deserve our recognition and respect.
A Brief History of Military Working Dogs
Military K9s (also called Military Working Dogs, or MWDs) come in all shapes and sizes, but they all share a common bond: they're loyal, brave, and selfless. They put their lives on the line to protect their handlers and help accomplish the mission. And they do it all without complaint.
K9s have been integral in military campaigns for more than 100 years. The first known use of dogs in a war effort was during World War I when the British Army used them to carry messages between troops. In World War II, the United States military began using war dogs more significantly, training them to detect explosives and other hazards. Dogs were also used in the Vietnam War, where they served as sentries, scouts, and mine detectors.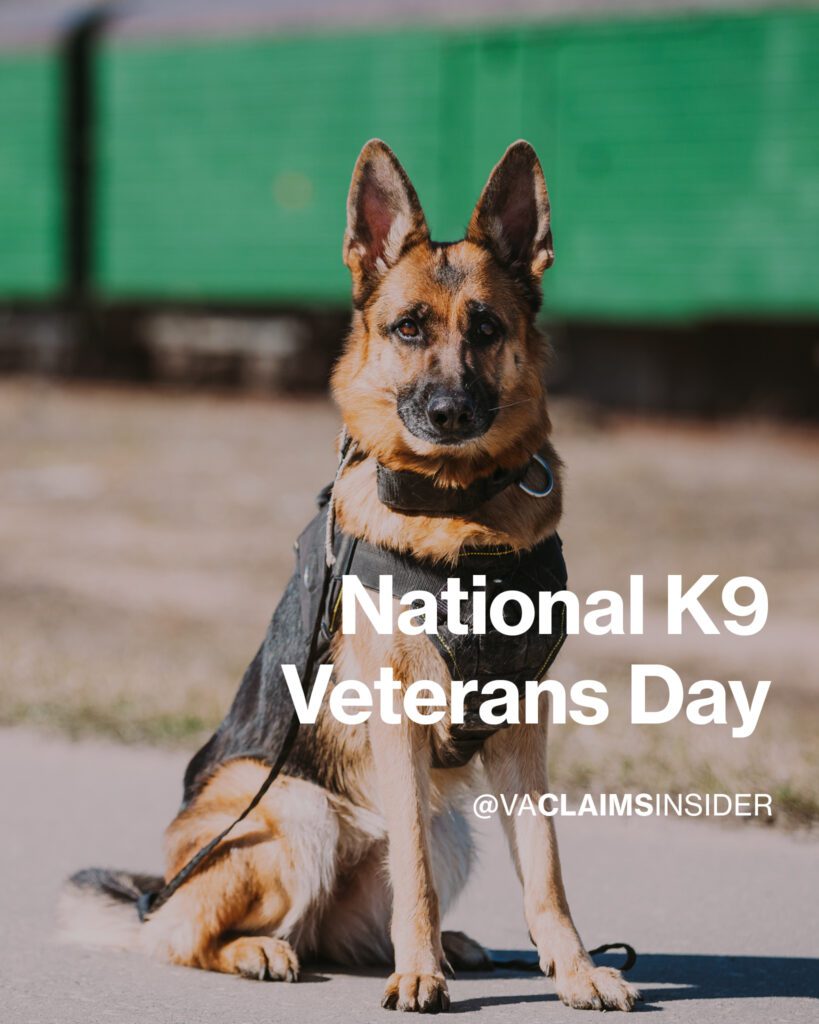 Since then, dogs have continued to play an important role in military operations. For example, in Afghanistan and Iraq, they have been used to detect improvised explosive devices (IEDs).
Today, the United States has an estimated 3,000 Military K9s deployed worldwide. The dogs assist multiple law enforcement agencies, including the US military, US Customs and Border Patrol, police forces, and federal law enforcement agencies.
---
What is the role of a military dog?
There are many different types of military dogs—some MK9s work as explosives detection dogs, helping to sniff out bombs and keep troops safe. (One study found that dogs are "10 times more likely to find an IED" than humans). Other MK9s are used in search-and-rescue missions, assisting in the recovery of soldiers and civilians who have been injured or gone missing.
MK9s can also be used as combat dogs, tracking down enemy combatants and providing security for military personnel.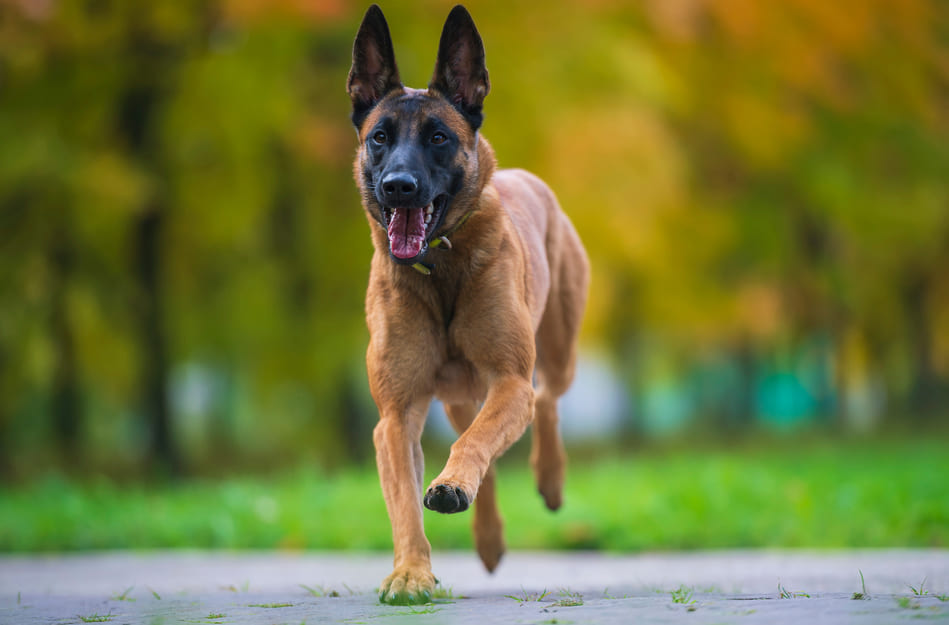 In addition to their invaluable service in the field, military K9s also play an essential role in supporting troops when they're off duty. K9 Service Dogs and K9 Support Dogs often provide emotional support to troops, disabled veterans, and first responders. They can also help reduce stress and anxiety, improve moods, and promote relaxation.
(A psychiatric service dog is a dog who helps someone with anxiety, depression, bipolar disorders, or other mental health conditions. All service dogs have completed specialized training and are legally recognized by the Americans with Disabilities Act (ADA). Many K9 dogs are considered service dogs—even if they're not guiding a veteran in a wheelchair, etc.—as they are serving to provide emotional support.)
---
What breeds of dog are used by the US military?
The most popular breeds of military K9s include the Belgian Malinois, Dutch Shepherd, and German Shepherd. The military also uses labs, retrievers, Jack Russell terriers, and others.
What dogs do the US Navy SEALS use?
Most dogs that work with the elite US Navy SEAL teams are Belgian Malinois (Mals). This includes Cairo, the Belgian Malinois who helped SEAL Team 6 take down Osama bin Laden (more on Cairo below).
---
How long do military dogs serve?
Military K9s often serve until they are 10 to 12 years old. However, some dogs are honorably discharged before that due to injuries, development of noise aversions, or mental distress following the death of their human counterparts.
---
Do military dogs jump out of planes?
Yes, and dogs in the US Air Force have been skydiving for decades. Military K9s usually tandem jump with their handlers, though they can make solo jumps with a proper doggy life vest.
---
A Few Good Dogs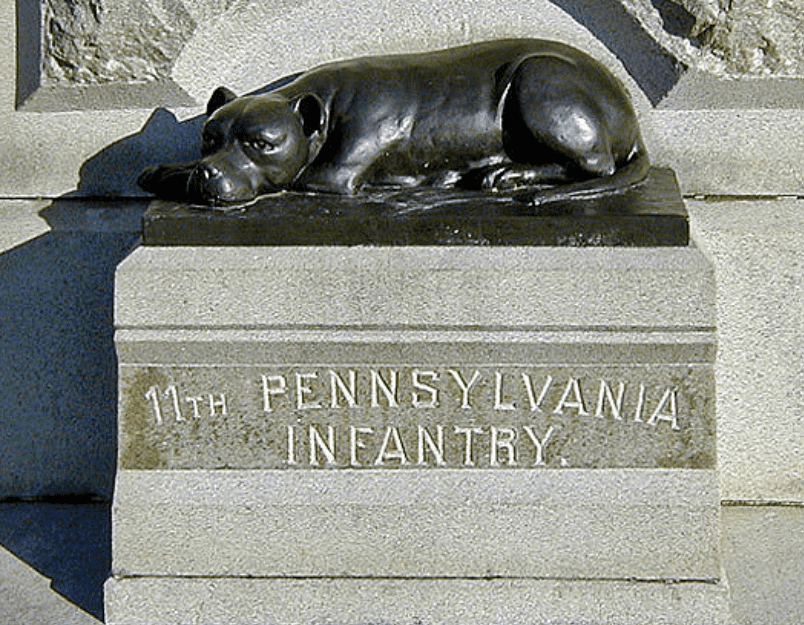 Sallie
Sallie was a brindle Staffordshire Terrier who served as regiment mascot for the 11th Pennsylvania Volunteer Infantry during the American Civil War. She was raised in the regiment and accompanied the soldiers on the battlefield's front lines.
During the chaos of the battle at Gettysburg, Sallie became separated from the regiment. Three days later, troops found Sallie guarding the bodies of the wounded and dead. She was later killed at the Battle at Hatcher's Run. Some of the veterans who survived the war erected a monument in her honor at Gettysburg in 1890.
Lucca
A German Shepherd and Belgian Malinois mix, Lucca deployed twice to Iraq and once to Afghanistan. As an explosives detection dog for the US Marine Corps, Lucca is the only dog to have completed over 400 missions. More remarkably, no human fatalities occurred under her watch.
One of the most extraordinary MK9s in history, Lucca found ammunition, insurgents, and explosives on more than 40 occasions during her six-year military career.
Her final mission took place in Afghanistan in 2012. After uncovering a 30-pound explosive device, another device detonated nearby. Lucca lost a leg, but she survived and was able to walk again just ten days later. Lucca retired and moved home with Gunnery Sgt. Chris Willingham and was awarded the Dickin Medal (for animal gallantry) in 2016.
Cairo
Immortalized in the book No Ordinary Dog, Cairo was a Belgian Malinois who gained national recognition as a member of the Navy SEAL team that took down Osama Bin Laden in 2011. Cairo's story is intertwined with that of Will Chesney, a SEAL Team Operator and Cairo's handler.
"I want to bring attention to just how valuable these working dogs are. These dogs will sacrifice their lives for us, and they save our lives all the time."
-Will Chesney (No Ordinary Dog)
---
How do people celebrate K9 Veterans Day?
National K9 Veterans Day provides an opportunity to honor all of the military dogs who have served our country and raise awareness about the work these dogs do. If you're looking for ways to celebrate National K9 Veterans Day, consider doing one or more of the following:
Thank a military dog or their handler for their service. Maybe even buy a K9 veteran a new bone, toy, or treat!
Share a story about a military dog to help raise awareness on social media using the hashtag #K9VeteransDay or #NationalK9VeteransDay
Donate to an organization that helps support military dogs (or even veterans)—see our lsit below for a starting point
Visit a war dog memorial site, or attend a special event or ceremony honoring military dogs
Volunteer with a veteran service dog organization to help unite disabled veterans with a four-legged service companion.
Mission: Helping veterans and pets create new beginnings together. "Our goal is to help heal the emotional wounds of military veterans by pairing them with a shelter dog that is specially selected to match his or her personality."
Mission: Determined to end veteran suicide, K9s For Warriors provides highly trained Service Dogs to military veterans suffering from PTSD, traumatic brain injury, or military sexual trauma.
The nation's largest service dog provider has volunteers and heroes in every state and continues to grow daily. Contact them if you are a disabled veteran who needs a service dog.
MK9s seeks to provide highly trained service dogs at no cost to the qualified and deserving veteran. Dogs are trained to meet specific veteran needs. Costs are kept to a minimum by a dedicated all-volunteer force that raises and trains the puppies for free. Therefore, costs are limited to purchasing the puppies, feeding, and veterinary care during the training period.
PTSD Service Dogs Video
Guardian Angels Medical Service Dogs
Guardian Angels Medical Service Dogs, Inc. was established for the charitable purpose of:
Rescuing, raising, and training the highest caliber medical service and
assistance dogs
Pairing highly-trained dogs with individuals afflicted by disabilities
(including a focus on combat-wounded veterans)
Building and restoring independence and improving quality of life for
both the recipient and the dog, while minimizing reliance on government, communities, caregivers, and families
Advancing successful service dog training practices by promoting appropriate trainer education and contributing to research studies
Pursuing increased public awareness and education regarding current disability laws and contributing to new and enhanced laws regarding service dogs
Since 2010, Healing4Heroes' focus has been to rescue dogs from local shelters, pair them up with veterans at no cost to the veteran, and provide all the training to help them become ADA compliant. The dogs are trained to assist veterans through a range of challenges in their daily lives.
Semper K9 rescues dogs from shelters and trains them to be service dogs at no cost for disabled service members.
Mission: Our service dog program provides dogs to veterans living with post-traumatic stress disorder (PTSD) and other challenges such as hearing loss, seizures, and balance issues.
The mission of Patriot PAWS is to train and provide service dogs of the highest quality at no cost to disabled American veterans and others with mobile disabilities to help restore physical and emotional independence. Patriot PAWS builds partnerships with state and community organizations to help develop and support this goal.
---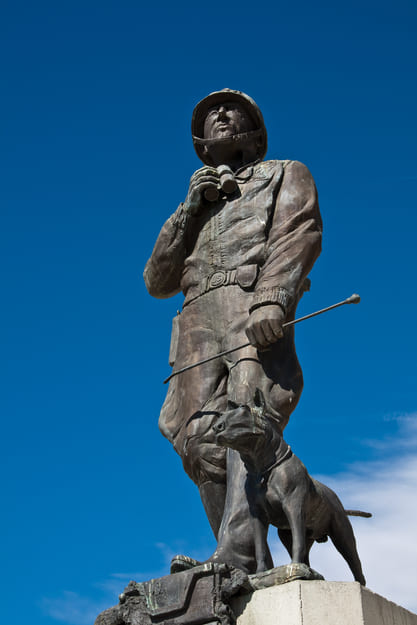 Honoring all veterans
As we celebrate National K9 Veterans Day 2022, let's remember the critical role military dogs play in our country. These brave animals have served and sacrificed alongside their military dog handlers, and they deserve our utmost respect. Many are currently serving overseas and fighting for our freedom.
Let's also use K9 Veterans Day as a reminder to honor and thank all our military veterans and service members for their bravery and patriotism. They've made incredible sacrifices for our country and deserve our deepest gratitude. Let's do everything we can to support these heroes who've served and continue to contribute so admirably.
---
About The Author
About VA Claims Insider
VA Claims insider is an education-based coaching/consulting company. We're here for disabled veterans exploring eligibility for increased VA disability benefits and who wish to learn more about that process. We also connect veterans with independent medical professionals in our referral network for medical examinations, disability evaluations, and credible independent medical opinions and nexus statements (medical nexus letters) for a wide range of disability conditions.