My guess is you landed on this page because you got a copy of your C&P exam paperwork, and it says something like: "Acceptable Clinical Evidence" and you want to know: is a VA ACE exam good or bad?
Awe yes, if you see this verbiage, it means the VA has scheduled you for an ACE Exam.
Lately, we've seen a sharp increase in the number of ACE Exams scheduled by the VA for certain Compensation and Pension (C&P) exams.
So, it begs the question: is a VA ACE Exam good or bad?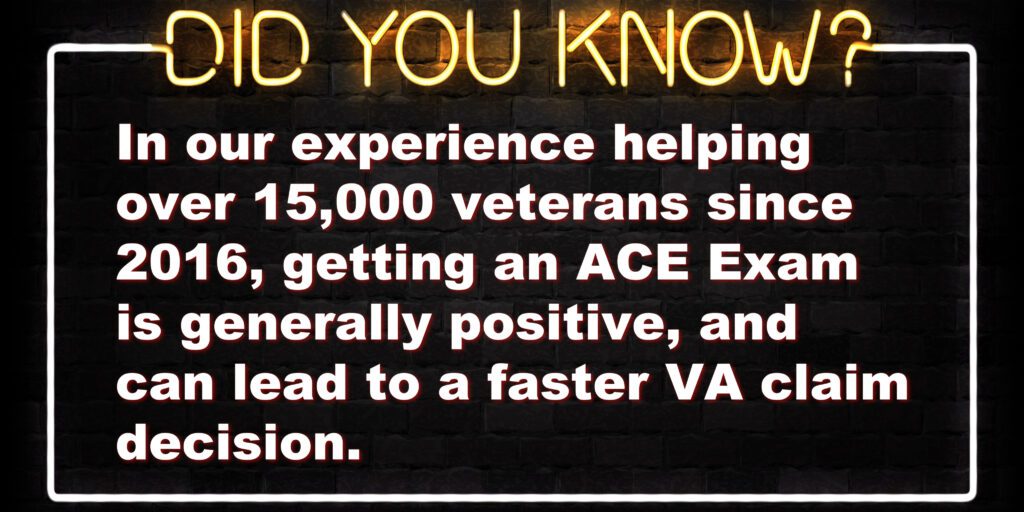 In our experience helping over 15,000 veterans since 2016, getting an ACE Exam is generally positive, and can lead to a faster VA claim decision.
If you get a VA ACE Exam, you will not get an in-person or telehealth C&P exam—the ACE exam (records review only) covers that requirement.
Occasionally, the C&P examiner for your ACE exam will call you on the phone and ask you questions about your disabilities, so you must be prepared (list of example questions below).
Okay, let's explore the ACE exam in more detail and whether it's good or bad.
What is an ACE Exam?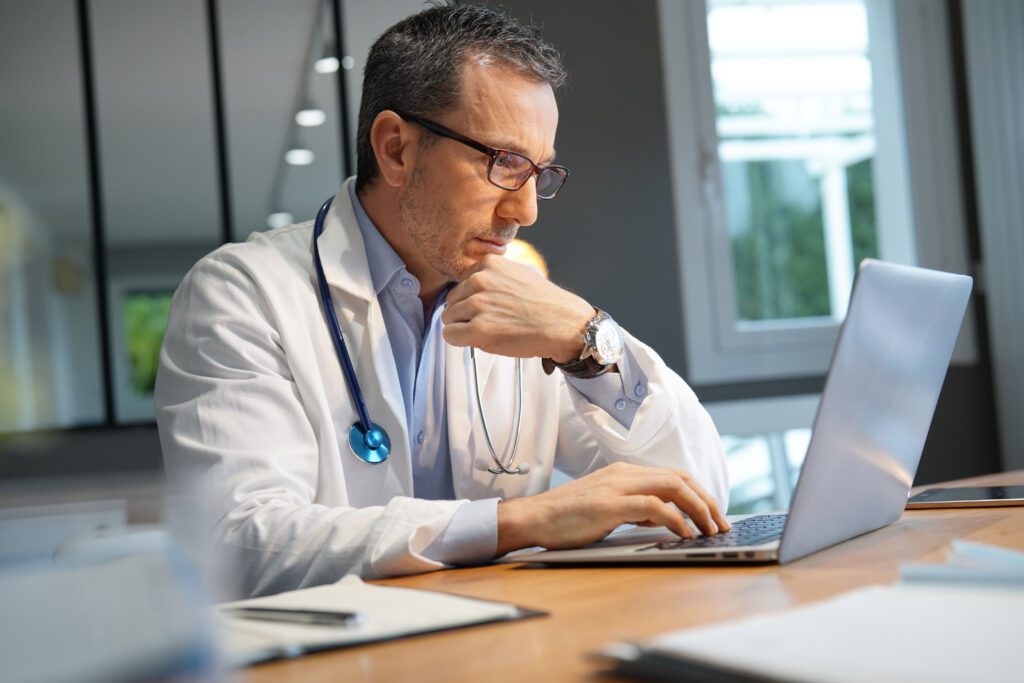 An ACE Exam is a C&P Exam performed by an electronic "records only" review.
Instead of scheduling a veteran for an in-person or telehealth exam, C&P examiners have the option to complete the DBQ based on review of existing electronic medical evidence (and other submitted documents) only.
The examiner has the option to conduct a phone interview with you—sometimes they do and sometimes they don't.
I've personally had three VA Acceptable Clinical Evidence Exams for various disability conditions and have never received a phone call from the examiner.
Is a VA ACE Exam Good or Bad?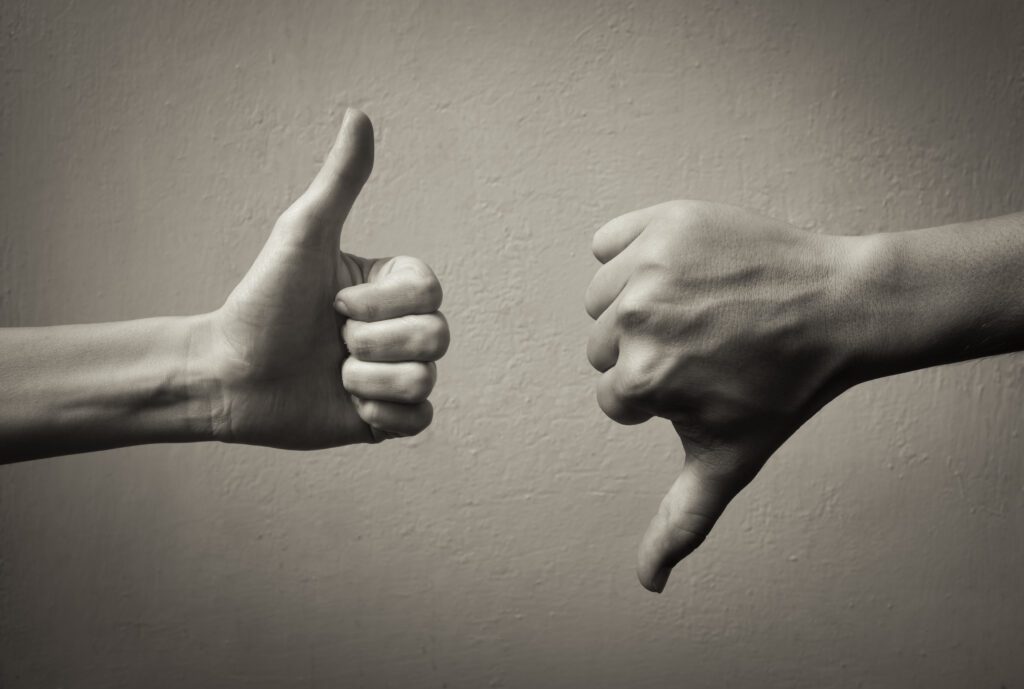 ACE Exams are generally positive; however, the devil is in the details.
Why?
Because all favorable VA claim outcomes depend on MEDICAL EVIDENCE!
Either you have enough, or you don't.
For example, if you submitted a claim for an increase on your service connected Migraines but didn't submit medical evidence that proves your symptoms warrant the increase, your claim will likely get denied, whether the ACE process was used or not.
So, make sure you submit medical evidence with your VA disability claim.
Overall, though, the VA ACE exam process is good and often leads to faster VA claim decisions.
Acceptable Clinical Evidence ACE Exams: What C&P Exams Can Be Performed Under the ACE Process?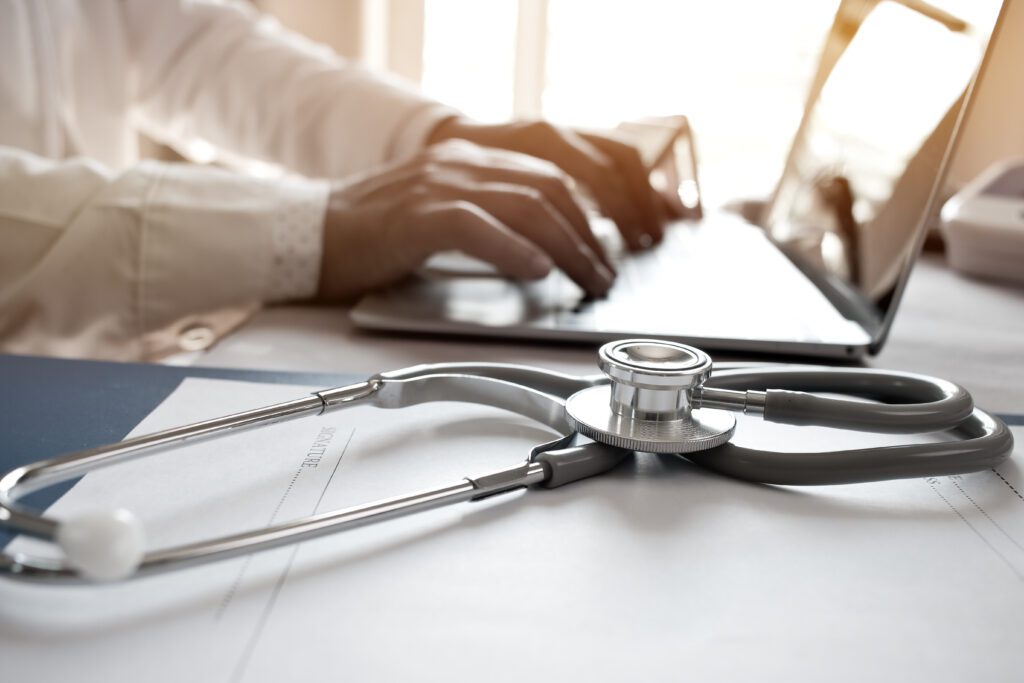 Generally, VA ACE Exams are appropriate for the following disability conditions:
Other situations where the VA ACE exam process is appropriate includes:
Existing medical evidence is adequate as determined for a clinical examiner to assess the level of impairment per the claimed condition's DBQ (requested by the VSR or RVSR).
A medical opinion is needed to determine whether a disability was incurred or aggravated in service.
A medical opinion is needed to determine the relationship between a claimed disability and a service-connected disability.
Assessing whether a disability incurred in or aggravated by military service caused or contributed to a veteran's death.
For any evaluations done using the ACE process, the C&P examiner will:
Review the existing records provided by VA and/or available in Veterans Benefits Management System (VBMS); and
Document the use of the ACE process on the DBQ, to include the source of the clinical evidence relied on to complete the DBQ or render the opinion.
How Do I Prepare for a VA ACE Exam?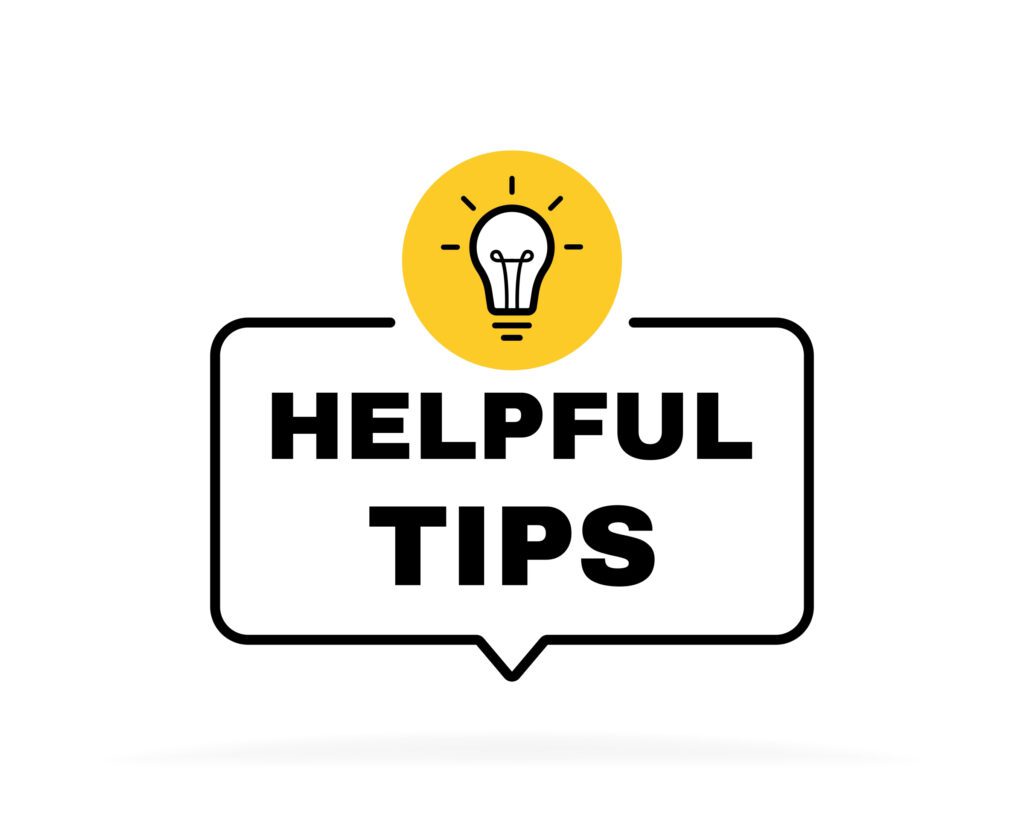 Here's 3 tips to help veterans prepare for an ACE exam:
#1: Recognize That a VA ACE Exam Is a C&P Exam
First, you should realize that a VA ACE exam is a C&P exam.
However, instead of being in-person or virtual, the exam is conducted by the C&P examiner via "records review" only.
The good news is the ACE exam process is typically faster than a traditional C&P exam.
#2: Review Your Submitted Evidence and the Condition Specific DBQ
If you submitted a claim for Migraines, Tinnitus, or Sleep Apnea, you should be on the lookout for an ACE exam.
You'll know by looking at the C&P exam paperwork mailed to you by a private company: LHI, VES, and QTC.
In our experience, Migraine (Headaches) is the #1 most common disability condition for the ACE exam process.
You should review your submitted evidence in-detail and review the condition specific public use DBQ in-case the examiner calls you for an interview.
#3: The ACE Examiner Might Call You on the Phone
And you must be ready if/when the call comes.
Even though the C&P examiner is conducting a records-only review of your VA claim file, you need to be ready in-case he/she calls you on the phone for an interview.
Here's some questions you can expect if you get called:
When did the condition begin? Approximate timeframe.
Frequency: How often does your condition affect you?
Severity: What are your symptoms?
Duration: How long do your symptoms last?
Does your condition negatively affect your work or life? If yes, please explain.
Do you take medications for the condition? If yes, do they help?
If you filed for secondary service connection: Why do you think the conditions are connected?
If you filed for an increase of a service connected condition: How are your symptoms worse?
If you filed for presumptive service connection: Where were you deployed and for how long?
ACE Exam VA: 10 Frequently Asked Questions (FAQs)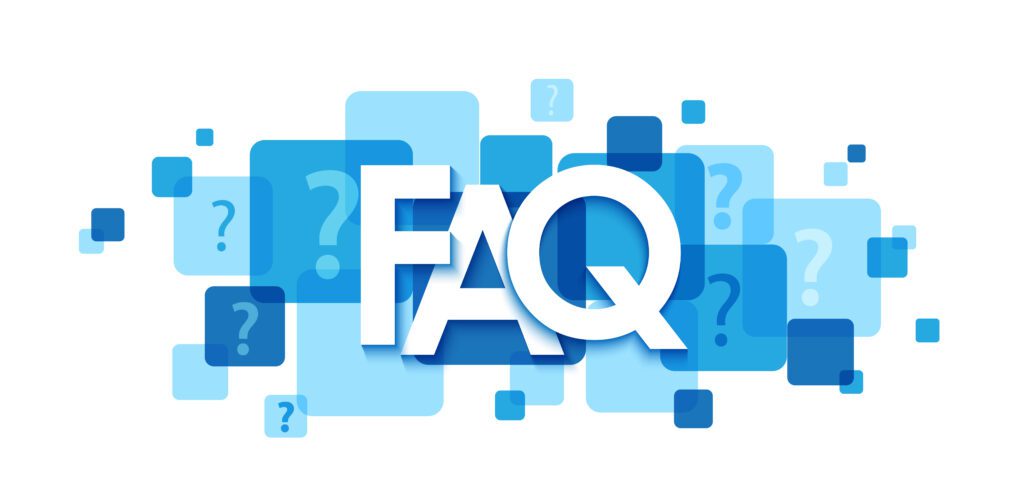 #1. When is the ACE Exam process appropriate and who makes the determination?
Unless VA personnel have specifically required a general medical or an in-person examination be conducted, once the VSR/RVSR has requested an examination or opinion and provided all available medical information in VBMS, the vendor (C&P exam contractor) will review the request to determine if the examination can be completed from the current medical records and VA claims file.
When the existing medical evidence is found to be adequate, and/or supplemented by a telephone interview with the veteran, if necessary, the request may be completed using the ACE process and will be documented on the DBQ as having been conducted using the ACE exam process.
#2. What records will the C&P examiner use to complete the electronic DBQ for an ACE Exam?
The C&P examiner will review the existing evidence of record included in the VBMS uploaded veteran's file and, if needed, information obtained by telephone from the veteran. A telephone interview may not be needed and is at the sole discretion of the C&P examiner.
#3. How is the VA ACE Exam process documented?
The examiner will document use of the ACE exam process on the DBQ. The examiner will ensure the appropriate entries are made on the DBQ to report the use of the ACE process and the source of the clinical evidence relied on to complete the DBQ. The examiner must identify the materials reviewed to complete the DBQ or render the opinion. DBQs contain a box that must be checked if the DBQ was completed using the ACE process. All applicable medical evidence used to complete the DBQ identified. DBQs completed using the ACE process will be called insufficient if ACE is not properly documented.
#4. Does the ACE Process change existing policy on C&P disability examinations?
The ACE process does not replace guidance related to C&P disability exams or DBQs. The ACE process is simply a method for completing the DBQ without an in-person or telehealth exam. A VA ACE exam can result in faster VA claim decisions.
#5. Can the ACE Exam process be used to provide medical opinions?
Yes, the ACE exam process may also be used to provide medical opinions. Opinions can be provided for:
Clarifying a previous medical evaluation
Clarifying a previous medical opinion
#6. Are there specific requirements when the C&P examiner obtains additional information over the telephone?
Yes. If the ACE exam process involves obtaining information from a veteran via a telephone interview, the examiner must ensure the veteran is the person being interviewed or is a person authorized to act on the veteran's behalf.
If a telephone interview is required, the examiner will identify themselves to include providing their unique identification number, state the purpose of the call, and shall authenticate a veteran's identity using the following questions:
#1. Full legal name, including middle name.
#2. Last four of the Veteran's social security number or claim number.
#3. Birth Date, including year.
#4. Branch of service and service dates, and
#5. Home address.
It is acceptable if the veteran does not remember their exact service dates but answers all the other questions correctly.
Pro Tip: If a veteran refuses to answer the questions, the VA ACE exam process cannot be completed, and the veteran will need to report for an in-person examination.
#7. When can the ACE Exam process NOT be used?
The ACE exam process is not available in the following categories of examinations:
Exams by vendor examiners when necessary electronic medical records are not available for review.
Exams required by BVA & CAVC remands.
General medical examinations.
Mental disorder examinations, including medical opinions for claimed conditions secondary to a service connected (SC) medical disorder. This specifically applies to physical secondary conditions related to SC mental disorders, such as bruxism; initial or residual traumatic brain injury (TBI) DBQs; and
When the VA specifically requests an in-person or telehealth examination
#8. Can the ACE Process be used if the examiner determines that the existing medical evidence is inadequate for evaluation purposes?
If the existing medical and other pertinent evidence is found to be inadequate or additional information is required, the Veteran will be scheduled for an in-person medical examination or a telehealth examination.
#9. Can virtual telehealth technology be used for a VA ACE Exam?
No! Telehealth is not to be used as part of the ACE exam process. Records review and/or phone interview only.
#10. Where can I find more information on Acceptable Clinical Evidence Exams?
Click below for a copy of the official VA ACE Exam guide:
Click below for a copy of the Acceptable Clinical Evidence ACE Training Guide for C&P examiners:
About the Author
Brian Reese
Brian Reese is one of the top VA disability benefits experts in the world and bestselling author of You Deserve It: The Definitive Guide to Getting the Veteran Benefits You've Earned (Second Edition).
Brian's frustration with the VA claim process led him to create VA Claims Insider, which provides disabled veterans with tips, strategies, and lessons learned to win their VA disability compensation claim, faster, even if they've already filed, been denied, gave up, or don't know where to start.
As the founder of VA Claims Insider and CEO of Military Disability Made Easy, he has helped serve more than 10 million military members and veterans since 2013 through free online educational resources.
He is a former active duty Air Force officer with extensive experience leading hundreds of individuals and multi-functional teams in challenging international environments, including a combat tour to Afghanistan in 2011 supporting Operation ENDURING FREEDOM.
Brian is a Distinguished Graduate of Management from the United States Air Force Academy, Colorado Springs, CO, and he holds an MBA from Oklahoma State University's Spears School of Business, Stillwater, OK, where he was a National Honor Scholar (Top 1% of Graduate School class).