Today, Brian Reese the VA Claims Insider explains the 4-step process of how to file a secondary VA claim online.
Before you get started with VA disability secondary conditions, it's highly recommended you start gathering the following documents:
Okay, let's explore how to file a VA claim online for secondary service connection!
How to File a Secondary VA Claim Online in 4 Steps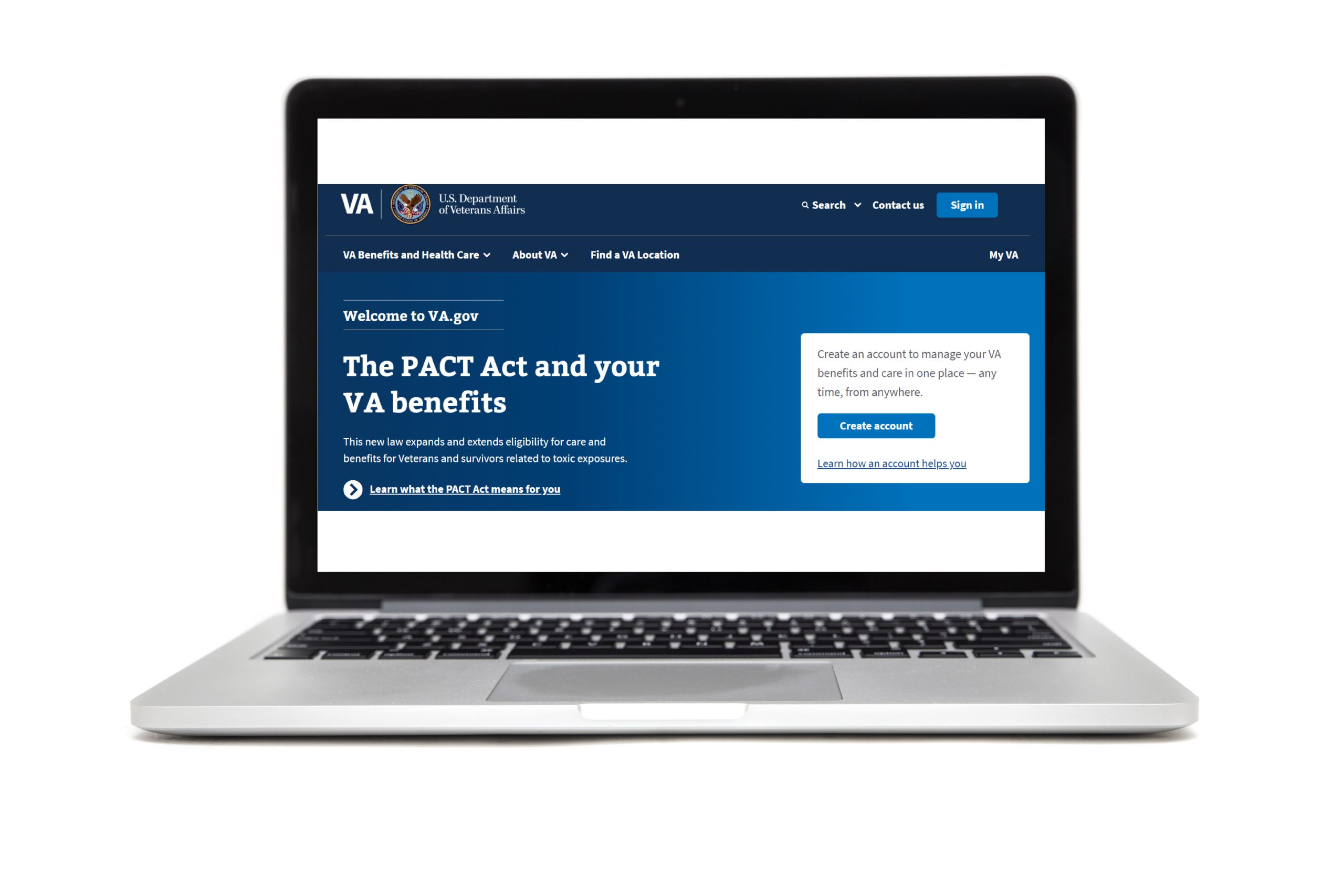 Step #1: Go to VA.gov and open a new claim using the online VA Form 21-526EZ – Application for Disability Compensation and Related Compensation Benefits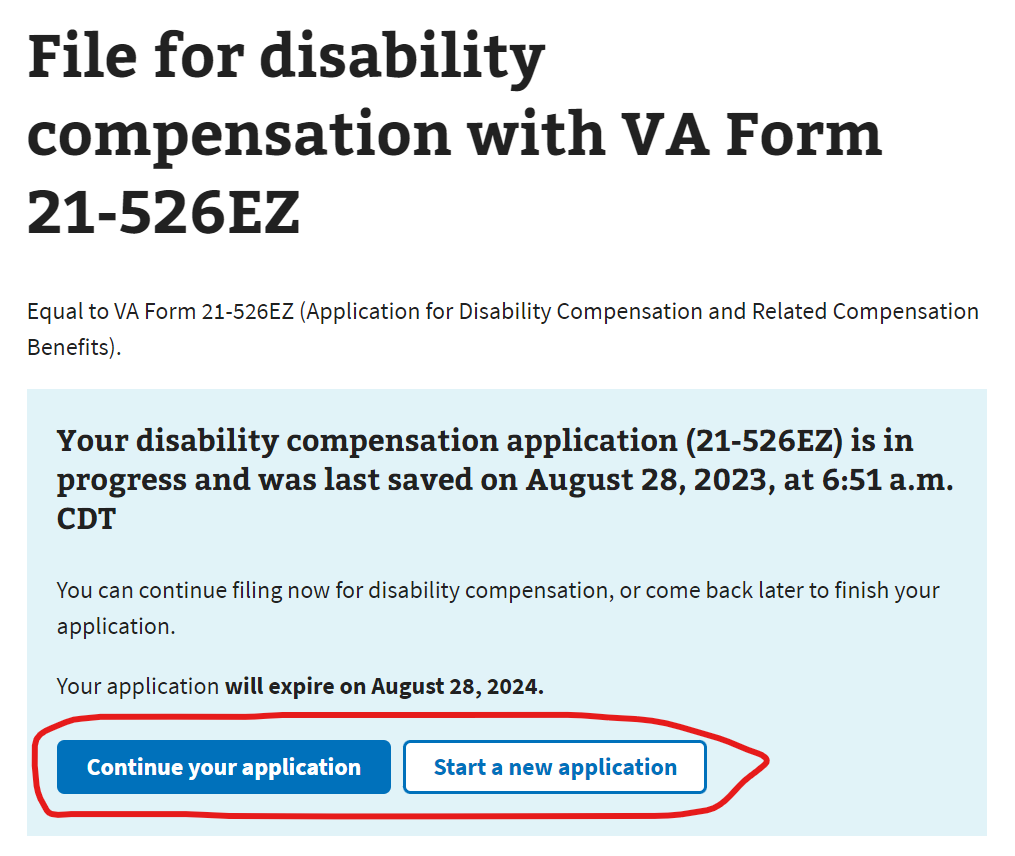 By clicking the button to start the disability application, you'll automatically declare your intent to file.
This will reserve a potential effective date for when you could start getting benefits.
You have one year (365 days) from the day you submit your intent to file to complete your VA disability benefits application.
If you don't have a notice of intent to file open already, do it now to secure your backpay from the VA decision date back to the date you opened the intent to file.
If you already have an intent to file open, just click the "continue your application" button.
Step #2: Ensure your non-service connected secondary disability condition is medical diagnosed and that the primary disability condition is service connected at 0% or higher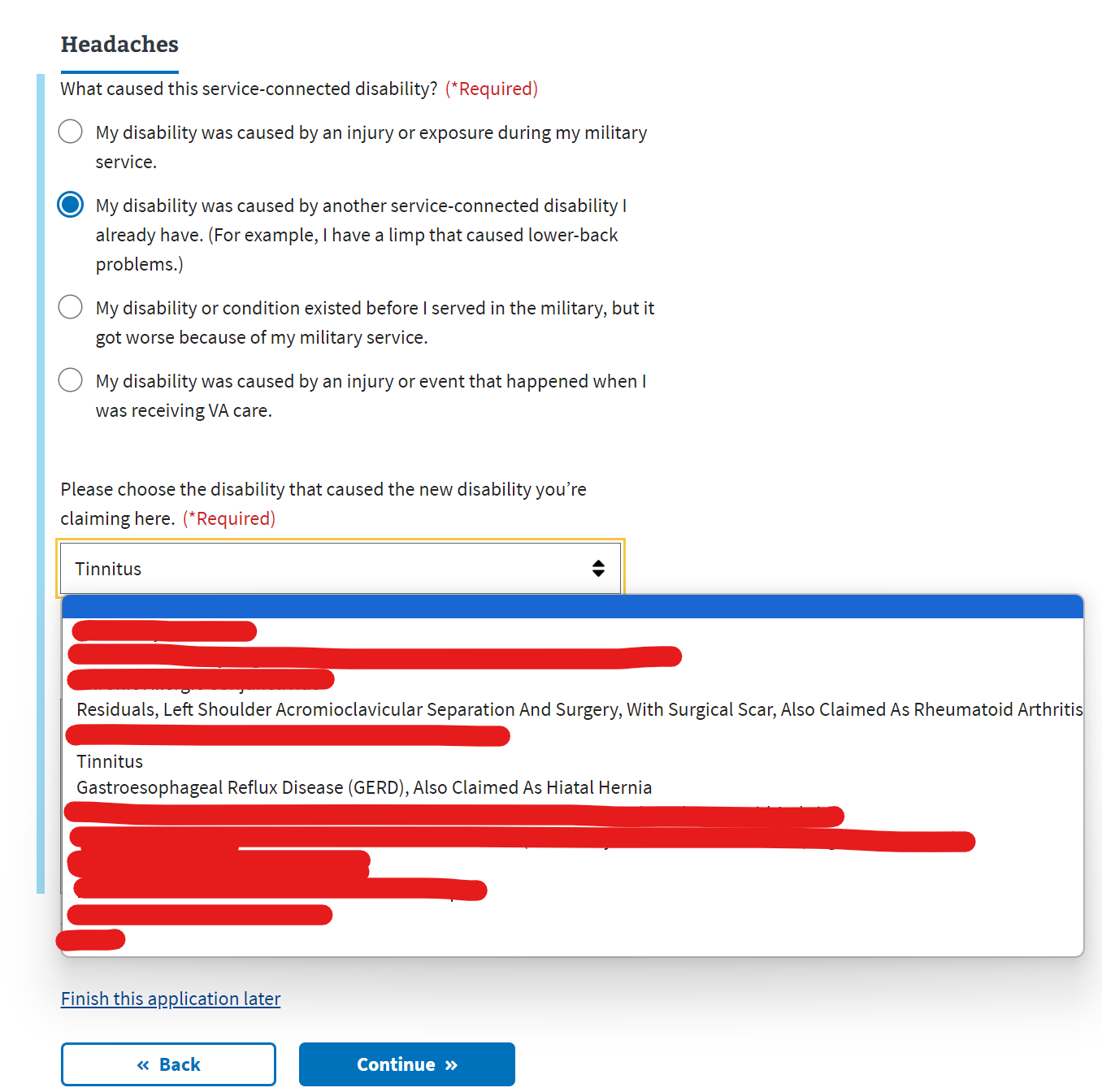 Let's say you're thinking about filing a secondary claim for Headaches Secondary to Tinnitus and PTSD.
First, you need to make sure you have a medical diagnosis of Headaches in a medical record (e.g., service treatment records, VA medical records, or private medical records).
Second, you need to make sure Tinnitus and PTSD are service connected at 0% or higher (you can simply look inside your VA.gov account to see the conditions that are service connected).
Step #3: Obtain a Nexus Letter from a private healthcare provider to help show the link or connection between the non-service connected secondary disability and the service connected primary disability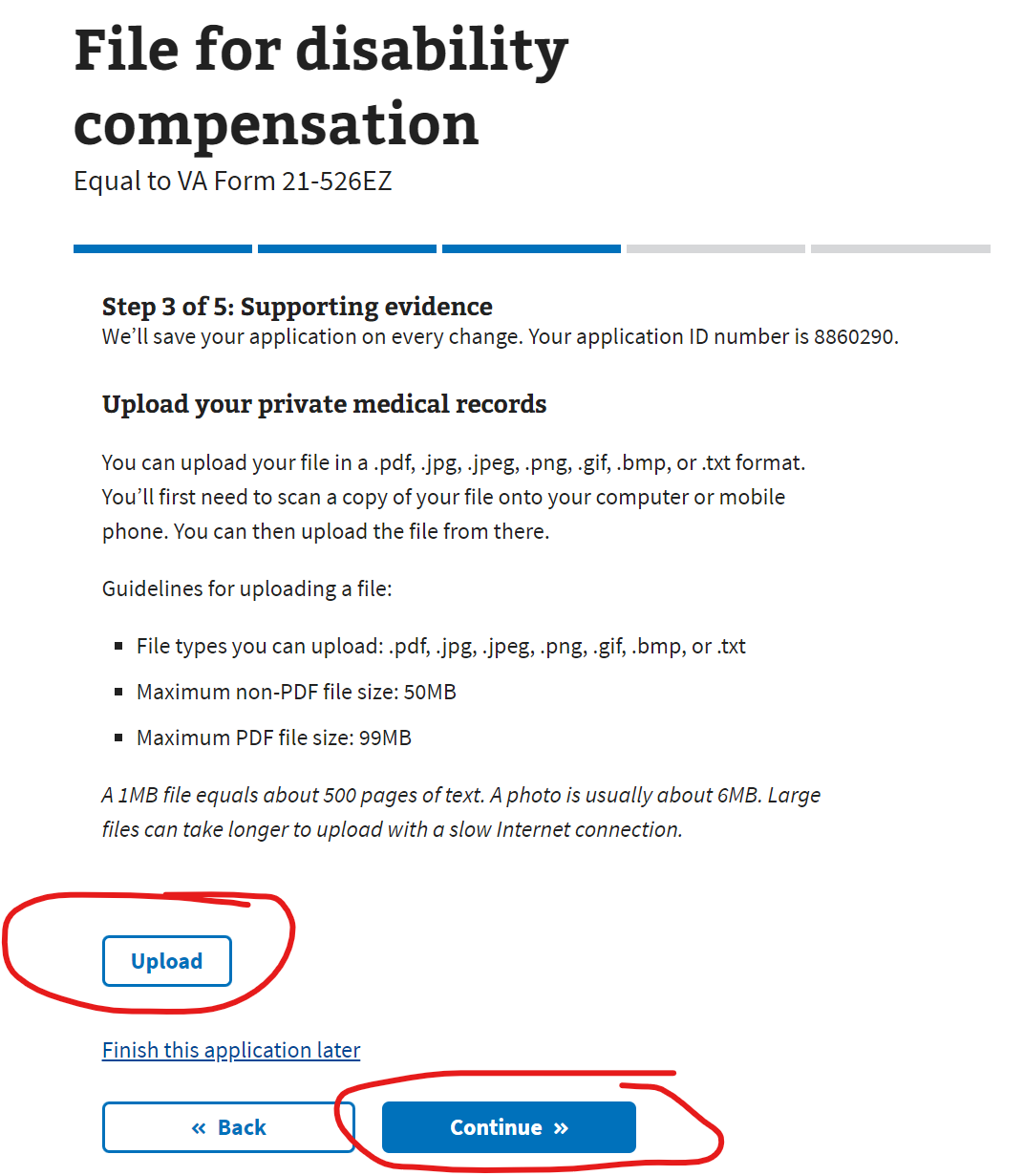 You must have "Medical Nexus Evidence" establishing a link or connection between the secondary disability and the primary disability.
In the example above, I should obtain a high-quality Nexus Letter from a private healthcare provider showing the link or connection between Headaches and Tinnitus and PTSD.
Your Nexus Letter should cite relevant medical research studies and BVA case examples to help support the private healthcare providers conclusion and nexus statement.
Step #4: File the non-service connected secondary disability condition secondary to the primary service connected disability in VA.gov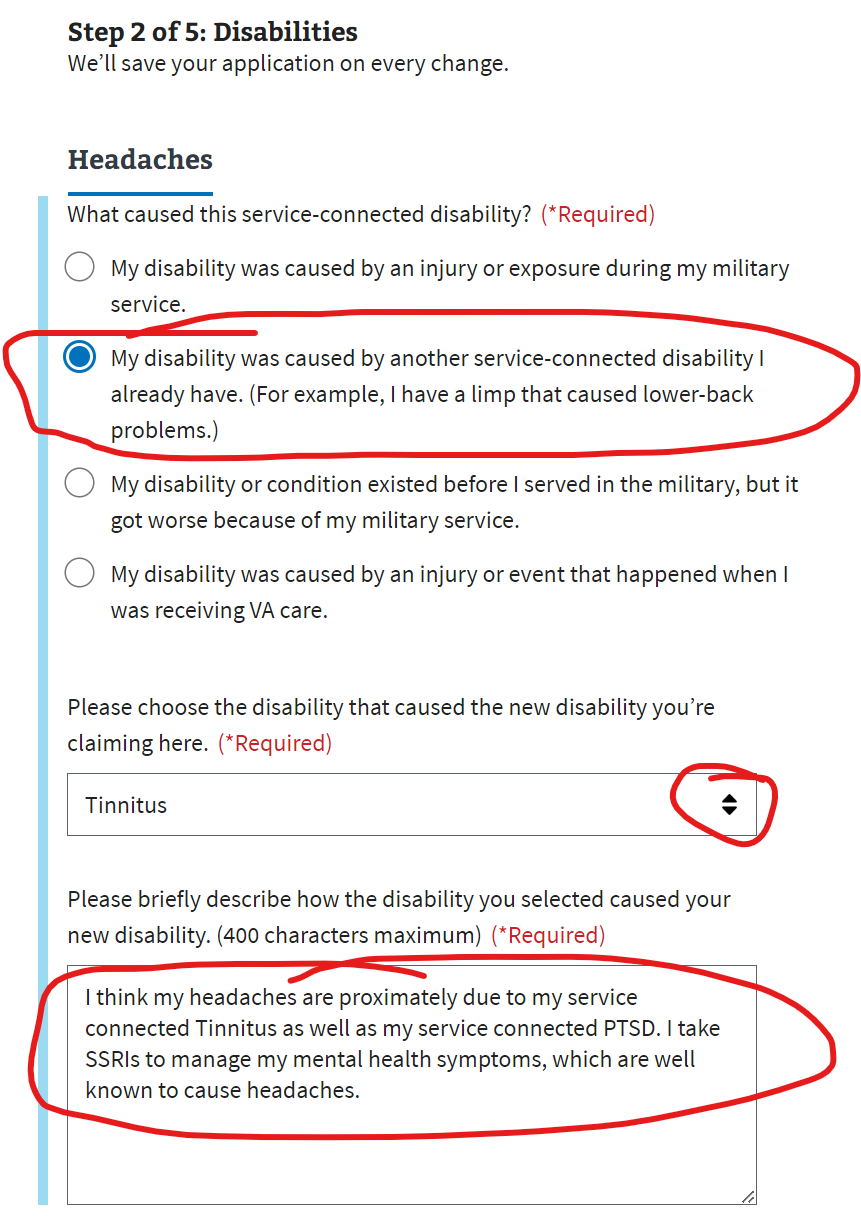 Once you have your medical records and Nexus Letter, you're ready to file your Fully Developed Claim (FDC) on VA.gov.
In Step #2 of 5 on VA.gov, you'll want to select "my disability was caused by another service-connected disability I already have."
Next, select the primary disability that you're connecting your secondary condition to.
You can only select one, so pick the strongest connection from your Nexus Letter and explain anything else in the freeform text box, to include your attached Nexus Letter, of how and why the disability you selected caused your new disability.
About the Author
Brian Reese
Brian Reese is one of the top VA disability benefits experts in the world and bestselling author of You Deserve It: The Definitive Guide to Getting the Veteran Benefits You've Earned (Second Edition).
Brian's frustration with the VA claim process led him to create VA Claims Insider, which provides disabled veterans with tips, strategies, and lessons learned to win their VA disability compensation claim, faster, even if they've already filed, been denied, gave up, or don't know where to start.
As the founder of VA Claims Insider and CEO of Military Disability Made Easy, he has helped serve more than 10 million military members and veterans since 2013 through free online educational resources.
He is a former active duty Air Force officer with extensive experience leading hundreds of individuals and multi-functional teams in challenging international environments, including a combat tour to Afghanistan in 2011 supporting Operation ENDURING FREEDOM.
Brian is a Distinguished Graduate of Management from the United States Air Force Academy, Colorado Springs, CO, and he holds an MBA from Oklahoma State University's Spears School of Business, Stillwater, OK, where he was a National Honor Scholar (Top 1% of Graduate School class).