Peace That Comes with Security in an Uncertain Time. This is the Elite Member Success Story of Doug Pine.
On August 3, 2020, Doug Pine underwent a fourth surgery on his lower back. After four decompression procedures, the Marine Corps veteran has opted to have a fusion performed. "It has just got to the point where I've decided I have to be able to function," says Pine. "If I can't function, then you know what, that effects the quality of my life."
Pine will be off his feet for three months rehabbing. As a civilian employee for the Army Corps of Engineers, Pine will be putting his 15-year career on hold. His wife, due to her own medical conditions, has not been able to work full-time for a decade. Pine's daughter, 16, has college aspirations. Coupled with a global pandemic, you would not l blame Pine for feeling stressed.
However, Pine has a peace of mind that comes with having a 100% rating after working with the Veteran Coaches at VA Claims Insider.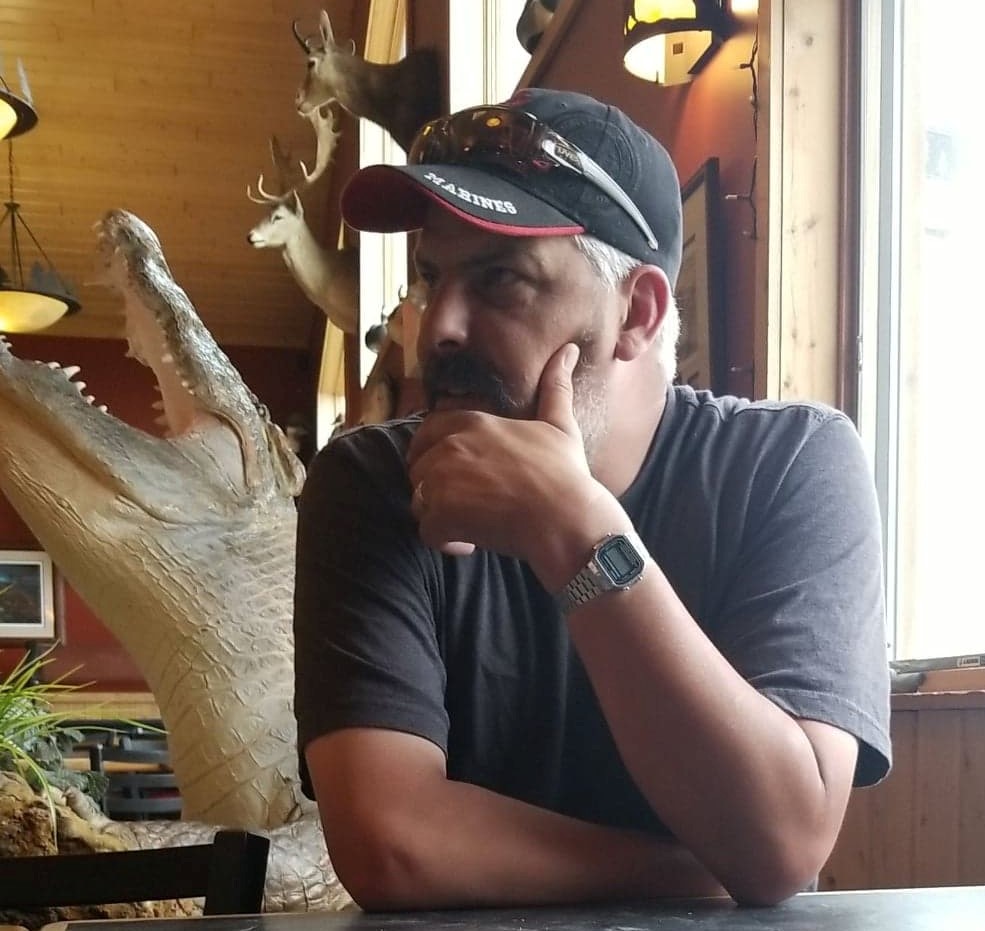 As dependents of a 100% permanently and totally disabled veteran, Pine's wife and daughter have access to a host of resources, including medical care.
Knowing now that my wife and daughter have medical care, is great. I don't have to worry about it.

Doug Pine – Elite Member of VA Claims Insider
Pine didn't arrive at this place without a fight. After exiting the Marine Corps in 1999, Pine submitted several claims for service-related conditions that were summarily denied. He worked with several free veteran services, but found no success. "After several years of doing the claims myself, I got to a point where it was just a brick wall," says Pine. "I was getting frustrated, I just got to the point where I didn't want deal with it anymore."
Looking for answers online, Pine came across the VA Claims Insider YouTube Channel. The educational resources and access to independent medical opinions finally helped Doug achieve the results he truly deserved after 20 years of denials.
"I went from 90 to 100%, 15 days," says Pine. "My coach pointed me in the right direction. I got in touch with a mental health counselor and did what I needed to do."
He empowered me going through the whole process, finally finding the right people.

Doug Pine – Elite Member of VA Claims Insider
Watch Doug's Video Testimonial
---
Pine had developed a reputation in his workplace for reliable advice relating to VA claims. "We're mostly veterans there and I'm the one that most people in my workplace go because I've dealt with so much and I get them all pointed in the right direction," he says. "I told them, if you ever really want help, VA Claims Insider is there to help you."
Even with his decades of experience, working with his coach gave Pine a fresh perspective. "I just needed a push in the right direction," he says. "Trying to find the right path forward and accessing the right resources was the hardest part for me."
Now with his rating guaranteeing a monthly stipend, he can make the best decisions for himself and his family without worrying about losing his income. "I always have a paycheck coming in, regardless of how long I'm out from my normal job, it is a great thing."
Since 2016, VA Claims Insider has helped thousands of VA Claims Insider Elite Members like Pine get the VA rating and compensation they deserve in less time. If you are interested in learning more about the VA Claims Insider Elite Membership, or have general questions about your VA claim, click here to get started today and a Veteran Coach will be in touch within minutes.
Interested in Sharing Your Story?
If you would like to share YOUR experience as an Elite Member, please click here to send our team a note.
---
Get Fast Help With VA Disability Increase – "Veterans Helping Veterans!"
At VA Claims Insider, we help fellow Veterans celebrate LIFE CHANGE by getting you the VA rating increase you deserve by law.
FOR Veterans, BY Veterans! We're the largest community of Veterans Helping Veterans Worldwide™
10,000+ disabled veterans served in our Elite membership program since 2016
500,000+ veterans per month utilize our free/paid educational resources
We employ more than 150 veterans, military spouses, and veteran advocates around the world
Average VA disability benefit increase of >30%
Better Business Bureau (BBB) Accredited (A+ rating)
$1.3B+ in VA disability benefits secured for veterans in all 50 states and 47 countries globally
If you're ready to secure the VA disability claim rating and benefits you've earned for your honorable service to our nation, simply click the button below now to start our FREE 3-step intake process.
You'll hear from a member of our team within minutes!
Deserve a HIGHER VA Rating? WE CAN HELP.
Join our premier education-based membership program, VA Claims Insider Elite, connect with an expert-level Veteran Coach (VC) within minutes, and finally get the rating you deserve. Click the button below to start for FREE.
---
About the Author
About VA Claims Insider
VA Claims Insider is an education-based coaching/consulting company. We're here for disabled veterans exploring eligibility for increased VA disability benefits and who wish to learn more about that process. We also connect veterans with independent medical professionals in our referral network for medical examinations, disability evaluations, and credible independent medical opinions and nexus statements (medical nexus letters) for a wide range of disability conditions.