The Spouse of Disabled Veteran and Her Determination to be Heard
Travis Myers served as a U.S. Marine from 1995-1999. His MOS was 0311 (Infantry) and cross-trained in 0341 (Mortars). Travis was with the 1st battalion 5th Marine Regiment, was stationed at Camp Pendleton, and did a deployment to Okinawa.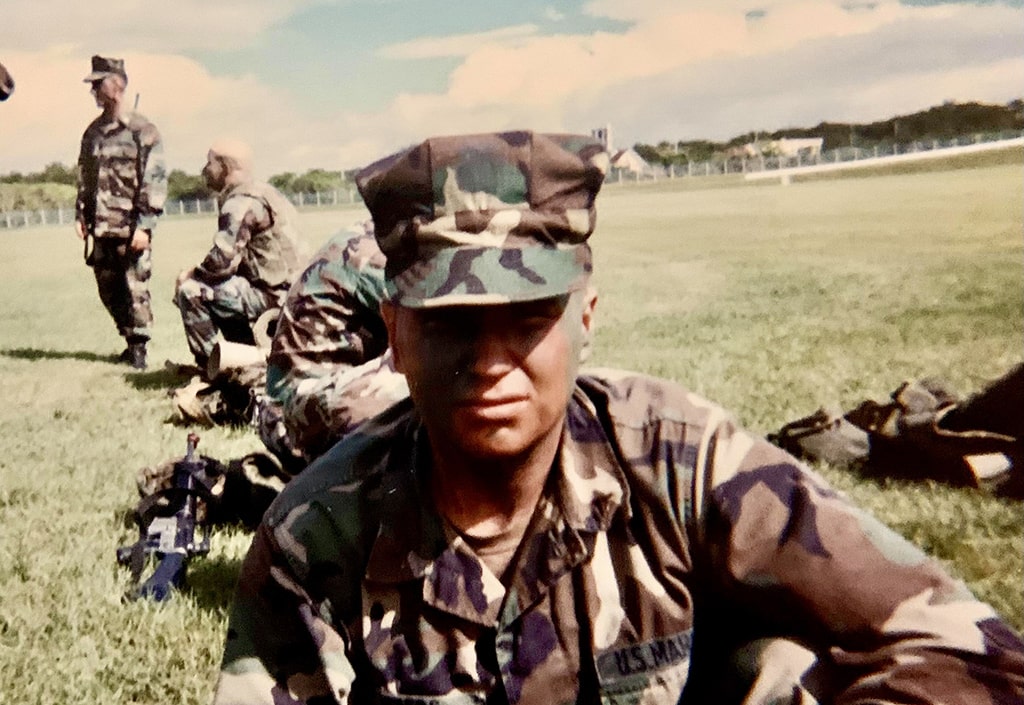 In 2012, Travis blew out his ankle—the culmination of an injury stemming from his time as a U.S. Marine. Because his injury was deemed to be service-connected, the VA paid for his surgery.
But as the narcotics from his surgery wore off, Travis' wife Tina, the spouse of 100% disabled Veteran, knew something wasn't right—her husband's cognitive abilities were 'off'.
Three months later, Travis tried to return to work, but the pain was still unbearable. His ankle was healing, but his sympathetic nervous system had gone haywire—sending pain signals to his brain. Pain signals jolted his brain, disrupting his ability to function.
It's still not entirely clear what went wrong during Travis' surgery. He was recently diagnosed with somatic symptom disorder with major neurocognitive disorder. His anesthesia was likely administered incorrectly—and he may have been oxygen-deprived for a period of time during his operation.
---
The Myers Family VACI Testimonial – A Spouses Point of View
---
Denied by the VA Again and Again
With Travis unable to continue his career in law enforcement, Tina quit her job in order to care for him. Despite being at a low point, they kept their spirits high. "Other Veterans have it worse than us," they told each other.
Deep down, Tina knew she needed to fight on her husband's behalf. So she gathered what information she could and began to put together her husband's VA disability claim. For the next three years, Tina submitted and resubmitted claims. Again and again, they were denied.
Tina even reached out to a congressman who reopened her husband's claim—only to be denied again.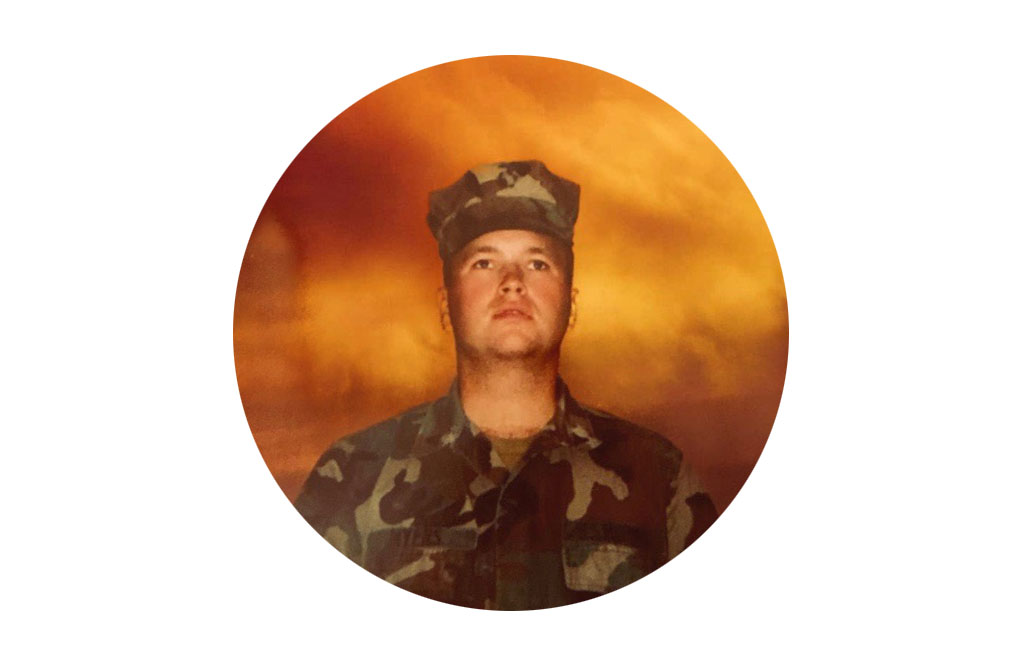 This affected all areas of Travis and Tina's lives.
Friends and family once close to them—people Travis would take a bullet for—grew distant because his condition didn't show up on an X-ray or an MRI. He wasn't trying to manipulate the system or fraud anybody—his challenges have been very real.
Tina contacted Veteran service organizations such as the DAV and the American Legion. Everybody was completely lost when it came to her husband's case.
For the next three years, Tina resubmitted claims until she had exhausted all options. The hard reality began to set in—nobody could help them.

---
Nothing Left to Lose
Then in 2020, Tina came across an ad for VA Claims Insider. With Travis still underrated at 30% disability—they had nothing to lose.
At first, Tina was apprehensive and scared.
After all, she was the spouse and caregiver and not the disabled Veteran. She feared she may not be given the same level of attention as other Veterans.
Of Veteran Coach, Amy Lacy, Tina says, "Amy was impeccable. She jumped right in and made me feel comfortable. She listened to the whole story and treated me with respect, while also keeping my husband in mind."
Tina thought she was educated on the benefits available to Travis and their family, but was amazed by what she learned. She asked questions and attended online training offered to Elite Members.
---
The Spouse of 100% Disabled Veteran
13 days after filing his most recent claim, Travis was granted 100% disability!
Now Tina, the spouse of 100% Disabled Veteran, no longer worries about paying their son's college tuition—and they are saving $800/ month on medical insurance.
"The money helps tremendously," Tina said, "but VA Claims Insider assisted us in our lives more than just finances."
Now, for the first time since the surgery, the Myers Family feels validation.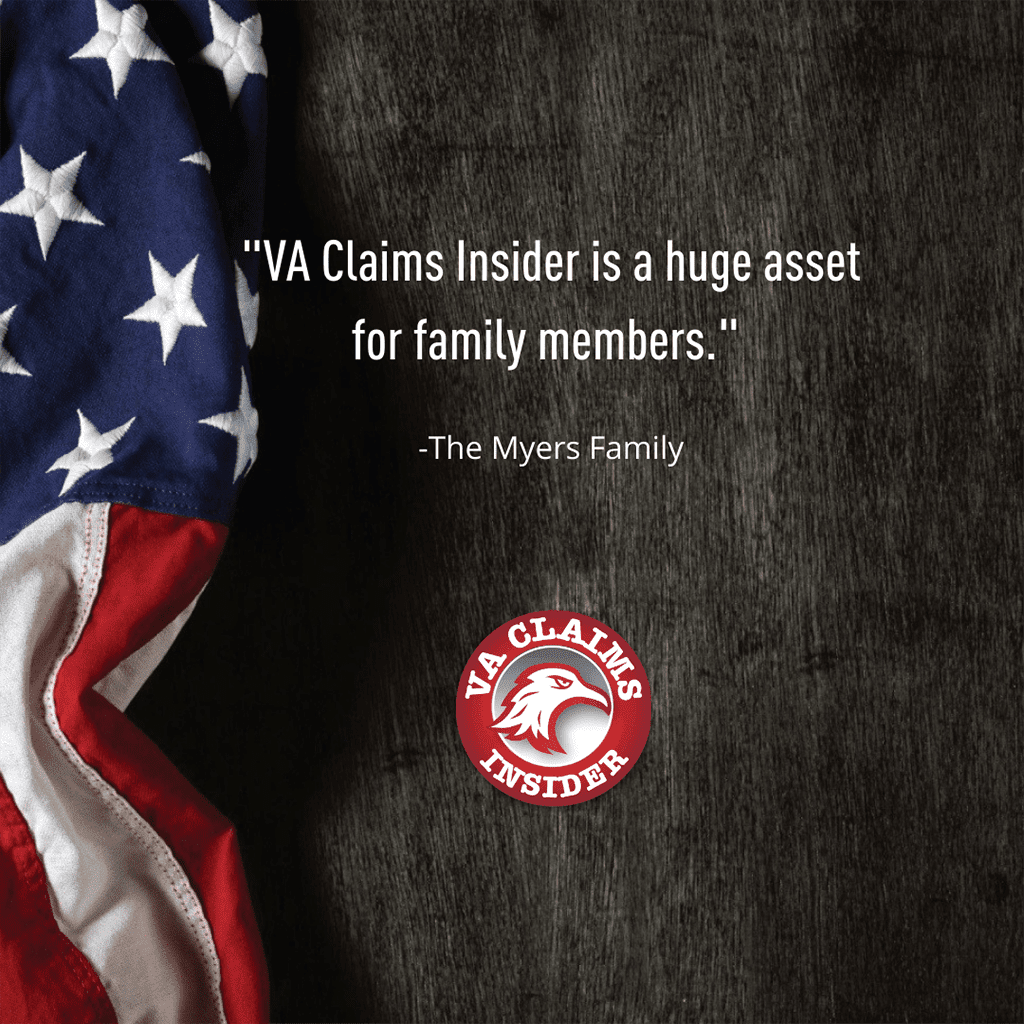 For the past eight years, Tina, spouse of 100% disabled Veteran, has put her own dreams on hold in order to care for her husband. Now, she feels empowered to take back who she is. She is going back to school and says that is, "more meaningful than any amount of money."
And while life for the Myers family is still full of challenges and limitations, they feel some closure in being heard. They are thankful the VA is acknowledging and taking responsibility for what happened.
---
Tina's Post to VA Claims Insider Mastermind
"The biggest takeaway I can give about VA Claims Insider is that not only do they help the Veterans—they really advocate for the family, too."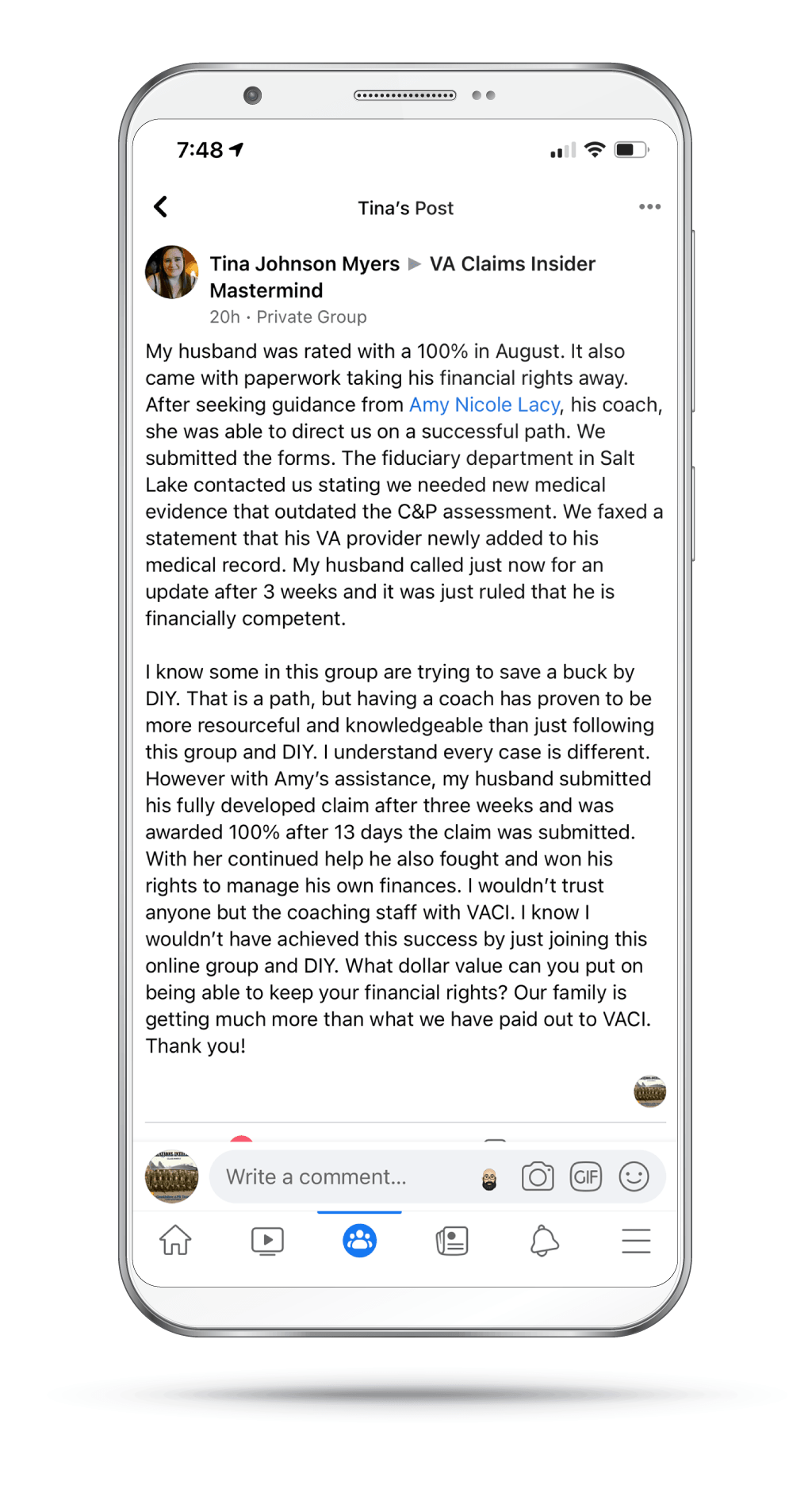 ---
Get Fast Help With VA Disability Increase
"Veterans Helping Veterans!"
At VA Claims Insider, we help fellow Veterans and their families like Tina, spouse of 100% disabled Veteran, and celebrate LIFE CHANGE by getting you the VA rating increase you deserve by law.
FOR Veterans, BY Veterans! We're the largest community of Veterans Helping Veterans Worldwide™
10,000+ disabled veterans served in our Elite membership program since 2016
500,000+ veterans per month utilize our free/paid educational resources
We employ more than 150 veterans, military spouses, and veteran advocates around the world
Average VA disability benefit increase of >30%
Better Business Bureau (BBB) Accredited (A+ rating)
$1.3B+ in VA disability benefits secured for veterans in all 50 states and 47 countries globally
If you're ready to secure the VA disability claim rating and benefits you've earned for your honorable service to our nation, simply click the button below now to start our FREE 3-step intake process.
You'll hear from a member of our team within minutes!