In this article, I break down the 2020 VA disability pay chart in detail.
On October 10, 2019, the BLS reported September 2019 inflation data, allowing for the formal announcement of the Social Security Administration's 2020 COLA, which is set to increase by 1.6%.
Thus, Veterans will get a 1.6% increase in their 2020 VA pay rates from their 2019 VA pay rate.
The Department of Veterans Affairs adjusts veteran's monthly compensation amounts based on the yearly change in the cost of living as determined by the Social Security Administration.
It only makes since that your monthly VA benefit amount will increase with the rate of inflation.
In 2019, Veteran's get a nice 2.8% increase based on a Cost-of-Living Adjustment (COLA) increase.
You can see the full 2019 VA pay disability pay chart HERE.
2020 VA Disability Pay Rates
In 2020, VA disability pay rates rise by 1.6%, which means veterans didn't get a very big increase like they did in 2019.
The new 2020 VA disability rates will be effective as of December 1, 2019.
>> Click HERE to see the complete list of VA disability rates 2020, which includes VA dependent rates.
The 2020 VA disability pay raise for disabled veterans means veterans will begin seeing the new VA pay rates in their January 2020 disability compensation payment.
You may also qualify for a variety of Special Monthly Compensation (SMC) categories, which for simplicity sake, were not included here.
Veterans with service-connected disabilities rated at 10% or higher can use the following 2020 VA disability pay rate chart, which includes the new 1.6% increase in the COLA rate from 2019, to determine how much tax-free compensation you'll get each month.
Veterans with a rating of 10-20% do not receive any extra compensation for dependents, and thus, are paid at the single rate, which is why those rates weren't included on the chart.
A 10% VA disability rating for 2020 is: $142.29/month
A 20% VA disability rating for 2020 is: $281.27/month
2020 VA Disability Compensation Pay Chart
| | | |
| --- | --- | --- |
| Combined VA Disability Rating | 2019 VA Disability Rates | 2020 VA Disability Rates |
| 10% | $140.05 | $142.29 |
| 20% | $276.84 | $281.27 |
| 30% | $428.83 | $435.69 |
| 40% | $617.73 | $627.61 |
| 50% | $879.36 | $893.43 |
| 60% | $1,113.86 | $1,131.68 |
| 70% | $1,403.71 | $1,426.17 |
| 80% | $1,631.69 | $1,657.80 |
| 90% | $1,833.62 | $1,862.96 |
| 100% | $3,057.13 | $3,106.04 |
2020 VA Disability Pay Chart Infographic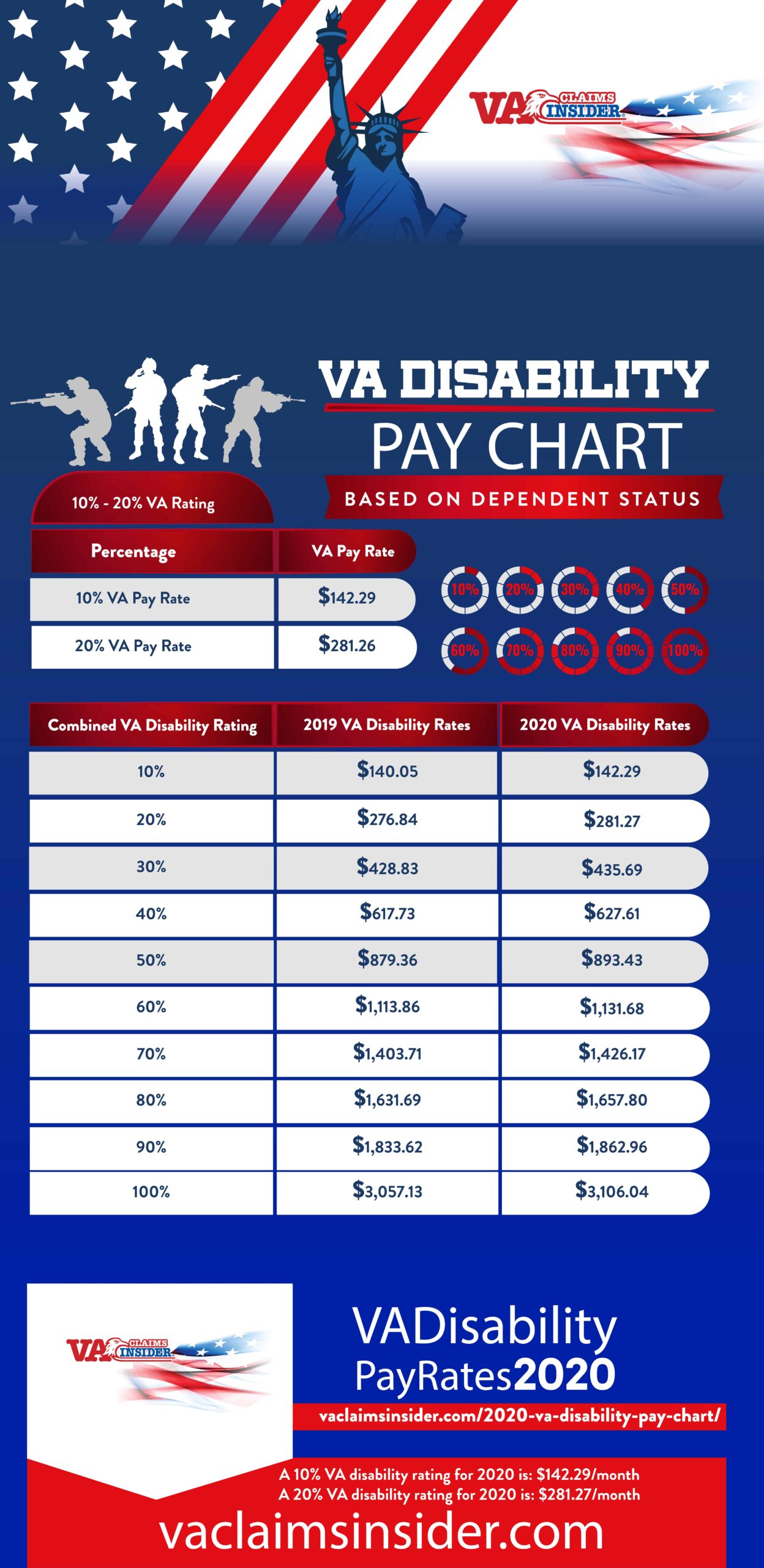 How to Get a Higher VA Disability Rating
? Veterans, now that you've seen the 2020 VA disability pay chart, maybe you want to learn how to get the VA disability rating and compensation YOU deserve in less time. If so, join VA Claims Insider Elite, get instant access to the ELITE Experience Portal (EEP) and $7,500 worth of proprietary VA claim resources today for FREE, and have our medical team get started on your VA disability claim: http://www.vaclaimsinsiderelite.com
✔️ Watch my free webinar training here: http://www.vaclaimsinsidersecrets.com
Need a VA DBQ and a VA Nexus Letter to help increase your chances of getting a 100 Percent VA Disability Rating?
How would you like to learn 3 SECRETS to Getting a 100 Percent VA Disability Rating that may help you get the VA benefits you deserve in less time?
Brian Reese the VA Claims Insider here!
Part of the reason we call ourselves VA Claims "INSIDER" is because we get access to secret information that nobody else does…
In my brand-new FREE 45-minute video training you'll learn 3 Secret VA Disability Claim Tips that could get you a higher VA disability rating, in less time, even if you've already been denied.
Here's what you'll learn in today's VA Claim SECRETS video training:
⭐️ VA Claim Tip #1: "How to Get a VA Disability Increase, Take Control of YOUR claim, Get an Immediate VA Disability Rating Increase, and Have it Decided 6 Months FASTER."
⭐️ VA Secrets Tip #2: "How to Legally, Morally, Ethically, and Medically Get a 100 Percent VA Disability Rating and Over $3,000/month, Tax-Free, for Life" (This One Is Easier Than You Might Think!)
⭐️ VA Benefits Increase Tip #3: "How to Write Your Statement in Support of a Claim and Obtain Buddy Letters, So YOU Can Get the VA Rating and Compensation You Deserve."
Simply click the video below to watch now for FREE:
Need a VA DBQ or Medical Nexus Letters completed by a qualified private medical provider to help you get a 100 VA disability rating if warranted?
VA Claims Insider Elite can help you win, service-connect, and get a higher VA disability rating from the VA. We can also help you with the medical evidence needed to WIN your appeal.
? Get FREE VA claim resources at our website: https://vaclaimsinsider.com/
? Check out the VA Claims Insider blog here: https://vaclaimsinsider.com/blog/
? Listen to the VA Claims Insider Podcast: https://anchor.fm/vaclaimsinsider
? Check out The VA Claims Insider YouTube channel: https://www.youtube.com/brianreesevac…
? We go *LIVE* every Tuesday and Wednesday on the Brian Reese Facebook Page: https://www.facebook.com/brianthomasr…
? Sign up for VA Claims Insider Elite, get instant access to the ELITE Experience Portal (EEP) and $7,500 worth of proprietary VA claim resources TODAY for FREE, and have our medical team get started on your VA disability claim now: http://www.vaclaimsinsiderelite.com