I'm proud to announce the official release of the Second Edition of my #1 Amazon bestselling book about veteran benefits, You Deserve It: The Definitive Guide to Getting the Veteran Benefits You've Earned (Second Edition)!
The new release is available now on Kindle, while the official paperback release date is April 11, 2023.
The Best VA Benefits Guide: Why Veterans Should Read You Deserve It (Second Edition) by Brian Reese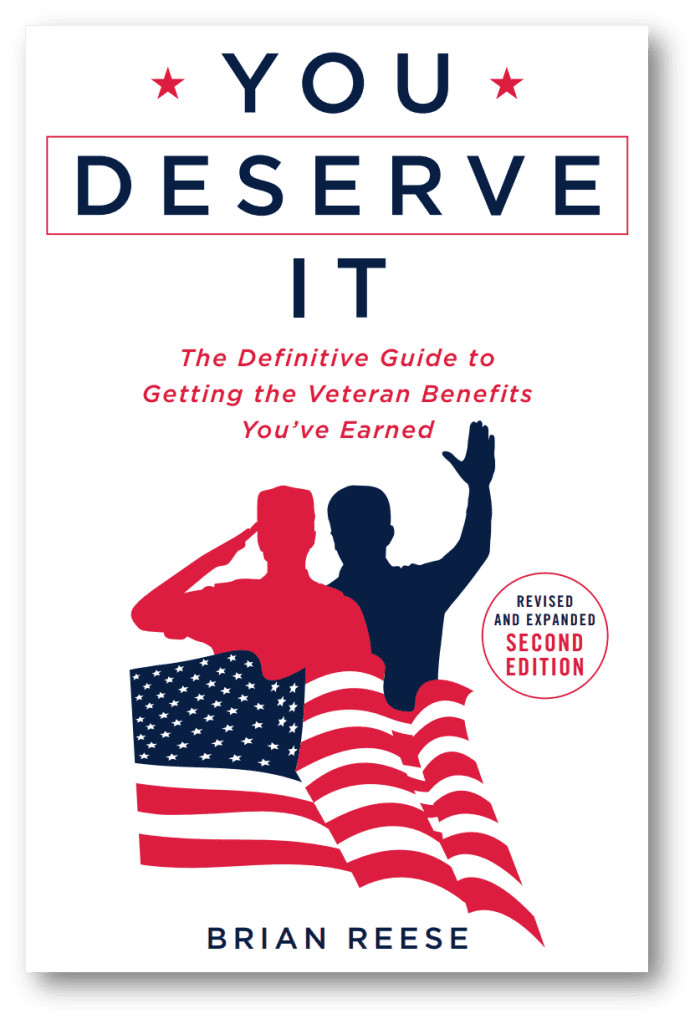 You Deserve It (Second Edition) is being called "The Veteran Benefits Bible…"
It's a game-changer for veterans and their families!
Want to Learn "HOW" to Get 100s of STATE & FEDERAL Benefits You've Earned for Your Service?
THIS BOOK IS THE ULTIMATE GUIDE TO GETTING HUNDREDS OF VETERAN BENEFITS POTENTIALLY WORTH $1,000S OF DOLLARS OR MORE…
Here's a sliver of what you'll learn in the second edition:
✅ SECTION 1: The BEST VA Benefits from A-Z! Simple and made easy answers where I show you exactly "HOW" to get them (even if you've been denied in the past)…
✅ SECTION 2: The TOP Veteran Benefits for ALL 50 States! You'll learn the best states for veterans along with little-known Veteran Benefits in YOUR state … like NO PROPERTY TAXES…
✅ SECTION 3: Incredible Non-Profit Orgs and Military/Veteran Discounts: Uncover FREE vacations to amazing destinations, $1,000s of dollars in special scholarships for your dependents, along with the very BEST discounts for military members, veterans, and their families … this section alone is potentially worth $1,000s…
✅ SECTION 4: BONUS RESOURCES! Get 10 FREE BONUSES to include digital downloads and step-by-step video tutorials for HOW to get the BEST VA Benefits (VA disability benefits, VA education benefits, and VA medical benefits), State Benefits (e.g., NO property taxes, FREE license plates, hunting and fishing licenses) … and much more!
VA Disability Book Revealed: What's New in the Second Edition, Brian?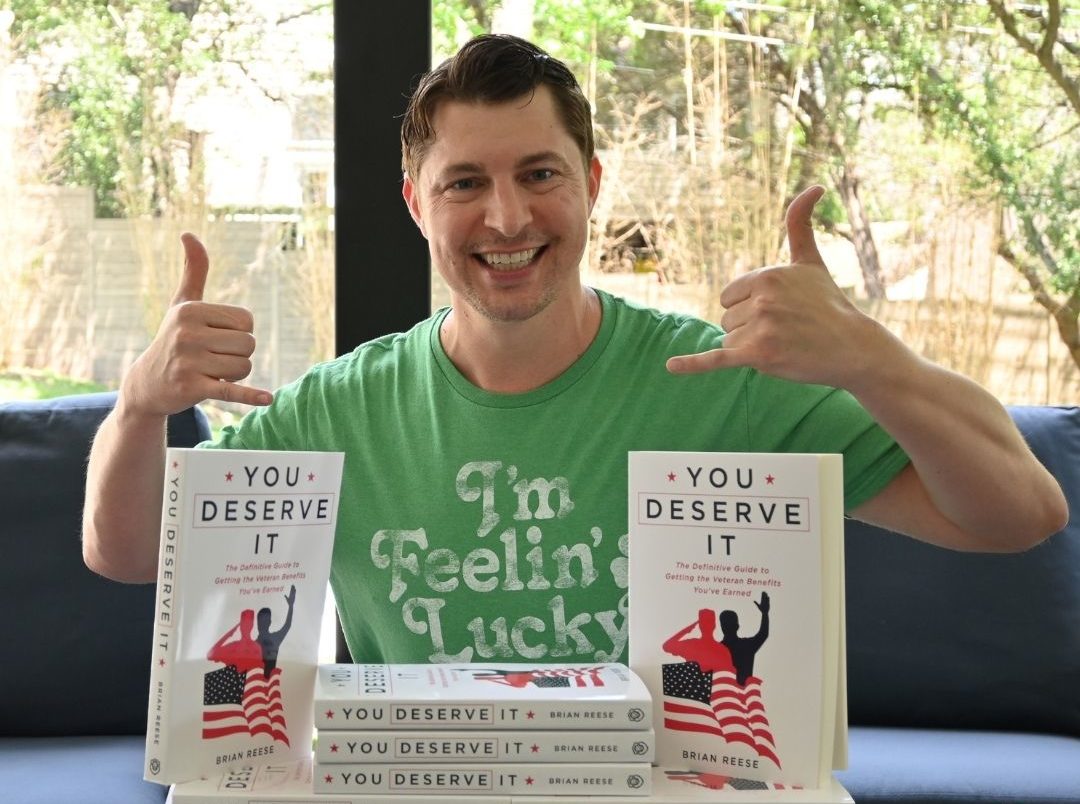 The Second Edition of You Deserve It has been revised and expanded, to include the following tips, strategies, and lessons learned for veterans and their families:
Updated VA Rating Statistics
Updated VA Disability Pay Rates
Updated High Value VA Disability Claims List
*NEW* Top 50 Most Common VA Disability Claims!
*NEW* Top 6 Ways to Increase Your VA Rating This Year!
*NEW* Top 10 C&P Exam Tips!
*NEW* Top 20 VA Disability Claim MYTHS Debunked!
Updated VA Education Benefits
Updated the Best State Benefits for Veterans
Updated the Best Discounts for Veterans
Updated the Best Non-Profits for Veterans
*NEW* 10 BONUS Resources for Veterans!
10 FREE Bonuses Today When You Buy Your Copy of the Second Edition Veterans Benefits Manual!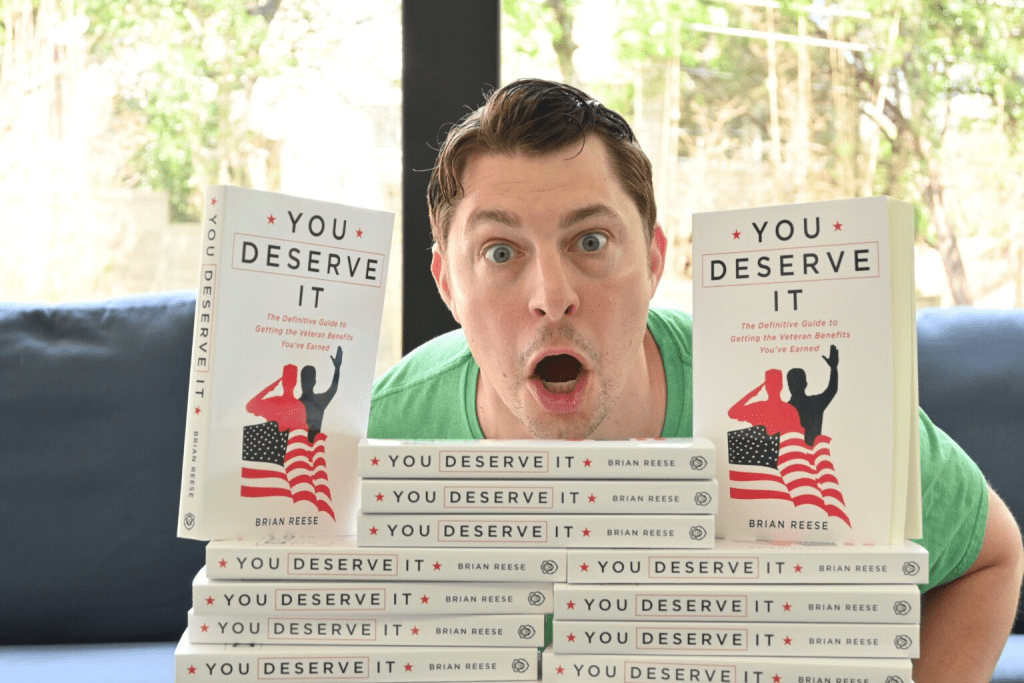 FREE BONUS #1: How to Improve YOUR VA Disability Claim, Get an Immediate Rating INCREASE (if warranted by law), and Have it Decided FASTER and More ACCURATELY!
FREE BONUS #2: How to Legally and Ethically Get a 100% Rating and Over $3,000/month, Tax-Free, for Life (This One Is Easier Than You Might Think!)
FREE BONUS #3: How to Structure Your Personal Statements in the EXACT Way VA Raters Want to See Them, So YOU Can Get the Rating and Compensation You Deserve in LESS time!
FREE BONUS #4: The 3 SECRETS to Getting the VA Rating You DESERVE In LESS Time, Regardless of Past VA Claim Denials! (Video Tutorial)
FREE BONUS #5: WHY the VA Keeps Denying Your Claim – And How to FIGHT BACK Legally & Ethically! (Video Tutorial)
FREE BONUS #6: The Ultimate Guide to VA Claims for PTSD – How to Get Prove Your VA Stressor Event and Get Service Connected for PTSD!
FREE BONUS #7: The 5 Best States for Disabled Veterans – Learn Where to Live to Take Full Advantage of the Very Best State Benefits for Veterans and Their Families!
FREE BONUS #8: Top 18 States with Full Property Tax Exemptions for 100% Disabled Veterans – Learn How to Pay Zero on the Property Tax of Your Primary Residence!
FREE BONUS #9: The 35 Best Benefits for 100% Disabled Veterans – How to Secure Little-Known 100% Disabled Veteran Benefits Along with Tips, Strategies, and Lessons Learned!
FREE BONUS #10: FREE Downloadable E-Book Reveals the 100+ Most Common VA Secondary Claims – Plus, We've Included Medical Research Studies and BVA Examples for Each Condition!
You Deserve It Brian Reese Book Reviews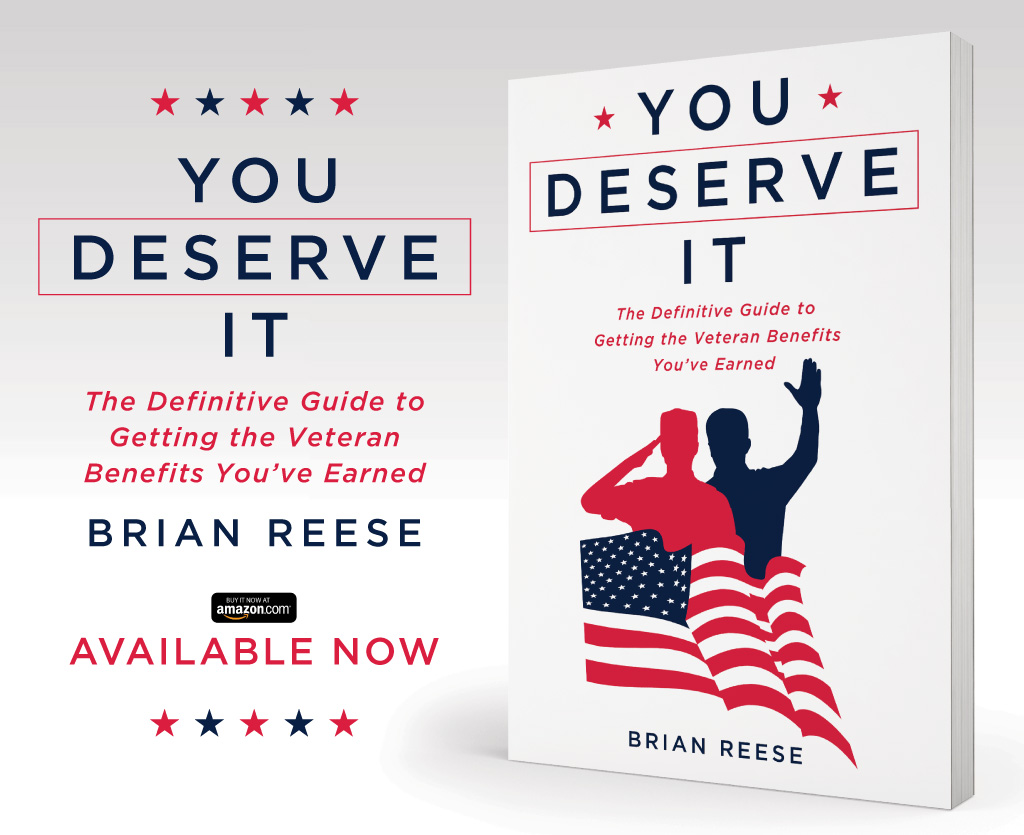 "Brian Reese knows more about veteran benefits than anyone I know, to include the US government and Veteran Affairs. He's established himself as one of the nation's foremost veteran benefits experts. If you apply his tips, strategies, and lessons as he explains in this book, you'll be on the success path to securing your benefits."
— Mike Sarraille, retired Navy SEAL, Founder and CEO of Talent War Group
"After leaving the navy, I had ZERO help with my benefits and was stuck at 0 percent for six years. After connecting with Brian Reese, he taught me how to get the VA benefits I deserved by law. I went from 0 percent to 100 percent P&T and had over $175,000 of student loan debt erased. This man saved my life. GET THIS BOOK!"
— Terrell Merrell, U.S. Navy disabled veteran
"You Deserve It is an insightful new guide that simplifies and demystifies Veteran Benefits. Read this book, Vets! It will help you make the right decisions to get all the benefits you've earned for your honorable service to our country.
— Billy Devoney, U.S. Air Force disabled veteran
"Brian Reese helped me increase my VA disability benefits from 70 percent to 100 percent P&T. I also got relief for $40,000 worth of student loan debt. I also secured FREE medical care for my entire family using CHAMPVA. On top of this, I got VA Chapter 35 education benefits for my two children. HIGHLY RECOMMEND THIS BOOK!!!"
— Michael Ware, U.S. Army disabled veteran
"What Brian outlines in this book helped empower me to take charge of my life and benefits. The knowledge, empathy, and confidence from him and his team were felt from the very first strategy session. I went to 100 percent P&T in two months. The feeling of hope and vindication was indescribable. You Deserve It is a MUST-READ for all veterans!"
— Jon Reid, U.S. Army disabled veteran
"The single BEST VA BENEFITS RESOURCE book for all veterans of every era! Brian's book is the transitional north star document that should accompany your DD 214 for the path from active duty to veteran life in the real world. Read this book and win the recognition and post military lifestyle you've earned and deserve. Hoorah and Semper Fi."
— Curtis Yamate, U.S. Marine Corps disabled veteran
About the Author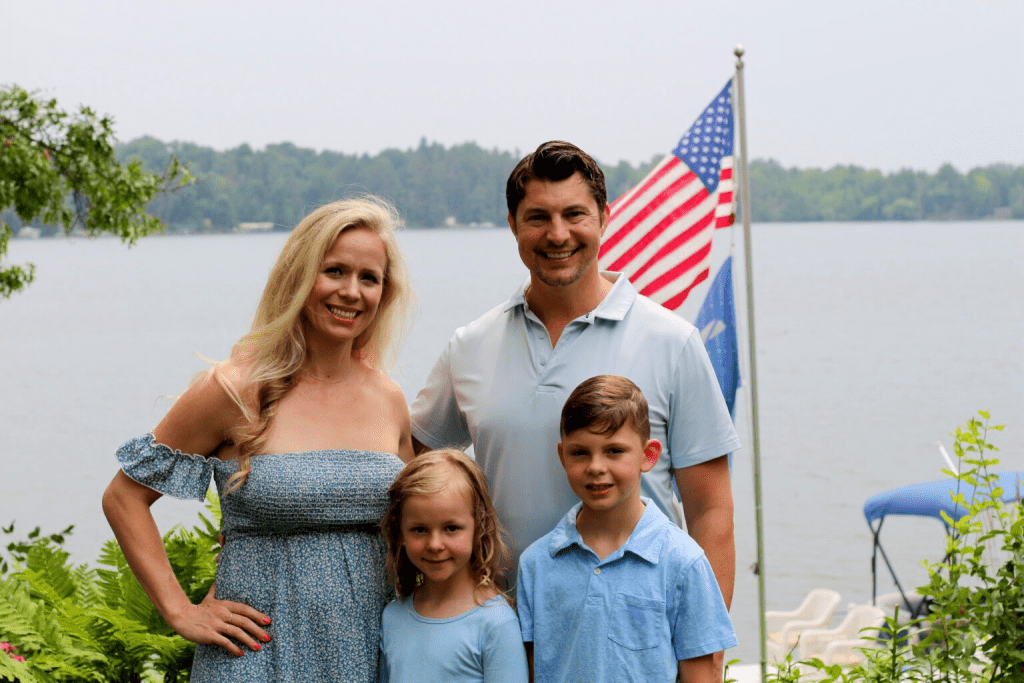 Brian Reese was good at masking his PTSD, bipolar disorder, depression, and anxiety. He even told himself he did not "deserve" benefits, which he later discovered was complete bulls*it.
As an Air Force officer deployed to Afghanistan, he embodied the motto of "service before self."
Unfortunately, like many veterans, his service came at his own expense, and abusing alcohol and drugs to cope with mental health issues nearly ended his life.
But by the grace of God and the power of pure vulnerability, Brian began a transformational journey of overcoming social stigmas and persevering through adversity.
This journey led Brian to create VA Claims Insider to help veterans get the VA rating and compensation they deserve, which has become a global movement of Veterans Helping Veterans Worldwide™.
In You Deserve It (Second Edition), Brian provides veterans with a step-by-step blueprint to help them obtain virtually unknown federal and state benefits.
With years of personal experience and more than 10,000 hours devoted to helping veterans get the benefits they're entitled to, Brian provides readers with the unparalleled insight and expertise that forms the foundation of his "SEM Method" – Strategy + Education + Medical Evidence = VA Rating You Deserve!
Whether you served 30 days or 30 years, this book will educate and inspire you to reap the rewards for your honorable service to our country.