Hey, Veterans, this is Brian Reese from VA Claims Insider and I'm taking a deep-dive today into the Tennessee Veterans Benefits that you have earned and been awarded if you live in the Volunteer State!
The Tennessee Department of Veterans Services (TDVS) administers a wide range of disabled veteran benefits programs in Tennessee, such as free benefits and disability claims counseling, state veteran homes, health care, education, pension, home loans and property taxes, insurance, recreational discounts, employment, and legal advice, among others.
You can visit the TDVS website to learn more about the activities, services, and benefits they can assist with if you are an in-state Veteran or family member of an Tennessee disabled veteran. You can also click below to download the State of Tennessee benefits guide for more information and links to many of the services you'll find mentioned in this article.
>> Click here to download the FREE Tennessee Veterans Benefits Guide <<
But first, let's jump into all the Tennessee Veterans benefits and Tennessee VA benefits that the Volunteer State has in store for you!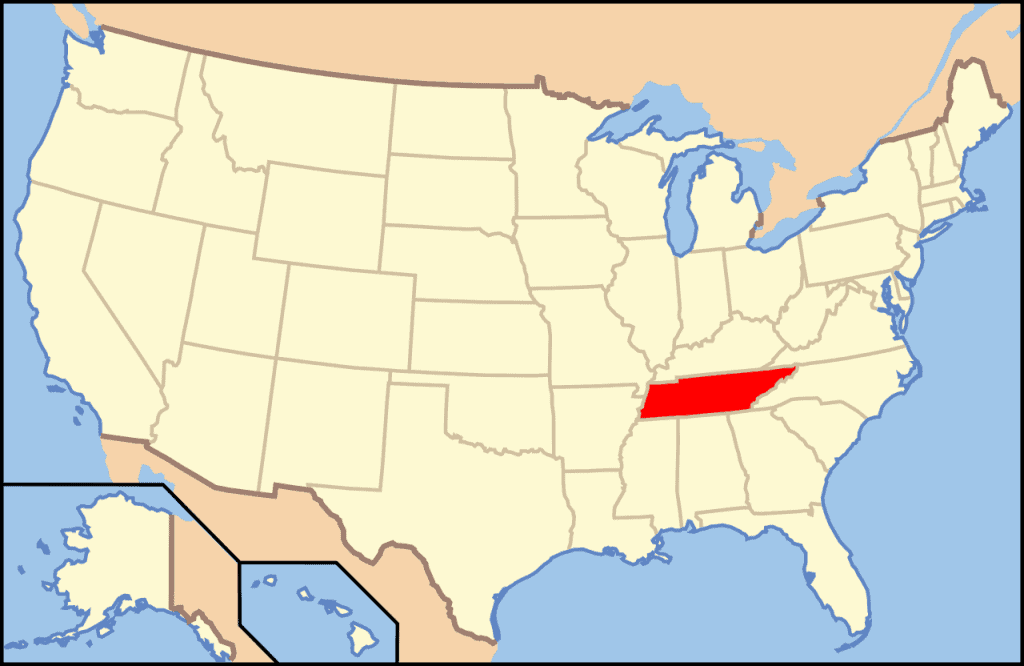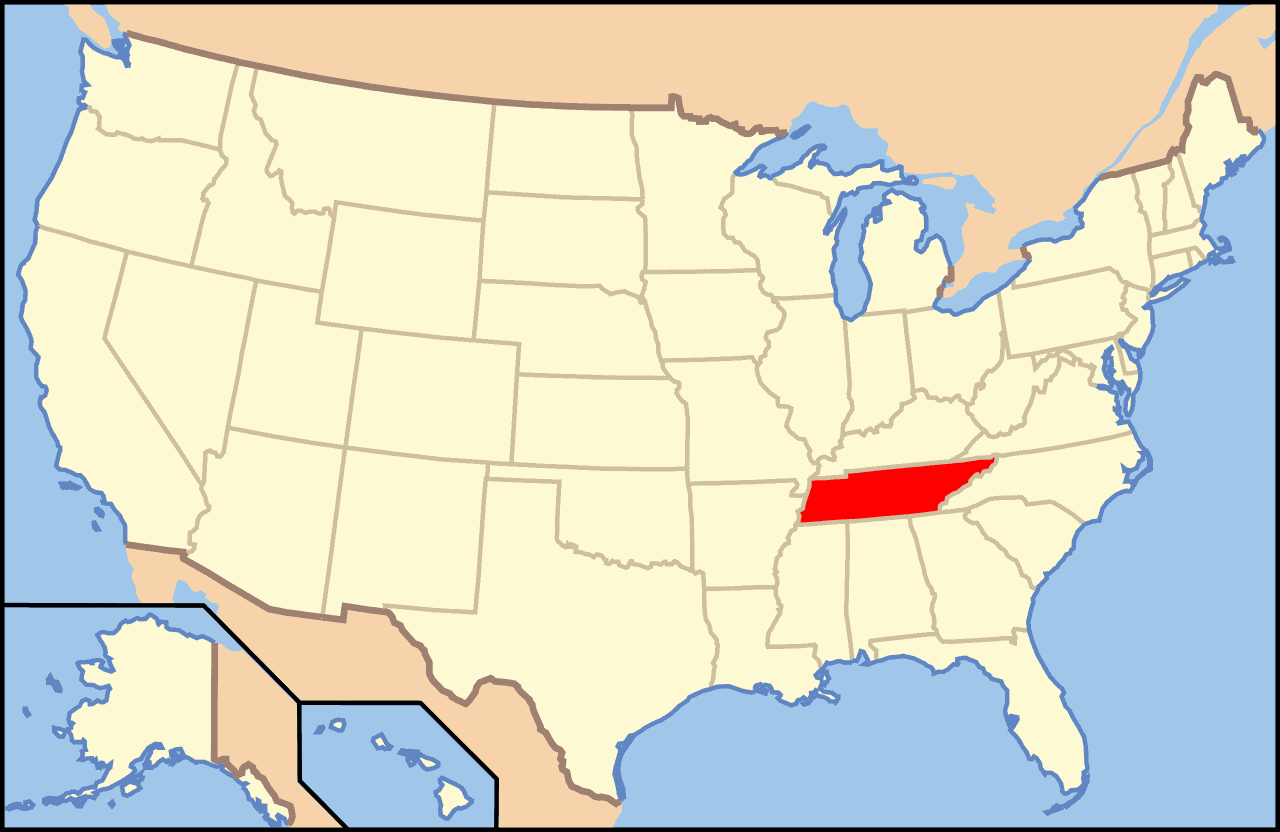 Overview of Tennessee Military Life
Tennessee's veteran population ranks 14th in the states according to the most recent available data from the U.S. Census Bureau (released in July 2019):
Adult Population: 5.2 million (16th)

Veteran Population: 429,173 (14th)
Tennessee ranks in the top 15 of states for highest unemployment and the top 10 for veterans for veterans below poverty level.
Veteran Unemployment: 4.9% (23rd overall)

Veteran Poverty Rate: 7.8% (10th)
Tennessee also is in the 10 states with disabled veterans.
Veterans with a Disability: 32.7% (9th)
Tennessee does happen to be one of the cheapest states to live in, with a low cost of living (ranking 7th) and average housing affordability compared to other states (housing affordability ranking: 27th).
The cost of living helps Tennessee rank in the top 10 (6th) when it comes to an economic environment for veterans. This despite the median income of veterans being $36,183, which is one of the lower medians in the states.
Unfortunately, Tennessee ranks low for overall veteran quality of life (47th overall). Along with the lack of good jobs for veterans, the quality of life in Tennessee ranks low because of one of the lower veteran health care rankings in the nation (40th). The state has an average number of VA locations with 23 as well as 5 military bases.
With all that said, let's take a closer look at the Tennessee Veterans Administration benefits programs available to Tennessee veterans.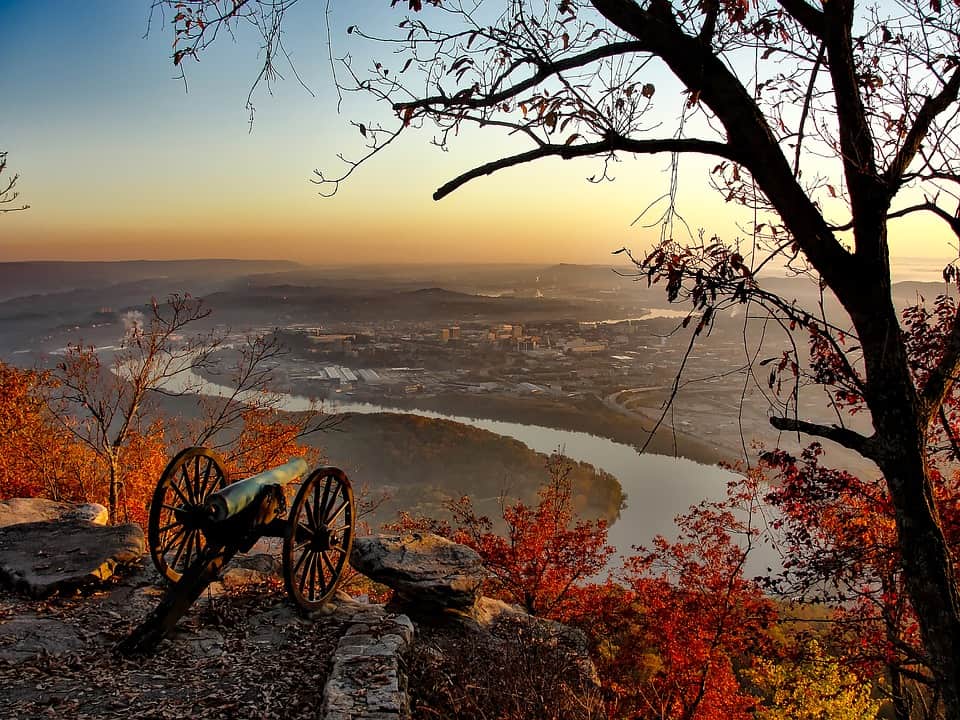 Battle cannon overlooking the Tennessee River in Chattanooga, TN
Tennessee State VA Benefits Overview
Veterans Benefits Administration – Southeast District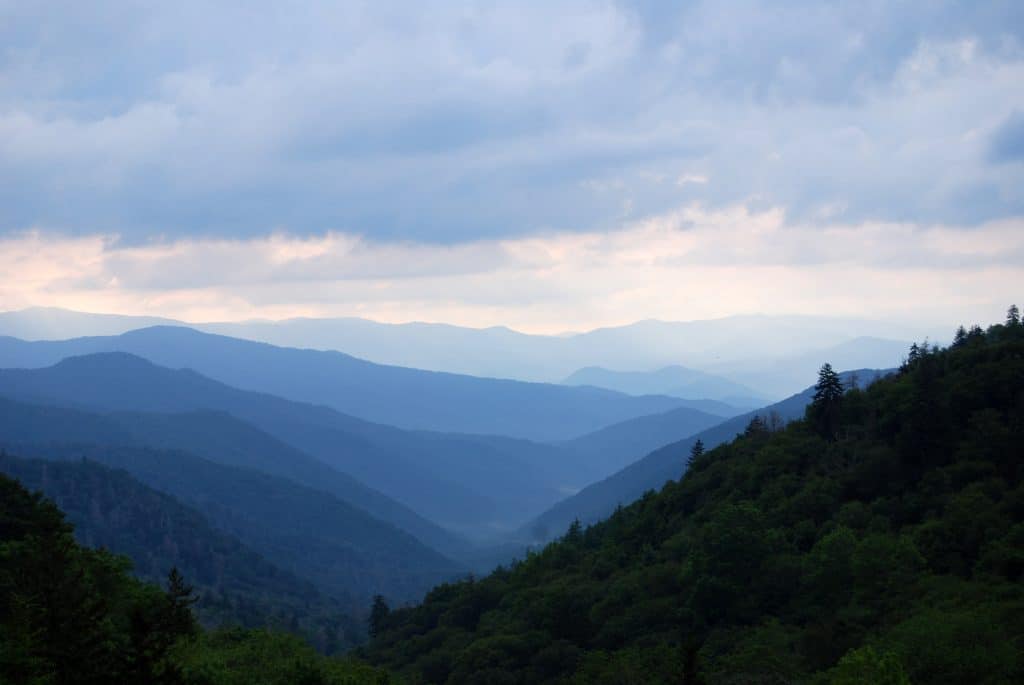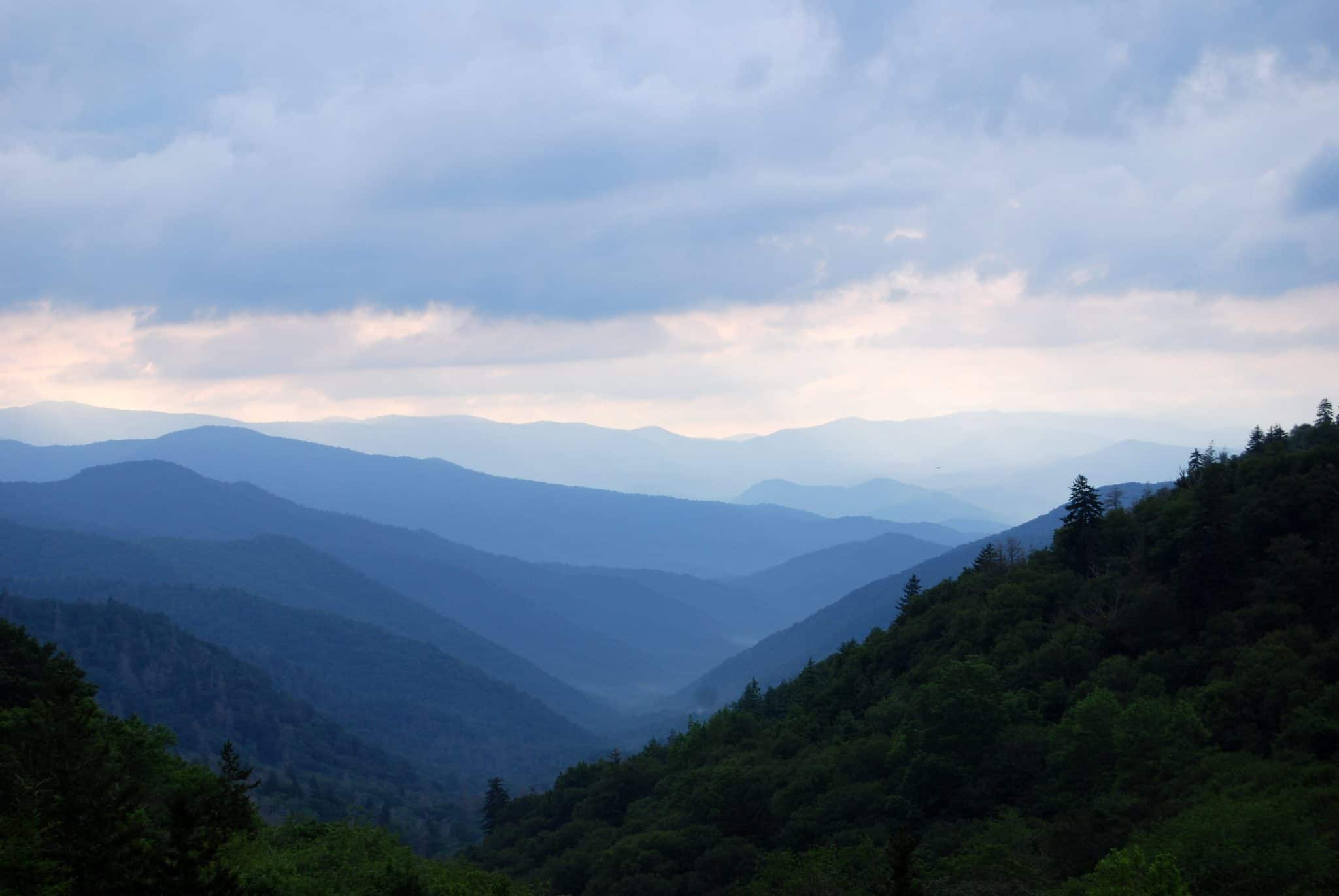 Great Smoky Mountains Natl Park
Tennessee Veterans Benefits: Financial
Property Tax Relief for Disabled Veterans
To receive tax relief as a disabled veteran, one of the following categories must be met:
A service-connected disability that resulted in:

Paraplegia OR

Permanent paralysis of both legs and lower part of the body resulting from traumatic injury or disease to the spinal cord or brain; OR

Loss, or loss of use of, two (2) or more limbs; OR

Legal blindness

A service-connected permanent and total disability or disabilities, as determined by the United States Department of Veterans' Affairs.

A 100% total and permanent disability rating from being a prisoner of war.

Must own and use property as primary residence. The maximum market value on which tax relief is calculated is $175,000.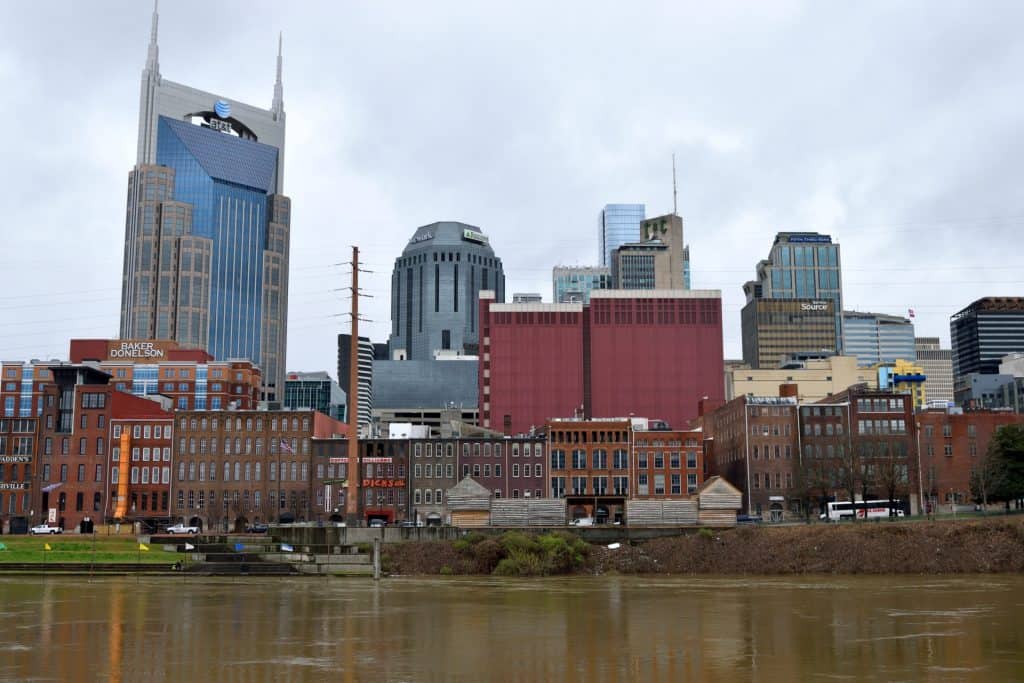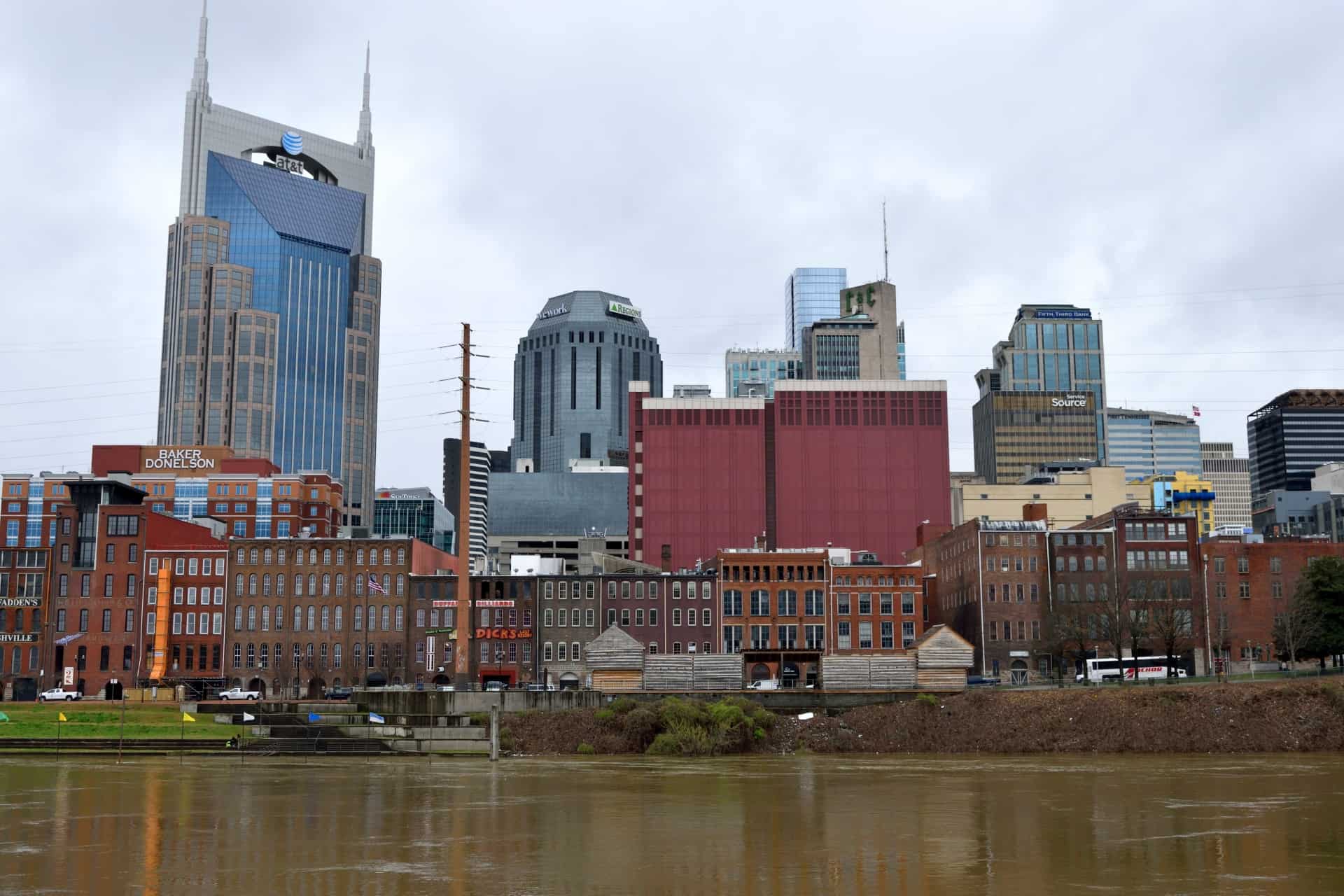 Nashville, Tennessee, Country Music Capital of the World
Property Tax Relief for Surviving Spouses
Authorizes property tax relief to surviving spouses of disabled veterans who would have been eligible for relief had the veteran qualified under later amendments to the law. The tax relief is in an amount necessary to pay or reimburse such taxpayers for all or part of the local property taxes paid for a given tax year on that property that the disabled veteran owned and used as the disabled veteran's residence. The property tax relief is extended to the surviving spouse of a disabled veteran who, at the time of the disabled veteran's death, was eligible for disabled veterans' property tax relief, as long as the surviving spouse:
Does not remarry;

Solely or jointly owns the property for which tax relief is claimed;

Uses the property for which tax relief is claimed exclusively as a home.
Must own and use property as primary residence. The maximum market value on which tax relief is calculated is $100,000.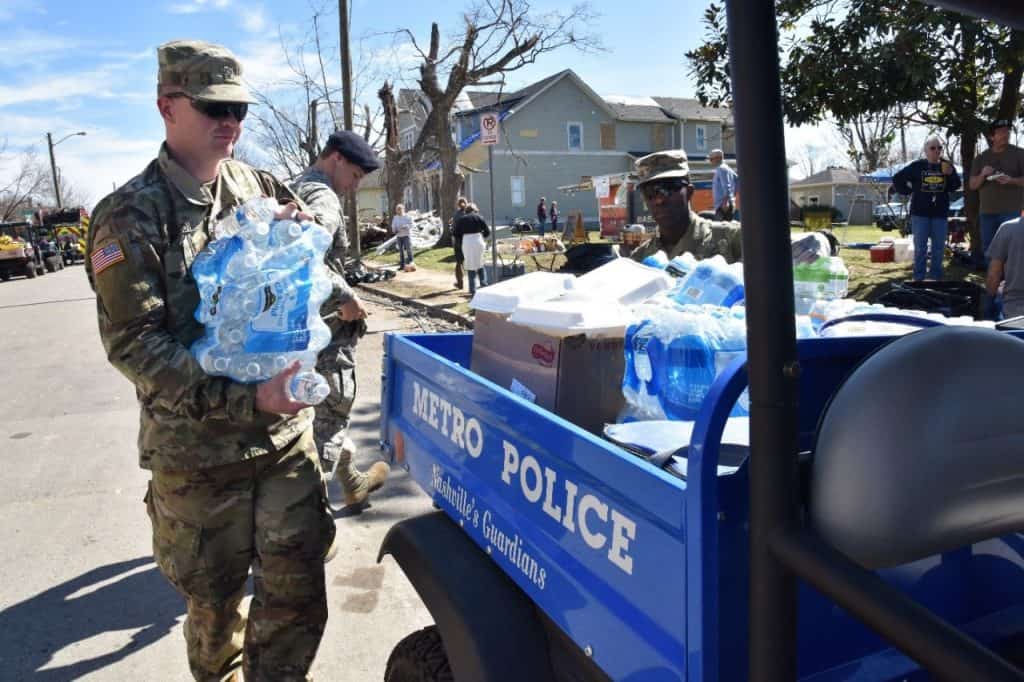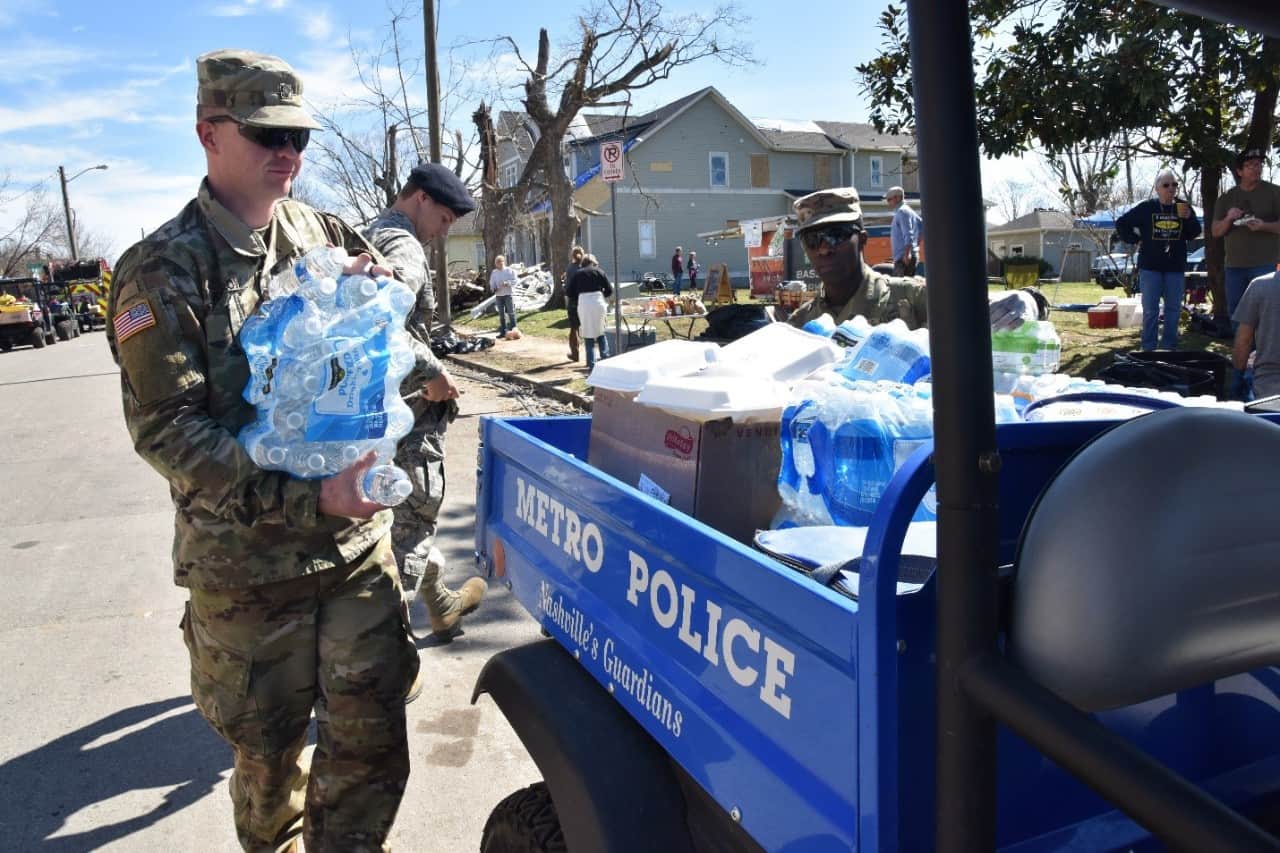 Tennessee National Guard providing flood assistance.
Tennessee Veterans Benefits: Housing & Healthcare
Tennessee State Veterans Homes
Tennessee offers four state veteran homes in Clarksville, Humboldt, Knoxville, and Murfreesboro. Tennessee residents or natives are eligible for admission. Spouses, surviving spouses, and Gold Star Parents may also be eligible for admission.
W.D. "Bill" Manning
Tennessee State Veterans Home
2865 Main Street
Humboldt, TN 38343
(731) 784-8405
Tennessee State Veterans Home – Murfreesboro
345 Compton Road
Murfreesboro, TN 37130
(615) 895-8850
Brigadier General Wendell H. Gilbert
Tennessee State Veterans Home
250 Arrowood Drive
Clarksville, TN 37042
(931) 245-4700
Ben Atchley
Tennessee State Veterans Home
1 Veterans Way
Knoxville, TN 27931
(865) 862-8100

Tennessee Veterans Benefits: Employment
Tennessee State Employment
The following employment benefits are available in Tennessee:
Veterans preference in State employment

Credit for military service in State employment

Reemployment rights of public employees
Tennessee Disabled Veteran Benefits: Education Benefits
Tennessee Veteran Dependent Education Benefits
This program covers the full cost of college at Tennessee state colleges for survivors of veterans killed in action or died as a result of injuries suffered in war. Children must be under the age of 23.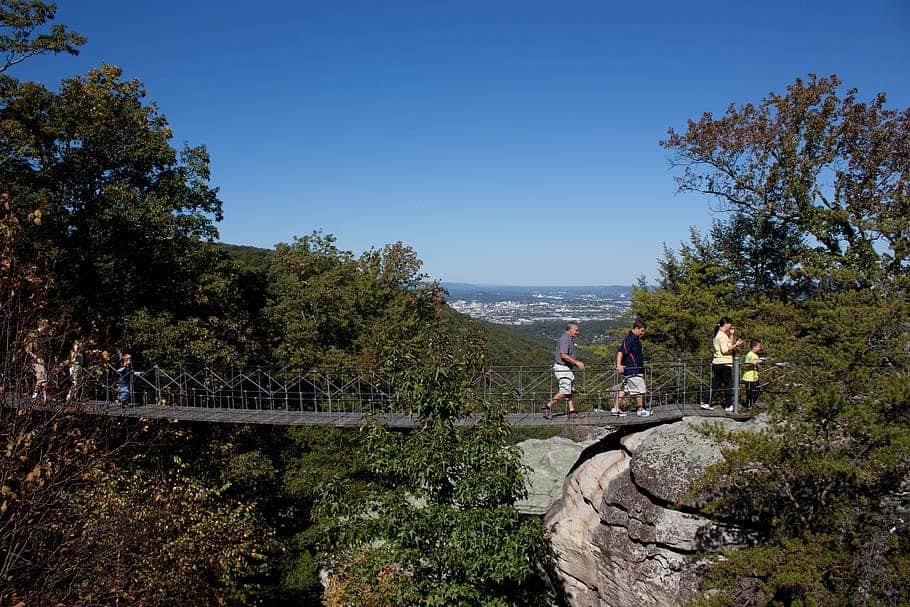 Swinging bridge in one of Tennessee's great national parks.
Tennessee Veterans Benefits: Recreational Discounts, Licenses & Passes
FREE DAY
In order to honor the veterans of this state and encourage the use of natural parks across Tennessee, the Department of Environment and Conservation shall designate one (1) day per year during which access to and use of all state parks, including, but not limited to, campgrounds and golf courses, shall be free of charge for all veterans. Each veteran shall be required to show proof of veteran status, prior to being granted free admission to any state park.
GOLF GREENS FEES
On Veteran's Day of each year, greens fees for 18 holes of golf will be waived for Tennessee resident veterans. All other golf related fees such as carts, driving range, etc. will still apply.
CAMPING
On Veterans Day of each year, Tennessee resident veterans will be granted one night camping free of charge.
TENNESSEE STATE PARKS
Veterans Day has been designated as Free State Park Day for Tennessee veterans, including complimentary greens fees and one night of camping. Tennessee State Parks offers this special discount to veterans annually.
A 50% discount off of camping fees will be extended to all Tennessee resident veterans with a 100% total service-connected disability. Premium campsites are excluded.
TENNESSEE DISABLED VETERAN BENEFITS: HUNTING & FISHING LICENSE
Tennessee veterans benefits authorizes issuance of a sport fishing and hunting license with a one-time $10 fee to residents of Tennessee who are 100% permanent and totally disabled from service connected cause, or by reason of service in any war are 30% or more disabled.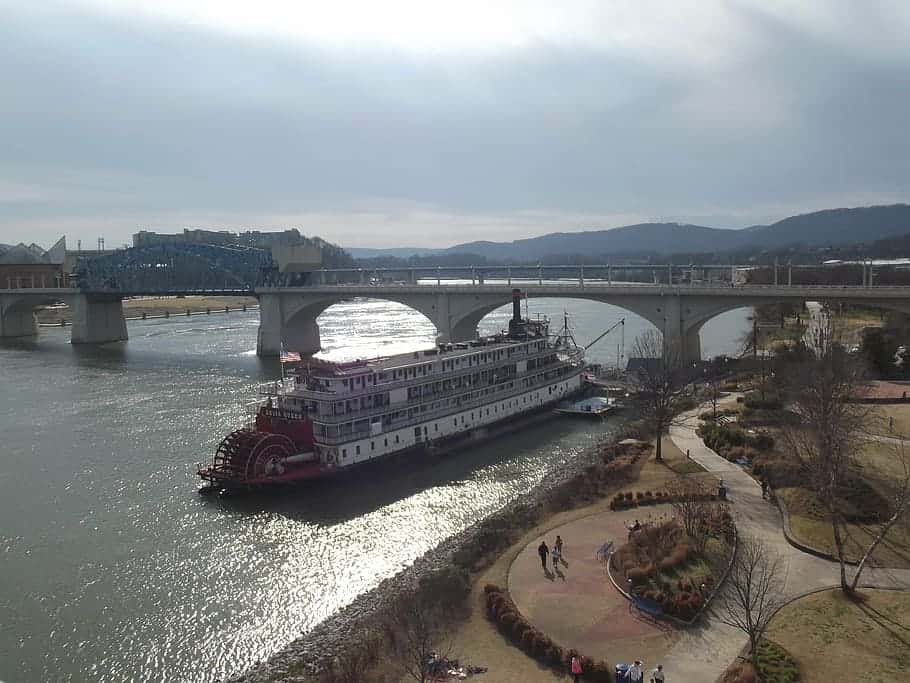 River boat on the Tennessee river
Tennessee Veterans Benefits: Vehicle Licenses, Plates & Privileges
Veteran Driver License
Authorizing honorably discharged veterans to have language or a symbol indicating their military service placed on their driver license.
County Motor Vehicle Privilege Tax
Any disabled veteran who has a VA 100 percent permanent and total disability benefits rating, or any former prisoner-of-war as determined by the U.S. Department of Veterans Affairs, shall be exempt from the motor vehicle privilege tax upon submission of evidence of such disability to the officer in the county charged with the responsibility for collecting such tax.
Free Disabled Decal for Disabled Veteran Drivers

Veteran motorists previously defined as disabled drivers according to TCA Section 55-21-102, may apply and receive a free disabled driver decal which may be added to the existing specialty plate.
Commercial Driver License Program for Service Members & Veterans
Road skills test may be waived for qualified military personnel applying for a Tennessee Commercial Driver License (CDL). Applicants, however, are required to pass the applicable CDL knowledge test.
Tennessee Military License Plates
There are more than 20 Veteran related specialty plates offered in the State of Tennessee.
To find out more about all specialty plates and how to obtain them, please visit the Tennessee Department of Revenue website.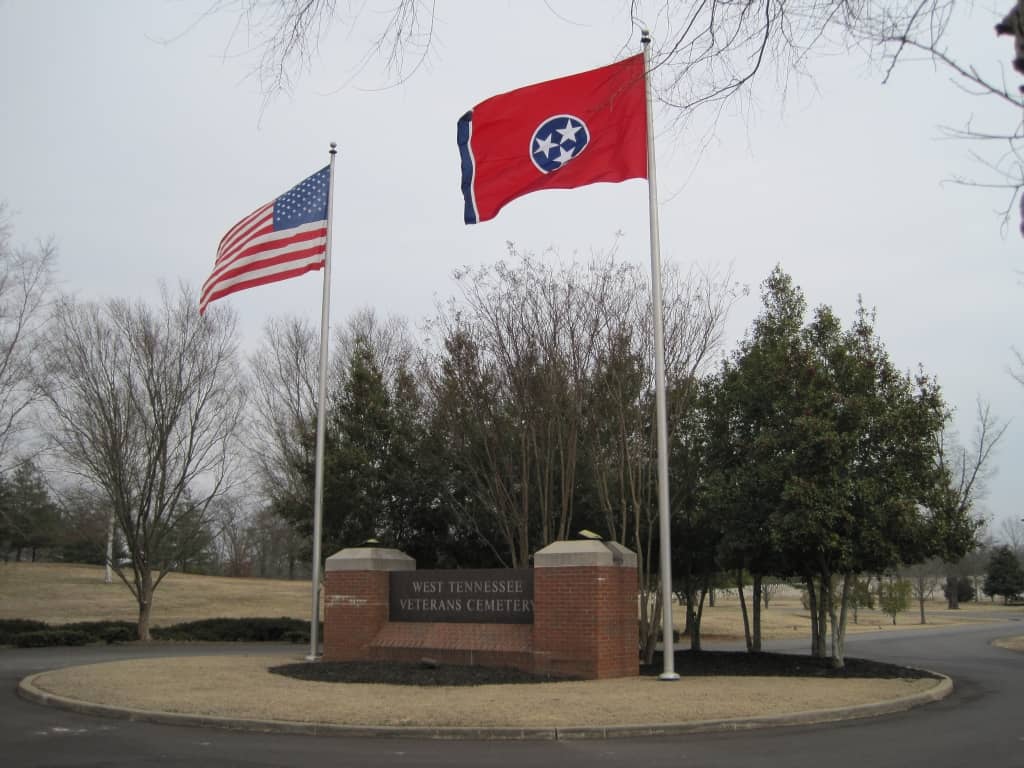 Tennessee VA Healthcare Facilities
Veterans Health Administration – VISN Offices
Station ID
Facility
Address
Phone

10N9

VISN 9: VA MidSouth Healthcare Network

1801 West End Ave., Suite 600




Nashville, TN 37203

615-695-2200

Veterans Health Administration – VISN 9: VA MidSouth Healthcare Network

Station ID

Facility
Address
Phone

626

Tennessee Valley Healthcare System

1310 24th Avenue South
Nashville, TN 37212

615-327-4751

621

James H. Quillen Veterans Affairs Medical Center

Corner of Lamont Street and Veterans Way
Mountain Home, TN 37684

423-926-1171

614

Memphis VA Medical Center

1030 Jefferson Avenue
Memphis, TN 38104

901-523-8990

626A4

Tennessee Valley Healthcare System – Alvin C. York (Murfreesboro) Campus

3400 Lebanon Pike
Murfreesboro, TN 37129

615-867-6000

626

Tennessee Valley Healthcare System – Nashville Campus

1310 24th Avenue South
Nashville, TN 37212-2637

615-327-4751

626

Charlotte Avenue (Nashville) VA Clinic

1919 Charlotte Avenue
Nashville, TN 37203

615-873-8000

626GF

Chattanooga VA Clinic

6098 Debra Rd Suite 5200 Bldg 6200




Chattanooga, TN 37411

423-893-6500

626GH

Cookeville, Tennessee OPC

851 S. Willow Avenue Suite 108




Cookeville, TN 38501

931-284-4060

621QE

Downtown West VA Clinic

1521 Downtown West Blvd
Knoxville, TN 37919

865-545-4592

621QD

Knox County VA Clinic

1557 Downtown West Blvd
Knoxville, TN, TN 37919

865-545-4592

626GN

McMinnville, Tennessee OPC

1014 S. Chancery Street
McMinnville, TN 37110

931-474-7700

626GO

Pointe Center Outpatient Clinic (Chattanooga)

1208 Pointe Center Drive
Chattanooga, TN 37421

423-893-6500

626

Women Veterans Healthcare Center (Nashville, TN)

1919 Charlotte Avenue, Suite 300




Nashville, TN 37203

615-327-4751

6301

Athens VA Clinic

1320 Decatur Pike




Athens, TN 37303

423-746-1410

621

Campbell County VA Clinic

130 Independence Lane, 3rd Floor




LaFollette, TN 37766

423-563-7666

626

Clarksville Dental Clinic

2291 Dalton Drive, Suite F.
Clarksville, TN 37043

626GE

Clarksville VA Clinic

782 Weatherly Dr.
Clarksville, TN 37043

931-645-3552

614GE

Covington, Tennessee (North Memphis), CBOC

3461 Austin Peay Highway
Memphis, TN 38127

901-261-4500

621

Dannie A. Carr Veterans Outpatient Clinic

1124 Blanton Dr
Sevierville, TN 37862

865-286-6950

626GA

Dover (Stewart County), Tennessee CBOC

1406 Donelson Pkwy
Dover, TN 37058

931-232-5138

614GI

Dyersburg, Tennessee CBOC

1067 Vendall Road
Dyersburg, TN 38024

731-287-7289

626GP

Gallatin VA Clinic

419 Steam Plant Road
Gallatin, TN 37066

626

Harriman Clinic

2305 North Gateway Ave., Suite 2




Harriman, TN 37748

865-882-2010

626QC

International Plaza CBOC

2 International Plaza, Suite 300




Nashville, TN 37217

615-367-5928

614GG

Jackson, Tennessee CBOC

180 Old Hickory Blvd
Jackson, TN 38305

731-661-2750

626

Maury County CBOC

833 Nashville Highway
Columbia, TN 38401

931-981-6930

626

Meharry (Nashville General)

1810 Albion Street
Nashville, TN 37208

615-873-6700

621GE

Morristown VA Clinic

925 E. Morris Boulevard
Morristown, TN 37813

423-586-9100

614GF

Nonconnah Boulevard Primary Care Clinic

1689 Nonconnah Boulevard
Memphis, TN 38132

901-271-4900

621GA

Rogersville VA Clinic

401 Scenic Drive
Rogersville, TN 37857

423-235-1471

614GD

Savannah, Tennessee CBOC

70 Harbert Drive
North Savannah, TN 38372

731-727-8390

626GG

Tullahoma, Tennessee CBOC

225 Von Karman Rd
Arnold Air Force Base, TN 37389

931-454-6134

621

William C. Tallent Department of Veterans Affairs Outpatient Clinic

8033 Ray Mears Blvd.
Knoxville, TN 37919

865-545-4592

0722V

Chattanooga Vet Center

1300 Premier Drive, Suite 180




Chattanooga, TN 37421

423-855-6570

7241OS

Clarksville Outstation

435 Madison St.
Clarksville, TN 37040

0701

Johnson City Vet Center

2203 McKinley Road, Suite 254




Johnson City, TN 37604

423-928-8387

0720

Knoxville Vet Center

1645 Downtown West Blvd #28




Knoxville, TN 37919

865-633-0000

0719V

Memphis Vet Center

1407 Union Ave., Suite 410
Memphis, TN 38104

901-522-3950

0724V

Nashville Vet Center

1420 Donelson Pike Suite A-5




Nashville, TN 37217

615-366-1220


Tennessee Veterans Benefits: Conclusion
Tennessee is a beautiful state with lots of culture and history in cities like Memphis and Nashville. Unfortunately suffers from the problem that many states in the South and Midwest have encountered over the past decade, which is the loss of many middle class jobs.
They take the care of their vets seriously, and by the population numbers it's clear that many veterans enjoy living there, as Tennessee's population of veterans ranks higher than its general population among the 50 states. However Tennessee has not been able to provide the kind of health coverage most veterans hope for.

Compared to other states, Tennessee has a moderate amount of benefits for its veterans. It also does not have the strongest quality of life, despite being one of the cheapest states to live in.

Thankfully, Tennessee partly makes up for that by being one of the best states for stretching the value of your dollar.
If you are already in Tennessee and are looking to make the most of your Tennessee veteran benefits, you will want to visit the state portal for veterans at https://www.tn.gov/veteran/.
There you will find access to many of Tennessee's benefit programs, as well as more information regarding each benefit available.
For a complete list of VA hospitals, treatment centers, and other resources in Tennessee, you can also review Tennessee VA facilities here: VA Facilities Directory by State.
We're Veterans helping Veterans Worldwide™, and since 2016 we've helped 10,000+ Veterans just like you INCREASE their VA disability rating!
---
About the Author
Brian Reese
Brian Reese is one of the top VA disability benefits experts in the world and bestselling author of You Deserve It: The Definitive Guide to Getting the Veteran Benefits You've Earned (Second Edition).
Brian's frustration with the VA claim process led him to create VA Claims Insider, which provides disabled veterans with tips, strategies, and lessons learned to win their VA disability compensation claim, faster, even if they've already filed, been denied, gave up, or don't know where to start.
As the founder of VA Claims Insider and CEO of Military Disability Made Easy, he has helped serve more than 10 million military members and veterans since 2013 through free online educational resources.
He is a former active duty Air Force officer with extensive experience leading hundreds of individuals and multi-functional teams in challenging international environments, including a combat tour to Afghanistan in 2011 supporting Operation ENDURING FREEDOM.
Brian is a Distinguished Graduate of Management from the United States Air Force Academy, Colorado Springs, CO, and he holds an MBA from Oklahoma State University's Spears School of Business, Stillwater, OK, where he was a National Honor Scholar (Top 1% of Graduate School class).