When service members leave active duty or the reserves, they experience huge life changes. Change is difficult for everyone, but transitioning into civilian life brings on a whole new set of challenges and adjustments.
Post-military depression is a very real issue that many families face. Over 1.7 million service members received mental health help through the VA last year, so know you are not alone.
It's important to recognize when challenges transition to depression. With so many options for treatment and support, Veterans don't have to go through post-military depression with support.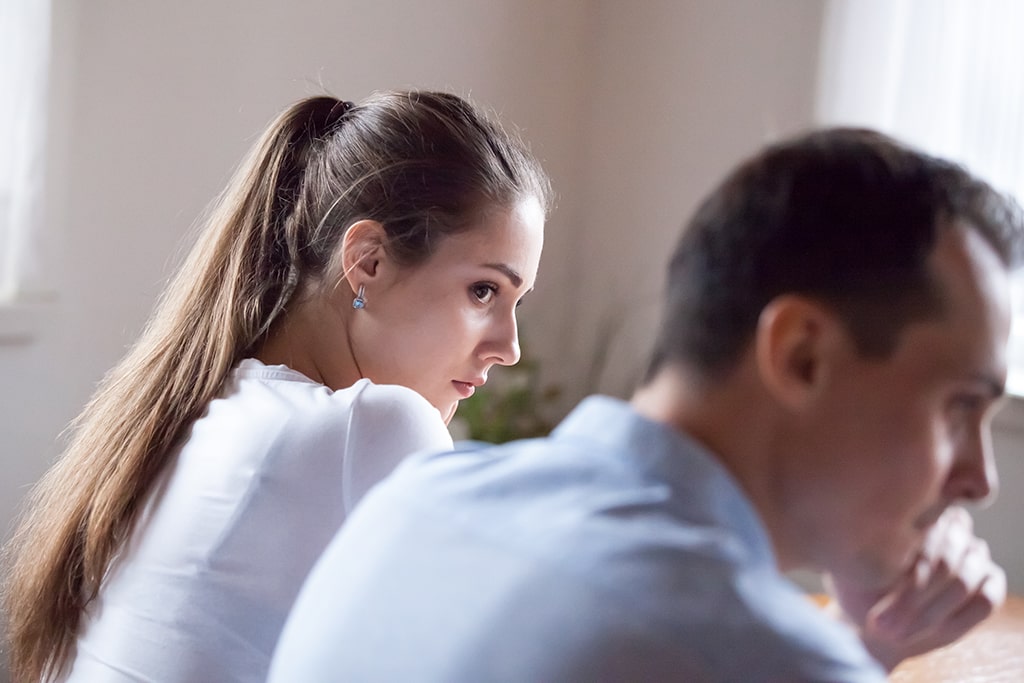 However, the stigma surrounding mental health issues and myths surrounding these conditions can keep many transitioning service members from seeking help.
We created this guide specifically for spouses and significant others of service members transitioning into civilian life. We want to help you learn the warning signs of post-military depression, and how to talk to the Veteran in your life about getting help when they need it.
Post-Military Depression
Depression can be brought on for many different reasons. Readjusting to civilian life can be extremely stressful, and that stress is a common trigger for post-military depression among service members.
Depression can sometimes be tricky to detect or diagnose because the symptoms are different for everyone. We list the symptoms below, but keep in mind that some Veterans may experience only a few symptoms, and the severity and frequency can vary widely from person to person.
Reintegration is difficult enough without family, but the stresses and challenges of family life can make it even more difficult for Veterans. Many Veterans feel additional pressure because of the responsibility of providing for their families. Service members are often accustomed to being separated from their families more; suddenly they're spending more time at home, which can change family dynamics.
Another common experience is that as Veterans transition into the civilian world, they have time to process events, emotions, and feelings that were previously bottled up. Issues rise to the surface that can impact all aspects of a Veterans's life, including relationships with friends and family.
How to Get a VA Disability Rating for Depression
What Does Depression Look Like in Veterans?
One of the most common coping mechanisms for many Veterans is to keep emotions inside. Many Veterans will try to downplay or their feelings and issues. Veterans tend to worry about burdening others with their problems. They may not realize how much this pushes others away and prevents them from getting help.
Below is a list of common signs of clinical depression. If you or someone you love has been experiencing any of these symptoms consistently for at least two weeks, you (or they) may be dealing with depression:
Sad, anxious, or "empty" mood that persists
Feelings of hopelessness
Irritability
Feelings of guilt, worthlessness, or helplessness
Loss of interest or pleasure in hobbies or daily activities
Fatigue or decreased energy
Moving or talking more slowly
Feeling restless or having trouble sitting still
Difficulty sleeping or oversleeping
Weight or appetite changes
Thoughts of death or suicide, or suicide attempts
Aches or pains, headaches, cramps, or digestive problems without a clear physical cause
The list of symptoms above is just that – a list. As a spouse, you are the person best positioned to detect changes in a Veteran's behavior and personality.
In addition to spouses and other family members, friends may also be among the first to recognize signs of post-military depression in a Veteran. These same loved ones are usually the best positioned to talk to the Veteran about what they are going through. Here are some tips for how to bring up any concerns you may have about a Veteran's mood or mental health.
Most Veterans who experience depression need treatment to get better. The great news is that depression is treatable, but Veterans must be open to and willing to seek treatment! That's where you, as a spouse, come into the picture — helping your loved one get the help they need and deserve!
How to Talk to Your Veteran Spouse
Below we outline a few best practices on how to approach the subject of depression with your Veteran spouse or partner. Talking to your spouse about depression can be awkward or uncomfortable. It can even painful and scary for both of you, especially if there is also underlying PTSD. But it can help to remember that your intervention is incredibly important to the health and welfare of your spouse and family.
A little compassion and understanding can go a long way when it comes to helping your spouse through depression. Again, know that depression is one of the most common mental health conditions for Veterans. Resentment can be easy, but it's important to stay mindful of your emotions and not let their mental health prevent you from talking to them about it.
Plan Your Talk
When you decide it's time to talk to your spouse about your concerns, timing and location are key. Make sure you choose a time and a place that creates a sense of safety and peace. You want the conversation to be private, and you don't want to rush it.
Actively Listen
Once you express your concerns, give your spouse time to talk to you. Don't interrupt or prompt.
Practice Empathy and Acceptance
Depression strains relationships. You may be frustrated about the status of your relationship with your spouse. Your feelings are valid, but don't let them overshadow the bottom line: that you're the bottom line, that you are concerned your spouse is depressed and needs help.
This is not the time or place for criticism or judgment. Love and acceptance will invite openness and receptivity, and increase the likelihood of your spouse seeking treatment. Do your very best to understand what your spouse is going through.
Take Care of Yourself
Your spouse is going through a lot, but your partner's depression is stressful for you too, so it's important that you also take care of yourself. Practicing self-care and building a support system for yourself is critical. This will help you, your spouse, and your family navigate the situation and return to health more effectively.
Emergency Care
Emergency mental health care is always available to Veterans 24/7. If your spouse shows any signs of having thoughts about death or suicide, they need immediate care. You can call the Veterans Crisis Line at 1-800-273-8255 and Press 1. This care is free and confidential.
What Are My Spouse's Options?
When talking to your spouse about depression, it helps to know about the available options and resources. There are a number of effective treatments that can lead to positive and meaningful changes in symptoms and quality of life for your spouse. These may include:
Counseling
Therapy
Medication
Lifestyle adjustments
A combination of all of the above
Take the first step by using the VA medical center facility locator to find health care near you and your spouse. If you haven't already, your spouse can learn how to apply for VA health care benefits here.
While inpatient care is available, most Veterans will be best suited for regular outpatient care, which means talking to a mental health professional on a regular basis. Veterans also may be able to talk to a primary care provider about mental and behavioral problems.
With COVID and technological improvements, there are more opportunities for remote care. This includes mental health apps made just for Veterans, as well as VA TeleMental Health.
Take an Online Assessment
Veterans can take a confidential online self-assessment here to determine if they may be experiencing depression. This test only takes five minutes and in addition to identifying symptoms associated with depression, will also provide recommendations.
See Videos By Other Veterans Experiencing Depression
With so many Veterans experiencing depression, there are many different stories to help you understand what your spouse may be going through. You can watch other Veterans sharing their personal stories about dealing with depression at Realwarriors.net. Knowing that you and your spouse are not alone can be very reassuring.
Counseling
Your spouse can seek free counseling services at your local Vet Center, even if he or she isn't enrolled with the VA.
Individual Therapy
Cognitive behavior therapy for depression helps Veterans learn how to cope with the stressors of everyday life through the modification of moods and behaviors. The treatment also helps them develop balanced and helpful thoughts about themselves, others, and the future.
Acceptance and commitment therapy for depression helps Veterans overcome emotional pain by recognizing, committing to, and achieving what matters most to them in life.
Interpersonal psychotherapy is a treatment that focuses on building social skills to help correct relationships that may be the cause or result of depression.
Couples Therapy
Be open to the idea of supporting your spouse with whatever he or she needs. This might include counseling together as a couple. Studies have shown that marital distress for Veterans experiencing depression is lower for couples who seek marital therapy versus individual counseling.
Behavioral couples therapy is typically weekly and focuses on strategies for promoting acceptance in couples to reduce marital distress and improve relationship satisfaction.
That being said, different types of help work for different people. At the end of the day, seeking any type of treatment for depression is the key. You'll figure out what works best for your family members along the way with help of your VA mental health providers.
You can learn more about treatments available for depression on the VA's website.
Moving Forward Online Course
Moving Forward is an online VA course that helps Veterans start taking steps towards positive change. The course teaches problem-solving skills to help overcome life challenges. It focuses heavily on relationships, finances, and gaining clarity about your future.
Increase Your VA Rating for Depression
If your spouse is looking for more information regarding filing a VA claim for mental health, read our guide on how to file a mental health claim.
About VA Claims Insider
VA Claims insider is an education-based coaching/consulting company. We're here for disabled veterans exploring eligibility for increased VA disability benefits and who wish to learn more about that process. We also connect veterans with independent medical professionals in our referral network for medical examinations, disability evaluations, and credible independent medical opinions and nexus statements (medical nexus letters) for a wide range of disability conditions.