Yes, there is some medical research to support the connection of Erectile Dysfunction secondary to Tinnitus and ED can be service connected to Tinnitus via principles of "aggravation."
However, your VA claim will be much stronger if you also connect ED with a mental health condition such as Anxiety, Depression, PTSD, or Medication Side Effects taken to manage mental health symptoms as secondary to Tinnitus (more on that below!)
Here's a detailed list of the Top 5 Secondary Conditions to Tinnitus.
Alright, let's explore the relationship between ED and Tinnitus in more detail.
Is Erectile Dysfunction Secondary to Tinnitus?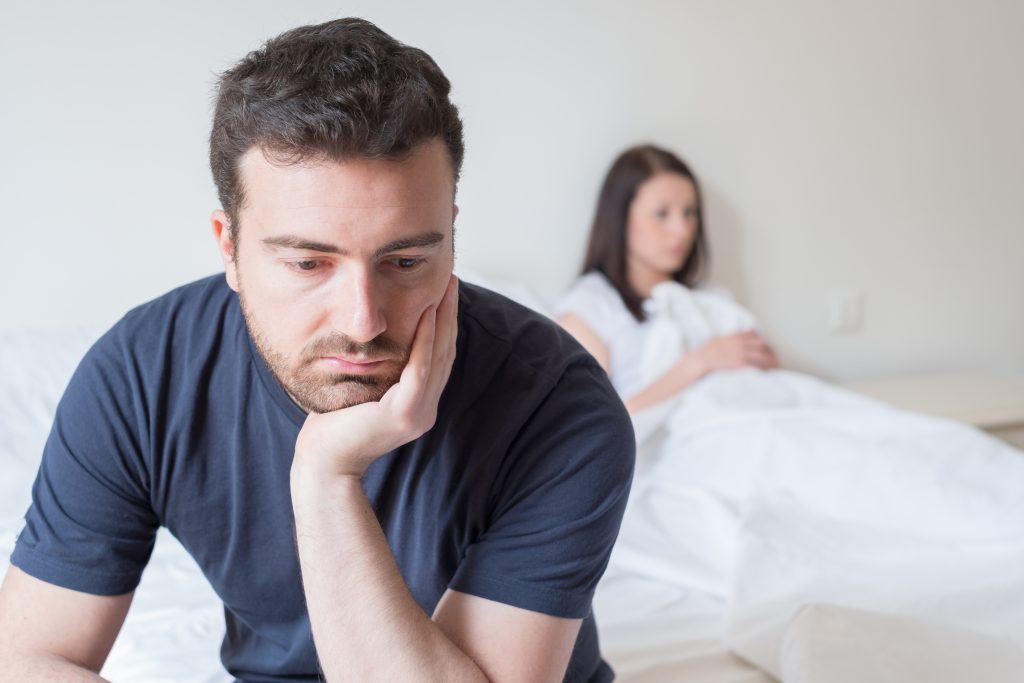 The most likely connection for Erectile Dysfunction Secondary Tinnitus is to include ED as secondary to Anxiety, Depression, PTSD, or Medication Side Effects, in addition to aggravating factors by Tinnitus.
Why?
Because the medical research is weak as to whether there is a direct correlation between Erectile Dysfunction and Tinnitus.
We do know that Tinnitus can lead to Anxiety and Depression, which in turn, can cause a veteran to develop ED.
For example, there is a clear relationship between medications taken for Anxiety and Depression and sexual dysfunction.
It's also important to note that Tinnitus, Anxiety, and Depression have a bidirectional relationship, meaning that ED could lead to Anxiety and Depression as well as Tinnitus and vice versa.
Can Tinnitus Cause Erectile Dysfunction?
While Erectile Dysfunction and Tinnitus are not necessarily related directly (one doesn't "cause" the other and vice versa), they can both be influenced by common underlying factors, such as:
Stress and Anxiety: Chronic stress and anxiety can contribute to both ED and Tinnitus.
Medications: Some medications used to treat Tinnitus or other health conditions may have side effects that impact Erectile Function and vice versa.
Vascular Issues: Problems with blood flow can affect both hearing and erectile function.
Hormonal Imbalances: Hormonal changes or imbalances can play a role in both conditions.
Psychological Factors: Psychological issues, such as Depression, Anxiety, PTSD, and other mental health conditions can contribute to both Erectile Dysfunction and Tinnitus.
What Mental Health Medications Cause or Aggravate Erectile Dysfunction?
Some mental health medications can have negative side effects that affect sexual function, including Erectile Dysfunction.
Here's a list of some mental health medications that are known to potentially cause or aggravate Erectile Dysfunction:
Selective Serotonin Reuptake Inhibitors (SSRIs): SSRIs are commonly prescribed for depression and anxiety disorders. They include medications like fluoxetine (Prozac), sertraline (Zoloft), and paroxetine (Paxil). These drugs can sometimes cause sexual side effects, including ED, decreased libido, and difficulty achieving orgasm.
Serotonin-Norepinephrine Reuptake Inhibitors (SNRIs): SNRIs are used to treat depression, anxiety, and certain pain disorders. Examples include venlafaxine (Effexor) and duloxetine (Cymbalta). Like SSRIs, SNRIs may also be associated with sexual side effects.
Tricyclic Antidepressants (TCAs): TCAs are older antidepressant medications. While they are less commonly prescribed today due to newer options, they can still cause sexual side effects, including ED.
Antipsychotic Medications: Some antipsychotic drugs used to treat conditions like schizophrenia and bipolar disorder can cause sexual side effects, including ED. Examples include risperidone (Risperdal) and quetiapine (Seroquel).
Benzodiazepines: Benzodiazepines are prescribed for anxiety and sleep disorders. While they are not primarily associated with ED, they can contribute to sexual dysfunction in some individuals.
Mood Stabilizers: Certain mood stabilizers used in bipolar disorder treatment, such as lithium and valproate, have been linked to sexual side effects.
Antidepressant Augmentation Agents: Medications used to augment the effects of antidepressants, such as aripiprazole (Abilify) and bupropion (Wellbutrin), may have a lower risk of causing sexual side effects compared to other antidepressants.
Need a Nexus Letter for Tinnitus and Secondary Service Connection?
Want to get a Nexus Letter to help service connect your VA disability conditions secondary to Tinnitus?
WE CAN HELP!
Veterans who become members of the VA Claims Insider Elite program get access to a network of independent medical providers who can write a Nexus Letter for Sleep Apnea as a secondary VA claim at reduced rates.
Why pay $1,500 to $2,000 for a Nexus Letter when you can get one for $595?
Click HERE to speak with an expert now for FREE (no risk, no obligation, no high pressure sales tactics).
Tired of Fighting the VA Alone? WE CAN HELP!
25,000+ disabled veterans served in our membership programs since 2016.
30% average VA rating increase for veterans who complete our #1 rated Elite program.
Employs 215 teammates; comprised of 74 veterans and 16 military spouses.
Better Business Bureau (BBB) accredited with an A+ rating.
About the Author
Brian Reese
Brian Reese is one of the top VA disability benefits experts in the world and bestselling author of You Deserve It: The Definitive Guide to Getting the Veteran Benefits You've Earned (Second Edition).
Brian's frustration with the VA claim process led him to create VA Claims Insider, which provides disabled veterans with tips, strategies, and lessons learned to win their VA disability compensation claim, faster, even if they've already filed, been denied, gave up, or don't know where to start.
As the founder of VA Claims Insider and CEO of Military Disability Made Easy, he has helped serve more than 10 million military members and veterans since 2013 through free online educational resources.
He is a former active duty Air Force officer with extensive experience leading hundreds of individuals and multi-functional teams in challenging international environments, including a combat tour to Afghanistan in 2011 supporting Operation ENDURING FREEDOM.
Brian is a Distinguished Graduate of Management from the United States Air Force Academy, Colorado Springs, CO, and he holds an MBA from Oklahoma State University's Spears School of Business, Stillwater, OK, where he was a National Honor Scholar (Top 1% of Graduate School class).