Veteran child support is something that many parents have to navigate the tricky waters of these days. As a Veteran, it can be difficult knowing how much of your resources must go towards supporting your child.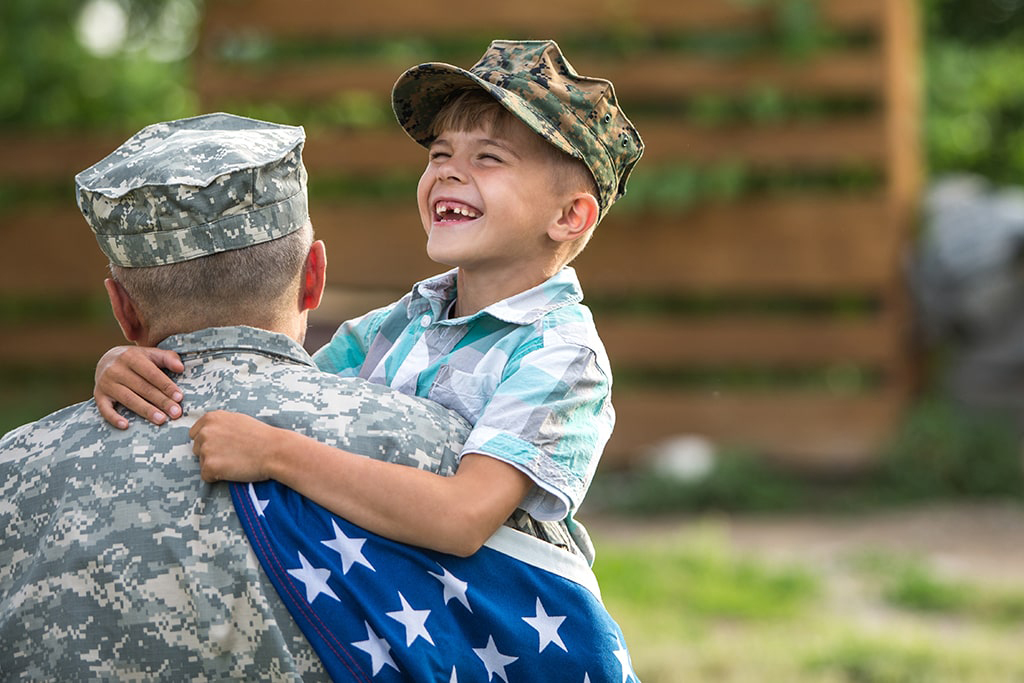 Child Support
This is court-ordered payments from a parent towards their child's living expenses. One is not required to pay child support until it is decided by the court. These payments could go on until the child reaches the age of 18 or graduates from high school. The extra income is to be used to help the child pay for expenses, or offset what the state is paying for.
If you would like for the child support to be taken directly out of your VA payment checks, that is something additional you may request.
Traditionally, the amount of your monthly income paid will depend on the number of children.
1 child, 20%
2 children, 25%
3 children, 30%
4 children, 35%
5 children, 40%
6 or more, court will decide
Is VA disability pay included?
Your awarded VA benefits should be included when reporting your net resources. However, if you only have an estimated VA contribution, you do not have to report that yet. Only what is actively being given to you.
I can't pay the court decided amount
If you had reported proposed VA support and were not awarded that amount, you may return and ask for a modification. By doing this, you must provide sufficient evidence that amount is not available for you to pay. This evidence needs to prove that your circumstances are different that you originally indicated and you do not have the monetary resources to pay this amount.
Even if you request additional time, you will still need to create a plan for how you will pay the previous child support.
Can apportionment be filed on my benefits?
Yes, it is possible for your spouse to file apportionment to receive Veteran benefits. If this was filed and qualified, this would mean that your ex-spouse would be awarded a portion of your claim directly to them. In order to qualify for an apportionment, the person requesting it must fall under one of these categories.
Not currently live with the Veteran
Prove that the Veteran is failing to pay child support
Demonstrate a significant need for the benefits
The Veteran is hospitalized and cannot indicate the transfer of funds
The Veteran is incarcerated
When filing, one will need to provide the VA with income and housing statements of the Veteran being considered as well as this VA form.
The following qualify to have an apportionment paid to:
A dependent parent
A separated spouse
A child in the other parent's custody
Children whom the Veteran is not currently living with
The benefit will not be awarded if:
The benefit is too small
Your child has been legally adopted by another person
Your child is no longer under yours or your spouses care
Can I appeal the decision on Veteran Child Support?
Yes, if you feel like the final decision was not fair, you can appeal it to the VA within 60 days. This must be done from the date on the final decision notice the VA mailed to you. The way this is done is by sending a letter to the board stating that you disagree with their decision. After this, it would be wise to seek further legal counsel.
Deserve a HIGHER VA Rating?
Learn more about how VA Claims Insider can help you get the rating you DESERVE!
Speak with a VA Disability expert and start for FREE! 
---
About the Author
About VA Claims Insider
VA Claims insider is an education-based coaching/consulting company. We're here for disabled veterans exploring eligibility for increased VA disability benefits and who wish to learn more about that process. We also connect veterans with independent medical professionals in our referral network for medical examinations, disability evaluations, and credible independent medical opinions and nexus statements (medical nexus letters) for a wide range of disability conditions.