When looking at your option as a Veteran, understanding brain aneurysms treatment actually has many avenues to explore, if you are eligible for benefits through their programs. The VA rates Veterans for conditions that make them unfit for duty, and one of those being brain aneurysms.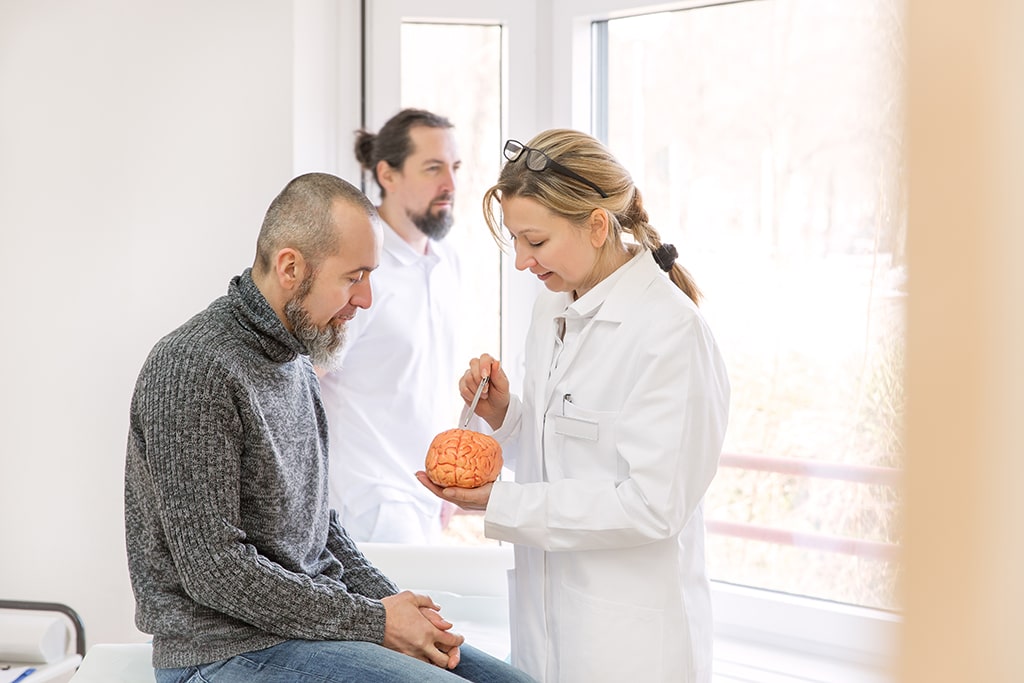 What is a Brain Aneurysm?
When an artery swells to 1.5 times or more of its normal size it is considered an aneurysm. This is generally a sign that the tissues in the arteries are weak.

Aneurysms are always to be taken seriously, but especially when it occurs in the brain. They can often be life-threatening and are not always kept under control with treatment.

The brain, along with the aorta (the primary artery carrying blood from the heart to the rest of the body) is the most common location of aneurysms.

While it's possible for aneurysms to be asymptomatic, they can also become throbbing masses, and they are often in danger of rupturing. Ruptures can cause pain, rapid heart rate, nausea, vomiting, and in the case of the brain, strokes.

How do I know if I've Suffered a Brain Aneurysm?
Usually, the first sign of an aneurysm is a severe, sudden headache. Most people who have experienced one describe it as the worst headache of their lives.
Anyone who has experienced this symptom should immediately go to a medical professional to be tested. Anyone of the four following tests can be used to diagnose an aneurysm:

CT SCAN. This creates an image of your brain and will show if any blood has leaked around or into your brain.
MRI. The MRI scan uses a magnetic field, radio waves, and a computer to create a detailed picture of the brain.
Spinal Tap. A spinal tap may be performed to see if blood has leaked into your cerebrospinal fluid. As the center of your neurological system, this helps the medical team better assess the damage of the aneurysm.
Angiogram. In this procedure, a catheter will be inserted into your arteries to travel up to your brain and take x-rays. This will help diagnose the size, shape, and location of the aneurysm. It will also show if the aneurysm is causing vasospasm (the narrowing of blood vessels). Vasospasm often occurs after an aneurysm has ruptured.
VA Benefits for Aneurysm
Service-connected brain aneurysms are rated by the VA under Code 7111, which pertains to all aneurysms in large arteries, or under Code 7112, pertaining to all aneurysms in small arteries.
If the aneurysm required surgery for correction then the veteran will receive an automatic 100% rating. This will continue for the first 6 months after medical discharge from the hospital, at which point it will be examined and reevaluated for an updated rating.
Depending on the damage caused by the aneurysm, a number of factors can play into determining the proper rating. For instance, if the aneurysm caused a hemorrhage which led the veteran to experience a stroke, a 100% rating will be assigned so long as the stroke is active. After 6 months, the minimum rating for the condition will be 10%.
Brain aneurysms can also cause:

Herniation. When an aneurysm ruptures and allows blood into the brain, the pressure will increase and cause a squeezing of the brain. This can be very serious, causing neurological damage.
Hydrocephalus. A ruptured aneurysm can cause a blocking of the regular draining of spinal fluid from the brain. This causes a build-up of the fluid which can lead to brain damage if not treated quickly.
In these cases, the VA will determine a Traumatic Brain Injury (TBI) and will designate the benefits rating accordingly.
Further Understanding Brain Aneurysms
Aneurysms are very serious conditions that should not be taken lightly. If you believe you have experienced a brain aneurysm it is recommended that you immediately seek help from your local VA Center for diagnosis and treatment.
The quicker you receive treatment, the less likely the chance that TBI will be experienced.
If you are not service-connected, and in turn, you do not qualify for medical abilities through the VA, reach out! We can give you the tools for success in your claim.
Are you STUCK, FRUSTRATED and UNDERRATED?
You are not alone! We are Veterans helping Veterans!
Become an Elite Member and work with our Veteran Coaches to get the rating you deserve! 
---
About the Author
About VA Claims Insider
VA Claims insider is an education-based coaching/consulting company. We're here for disabled veterans exploring eligibility for increased VA disability benefits and who wish to learn more about that process. We also connect veterans with independent medical professionals in our referral network for medical examinations, disability evaluations, and credible independent medical opinions and nexus statements (medical nexus letters) for a wide range of disability conditions.