Military Family Moving Resources for Your Next Move
The one constant for a service member is that military family moving day will arrive sooner or later. Spending more than three years at any duty station, aside from select posts, can be rare and comes with the burden of knowing orders will hit the books at any moment.
It's designed that way for a reason. Spending too much time at one location and performing the same menial task can be detrimental to troop morale.

While moving is stressful for anyone who owns more than what can fit in a seabag, exploring a new part of the States, or an entirely new country, can be beneficial and bring new opportunities.
Before we dive into the resources and other key information, it's critical to have an understanding of the different types of moves that are available.
---
Your Options for Moving in the Military
The Difference between HHG & PPM
There are two main options for the military family moving from place to place when they are given orders to a new location: Household Goods (HHG) and Personally-Procured Move (PPM).
Other moving methods exist besides the two mentioned, which can be used in addition to them, but they are less common. You can find the official list at militaryonesource.mil.
The main difference between HHG and PPM is when the military family picks PPM it's usually for one or two reasons: They don't trust/had a bad experience with HHG and/or they want to put in the effort to earn a little cash.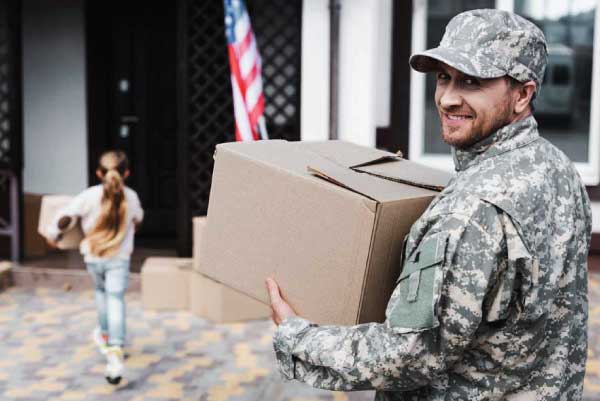 In a PPM, the government will pay a certain amount to move based on rank, destination, and various other factors, and any cash left over is kept by the service member.
The official definition of a PPM according to militaryonesource.mil is essentially a DIY, "Do-It-Yourself" move. The soon-to-be Veteran must prepare and arrange all of their belongings for travel themselves.
Rental trucks, temporary storage, gas, and packing supplies and moving help are all reimbursable expenses that would be purchased and arranged by the service member.
---
Personally-Procured Move (PPM)
A PPM will begin at the Personal Property Transportation Office, where a representative will supply an Application for a Do-it-yourself (DITY) Move. At this initial appointment, the service member will receive a and a Counseling Checklist and be paid a cash advance of up to 60% of the projected cost to cover initial expenses, this is referred to as a Travel Voucher.
Every step of a PPM must be documented with receipts. The belongings packed must be weighed at weigh stations (another reimbursable expense) and all documentation must be submitted to the moving Personal Property Transportation Office.
At a minimum, PPM's will require a copy of orders (DD 1351-2), the travel voucher DD 2278, the application and counseling checklist, certified weigh tickets, of the gross weight (moving truck plus all belongings) and one for tareweight (moving truck only).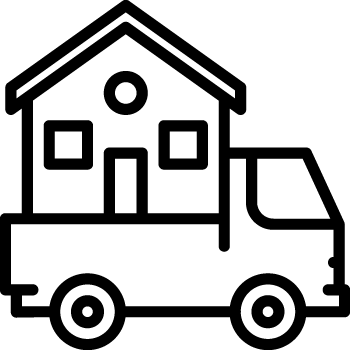 ---
Household Goods (HHG)
Conversely, in a HHG move, the federal government does the legwork. A government-furnished Transportation Service Provider (TSP) will do the heavy lifting and organize belongings. In the event of damage, financial compensation will come from the Military Claims Office after filing a claim.
---
Other Methods of Moving in the Military Include…
Unaccompanied Baggage
Privately Owned Vehicle (POV)
Shipment/Storage
Non-Temporary Storage (NTS)

---
Military Family Moving 9 Top Resources and Guidance
6 Moving Companies with Military Discounts
It's ideal to locate a local Veteran-owned organization that will handle your items with the utmost respect, but if you can't track one down or if there isn't one that services your area, there are other options.
The best thing to do is find a company that offers a military family moving discount. This might be hard depending on the size of the base you're moving from.
At places like Camp Lejeune, NC, and Fort Benning, GA, most, if not all, of the moving business comes from the military family moving, therefore there is no discount.
But when you're leaving a smaller location or if you're on special duty like recruiting, a military discount could ensure the maximum profit down the road. Budget advertises a 25% discount for active duty and Penske will take 10% off for those currently serving and veterans, as long as the code MILITARY* is applied.
For those non-conventional moves like short-term storage, Storage Rentals of America, CubeSmart, and PODS will give 10% off, while companies like uShip say they can save military family moving customers up to 60% off.
---
The VA Claims Insider Military Moving Checklist
To help with the next chapter, VA Claims Insider has put together this downloadable and printable checklist to help keep any move as stress free as possible.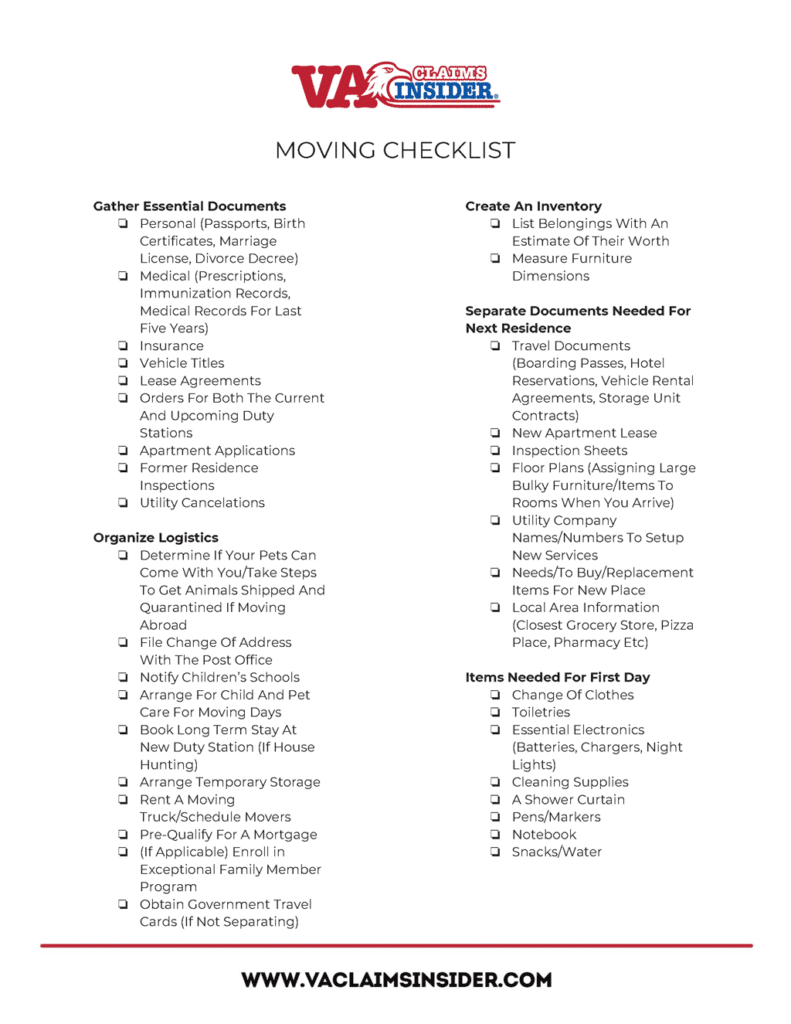 ---
2 More Moving Resources for Military Families (Not Sold in Stores)
The Military Community
The support of a military community to help when leaving a post, or even leaving the military altogether, can make a daunting process manageable
Many things service members and Veterans deal with are not relatable to anything in the civilian world.
Connecting with another Veteran who has experience can help make finding what works and when starting a new chapter can make a positive impact.
VA Claims Insider Mastermind
If you are a new or soon to be Veteran that is interested in filing a VA disability claim as part of your transition from active or reserve service, the VA Claims Insider Mastermind group consists of over 8,000 Veterans. It's FREE to get started, so click "Go Elite Now" below to complete our 3-step intake process.
---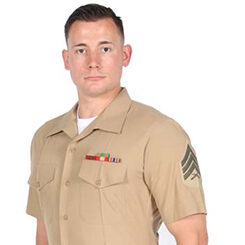 Matt Helmkamp
Matt Helmkamp spent ten years as an active duty United States Marine, all of which as law enforcement. Starting a Military Police Officer, Matt moved on to join the Special Reaction Team and spent the remainder of his career as a Detective in the Criminal Investigation Division.
While active duty, Matt earned his Bachelors in Homeland Security and Emergency Management and later completed his M.B.A. with a specialization in Public Administration. After receiving an honorable discharge in 2017, Matt joined the State Police as an Intelligence Analyst. Matt is also a disabled Veteran with a rating of over 50%.