Relief for Veterans Suffering from Back Pain
When a Veteran has a VA claim for back pain, they are often paying the price for years of marching while carrying hundreds of pounds of equipment.
The physical toll puts Veterans at a higher risk for drug dependence. In fact, 50% of Veterans who deal with chronic low back pain often must use opioids. While non-medical treatments cannot replace standard therapies, they can act as a compliment.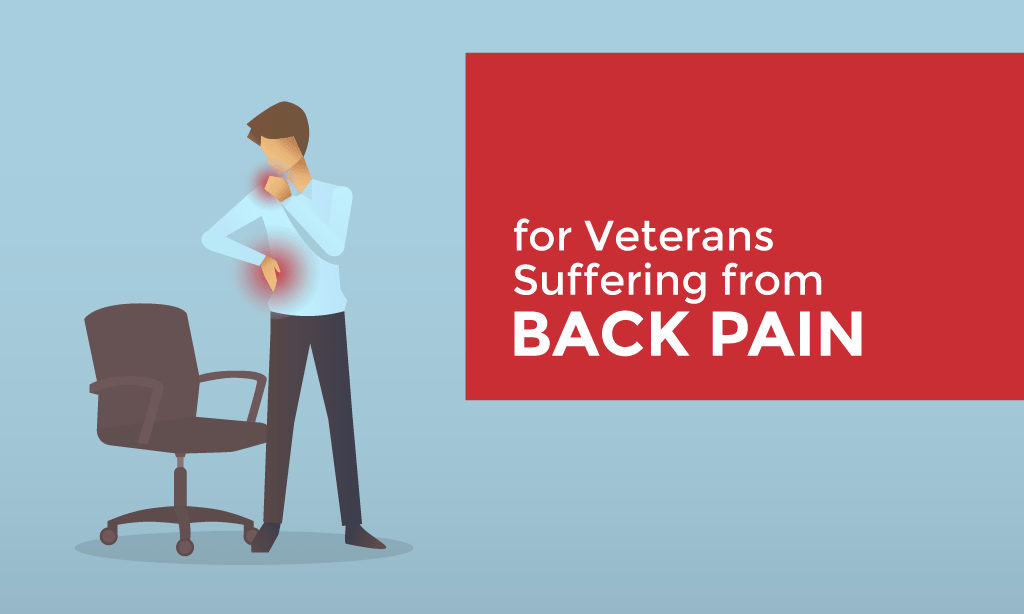 Alternative therapies like tai chi, acupuncture, and mindfulness meditation can and do lower their ris​k ​ of new-onset alcohol, barbiturate and opioid use disorders, according to a study of 140,000 former Army soldiers who had deployed to Iraq or Afghanistan. Further still, VA Portland researchers found that opioids do not decrease chronic pain, and are likely to promote more severe pain.
Back pain is so common that clinical trials are soon to enroll veteran​s to find better options. If you have a VA claim for back pain, alternative therapies can potentially supplement what you have been prescribed by a doctor.
However, any Veteran, regardless if they have a VA claim for back pain, will benefit from the following overview about this issue and what to do about it. Veterans seeking aVA claim for back pain will learn possible causes of back pain, and some scenarios will be presented to help a Veteran or their loved one discern what to expect before seeking care.
There are also complementary approaches to treating back pain that will be discussed. Finally, it is important to recognize the dangers associated with oral pain relievers and review the knowledge needed to use them wisely.
So let's take a look at some types of back pain that may benefit – and define other cases that will most likely not benefit – from alternative non-invasive back pain remedies.

---
3 New Tips to Win Your VA Claim for Back Pain
---
Causes of Back Pain
For Veterans with a VA claim for back pain, it is a constant struggle. Back pain is the most common reason people decide to make a visit to the doctor's office. The vast majority of people, 70%, will experience back pain in their lifetime.
As a Veteran with or without a VA claim for back pain, your past or present occupation is more likely to expose you to activities that cause back pain, such as jumping out of an airplane, construction, heavy equipment maintenance, landscaping, surgery (performing it or being performed on), etc.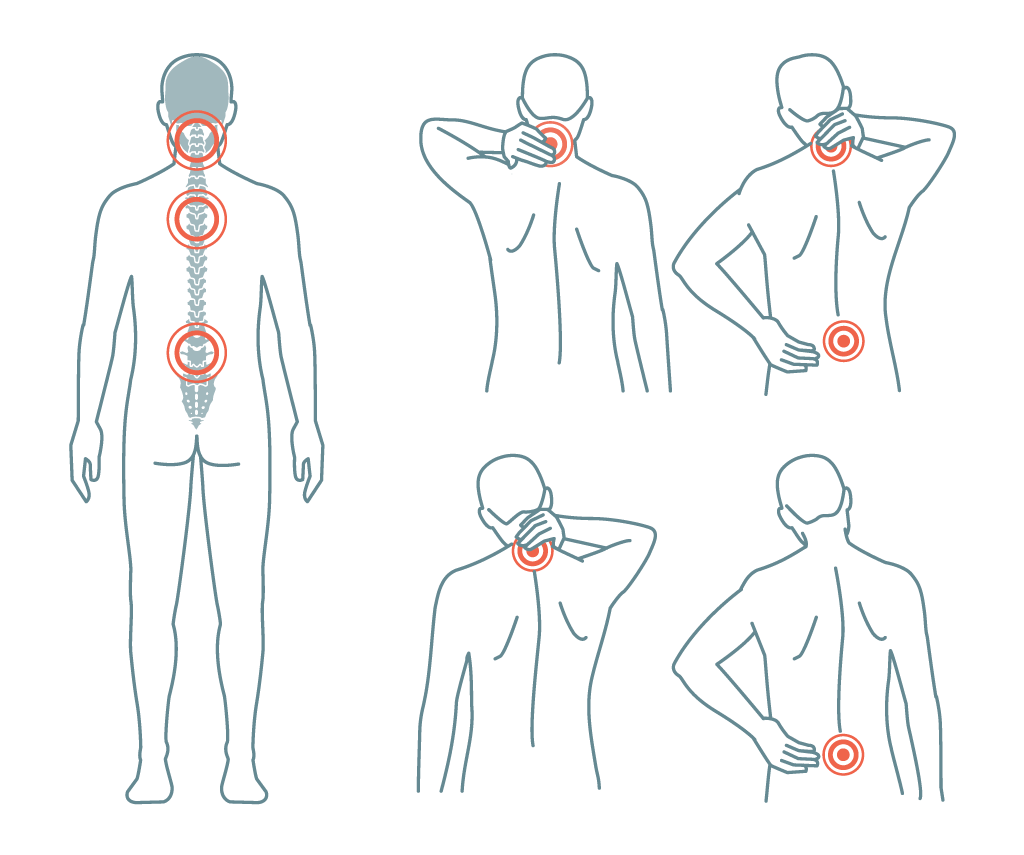 Most of these experiences contribute to the most common form of back pain:​ musculoskeletal. ​
​However, even household injuries can lead you to the emergency department or urgent care because of how severe symptoms may first appear. Your food and beverage intake, your smoking history, and environment (extended periods of sitting or laying down) all play a role in the health of your back.

---
Forms of Back Pain to be Aware of…
Degenerative joint disease
Degenerative disk disease with herniation (i.e. Sciatic​a)​
Osteoporosis
Spinal stenosis
Ankylosing spondylitis
Osteomyelitis
Metastatic cancer (from prostate, breast or lung)
Abdominal causes (peptic ulcer, pancreatitis, kidney infection, kidney stones, prostate infection, bladder infection, uterine infection, aortic dissection)
Psychosocial distress
---
VIDEO: Doctor Explains Disc Herniation
Army Veteran & Doctor of Physical Therapy EXPLAINS L5/S1 Disc Herniation!
---
Watch Out for These Back Pain Red Flags!
Risk factors that raise a doctor's concern for something more serious include…
Major trauma
Chronic steroid use
Age > 50 years
Past or current cancer patients
Unexplained/unintentional weight loss
Fever
Injection drug use
Active infection
Numbness in the buttocks, inner thighs
Incontinence (uncontrollable) bladder or bowel
Severe or worsening neurological deficit

---
With so many causes of back pain, there is no one-size-fits-all solution. So here are two scenarios that broadly describe the "clinical picture" that doctors look for when deciding how to manage your symptoms. Understanding this will help with your VA claim for back pain.
These scenarios are only for illustration purposes, not medical advice, so if you find yourself having back pain, please ensure that you exercise caution, and seek medical advice.
---
Scenario 1: "Service Connected" Back Pain
Sgt. BA is a 25-year-old active duty military paratrooper who sustained a cervical neck injury during field training ops. He experienced immediate neck and upper back pain and transient paralysis in both arms. Over the course of the subsequent weeks, he noted burning sensations in his index finger and forearms.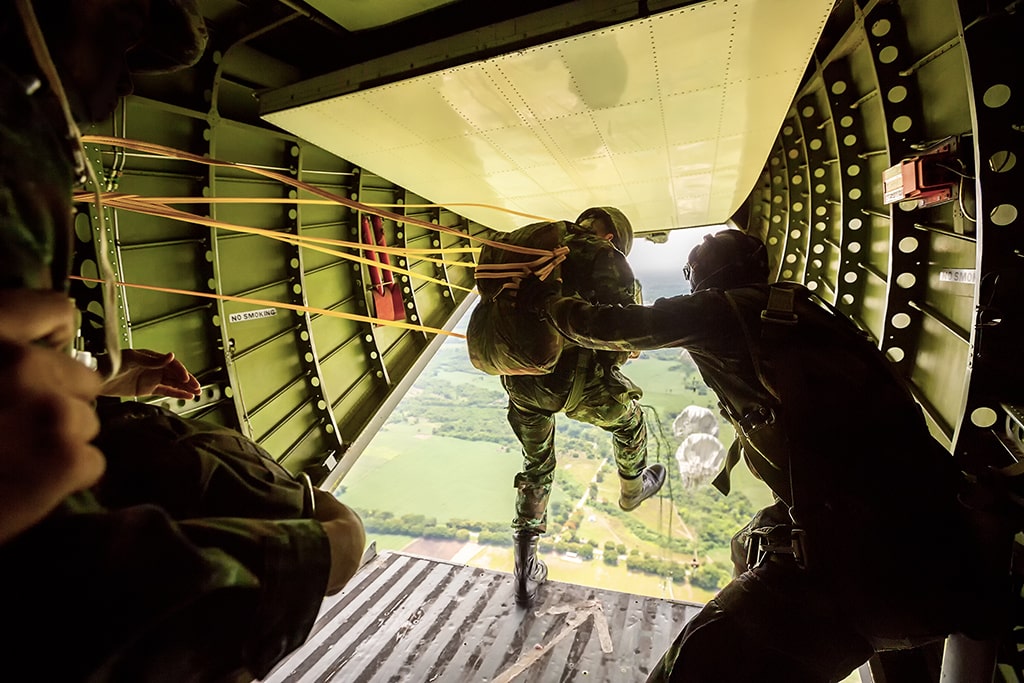 Exam Findings
The chiropractor examines Sgt. BA, and immediately orders neck x-rays, provides pain medicine and recommends 3 day follow-up. The cervical x-rays found his cervical spine alignment to be disrupted, near C5 and C6 vertebrae. Sgt. BA is referred to the Emergency Room for more extensive management.
Diagnosis
Bilateral facet dislocation
Treatment Plan
Pain management often provides temporary relief depending on the severity of injury. However, upon recognition of the patient's unrelenting pain, the orthopaedic team confirmed the diagnosis and performed surgery to "reduce" the misalignment.
---
Scenario 2: Nonspecific Back Pain, "Couch Potato"
Ms. BA is a 60-year-old woman, retired US Army Veteran seeks care at her primary care physician's office because of back pain that came on suddenly about 6 days ago. The pain started upon getting out of bed one morning. The pain is located in her lower left part of her back, near her left hip bone. She describes the pain as sharp and constant throughout the day.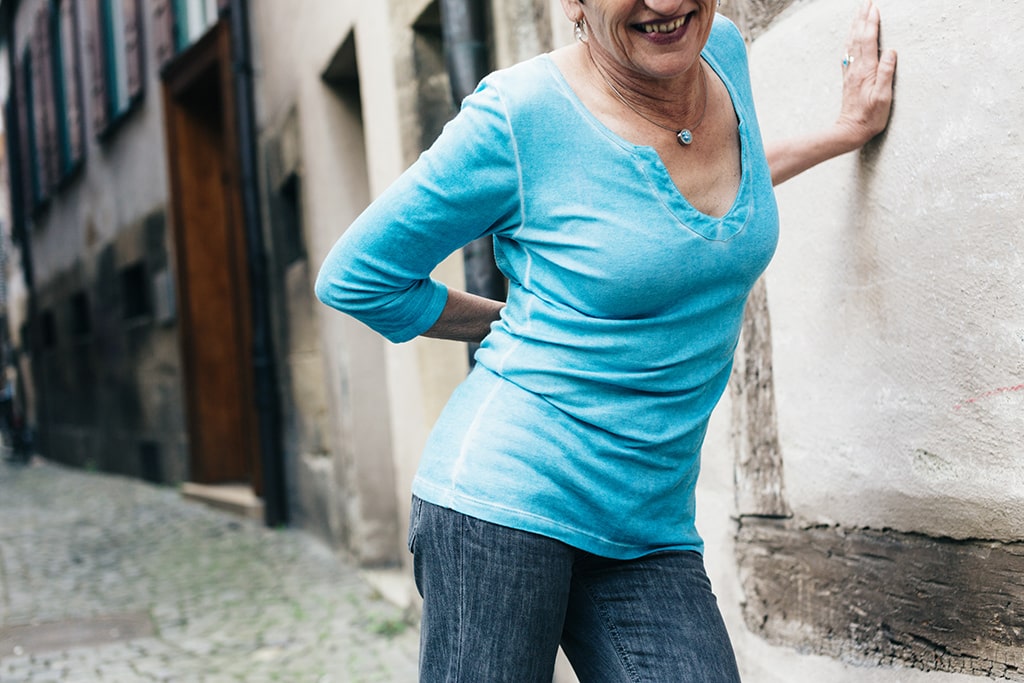 The pain gets worse when she turns in certain positions. She has tried tylenol and aspirin but the pain keeps returning after a few hours. Ms. BA has no medical conditions, has undergone menopause five years ago, has never had any children, unmarried and uses barrier contraception with sexual intercourse. Her diet consists of premade frozen meals and fast-food takeout.
Since retiring, she has mostly spent time reading and visiting friends around the world. She does not exercise.
Exam Findings
The doctor examines Ms. BA, and finds a slightly elevated blood pressure. Ms. BA sits on the exam table, wincing in pain. During the back and abdominal exam, the doctor notices the patient flinching when pressing on her lower left-back. Otherwise no other exam findings were noted.
Diagnosis
Muscular Spasm vs Strain, based upon patient explanation and exam findings.
Treatment Plan
The doctor recommends that Ms. BA return home with a prescription for daily pain medicine, and instructs Ms. BA to use warm compresses, and to keep active. The doctor recommends physical exercise and stretching as part of a healthy lifestyle, including fewer take-out meals, and more fresh fruits and vegetables to maintain muscular, bone, heart and brain health into her senior years. If the pain does not resolve after 3 more weeks, she should come back for imaging tests to evaluate for other causes.
Final Diagnosis (with billable diagnosis code)
Strain of muscle, fascia and tendon of pelvis, initial encounter, S39.013A.
Case courtesy of Assoc Prof Frank Gaillard,
Radiopaedia.org, rID: 35543
Note: Imaging is not necessary if symptoms have not persisted for greater than 6 weeks.

---
Methods of Back Pain Prevention
By engaging in aerobic exercise and stretchin​g everyday, you will prevent the onset of bac​k pain.​ Here are a few instructional home aerobic exercise videos that can help:
Seated Home Exercise (instructional video)
Standing Low Impact (instructional video)
ExerciseHigh Intensity Interval Training (HIIT) (instructional video)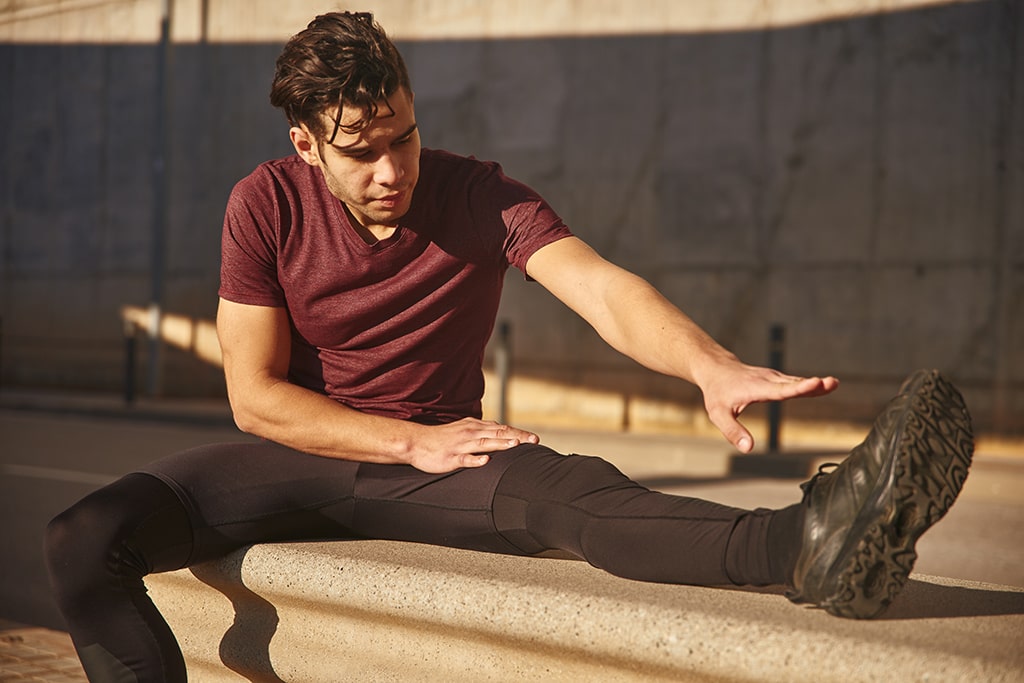 ---
Non-medical Interventions to Mitigate Back Pain
If your back pain is not life-threatening, save your back and your wallet with these helpful options. The evidence supporting these options is low-to-moderate​ quality.

Acupuncture
A technique in which practitioners stimulate specifi​c points on the body—most often by inserting thin single use disposable needles through the skin. Acupuncture may be used to help with managing some chronic low-back pain​ conditions and is generally considered safe when executed by a well-trained practitioner.
However, there are associated risks and side effects, including soreness​, bleeding and bruising at the site where the needles are inserted. Please be careful if you​ have a pacemaker, a bleeding disorder, or are pregnant. There is limited understanding with respect to the actual effect of Acupuncture on the brain as well as the body, however, researchers are just beginning to address this topic.

Electromyography Feedback (EMG)
This procedure is the most widely investigated metho​d of biofeedback and is very effective with musculoskeletal conditions.​ ​EMG ​biofeedback is a method of retraining muscle by creating new f​eedback systems as a result of th​e conversion of myoelectrical signals in the muscle into visual and auditory signals.



Progressive Muscle Relaxation (PMR)
PMR is another technique used to help relieve muscle​ tension contributing to lower back pain. All muscles groups are targeted with a​n alternation of tensing and relaxing.

Spinal Manipulation
Spinal manipulation involves a practitioner that applies pressure to areas of the spine with specific​ amounts of force, in particular the force is applied to specific joints. This technique is one of the most common forms of complementary medicine used.

Tai Chi
This form of exercise involves meditation and movement at the same time, it is characterized by low-impact slow-motion exercise. This exercise has rehabilitative benefits as well.

Yoga
This form of exercise is great for physical and mental health. Benefits includ​e further injury prevention, flexibility, weight loss, muscle strength and toning​, improve​d respiration, and cardiovascular improvements. Ultimately, yoga can help with pain management, so it is worth a closer look.
---
When Choosing Pain Medication…
As implied earlier in this article NSAIDs, opioids and other pain relievers should be used with caution. NSAID​s ​or Nonsteroidal anti-inflammatory drugs​ such as naproxen, ibuprofen, and indomethacin work by ultimately reducing prostaglandins which have a major role in inflammation and pain. Aside from this, they may have a role in contributing to damage to the cardiovascular and gastrointestinal systems.
We would be remiss if we did not acknowledge the devastating impact opioids have had on the American population. Proper safeguard​s are​ needed when prescribed these powerful drugs.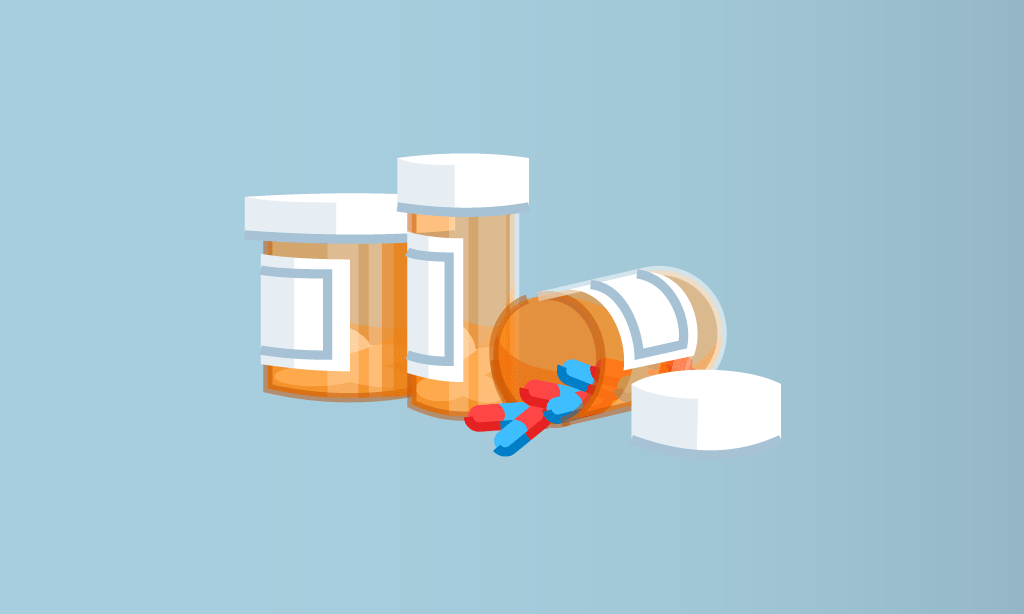 In conclusion, Veterans pursuing a VA claim for back pain must be aware of the risks associated with using powerful anti-pain medication. By being more active and supplementing their treatment regimen with some of these other alternatives, they can improve the way they feel without dangerous drug side effects.

---
Get Fast Help With Your VA Claim for Back Pain
"Veterans Helping Veterans!"
At VA Claims Insider, we help fellow Veterans with their VA Claim for back pain, and celebrate LIFE CHANGE by getting you the VA rating increase you deserve by law.
FOR Veterans, BY Veterans! We're the largest community of Veterans Helping Veterans Worldwide™
10,000+ disabled veterans served in our Elite membership program since 2016
500,000+ veterans per month utilize our free/paid educational resources
We employ more than 150 veterans, military spouses, and veteran advocates around the world
Better Business Bureau (BBB) Accredited (A+ rating)
$1.3B+ in VA disability benefits secured for veterans in all 50 states and 47 countries globally
If you're ready to secure the VA disability claim rating and benefits you've earned for your honorable service to our nation, simply click the button below now to start our FREE 3-step intake process.You'll hear from a member of our team within minutes!
Deserve a HIGHER VA Rating? WE CAN HELP.
Join our premier education-based membership program, VA Claims Insider Elite, connect with an expert-level Veteran Coach (VC) within minutes, and finally get the rating you deserve. Click the button below to start for FREE.
---
About the Authors
Erika Dunnon, MPH is a health educator who enjoys contributing to VACI. She has a primary focus on health literacy and believes in the importance of knowledge sharing and behavior change to increase an individual's overall health and wellness. Aside from contributing she enjoys spending time with her family and friends.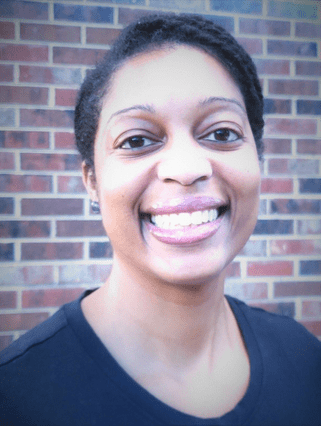 Askia Dunnon, MD, MS, MPH is a physician scientist-in-training, with an interest in population health and health literacy.