In this article, I break down the projected 2022 Military Disability Pay Chart in detail.
The Military Disability Pay Chart for 2022 becomes effective December 1 each year based on the annual COLA as determined by the Social Security Administration (the final 2022 COLA is based on the Bureau of Labor Statistics (BLS) report of September 2021 inflation data).
The 2022 COLA estimate of 4.7% would be the largest increase since 2008, mainly due to rising inflation.
You might also be interested in the following high-value blog posts:
Will disabled military veterans get a VA pay increase in 2022?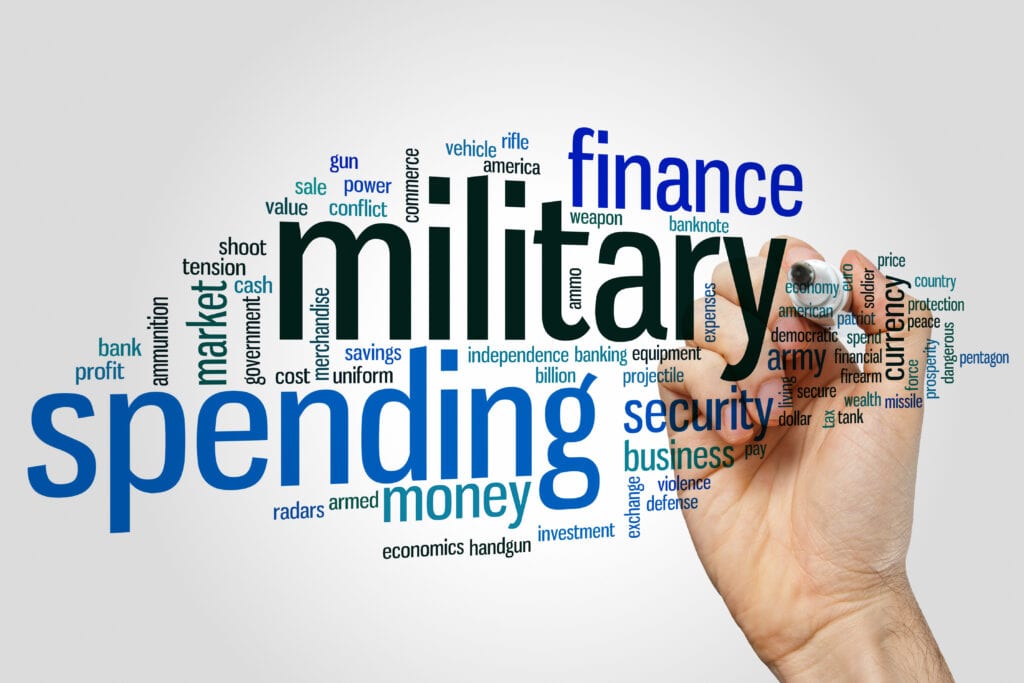 Yes, disabled military veterans are estimated to get a 4.7% VA disability compensation increase starting January 2022.
Brian Reese a Veteran Benefits expert predicts a 4.7% military disability pay increase for 2022, primarily because of rising inflation, increasing prices of consumer goods as the economy re-opens, as well as higher energy and gas prices.
Mary Johnson from The Senior Citizens League, released her first official COLA estimate for 2022, indicating there could be a 4.7% COLA increase next year.
Finally, Kiplinger is forecasting that the annual cost-of-living adjustment for 2022 will be 4.5%, the largest increase since 2008, when benefits rose 5.8%.
>> Click HERE to see the complete list of VA disability rates 2022, which includes VA dependent rates (you must have a VA rating of 30% or higher for dependent rates).
The new 2022 military disability pay rates will be effective December 1, 2021.
Disabled military veterans with a VA rating of 10% or higher could see a 4.7% COLA increase on their January 1, 2021, VA compensation payment.
If you were previously getting $1,000 per month tax-free, a 4.7% VA pay increase is $47, so a veterans 2022 VA disability pay would go up to $1,047 per month.
Are You Stuck, Frustrated, and Underrated?
YOU ARE NOT ALONE! We are Veterans Helping Veterans Worldwide. Become a VA Claims Insider Elite Member now and work with an expert-level Veteran Coach (VC) to get the VA rating you DESERVE in LESS time, even if you've already filed or been denied.
2022 Military Disability Pay Chart (Estimated)
| | | |
| --- | --- | --- |
| VA Rating | Military Disability Pay 2021 | Military Disability Pay 2022 |
| 10% | $144.14 | $150.92 |
| 20% | $284.93 | $298.32 |
| 30% | $441.35 | $462.10 |
| 40% | $635.77 | $665.65 |
| 50% | $905.04 | $947.58 |
| 60% | $1,146.39 | $1,200.27 |
| 70% | $1,444.71 | $1,512.61 |
| 80% | $1,679.35 | $1,758.28 |
| 90% | $1,887.18 | $1,975.88 |
| 100% | $3,146.42 | $3,294.30 |
*The rates above assume Veteran Only. If you have dependents, your military disability pay rate will be higher.
2022 Military Disability Compensation Rates – Frequently Asked Questions (FAQs)
Will military disability benefits increase in 2022?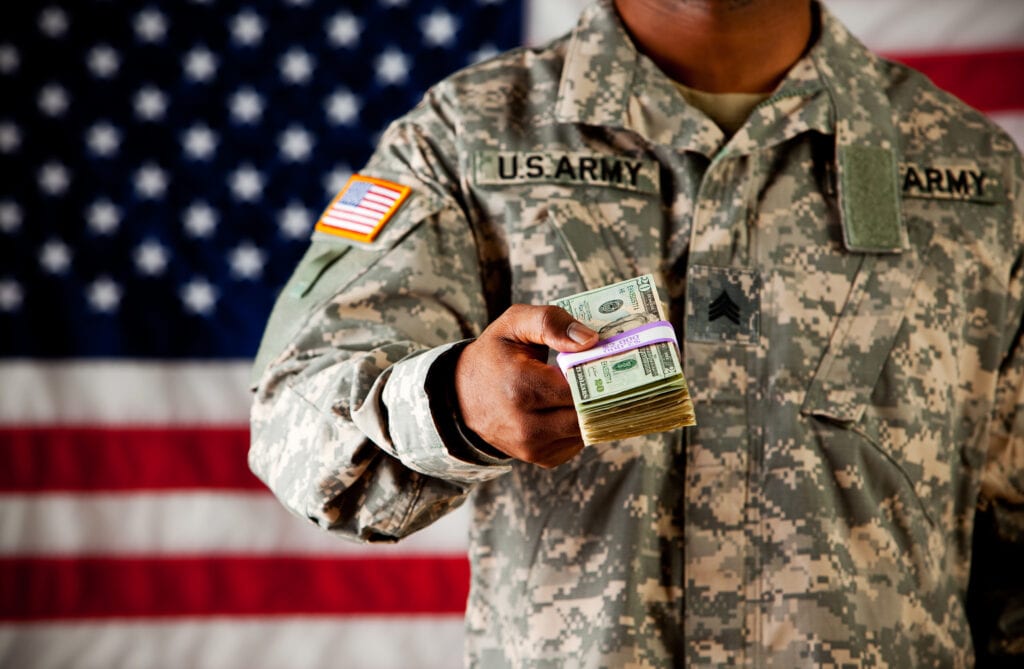 Yes, military disability benefits are expected to increase by an estimated 4.7% in 2022.
The SSA will make its official Cost of Living Adjustment (COLA) announcement in October 2021, affecting more than 75 million Americans who receive Social Security and Supplemental Security Income (SSI) benefits, VA disability and pension benefits, military retirement pay, and other government benefits.
Is military disability pay tax free?
Yes! Military disability pay is tax free at both the federal and state level.
VA disability compensation is a tax-free monetary benefit paid to Veterans with disabilities that are the result of a disease or injury that was caused or made worse during active duty military service.
How do I increase my VA rating?
So many veterans are stuck, frustrated, and underrated by the VA.
And I'm on a MISSION to change it so you and your family get the veteran benefits you deserve by law.
You might be interested in my FREE video to learn about how to increase your service connected VA rating:
>> Click HERE for instant free access to learn 3 VA Disability SECRETS to getting a higher VA disability rating in less time. <<
Frustrated With Your VA Disability Rating? WE CAN HELP!
Did you know 80% of Veterans (8/10 of you reading this right now…) are being shortchanged nearly $1,000/month tax-free on your 2022 VA disability pay?
How would you like to learn 3 SECRETS to Getting a 100 Percent VA Disability Rating that may help you get the VA benefits you deserve in less time?
Brian Reese from VA Claims Insider here!
Part of the reason we call ourselves VA Claims "INSIDER" is because we get access to information that nobody else does (and we nerd out researching and making sense of data for YOU)…
In my brand-new FREE 45-minute video training you'll learn 3 SECRET VA Disability Claim Tips that could get you a higher VA disability rating (if deserved by law), even if you've already been denied…
Here's what you'll learn in today's VA Claim SECRETS video training:
✅ VA Rating Increase Tip #1: "How to Get a VA Disability Rating Increase, Take Control of YOUR Claim, Get an Immediate VA Disability Rating Increase, and Have it Decided SOONER."
✅ VA Disability Claim Tip #2: "How to Legally, Morally, Ethically, and Medically Get a 100% VA Disability Rating and Over $3,000/month, Tax-Free, for Life" (If Warranted and Deserved by Law)
✅ VA Claim Increase Tip #3: "How to Write Your Personal Statements in Support of a Claim and Obtain Quality Buddy Letters, So YOU Can Get the VA Rating and Compensation You Deserve."
WATCH: How to Get a 100% VA Disability Rating (Legally & Ethically!)
Brian Reese
Founder & CEO
Brian Reese is VA disability expert, author of the #1 Amazon Bestseller You Deserve It: The Definitive Guide to Getting the Veteran Benefits You've Earned, and founder of VA Claims Insider – "The Most Trusted Name in Education-Based Resources for Veterans."
His frustration with the 8-step VA disability claims process led him to create "VA Claims Insider," which provides U.S. military veterans with tips, strategies, and lessons learned for successfully submitting or re-submitting a winning VA disability compensation claim.
Brian is also the CEO of Military Disability Made Easy, which is the world's largest free searchable database for all things related to DoD disability and VA disability claims and has served more than 4,600,000 military members and veterans since its founding in 2013.
His eBook, the "9 Secrets Strategies for Winning Your VA Disability Claim" has been downloaded more than 300,000 times in the past three years and is the #1 rated free VA disability claims guide for veterans.
He is a former active duty Air Force officer with extensive experience leading hundreds of individuals and multi-functional teams in challenging international environments, including a combat tour to Afghanistan in 2011 supporting Operation ENDURING FREEDOM.
Brian is a Distinguished Graduate of Management from the United States Air Force Academy, Colorado Springs, CO and he holds an MBA from Oklahoma State University's Spears School of Business, Stillwater, OK, where he was a National Honor Scholar (Top 1% of Graduate School class).